The Anna Millward Diary 2001
Tour de Snowy,
Australia, March 3-7, 2001
Stage 1 - March 3: Cooma Criterium, 30 km
Stage 2 - March 3: Cooma - Jindabyne, 61.1 km
Stage 3 - March 4: Jindabyne - Thredbo, 35.9 km
Stage 4 - March 4: Thredbo Circuit Race, 35.2 km
Stage 5 - March 5: Thredbo - Khancoban, 77.3 km
Stage 6 - March 6: Khancoban - Cabramurra, 110.8 km
Stage 7 - March 7: Tumbarumba - Tumut, 69.1 km
Stage 8 - March 7: Tumut Criterium, 30 km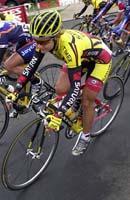 Negotiating that U-turn
Photo: © Tom Balks
Stage 1 - March 3: Cooma Criterium, 30 km
Today we started the Tour de Snowy - a 5-day race in the Snowy mountains. The race looks to be a very demanding one this year, with 3 days containing two stages, and the other two days covering some tough mountain climbs. We have a field of 72 riders, 36 of them coming from overseas. The Saturn team now has 4 riders with Kristy Scrymgeour and I being joined by Kim Bruckner from USA and Anke Erlank from South Africa.
Starting today was a 9:30 am with a criterium in Cooma, and then at 12 noon we raced 61 km from Cooma to Jindabyne.
The criterium was a difficult circuit, with a technical U-turn added to the usual square-shaped course. A couple of crashes occurred on that section of the course - the most notable taking out Mary Grigson from the NSWIS team. She dislocated her shoulder and had to withdraw from the race.
The race was a difficult one with everyone fresh and eager to race hard. Kristy Scrymgeour did an awesome job of covering every move that was made and no breaks lasted long. We came into the final few laps all together and I capitalised on the work done on the front by the Acca Due Team and the AIS team - their high pace setting made it easier to keep good position.
With a lap to go, Sara Carrigan started a great lead out that was intended for Alison Wright but I jumped on her wheel instead. She took me to the second last corner and then an Italian rider, Giovanna Troldi took over. I hugged her wheel into the last straight and sprinted from there. I was wrapped to come away with the win! Rochelle Gilmore (NSWIS) was second with Alison Wright (AIS) third. So I received the first leader's jersey of the tour and a 20 second time bonus for my efforts.
Stage 2 - March 3: Cooma - Jindabyne, 61.1 km

Winning the stage
Photo: © Tom Balks
A little less than 2 hours later, we set off for the 61 km trip from Cooma to Jindabyne. The bunch was content to roll along together for much of the race, with Rochelle Gilmore (NSWIS) taking out the intermediate sprint in Berridale, and Mirjam Melchers (Acca Due) taking out the mountain sprint with 20 km to go.
As we approached the finish, a few riders tried their chances at a breakaway. Liz Tadich (Jayco - VIS) put in an impressive attack up the final climb of the day and Karen Sumpton (AIS) quickly joined her. They lasted out in front for a couple of kilometres before being gobbled up by the bunch. Gabriella Pregnolato (GAS) tried to escape on the following descent but Kristy Scrymgeour was straight on to her. Sara Carrigan (AIS) had one final attempt up the last little hill but the bunch speed was too great at that point and no one was going to escape.
It was clear we were destined for another bunch sprint. I followed Mirjam Melchers' wheel into the final few hundred metres. The last 200 metres to the line in Jindabyne is a steep descent and so it was all a question of who could turn their legs over the fastest. I had a pretty big gear on and went for it with 200 to go. Once again I came up trumps with Sara Carrigan (AIS) snatching second and Mari Holden (Alfa Lum) in third.
So I retained the overall leader's jersey and now have a lead of 25 seconds over my nearest rivals, purely because of time bonuses. Rochelle Gilmore will be second and Sara Carrigan third.
Tomorrow we have another two stages. At 10am we race 35km from Jindabyne to Thredbo - a course which is predominantly uphill. Then at 12:30 we race a 35km circuit race around Thredbo.
Stage 3 - March 4: Jindabyne - Thredbo, 35.9 km
Hello again!

In the lead
Photo: © Tom Balks
Today we raced another two stages of the tour - both short and sharp. We started with 35km from Jindabyne to Thredbo - a predominantly uphill course with two nasty climbs - the first one coming in the first 5km out of Jindabyne and the second one about halfway through the race.
As soon as we hit the first climb, two riders attacked: the reigning world road race champion Zinaida Stahurskaia (GAS) and the reigning world time trial champion Mari Holden (Alfa Lum). They gained a lead of around 30 seconds very quickly. A number of teams combined to try and catch them again - Acca Due, AIS and Saturn all spent some time on the front chasing hard.
Within about 10 kms, Zinaida Stahurskaia had dropped Mari Holden and was making a solo effort out in front, looking very strong. We hit the climb about halfway through the stage and Zinaida still had a lead of around 30 seconds. I put in my best effort up the climb to try and reel her in and by the top her lead was down to only 10 seconds from a group of three - myself, Margaret Hemsley (AIS) and Kym Shirley (AIS). The four of us got together but no one was really willing to commit to working hard to stay away from the rest of the field so we were soon caught by about another 20 riders.
Immediately there was a counterattack which contained Hayley Rutherford (AIS), Kim Bruckner (Saturn) and Roberta Bonanomi (GAS). The three of them looked good for a stage win for a while as the bunch just rolled along and another 15 or so riders caught up. So the bunch was now up to about 45 riders.
At that point the Autotrader team got things moving in the bunch and the breakaway group of three were caught with about 2 kms left to race. From there it seemed pretty clear we were destined for a bunch sprint and I had great help from both Kim Bruckner and Anke Erlank to set me up for the sprint. So I collected my third stage win in a row - I think all the teams are sick of me now!!
Stage 4 - March 4: Thredbo Circuit Race, 35.2 km

Marg Hemsley
Photo: © Jeff Jones
We only had about an hour's break before we were lining up again for the afternoon stage - a 35km circuit race around Thredbo. The circuit was about 4.5km long and we completed 8 laps. Each lap there was a nasty little climb just to test the legs out. The first three laps were ridden pretty easily as everyone got used to the circuit. Then as we entered lap 4, Jessica Amy (Jayco - VIS) attacked and built a lead of around 25 seconds. She held on to her lead for another 2 laps before being swallowed by the bunch as Zinaida Stahurskaia went on the offensive again.
The second last time up the climb, Zinaida attacked and by the top a group of 5 of us had a gap on the field. There was Zinaida (GAS), Margaret Hemsley (AIS), Kym Shirley(AIS), Priska Doppman (Acca Due) and me. Again, no one was willing to fully commit. Margaret Hemsley took the opportunity to take off alone, leaving the rest of us to be swallowed by the bunch where Alfa Lum was leading the charge.
Naomi Williams (Jayco - VIS) tried an attack but was quickly chased down and then we were at the hill for the last time. Zinaida unleashed again up the hill and had me in all sorts of trouble as I tried to stay with her. Kym Shirley, Zinaida and I all reached the top together and caught Margaret Hemsley right on the crest. Anke Erlank (Saturn) and Roz Reekie (New Zealand) were only a few metres behind us and we had a good gap to the rest of the bunch. I led the way down the descent, getting as aerodynamic as possible to maximise speed. Anke came up to the front to lead me out for the sprint with about 1km to go and I told her to just go for it and try and win herself. She took off and the other riders hesitated just a bit too long before trying to go after her. Anke held on for the win and I won the sprint for second. Zinaida took third place.
So another great day for the Saturn team. I am still in the overall lead of the tour, with a lead of around 50 seconds over my nearest rival. Anke has now moved up the standings as well. But tomorrow we hit the first big climbs of the tour when we race 76km from Thredbo to Khancoban so I'm hoping I will find some climbing legs!
Stage 5 - March 5: Thredbo - Khancoban, 77.3 km

Chasing hard
Photo: © Tom Balks/CN
Hello everyone, Today we raced a single stage of the Tour de Snowy - 76 km from Thredbo to Khancoban. The stage started with a 6 km ascent out of Thredbo to Dead Horse Gap at an altitude of 1500 metres. The bunch rode tempo to the top of this climb and nearly all riders reached the top together. Then we faced a 20km descent which was a lot of fun. Naomi Williams (Jayco - VIS) and Sara Carrigan (AIS) led for the majority of the way down there and a good bunch reached the bottom together.
The Autotrader.com team then went on the offensive. Susy Pryde attacked first and she was covered by Anke Erlank (Saturn). Sarah Ulmer attacked next with Roberta Bonanomi (GAS) and I covered that move. Finally Pam Schuster attacked and Anke again covered her move and the two of them were suddenly clear of the bunch. It was great for me to have a team-mate out in front, building a lead over the bunch so I could sit back and relax as we rode towards the major climb of the day.
But the current world champion, Zinaida Stahurskaia (GAS) was not content to let the duo take control of the race. As we raced over many steep undulations, she put the pressure on the bunch. Finally, at about the 40 km mark in the stage, her attacks snapped my legs and I was powerless to stop her riding away. I didn't really think we would see her again.
The rest of a somewhat reduced bunch reached the climb together. It was a nasty climb - 9kms long and steep enough to require 39x25's. Margaret Hemsley (AIS) set the pace for the first part of the climb. We caught and dropped Pam Schuster but Anke Erlank and Zinaida Stahurskaia were still up ahead of us. A few kms into the climb Kym Shirley (AIS) attacked. Kim Bruckner (Saturn) went after her and I set off in pursuit as well.
Once we finally caught Kym, we had dropped the rest of the bunch and there was a group of 4 of us left - myself and Kim Bruckner from Saturn, Kym Shirley from AIS and Priska Doppman from the Acca Due team. Kim Bruckner and I then worked hard to the top of the climb. We caught Anke Erlank near the top but when we finally crested the climb we learnt that Zinaida had a lead of one and a half minutes over us.
From the top of the climb it was 15kms to the finish, nearly all downhill. I was very keen to try and catch Zinaida again and so I went straight to the front at the start of the descent and started riding as hard as I possibly could. I was surprised when I looked back after a couple of kms to see that none of the other riders had come with me - I was on my own in pursuit of Zinaida. So I put my head down and descended as fast as I knew how.

Millward, Stahurskaia and Doppmann
Photo: © Tom Balks/CN
I was inspired when about 10 kms from home I caught sight of Zinaida on a little hill up ahead of me. I continued my pursuit and finally, with only about 300 metres to race, I caught her. I was pretty well exhausted by then and didn't put up much of a fight for the stage victory - Zinaida easily beating me to the line. I was just happy to be with her and keep hold of my leader's jersey.
1 minute 45 seconds later, Priska Doppman took third place, with Kym Shirley, Anke Erlank and Kim Bruckner with her. Another 45 seconds back came Margaret Hemsley, Mari Holden (Alfa Lum) and Miriam Melchers (Acca Due). So the race has definitely spread out now. I have a 47 second advantage over Zinaida and 2 minutes 53 seconds over Anke Erlank in third place.
However, the race isn't over yet! Tomorrow is the hardest stage of the tour - we race a very hilly 110 km from Khancoban to Cabramurra. Whoever has the legs for the final climb up to Cabramurra could easily put minutes into everyone else.
Speak to you after that!
Anna
Stage 6 - March 6: Khancoban - Cabramurra, 110.8 km

Happy Saturn
Photo: © Jeff Jones/CN
Stage 6 was on the 4th day of the tour and was undoubtedly the hardest stage. It was 110 kms in length and hilly all day. The last 12 kms of the stage were all uphill and 8 of those 12 kms were torturously steep.
The bunch started out pretty sedately, with everyone a little cautious about how difficult the day was going to be. Everyone rode pretty well together until we got over the first mountain sprint for the day, at around the 55 km mark. The GAS team was spending a lot of time setting tempo on the front of the bunch and it was clear that they were trying to keep things intact until we hit the final climb of the day. Then they were hoping that Zinaida Stahurskaia would ride away from everyone on the climb to the finish, and take over the overall tour lead. I wasn't at all confident that I could stay with Zinaida all the way up that final climb, so it was our team plan to try and get one Saturn rider off the front to build a bit of a lead before we hit it.
So at around the 60 km mark we began to be aggressive, trying to get either Kim Bruckner or Anke Erlank away in a break. I tried a tentative attack to try and get things moving and then Anke put in a great attack which was reeled in after a big effort from the GAS team. Margaret Hemsley (AIS) counter-attacked and Kim Bruckner (Saturn) went after her and no one had the legs to follow their move.
The two of them gradually rode away from the bunch. I was very happy to have Kim out in front. She is a very talented climber and she comes from altitude so the climb up to Cabramurra was going to be perfect terrain for her. Despite the best efforts of the GAS team in pursuit, Margaret and Kim gradually extended their lead until by the start of the final climb, they were 5 minutes in front of the bunch.
As the climb began, so did my battle to stay with Zinaida. She attacked immediately and Kym Shirley and Priska Doppman followed her. I let a gap form so I could pace myself up the climb - there was a long way to go! Zinaida continued to attack and slow and attack and slow, until she finally cracked Priska and she dropped back. I was still about 80 metres behind Zinaida and Kym Shirley and struggling to keep their pace. At that point, Fany Lecourtois (Alfa Lum) caught me and I managed to follow her wheel all the way up to Zinaida and Kym.
Fany didn't stop there - she continued straight past them and on up the climb. Zinaida continued to attack and finally she managed to get away from first me, and then Kym and set off in pursuit of Fany alone. I was about 50 metres behind Kym and chased her all the way up the climb while Zinaida and Fany continued to draw further and further away from us. Somewhere up the climb, I was caught by both Kim Smith (Autotrader) and Mirjam Melchers (Acca Due).
Meanwhile, out in front, Kim Bruckner (Saturn) managed to ride away from Margaret Hemsley (AIS) on the climb. She finished alone for the stage win, one minute 38 seconds in front of Marg. Zinaida rode in for third place, but she was 4 minutes 4 seconds behind Kim. That fantastic result meant that Kim Bruckner took over the overall lead of the tour! Fany Lecourtois took 4th place on the stage, only 5 seconds behind Zinaida, and I finished in a group of 4 riders - Kym Shirley, Kim Smith, Mirjam Melchers and myself, 5 minutes and 57 seconds behind Kim Bruckner.
So the hardest stage caused a major upset of the overall tour lead. Kim Bruckner (Saturn) became our overall leader, Zinaida second, Margaret Hemsley third and I held onto 4th place.
Stage 7 - March 7: Tumbarumba - Tumut, 69.1 km

Millward concentrates
Photo: © Tom Balks/CN
On the final day of the tour, we raced two stages. The first was 71 kms in length from Tumbarumba to Tumut. The first 20 kms of the stage were gradually uphill and then the remaining 50 kms were gradually downhill. It was a very aggressive stage with many teams trying to secure a stage win before the tour was over. We were solely concerned with keeping Kim Bruckner safely in her leader's jersey so we had to keep a very close eye on Zinaida Stahurskaia. As it turned out, there were too many teams fighting over a stage win and so no one was able to establish a successful break. The bunch came to the finish together and Mirjam Melchers (Acca Due) won the stage from Liz Tadich (Jayco-VIS) and Rochelle Gilmore (NSWIS).
Stage 8 - March 7: Tumut Criterium, 30 km

Final winners
Photo: © Tom Balks/CN
Now there was only one stage between us and overall victory. We just had to complete a 45 minute criterium in Tumut without letting Zinaida Stahurskaia get away from us and Kim Bruckner would be the overall winner. As it turned out, very early in the criterium a group of 4 riders blasted away from the field to fight out the stage win. Liz Tadich (Jayco-VIS), Rosalind Reekie (New Zealand), Sara Carrigan (AIS) and Sarah Ulmer (Autotrader) were the breakaway riders and they ended up lapping the bunch.
There was mass confusion in the last few laps as the officials tried to work out how to separate the breakaway riders from the lapped riders for the sprint. In the end, the breakaway group of 4 were told to sprint first and the bunch had to complete one extra lap before they sprinted for 5th place. In the sprint for first place, it was a photo finish between Sarah Ulmer and Liz Tadich, with the victory going to Sarah Ulmer. Sara Carrigan collected third place. Priska Doppman won the bunch sprint for 5th place. But most importantly for us, Kim Bruckner finished with Zinaida Stahurskaia and became the 2001 Tour de Snowy Champion!
So we are more than happy with our Tour de Snowy. We won the overall title and collected 5 stage wins along the way. Now we have two days of rest before we contest the first World Cup for the season in Canberra on Saturday.
Cheers,
Anna