Tech features
Shimano moves XTR up another notch
A complete new high-end group from Shimano is big news, as features introduced at the top one year inevitably trickle down over the next couple. Shimano's 2003 XTR group is therefore the shape of MTB components to come. John Stevenson gets up close and personal with the new parts.
The eyes have it
Photo: © John Stevenson/CN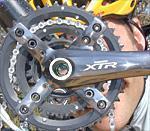 How do you improve perfection? Ever since its introduction in late 1995, Shimano's M950 XTR component group has been the performance benchmark in mountain bike components. It's light, it's reliable and it shifts and brakes flawlessly. What more could you want?
Shimano clearly believes we do want more, because the 2003 product year sees a completely new XTR group; even the logo has changed. Cyclingnews and a couple of local MTB magazines spent an afternoon with Shimano's guys, riding the new equipment and getting some idea from Shimano of what the company is trying to achieve with the new parts. First up, let's take a look at exactly what's new.
Overall
The rear derailleur shows off the new look
Photo: © Shimano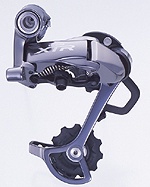 The whole group has a new look, with a polished black chrome finish and rounded, organic lines replacing the matt dark grey and squared-off appearance of the current components. But there's far more to 2003 XTR than just a facelift. Shimano has redesigned every single component, making changes that range from dramatic differences to small tweaks.
However, Shimano's Matt Bazzano was keen to stress that the new parts are all compatible with Shimano's existing M950 range, at least where that's possible. You can replace any M950 Shimano XTR component with its 2003 XTR equivalent and it will work, so upgrading can be done on the instalment plan.
Shifting
New shifter from below
Photo: © John Stevenson/CN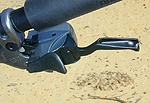 The most dramatic change is without doubt in the shifters. The faithful Rapidfire, trigger-and-shifter design that's served us well for a decade is gone, replaced with a mechanism that's built into the brake lever. Pushing the brake lever down pulls cable (like the shifter in Rapidfire), flipping it up lets cable out (like a Rapidfire trigger).
New shifter from above
Photo: © John Stevenson/CN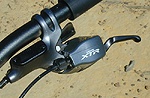 The new XTR shifter is intended to be used with the new XTR rear derailleur. The front derailleur is a conventional design, so pushing the shift/brake lever down takes you to larger chainrings. The XTR rear derailleur is only available in Shimano's Rapid Rise design, in which the derailleur spring pulls the chain to larger sprockets, unlike most rear derailleurs where the spring pulls the chain down to smaller sprockets. The right hand shifter therefore takes you to smaller sprockets (and higher gears) when you push it down, and larger ones (smaller gears) when you flip it up. You can flip up one gear at a time, and push down three at a time.
Matt Bazzano said that the objective of the new design was to make it possible to shift gear from more positions on the handlebar. You can reach the end of the brake lever from bar ends, for example, and flip a gear.
If that all sounds complicated, it's much easier to understand when you jump aboard an XTR-equipped bike, as we'll see in few moments.
Front derailleur
Photo: © Shimano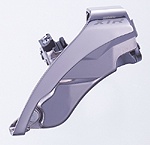 The derailleurs driven by the new shifters haven't changed markedly, though there are some welcome tweaks. The front derailleur is a conventional, single-cage design rather than the current articulated-cage, but has a wider pivot which Shimano claims improves rigidity – and therefore shifting – and increases durability. It works with both top-pull and bottom pull cable routing. It's available in 31.8mm and 34.9mm clamps, with a shim for 28.6mm seat tubes. The new front derailleur has its adjuster screws moved toward the rear wheel a little which should make access easier on some suspension bikes.
No more lost pulleys
Photo: © John Stevenson/CN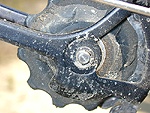 The rear derailleur is available in long cage and medium cage versions. Both have several small but significant new features: circlips hold the pulley wheel bolts in place so they won't fall out if they vibrate loose; an optional rubber bumper on the body quietens the derailleur if it slaps against the chainstay on rough ground; and the distance between the hanger and top pulley has been increased by 2mm so that the top pulley is less likely to scrape against a 34-tooth sprocket.
We're surprised Shimano haven't co-opted Dura-Ace's 13 tooth bottom pulley for the XTR derailleurs. It ought to allow a slightly shorter cage that would be less likely to get whacked.
A final tweak is new shift cables that have silicon grease coating the full length of the outer, for a 10 percent claimed reduction in shifting effort. As the brake lever and shifter are one unit, there are two versions, one for cable brakes and one for hydraulic disc brakes.
Chainset
Bottom bracket
Photo: © Shimano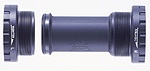 The cranks, chainrings and bottom bracket have also been completely redesigned. The bottom bracket axle is made from chromoly steel and very oversized. If it were very much larger, it wouldn't fit through a conventional bottom bracket shell. Certainly there's no room between axle and shell for bearings, so Shimano has moved them outside the shell, increasing the spacing between them dramatically.
Crankin'
Photo: © Shimano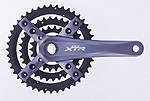 The bottom bracket axle is permanently mounted to the right hand crank and has splines for the left hand crank. A cap and two pinch bolts hold the crank in place, rather like a threadless headset. The cranks are hollow, as you'd expect.
All three 7075 aluminium chainrings mount on the four-arm spider, each having its own bolt circle (146mm, 102mm and 64mm for BCD collectors). Only 44 outer and 32 middle rings are offered, with an option of 22 or 24 for the inner, and the middle and inner are nickel plated. Shimano says the dropping of the 46-tooth outer ring is in response to the rise of more technical, less speed-orientated recreational riding and the popularity of smaller chainrings among racers too. There's now an 11 tooth rear sprocket option in XTR too, so the available top gear is still fairly high. As before, the new cranks will be available in lengths from 165mm to 180mm, in 2.5mm increments.
The practical upshot of all these changes is a lump of weight removed: the new design weighs 70g less than previously. Shimano also claims the oversized axle and wider bearing spacing makes the whole assembly considerably stiffer than before.
Brakes
First, the small stuff: yes, there's a new V-brake, but even Shimano admits it's not much more than a cosmetic reworking of the existing XTR V-brake.
Front hub
Photo: © Shimano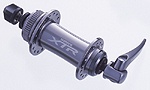 The big news in XTR brakes is the group's lightweight discs, and the hubs that go with them. Traditionally, disc brakes have been substantially heavier than rim brakes, partly because of the extra hardware involved – a brake rotor – but also because of the mounts needed to put that rotor on a hub. The XTR rotor is a two-piece construction with a steel brake surface on an aluminium carrier. The rotor mounts on a splined hub and is held in place by a lockring that takes the same tool as Shimano's cassette lockring. The hub splines make almost no difference to the hub weight, and in fact the splined rear hub is 5g lighter than the conventional version.
Caliper options
Photo: © Shimano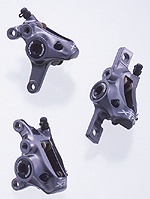 Compact caliper
Photo: © John Stevenson/CN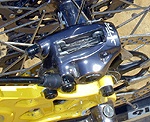 The one-piece forged brake caliper body houses two opposed pistons, with a choice of high-power metallic pads or resin pads offering finer modulation. Matt Bazzano tells us the hot tip from Shimano's test riders is to use one of each and get the best of both worlds. The resin hose can be trimmed to length. In total, the new system is claimed to be only about 100g heavier than XTR V-brakes.
Along with the new shifters, these brakes are the heart of the new XTR. Cross-country riders and racers have been switching to disc brakes in large numbers over the last few years, and putting up with the extra weight. With the weight Shimano has saved in areas like the chainset, a move to new XTR means a switch to disc brakes with a minimal weight penalty.
Wheels & sprockets
Spiky
Photo: © Shimano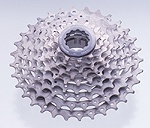 Last but not least, Shimano's line of wheels is joined by a 1650g, tubeless-compatible pair of 24-spoke wheels with 400g rims and XTR-quality hubs.
Shimano now offers three XTR-level sprocket sets to mount on these, or any other nine-speed wheels: 11-32, 11-34 and 12-32. All three have the four largest sprockets in titanium.
On the trail
Our trail time on the new XTR amounted to a 90 minute taster, aboard unfamiliar bikes that had been assembled the previous day by Shimano tech wizard G-Matt. What follows is therefore necessarily brief and very much in the way of "first impressions". The disc brakes had not had time to properly bed in, and for two of us, we just didn't have enough time to re-educate reflexes conditioned by 10 years of Rapidfire.
Hub in situ
Photo: © John Stevenson/CN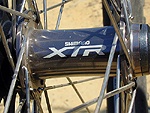 The assembled company was your humble scribe plus John Hardwick of Mountain Biking Australia magazine; Tony 'F' Nolan and Matt Holmes from Australian Mountain Bike mag; and a pair of Shimano Matts, Bazzano and tech wizard Gracie, universally known as B-Matt and G-Matt to reduce confusion. Aboard a mixture of XTR-equipped bikes and our own machines, we rolled out into the trails.
Getting the hang of the new shifting technique turned out to be easy. Extend a finger to press the lever down to shift into higher gears, and uncurl a finger or two from the bar to bat the lever upwards to shift into smaller gears. A few minutes round the car park and we all had it dialled.
The problems, at least for me, came when I had to make actual split-second decisions about shifting while actually riding and therefore distracted by rocks, roots, puddles and other trail obstacles. I found myself constantly trying to push the lever down to shift into easier gears, because the tactile feedback of resistance from the derailleur spring felt like pushing the shifter in a standard Rapidfire set-up. What was throwing me was not the new shifting action, but the Rapid Rise rear derailleur not providing me with the kind of feedback my reflexes were expecting.
The others had less trouble adapting. Tony switches between Gripshift and Rapidfire regularly and uses a Rapid Rise derailleur on one of his bikes. He was raving about the new shifting almost immediately. Matt H also seemed impressed, while John H was sceptical, wondering what the new system allowed you to do that you couldn't do before.
A quick spin on a bar-end-equipped bike answered that one: you can shift gear from the bar ends. You can also rest your hands on the lever bodies and still shift, for example on a long, steady climb.
Pinch me
Photo: © John Stevenson/CN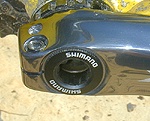 On a Rapidfire-equipped bike, you can brake and change gear at the same time pretty easily. We were concerned that this would be more awkward with the new shifters, and opinion was divided on whether we found it harder to pull the lever up to downshift while braking or not. I had no problem with it, John wasn't comfortable and Matt H invented a technique of putting one finger above the lever and one below so he could do whatever he liked. Again, it felt like some of us were at the beginning of an adaptation period, and I would certainly like a lot more trail time on the new shifters before coming to a conclusion.
When will it be available?
Shimano expects that we will see XTR-equipped bikes in shops in about November. Since bike manufacturers always get components first, we'd guess individual parts will be in the shops a little after that.
One thing Shimano are very happy about is that new XTR is being widely specced on bikes. Last year, a full XTR bike was a rare beast; this year there will be a lot to choose from, and while they won't be exactly cheap, they might well be the best value-for-money way of moving to the new group.
And speaking of money, just how many of your hard-earned dollars, Euros, pounds or Lilangenis is the new group going to cost? Matt Bazzano estimates a 15 percent increase over current XTR. That's a substantial premium, but I don't think it'll deter the kind of early adopters that like to tinker with new gear and must have the latest and greatest. For those of us with shallower pockets, it's a safe bet that there'll be an XT version of this group in 2004.
Conclusion
There's no doubt that some of the new XTR's features make it very desirable. The new chainset is a certain hit among gram watchers and details like the retaining circlips on the rear derailleur pulley wheel bolts are definitely positive, though they'll be even more so when they trickle down to more affordable rear derailleurs, a component many of us feel has to be treated as expendable.
A lockring, yesterday
Photo: © John Stevenson/CN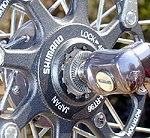 Similarly, lightweight discs are a must-have. Nobody currently knows whether the new calipers can be grafted to the current XT hydraulic brake levers levers. Matt Gracie has promised to try it and let us know. If they can't, then fitting the discs necessitates using the new brake/shifter lever too.
Changing the way we shift is going to be a big step for some of us, but I'm reminded of the change from thumbshifters to Rapidfire. Once Shimano had got the bugs out, and we got accustomed to the new shifters, it was obvious that Rapidfire was a better design, and only a few expedition mountain bikers – who value total reliability above all else – would now disagree.
That said, I'm struggling to come to a definitive conclusion about the shifting because I simply haven't had enough trail time on the new equipment. First impressions are cautiously positive. Shifting with the new system isn't dramatically easier or harder than with Rapidfire, but it does offer a couple of extra hand positions that Rapidfire doesn't. That's a plus. The question is: is it enough of a plus to endure the retraining period a decade of conditioned reflexes will need?
More trail time will also answer other questions. The Rapid Rise rear derailleur means you can only shift to easier gears one sprocket at a time. You can't do a multi-sprocket big dump as you descend toward a sudden climb, as in crossing a stream gulley. However, you can repeatedly flick the lever up, and on first impression that seems to be quick enough. On the other hand, you can do a three-sprocket shift into harder gears with one down-push, so going up the gears for downhill transitions is easier.
On the whole, I think new XTR is going to be a big hit. It looks great, the low gram count of the brakes is compelling and the chainset is a work of art. I suspect I'll love the shifting when I get used to it, just as you'll swap my Rapidfire for anything else currently on the market only by prising it out of my cold, dead fingers.
The tale of the scale
2003 XTR vs M950 (all weights in grams)
                                       2003      M950

Brake/shift lever [1]                   423       414
Rear derailleur                         198       207
Front derailleur                        149       117
Chainset (incl. BB)                     797       870
Sprockets                               240       235
Front hub                               150       133
rear hub                                310       309
V-brakes                                          484
Disc brakes                             557
(incl. Hoses, Rotors, lockrings)
 
Total                                  2824      2769
What do you think of Shimano's new top MTB group? Let us know.

Recent tech
Tour tech: Zipp's slippery new wheel revealed
On test: Klein Palomino XV
June 25 news: New Giant carbon, Crank Bros, Colnago proto, Scott, Topolino
Book review: Lance Armstrong: Images of a champion
New bike for Van Moorsel
New bikes from BT
Cicli Pinarello displays its racing history: Fifty years of classic bikes
June 17 new arrivals: Specialized, Crank Bros, Thomson, Bicycling Science, Drop In
Pro bike: Iban Mayo's Euskaltel-Euskadi Orbea TT climbing prototype
On test: Campagnolo Eurus G3 wheels
Pro bike: Lance Armstrong's Trek Madone SSL proto
Pro bike: Emanuele Sella's Battaglin
June 8 news, part 1: Giro's Rev Six revs up at Dauphine, Rebellin conquers on Wilier carbon proto, Giant spy photos at the T-Mobile Service Course
June 8 news, part 2: Specialized unveils new kit, Cervelo & CSC fine-tune at MIT, New forks from Alpha Q, Paint job of the year?
Pro bike: Dede Demet-Barry's T-Mobile Giant TCR Carbon
Bikes of the Giro part 2: The mountains
New arrivals: DMT, Jaggad, Blue Steel, Cannibal, Ellsworth, LeMond Fitness, Atomic Mount
On test: Park Tool IB-1 & IB-2 multi-tools
De Marchi responds
On test: Giro Monza
On test: De Marchi Contour bib shorts,
On test: DeFeet Armskins
May 21 news: Petacchi's new Pinarello, Mayo's Orbea TT secret weapon, adidas, Mavic, Ambrosio, True Temper
On test: White Industries Eccentric ENO hub
World exclusive pro bike: Marion Clignet's Look 496 track bike
On test: Carnac Quartz road shoes
Repair & maintenance: Recording MTB position
Pro bike: Chris Horner's Webcor Lemond TT bike
May 13 news: New Shimano wheels, 29inch victory, CycleOps, Naviion
New arrivals: Crank Bros, Park Tool, Sports Instruments, Morningstar & Panasonic,
New arrivals: 2004 clothing from Campagnolo
On test: Orbea Orca - Real-world team issue
On Test: Specialized Bar Phat tape
Bikes of the Tour de Georgia
Apr 30 news: Campagnolo, Klein, Giant, Sports Instruments, Burley, La Ruta
Apr 27 news: IRD, Oval, Fi'zi:k, Camelbak