Recently on Cyclingnews.com
Tech News – June 8, 2004, part 1
Edited by John Stevenson
Got tech? Send press releases, news, and tech questions to the Cyclingnews tech-heads.
Eki & Giro's Rev Six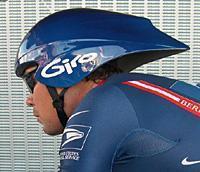 Giro's Rev Six revs up at Dauphine
By Tim Maloney, European editor
With less than a month to go before the start of the Tour De France, Giro Sport Design debuted its new ultra-aerodynamic time trial helmet at the Dauphine, as Lance Armstrong and Viatcheslav Ekimov wore in the 5.4km prologue. Toshi Corbett, Giro's Sport Marketing Manager told Cyclingnews, "Last year when the UCI announced that all time trial helmets needed to meet current safety standards, we couldn't just make a time trial helmet that was a fairing like our Rev Five model. Those fairings were just an injection molded plastic shell that wrapped around your head, with no safety characteristics."
Corbett said, "Going forward, the UCI said that riders needed to race in TT helmets that met the European standard. This initiative to create the Rev Six was part of the project called the Formula One team, where Lance Armstrong asked key sponsors Giro, Oakley, Nike, Trek and Shimano together to make sure he would have the fastest time trial equipment in the world. So the Rev Six is Giro's contribution to this effort.
Side view of the Rev Six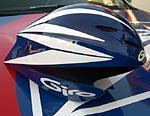 "We spent 25 hours developing this in the wind tunnel; we had already set the benchmark for aero helmets with our Rev Five, which was what Lance was using. The challenge was to integrate the safety characteristics. We realized that this would increase the surface area and the weight. We wanted to design a product that would have the same drag as our Giro Rev Four, but at the end of the process was that our new Rev Six has less drag that the previous Rev Five but has safety characteristics integrated."
Corbett says that Giro has no immediate plans to commercialize the Rev Six TT helmet, but there exists a possibility in the future as it does meet most current helmet safety standards.
More info: www.giro.com
Davide Rebellin's Classics-conquering Wilier proto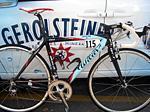 Flowing lines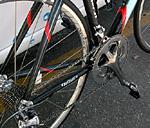 Ritchey steering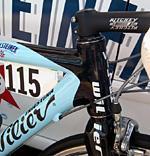 Rebellin conquers on Wilier carbon proto
It's always interesting scoping out what Gerolsteiner's Davide Rebellin is riding. In the past he's been aboard "prototype" bikes that had the stickers of Gerolsteiner's bike sponsor at the time, but didn't resemble anything the company has manufactured before or since.
For his storming Classics victory trio of Amstel Gold, Flèche Wallonne and Liège-Bastogne-Liège, Rebellin rode this Wilier Triestina, which we're assured by Wilier's Gastaldello brothers really is a carbon fiber proto - though the configuration is expected to change before anything based on this bike hits the shops.
Specification
Frame: Team Gerolsteiner Wilier Triestina carbon fibre prototype
Fork: Wilier Triestina full carbon fibre prototype
Colour: Team Gerolsteiner
Cranks: Shimano Dura-Ace 172.5 / 53X39
Bottom bracket: Shimano Dura-Ace
Chain: Shimano Dura-Ace
Front derailleur: Shimano Dura-Ace
Rear derailleur: Shimano Dura-Ace
Brakes: Shimano Dura-Ace
Levers: Shimano Dura-ce
Rear sprockets: Shimano Dura-Ace 11-21
Wheels: Shimano Dura-Ace
Tyres: Schwalbe
Bar & Stem: Ritchey WCS
Headset: Integrated 1 1/8in
Pedals: Shimano Dura-Ace
Seat post: Ritchey WCS
Saddle: Selle Italia SLR
More info: www.wilier.it

Giant spy photos at the T-Mobile Service Course
Mari Holden's pursuit frame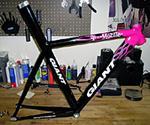 As you may have read, Cyclingnews diarist and Shimano Multi-Service wrencher Chris Davidson is currently filling a different role in the guise of a T-Mobile mechanic for the number one women's team in the US. Before he embarked on his voyage for the Montréal round of the World Cup, the Grand Tour du Montréal and the USPRO Liberty Classic, Chris made a stop at the T-Mobile Service Course in Denver, Colorado, where he stumbled across two slightly more unusual Giant frames.
Lara Kroepsch's Giant T-Mobile TT frame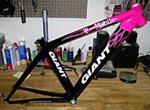 As Chris notes, "The T-Mobile women ride stock size carbon frames, but for those riders that don't fit the off-the-rack size perfectly, Giant can handcraft custom sizes out of aluminum." Two examples of the latter are a custom XS aluminium time trial frame made for Lara Kroepsch and Mari Holden's aluminium pursuit frame, most likely built for Mari in her quest for a berth on the US teams pursuit squad at the Athens Olympics.
More info: www.giantbicycles.com
June 8 tech news part 2 - New from Specialized, Cervelo & CSC fine-tune at MIT, New forks from Alpha Q, Paint job of the year?
Recent tech
Tour tech: Zipp's slippery new wheel revealed
On test: Klein Palomino XV
June 25 news: New Giant carbon, Crank Bros, Colnago proto, Scott, Topolino
Book review: Lance Armstrong: Images of a champion
New bike for Van Moorsel
New bikes from BT
Cicli Pinarello displays its racing history: Fifty years of classic bikes
June 17 new arrivals: Specialized, Crank Bros, Thomson, Bicycling Science, Drop In
Pro bike: Iban Mayo's Euskaltel-Euskadi Orbea TT climbing prototype
On test: Campagnolo Eurus G3 wheels
Pro bike: Lance Armstrong's Trek Madone SSL proto
Pro bike: Emanuele Sella's Battaglin
June 8 news, part 1: Giro's Rev Six revs up at Dauphine, Rebellin conquers on Wilier carbon proto, Giant spy photos at the T-Mobile Service Course
June 8 news, part 2: Specialized unveils new kit, Cervelo & CSC fine-tune at MIT, New forks from Alpha Q, Paint job of the year?
Pro bike: Dede Demet-Barry's T-Mobile Giant TCR Carbon
Bikes of the Giro part 2: The mountains
New arrivals: DMT, Jaggad, Blue Steel, Cannibal, Ellsworth, LeMond Fitness, Atomic Mount
On test: Park Tool IB-1 & IB-2 multi-tools
De Marchi responds
On test: Giro Monza
On test: De Marchi Contour bib shorts,
On test: DeFeet Armskins
May 21 news: Petacchi's new Pinarello, Mayo's Orbea TT secret weapon, adidas, Mavic, Ambrosio, True Temper
On test: White Industries Eccentric ENO hub
World exclusive pro bike: Marion Clignet's Look 496 track bike
On test: Carnac Quartz road shoes
Repair & maintenance: Recording MTB position
Pro bike: Chris Horner's Webcor Lemond TT bike
May 13 news: New Shimano wheels, 29inch victory, CycleOps, Naviion
New arrivals: Crank Bros, Park Tool, Sports Instruments, Morningstar & Panasonic,
New arrivals: 2004 clothing from Campagnolo
On test: Orbea Orca - Real-world team issue
On Test: Specialized Bar Phat tape
Bikes of the Tour de Georgia
Apr 30 news: Campagnolo, Klein, Giant, Sports Instruments, Burley, La Ruta
Apr 27 news: IRD, Oval, Fi'zi:k, Camelbak