Tech review - May 23, 2004
On test: De Marchi Contour bib shorts
Shorts that hug you
De Marchi's Contour bib shorts
Photo ©: Cyclingnews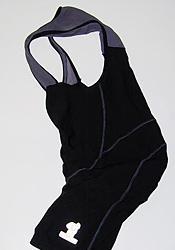 A long-standing but almost forgotten brand, De Marchi has bounced back to the modern age with a range of high quality cycling apparel. Cyclingnews' Anthony Tan limbers up as he takes their Contour bib shorts through its paces.
One of the oldest manufacturers of cycling apparel, De Marchi was conceived way back in 1946 by Emilio De Marchi, soon after the end of the second World War. Over the years, their clothing has adorned the legs, chests and backs of some of the sport's biggest names, with over 30 world champions and hundreds of national champions having worn the De Marchi mark - Louison Bobet, Michele Dancelli, Francesco Moser, Moreno Argentin and Henrik Djernis to name a few.
In recent times, with the proliferation of big brands such as Nalini, Biemme and Castelli, as well as American companies like Nike and Pearl Izumi introducing their own lines of cycling-specific clothing, the De Marchi name lost some of its potency. But when a few pairs of their Contour bib shorts rocked up on the doorstep of Cyclingnews' Sydney office roughly two months ago, it didn't take long for the crew to acknowledge (though rather covertly, mind you) these were no run-of-the-mill shorts, and pooof - as if by magic - they were gone.
Up close and personal
Sculpted panels
Photo ©: Cyclingnews

Contoured side panels
Photo ©: Cyclingnews

The multi-layered, multi-density chamois
Photo ©: Cyclingnews
The elastic chamois
Photo ©: Cyclingnews

Yes, I was one of the lucky ones. Upon closer inspection, it's quite obvious that this age-old brand had moved on since the days of woollen jerseys and leather mitts (although recently, De Marchi has introduced a range of replica clothing to appease the retro style junkies out there).
The fit is superb. I'm 5'11" and invariably a size medium with most shorts (that also being the case here), and although not overly tall, I have found a number of brands pull just a bit too tight in the crotch area, both on and (especially) off the bike. Not here, though. The countoured panels work a treat too, "gently enveloping the body without tightness" according to the blurb. And the soft mesh back and shoulder straps feature sizeable perforations, the straps wide enough to firmly hold everything in place without digging into your shoulders.
The all-important synthetic chamois uses what's known as "Elastic Interface Technology" (in short, it stretches to prevent bunching) and features padding of variable density and thickness, with heavier weight and thicker padding in areas of greatest pressure. To De Marchi's credit, they haven't gone overboard unlike some other manufacturers; you still want your behind to firmly plant itself around the coutours of your saddle without feeling like you're sitting on top of a cushion.
One quibble of mine is the lycra is a little on the thin side. I admitted in an earlier review I've long been a fan of Sugoi's Technifine shorts, the main reason being their fabric has a perfect weight and thickness and endures multiple washes (and even the odd crash or two) without losing its feel or fit. While the Contour bib shorts have been designed this way, lighter weight material tends to lack durability and loses its shape faster, too.
Road test
My first outing was a 6.15am bunch ride on an unusually chilly autumn's day... which just happened to remind me of another reason why I'm partial to slightly thicker lycra!
That aside, the shorts performed admirably. Well designed, contoured panels gave the feeling of a custom fit regardless of leg movement, with no readjustment necessary. Aiding this is a pair of high quality elastic leg grippers and perfectly shaped shoulder straps, holding the legs of the shorts down while preventing the top half bunching up. And once I (finally) warmed up, the bib's extra material presented no problems in terms of ventilation - in fact, three hours later, the bibs came out remarkably dry.
More than welcome was the beefed up padding around the sit bones. But one thing that did bother me - and still does after two months' use - is that the shorts feel a tad slippery once you've really started sweating. It's most noticeable after returning to the seated position after sprinting or climbing, and may have something to do with the elastic chamois and thickness of the lycra to which it is attached.
The story so far...
A solid performer. Fit is unsurpassed and ventilation is excellent, with no uncomfortable tugging on any pressure points. However, the 'slippery chamois effect' is mildly annoying. Durability may pose an issue due with the use of lightweight lycra, and they certainly won't save you from losing skin in the event of a crash.
Photography
Images by Cyclingnews.com
Recommended retail price: US$120.00
Sizes: S-XXL
Colours: Black and white (but only for the brave!)
Pro: Excellent fit and ventilation. Contoured panels, elastic leg grippers and soft but thick shoulder straps keep everything in place without tugging.
Con: 'Slippery chamois' mildly annoying. Durability may be an issue due to lightweight construction.
More information: De Marchi website
Cyclingnews Rating: