Recently on Cyclingnews.com
Tech review - May 24, 2004
On Test: Giro Monza
Giro's latest helmet is aimed at the serious-recreational 'enthusiast' rider. John Stevenson is impressed with its fit and deceptively effective cooling.
Giro Monza helmet
Photo ©: Cyclingnews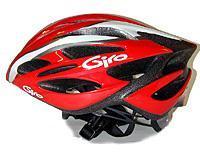 Giro's new-for-2004 mid-range helmet features lots of details that have trickled down from the company's top-end lids (as used, of course, by Lance Armstrong and other members of the US Postal team). The Monza sits below Giro's top two helmets, the new Atmos and the Pneumo - it's Giro's take on an affordable high-quality helmet, at the 'enthusiast' level.
Giro claims the Monza has 24 vents, though we actually make it 25. (Yes we count the vents in helmets. My name is John, and I'm a techno-weenie...). The outer polycarbonate shell is bonded to the polystyrene lining using what Giro calls its In-mold process, which Giro claims reinforces the vents, helping reduce weight and increase protection in the event of a crash. It's held in place by Giro's Roc Loc 3 occipital cradle, which can be adjusted in two ways: tighter/looser and up and down.
Swoopy lines

View from the top

Roc Loc 3

Helmets aren't quite as personal as say, saddles, but everyone's head is a different shape. I happen to have a noggin that could have been custom-made to slip into size M Giro helmets, so I got on famously with the Monza from the word go. It's snug, it's comfortable. Strap adjustment is straightforward, and the padding is soft and absorbent.
The Monza doesn't feel especially well-ventilated though. With some helmets you can literally feel the breeze flowing through and over your head. The Monza is more subtle than that. I thought at first that it just wasn't putting much air over my head, but then I realised I still wasn't getting particularly hot and sweaty. I think the Monza's large top vents are letting out hot air (and anyone who knows me can tell you I have no trouble producing lots of that) but because it doesn't have the large front vents of some helmets, the Monza doesn't produce that feeling of cold air hitting your brow, er, head-on. Instead the brow pad absorbs sweat, and does a good job of keeping you comfortable.
See the penultimate paragraph of my Bell Ghisallo review for my standard grizzle about the lack of peaks on road helmets. I know I'm out of step with the entire road-cycling world on this, but, damnit, I like peaks, so nyeurgh.
Otherwise, another very fine helmet from Giro. Recommended
Recommended retail price: US$100
Sizes: S (51-55cm), M (55-59cm), L (59-63cm)
Weight: 275g
Colors: Red/silver, titanium/yellow, white/blue/white
Pro: Comfortable, deceptively well-ventilated
Con: Gizza peak
More information: Giro's website
Cyclingnews Rating: