New Arrivals – June 3, 2004
Edited by John Stevenson
Got Tech? Send press releases, news, and tech questions to the Cyclingnews tech-heads.
Welcome to New Arrivals, a section showcasing the latest equipment that's landed on the Cyclingnews tech desk. Look out for reviews over the next few months when we've clocked up some saddle time with this stuff.
DMT Ultimax shoes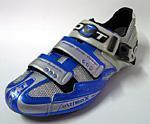 DMT Ultimax RSX
Shoes, these days, aren't just shoes. DMT's top-of the line Ultimax RSX shoes - as used by Webcor's Chris Horner - are as much a piece of engineering as a piece of footwear. They feature a rigid, light weight carbon fiber sole, and DMT's 'Energy strap closure' which comprises a combined heel strap and ratchet buckle designed to lock your foot very firmly but comfortable into the shoe.
The upper is a combination of ventilated mesh and leather sections at the wear points and the carbon sole is compatible with three-bolt (Look-style) cleats only.
Claimed weight is 324g per shoe for a size 41, but our samples actually weighed less: 635g per pair in a 42.
Available sizes are 37-40 in full sizes, 40-46 in half sizes (largest half-size is 45.5), 47 and 48.
More info: www.diamantdmt.com; US importer: www.uplandsg.com
Price: US$259.95

Jaggad One Cyclesuit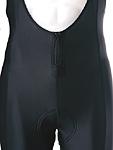 Jaggad One Cyclesuit
An Australian clothing manufacturer making waves with high-end stuff is Jaggad whose signature garment is these bib shorts, dubbed the One Cyclesuit. Made from high quality Italian Lycra, the Jaggad One's most unusual feature is a short, zippered fly to make convenience stops more, well, convenient.
The bib and braces features a narrow 'Racer' back and low front for comfort and increased ventilation, and the Italian-made 'Multi-Level Pad' seat liner features padding where it's needed and channels for ventilation.
More info: www.jaggad.com
Price: US$140.00, AU$149.95

Blue Steel Sports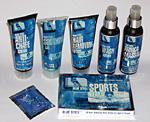 Blue Steel Waxes, gels & lotions
Blue Steel is a new range of body care products for sportspeople, including hair-removing wax strips, hair-removing lotion, anti-chafe cream, soothing gel, arnica massage oil and wash lotion.
The wax strips come in a pack of 30 and are hypo-allergenic, fragrance free and "guaranteed to outperform 'girlie' supermarket varieties" according to the manufacturer. And waxing has the advantage of keeping your legs smooth for up to six weeks. If peeling of wax strips sounds too ouchie (though Blue Steel claims it's painless if you follow the instructions), the hair-removing lotion is claimed to work on even the coarsest hair.
The anti-chafe cream contains skin conditioning agents and tea tree oil and is suitable for use as a chamois cream for cyclists while the soothing gel helps relieve sunburn, windburn or even shaving rash.
For post-ride care, the wash lotion gives you a way to clean up when you can't shower - just apply a small amount to a clean cloth and wipe yourself clean. Finally, the massage oil contains the herb arnica, renowned among masseurs as a muscle soother.
Prices: Anti-chafe cream - $14.95; Soothing Gel - $14.95; Wash Lotion - $12.95; Arnica Massage Oil - $24.95; Hair Removing Lotion - $14.95; Sports Wax - $19.95
More info: www.bluesteelsports.com.au

Cannibal Bullet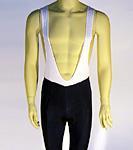 Cannibal Bullet bib shorts
We seem to be inundated with high-quality shorts at the moment, and one thing that's interesting about them is the decline in dominance of good old Nylon/Lycra - other fabric manufacturers are moving in on what was previously DuPont's exclusive dominion.
Not that DuPont is lying down and taking it. From Australian manufacturer Cannibal come these bib shorts made from a very strong, heavyweight stretch Tactel/Lycra - a Dupont fabric. Like Nylon/Lycra it's stretchy and breathable, but has a less a slick feel, and is distinctly beefy. Glenn Forbes at Cannibal told Cyclingnews that the fabric was chosen for its durability.
"All the Lycra was wearing quickly and lightweight Lycra hasn't improved in that regard. The heavyweight Tactel/Lycra is better; it's a strong, tough fabric."
Cannibal is aiming to become known as a maker of durable clothing, says Forbes. "Our jerseys last but [previous] shorts haven't because of the Nylon/Lycra."
Another unique aspect of the Bullet knicks is the pad (chamois). It not only features the 'seamless welds' of high-end knicks, but it's also printed so it's not plain old beige. Instead, it's a funky blue and purple design.
More info: www.cannibal.com.au
Price: AU$210

Ellsworth Truth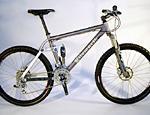 Ellsworth Truth
Ellsworth's Truth cross-country dual suspension bike features what the company calls Instant Center Tracking, which is jargon for a suspension design that doesn't waste rider energy in bobbing, but instead puts it all into forward motion. In short, it's a carefully-designed true four-bar linkage - that is, there's a pivot between the dropout and the main frame pivot, so the suspension can still move even under braking.
Our Truth was supplied by Australian importer Dirtworks and it's hung with a droolsome selection of the company's goodies, including Fox Forx, Hayes carbon-lever hydraulic disk brakes, Ritchey carbon handlebar and tyres and SDG saddle and seatpost.
Prices: Frame - Au$3,250; US$1,995
More info: www.ellsworthbikes.com or for Australians, www.dirtworks.com.au

LeMond Fitness Lewedges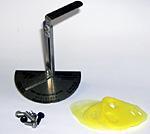 LeMond Fitness Lewedges
According to LeMond Fitness, many riders have a "forefoot tilt", in which the front of the foot is not flat but rather has an angle or tilt. When you ride on conventional clipless pedals and cleats, the foot is forced into a flat attitude and the body compensates by the knee moving laterally during the pedal stroke.
Lewedges - which have been suggested to Cyclingnews by the folks at Rocket 7 as a solution to product tester Anthony Tan's shoe fit issues - solve the problem by changing the angle of the cleat on the sole to allow the foot to adopt a more natural position. The picture also shows the Forefoot Measuring Device which enables a rider or shop technician to measure the number of wedges needed for a rider
Prices: Wedges - US$24.95 (pack of 8) Forefoot Measuring Device - $39.95
More info: www.lemondfitness.com

Atomic Mount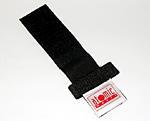 Atomic Mount
Got a heart rate monitor, but running out of room on your handlebar? Atomic Mount lets you ditch that bit of foam from your bars and move your HRM to the stem where, on most bikes at least, there;s a bit of spare room. You simply remove the HRM's wrist strap, thread the Atomic mount's strap through the HRM body and strap it on your stem.
Price: $13.99
More info: www.atomicmount.com