Tech News – May 21, 2004
Edited by John Stevenson
Got tech? Send press releases, news, and tech questions to the Cyclingnews tech-heads.
Alessandro Petacchi's Pinarello Dogma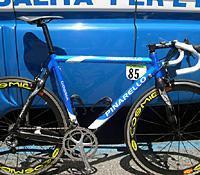 Proud Pinarello punches up Petacchi's perch
Alessandro Petacchi's bike sponsor Pinarello is understandably more than a little happy at the Italian sprinter's domination of the stage finishes so far at the year's Giro d'Italia. Out of the seven 'sprinter's stages' so far, Petacchi has landed five of them aboard his magnesium Pinarello Dogma.
Petacchi features in Pinarello's latest ad campaign for the Dogma, but as if to prove that racing really does improve the breed as well as sell it, Fassa Bortolo has been riding on beefed up Dogma frames since Milan-San Remo. The seat tube and chainstays have gained 0.15mm thicker walls to stiffen them - exactly the kind of improvement you'd expect a sprinter such as Petacchi to ask for.
Curvy carbon seatstays

A Campagnolo Hiddenset holds it all together

Campagnolo Record cranks

Fausto Pinarello told Cyclingnews, "Our philosphy at Cicli Pinarello is that we constantly try to improve our products and this more rigid Dogma is also a running change to all Pinarello Dogma frames that began with January 2004 production."
It doesn't take a very close examination to see that configuration of Petacchi's bike is designed to deliver him to the line as quickly as possible over that final few hundred metres. Petacchi is relatively tall for a pro cyclist at 184cm (just over six feet) but with a 140mm stem, a 58.5cm top tube and a huge drop from the saddle to the bottom of his 44cm wide Merckx-style bars, his set-up would still have normal mortals feeling like they were stretched on a rack. It obviously works for him, though.
As Dr Ferrari has observed, Petacchi's adopts a "particularly penetrating aerodynamic profile" in a stage finale, which is essential if you're going to cover 100m at 67km/h. "Whenever he launches the sprint, Petacchi takes a very low position with the head," observes Dr Ferrari, "while the shoulders shrink to his neck and sides: he definitely looks like a torpedo!"
Frame: Pinarello Dogma-Milano-San Remo / Dedacciai AK61 Magnesium
54 seattube X 58.5 toptube (c-c)
Fork: Pinarello Onda
Colour: Fassa Team Blue (note new FB team graphic)
Cranks: Campagnolo Record 175mm / 53X39
Bottom bracket: Campagnolo Record
Chain: Campagnolo Record
Front derailleur: Campagnolo Record
Rear derailleur: Campagnolo Record 10V.
Brakes: Campagnolo Record
Levers: Campagnolo Record
Rear sprockets: Campagnolo Record 11-21
Wheels: Mavic Cosmic Carbone Tubular
Tyres: Vittoria Corsa Evo CX Tubulars
Stem: Deda Newton 140mm
Bars: Deda 44cm (non-anatomic)
Headset: Campagnolo Record integrated
Pedals: Look CX7
Seat post: Pinarello Carbon
Saddle: Selle Italia SLR Carbonio
Mayo's TT rig
Iban Mayo's Orbea TT frame

Cyclingnews correspondent Martin Hardie snuck into a back room at Orbea when nobody was looking and grabbed this spy-camera shot of the bike Iban Mayo will ride in time trials later this year. It's been frequently pointed out that Mayo would be a serious Tour de France threat if he could time trial to the standard of, oh, say, Lance Armstrong, and Euskaltel's bike sponsor is working on providing the tools for that job.
The as-yet-un-named TT frame features a very compact design with a 38cm BB to top tube measurement (centre to centre, along the seat tube). Orbea is also working on a special bike for Mayo for the stage of this year's Tour that's expected to be most crucial to the final outcome: the time trial up l'Alpe d'Huez. Look out, Postal!
Be an adistar at Philly
In an effort to highlight the new adidas Cycling website, adidas is giving away a trip to the US Pro Championships in Philadelphia on June 6. One winner and a guest will jet to Philadelphia courtesy of adidas, for an adidas Cycling Pro weekend. The winner will receive, among other things, the opportunity to go on a training ride with adidas athlete Tim Johnson of the Saunier Duval/Prodir Cycling team, a personally fitted complete adidas cycling kit and VIP treatment at the US Pro Championships on Sunday. The new site offers the entire current product range of shoes and apparel, a dealer locator, a news page featuring updates from Tim Johnson and other adidas sponsored athletes, as well as events that the adidas staff will attend. Look out for the ads on Cyclingnews or click here to enter.
True Temper adds titanium
True Temper Sports, known for its high-end steel bike tubes and Alpha Q composite components, is expanding into titanium manufacturing with a new plant in Olive Branch, Mississippi, which will mostly focus on making double-butted titanium tubes and components for the bike industry.
Ambrosio Zooon

New wheel from Ambrosio
Ambrosio has announced a new 2005 model racing wheel, the Zooon. Zooon features as 25mm, semi-aero rim with 28 paired spokes front and rear. The black, 2mm spokes are laced to Italian-made hubs with ball bearings. Claimed weight is 960g for the front wheel and 1150g for the rear wheel.
More on 29-inchers
After last week's item on Jelmer Pietersma victory in the Netherlands under-23 cross-country MTB championships aboard a 29 inch (700C) wheels mountain bike, we got a few emails about 29 inch MTBs. Kris De Nys wrote to tell us, "On 18 April 2004 Ronny Poelvoorde became the first Belgian MTB-marathon Champion, a race held in Waregem. He won the championship on a Duratec MTB, equipped with road Ksyrium wheels and Dugast cyclocross tubulars."
Kris pointed out that Ronny might therefore have been the first national champ on 29in wheels, and it looks like that's the case - unless anyone knows different.
Joel Metz pulled me up on my description of the UK's Three Peaks race, an event I said ran on "a course that no sane person would tackle on anything but a mountain bike." Surely, Joel said, "three peaks is a cyclocross race." Yes, it is - and that was exactly my point. For those unfamiliar with it, the Three Peaks is a 60km cyclo-cross race that takes in three large-ish hills in England's Yorkshire Dales region, an area that's extremely popular with mountain bikers because of its beautiful and challenging countryside. You definitely have to be refreshingly mad to enter Three Peaks, and pretty damn fit and tough to finish it.
Mavic mechanic contest
From Chris Clinton's pro mechanic email newsletter we hear of Mavic's second annual Professional Mechanics Contest at Manayunk Wall, June 4, part of the Wachovia/USPRO festival of races. "Competition is by invitation only but all are invited to come and support the mechanics who will be changing wheels and pushing riders," says Chris. "Let's see if anyone can beat Chad Contreras, winner of the first Professional Mechanics Contest. When the contest is over stick around for other festivities including some time with riders like Tim Johnson. This is a great opportunity to network with the full time race mechanics. More information is on the way."