Tech review - May 20, 2004
On Test: White Industries Eric's Eccentric ENO single speed hub
Initially flummoxed by the problem of fitting a fixed gear to a bike with vertical drop-outs Greg 'One Gear' Taylor found salvation in this tidy hub.
The ENO eccentric hub
Photo ©: Greg Taylor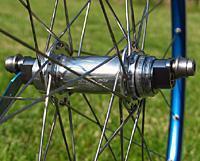 Okay, admit it: single speed bikes are cool. One gear, no excuses. Old school. Hard core. Want to go faster? Simple. Pedal faster.
Not so simple is coming up with the goods to build a single speed or, better yet, a fixed gear bike for the road. Track bikes are one option. Designed from the get-go as a single-speed, the down side is that track geometry can be a little skittish on the road, and some forks/framesets aren't drilled for brakes.
The other option is to build your own. The 'traditional' way to build up a fixed gear bike for street use is to come up with an old road frame with horizontal dropouts in the back. Why horizontal dropouts? Adjustability. Without a derailleur, you need to be able to move the rear wheel back and forth in the frame in order to adjust chain tension. Horizontal dropouts allow for that adjustability.
Once you find your frame, the intrepid fixie-phile is then left to sort out what to use for a rear hub. There are a couple of options. You can either re-space a skinny (120mm) track hub to fit the wider road spacing between the rear dropouts, or try and cobble up something from an old free-wheel hub.
But what if you already have a killer frameset hanging in the shop, just waiting to be built up into a new project? You know the one: the feather-light carbon and Sputnik-metal Team Issue wonder-frame ridden by Cipo himself that you snagged off eBay. The one with the vertical rear dropouts? What if you want to turn that into a fixie?
No worries. We have the answer.
White Industries (Petaluma, California) has come up with a really nifty piece of kit - the Eric's Eccentric ENO hub - that allows you to turn a frameset with vertical dropouts in a fixed gear flyer without too much fuss. In order to introduce some adjustability into the set up to take out slack in the chain, White Industries has designed the Eccentric ENO hub with a special set of stainless steel axle ends. These fittings mount the wheel in the dropout at a point that is offset from the centerline of the hub. This offset introduces an eccentric motion in the hub if you rotate it in the drop out. This eccentric motion generates 15mm worth of fore and aft travel per 180 degrees of rotation, which is used to adjust chain tension.
It all sounds a lot more complicated than it actually is. A quick peak at the pictures should make it all clear. Simple. Elegant. Clever.
But does it work?
In situ
Photo ©: Greg Taylor

The answer is yes, with a few caveats.
First, the hardware. The White Industries Eccentric ENO is a "flip/flop" rear hub. For those not fluent in fixie-speak, that means that the hub is threaded on both right and left hand sides. One side is threaded to take a BMX-style single freewheel, for those who like to coast occasionally. The other side is threaded to accept a track cog and lock ring, for those who think coasting is overrated. If you set it up right, you can use two different (but not too different) sized cogs on either side, allowing you to stop mid-ride, flip the wheel, and pick your gearing to match the terrain.
In terms of quality and materials, the Eccentric ENO is a beauty. I'd put it right up there with other high-end boutique components. The hub body is hand-polished aluminum, and comes in 28-, 32-, and 36-hole drillings. The eccentric axle ends and hardware are nicely machined and finished stainless steel. The hub spins on two 6902-2S Enduro bearings that are wrapped around an aluminum axle. The Eccentric ENO is robust enough for mountain bike duty, and can be ordered with 126mm, 130mm, or 135mm spacing. The advertised weight is 224 grams (135mm w/o bolts). That's plenty light.
My test hub was purchased to fix-ify a Cannondale CAAD3 that I had hanging around the shop. Yes, just like Cipo used to ride a couple of years ago when he was with the Saeco squad. As this is also my putative race bike, I wanted to see if I could come up with a combination of parts that would allow me to convert it into a fixed gear monster and then back to its normal configuration with little effort. The ENO seemed to be the perfect tool to make that happen.
After a consultation with our local sage of the spoke wrench, Carl 'Curly' Rice, I settled on building the wheel using DT/Swiss Alpine III spokes laced to a Mavic Open Pro rim. An afternoon's work later I had a wheel. And a very nice one, if I do say so myself. However, life was not all titties and beer down in Eccentric ENO-land because the process of fitting and adjusting wheel on the bike served up a few unexpected surprises.
Slipping the wheel into the dropouts and moving the ENO around on the eccentric, I immediately noticed a couple of things. While it may depend on the design and size of your particular frame, I found that there are some positions where the hub just won't work on my 54 cm Cannondale. For example, rotating the eccentric so that the wheel is in the "full forward" position jams the tire into the seat tube. Not good. The "full up" position wedges the tire into the brake bridge. Also not good. If you are running a rear brake - highly recommended if you intend to use a freewheel - some positions can drop the braking area of the rim below the adjustment limits of a short-reach brake caliper, the common fitment on most modern road bikes. Really not good, especially if you have to use the lower position because of a clearance problem with the brake bridge.
The severity of this particular problem will depends on the design of your particular frame. It's more of an annoyance than anything else, and it certainly didn't prevent me from using the wheel. And as for the rear brake, you can pick up a long-reach caliper fairly cheaply from a number of sources. Boiling it all down, the big thing to remember is that you really have to set up the Eccentric ENO with the tire on the rim in order to determine whether you have any clearance issues.
Once you determine which (if any) wheel positions are verboten, the trick then becomes finding the right combination of chain length and hub orientation. This involves a bit of trial and error and a judicious use of your chain tool. Overall, this process was relatively profanity-free and, despite the clearance issues, I was able to quickly find a usable combination. A fresh chain (I like SRAM chains - the detachable Power-Link makes it easy to swap things back to the geared configuration), a little lube, and I was in business.
The finished fixie
Photo ©: Greg Taylor
So, how does it work? Just fine, thank you. The hub rolls smoooooth, and the eccentric has held its adjustment despite my best efforts to make it slip. The ENO is a quality piece, and once you get it sorted out it definitely works as advertised. Performance-wise, the only real question mark that I have is a ridiculously mundane one: how to handle a flat tire out on the road. Removing the wheel to change a tube isn't the problem. It's the process of buttoning it all up after you're done, tightening the wheel bolts and adjusting the eccentric to take up the chain slack, that gives me a little pause. I've found that you really need to use a wrench to hold the eccentric in place when you tighten the wheel bolts, so I now carry an adjustable spanner in my kit when I ride the ENO. The other alternative is to patch the tube in situ without removing the wheel from the frame. Actually, this is how I handle flats on my other fixed gear bike and, short of a catastrophic blowout, those little glueless patches made by Park work perfectly for this.
What's the bottom line with the White Industries Eric's Eccentric ENO? It's a nice piece that works very well once you get it set up. The workmanship and materials are excellent. But, for me, the best thing about the ENO is its sheer cleverness. Good bike gear is clever, and the Eccentric ENO is extremely clever. It provides an elegant solution for those who want to ride a single speed/fixed gear bike but don't necessarily want to shell out the money for a dedicated single speed frameset.
Recommended retail price: US$160.00
Pro: Beautifully made, really clever, works well
Con: Some set up hassles, especially if you want to run a rear brake
More information: White industries' website
Cyclingnews Rating: