Tech review - June 2, 2004
Park Tool IB-1 & IB-2 multi-tools
Tooling around
Park Tool IB-1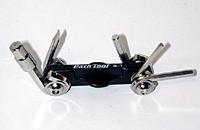 Park Tool IB-2
Photo ©: Cyclingnews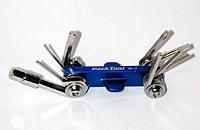 There's a fine line between carrying enough of what you need without being branded "Tim the Tool Man" by your mates. Anthony Tan finds the perfect medium with Park Tool's IB-1 and IB-2 multi-tools.
In the event of a mechanical while out training, mountain bikers tend to be far better equipped than road cyclists. Invariably a result of the more complex nature of their machines, the extra weight matters little to fat tyre junkies - especially when you're out in the middle of the boondocks. But for hard-core roadies, it's all about minimalism; stuffing your back pockets, saddle bag or cut-off water bottle with anything bar the bare essentials is trés uncool.
However, riding with just a spare tube and tyre levers is fraught with danger. No matter how well your bike has been assembled, some things will loosen over time. Bolts used for chainrings, brakes, seat posts, saddles, bars, stems and bottle cages slowly wiggling their way out from their threads are common occurrences among pro and amateurs alike.
Mini me(s)
Park Tool's IB-1 and IB-2 multi-tools have been borne out of the need for minimal space and weight but maximum function.
Both the IB-1 and IB-2 have a central aluminium spine that carries a range of bits. The IB-1 is likely to appeal to roadies with a 3, 4, 5, 6, and 8mm hex keys plus a flat-blade screwdriver; the IB-2 includes these plus four more: another three sizes of hex key (1.5, 2 and 2.5mm) and a T25 Torx, the size commonly used to mount rotors in mountain bike disc brakes. Weight is 88 grams for the IB-1 and another 20 grams for the IB-2.
One for the home, one for the bike
It's been about six years since I last rode a mountain bike, so I've left the IB-2 at home and put the IB-1 in my cut-off water bottle that sits in a semi-permanent position on my bike. I only ever use a saddle bag when touring and rarely do I use my second bottle cage for its intended purpose, so my spare tube, tyre levers, patch kit, a piece of an old tubular (handy for sidewall cuts) and Park's multi-tool all fit snugly inside. Having said that, at just 7cm long and roughly 3cm across (add another 0.5cm for the IB-2), both will fit just about anywhere.
With the increasing amount of stuff we're testing at Cyclingnews Central nowadays, we're constantly throwing new things on and taking (relatively) old bits off, so both Itsy Bitsy 1 and Itsy Bitsy 2 (I thought I'd give them names) have received a solid workout the last two months or so. The 5mm bolt-head size used to be the most common, but nowadays I find myself using the 3mm and 4mm hex keys far more frequently. I'm assuming this change has primarily been done to prevent the overzealous home mechanic from placing too much tension on things like carbon seat posts and/or stripping threads.
All hex keys and screwdriver fold out with ease, with washers slotted in between each of the arms for ease of movement - something my previous multi-tool didn't do. Another clever piece of design is the 2mm cap on the end of the 6mm hex key, giving... you got it, an 8mm hex key, saving both space and weight on two seldom-used items. Function is as you'd expect from Park Tool - neat and practical - with enough leverage for tightening and loosening most items. However, be warned: with only four centimetres of leverage on each of the arms, don't try taking off your crank bolts unless you fancy giving yourself a hernia. Didn't think you were.
The verdict
A perfect tool while on the bike - simple, light and well-designed. Large (8mm) bolts are generally a no-go due to lack of leverage and the flat-head screwdriver could use some extra width, particularly for things such as screws on your cleats. The IB-1 suits the road warriors while fat tyre fanatics should opt for the IB-2.
Price:
IB-1: US$ 13.50
IB-2: US$ 15.95
Weight:
IB-1: 88 grams
IB-2: 108 grams
Pro: Simple, functional, sturdy but light
Con: Flat-head screwdriver lacks a little width; not enough leverage for those 8mm crank bolts
More information: Park Tool website
Cyclingnews Rating: