Tech review - May 5, 2004
Orbea Orca Jelly Belly Team
Spanish manufacturer Orbea has gained a solid following over the last couple of years, not least because of the visibility of its bikes in the bright orange livery of the Euskaltel-Euskadi team. For 2004 Orbea introduces the all-carbon fiber Orca, one of the bikes Euskaltel is using this year and also the team bike of the US Jelly Belly squad. Kerry Moroz takes a spin on the Jelly Belly Orca, with additional comments by John Stevenson.
Orbea Orca in full Jelly Belly spec and livery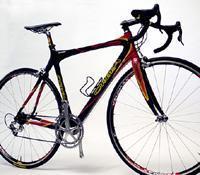 Following on from its 2003 season success, Orbea again throws the glove to the ground for other manufacturers with the release of its new Orca frameset. Set as the flagship model for Orbea's 2004 range, the Orca heralds what looks to be the new material of choice for the company for high end race bikes.
The official Jelly Belly edition

Like something from a sci-fi movie, ever-evolving construction techniques have seen quality carbon fiber slowly creep in from either end of the standard issue aluminum frameset over the past five years. It happened so slowly that it's often hard to remember a time when carbon forks alone were a talking point. Didn't we always have Carbon seatstays? Maybe they were there and we just didn't notice them?
The Orbea Orca completes the carbon evolution and delivers a race-honed but everyday rideable package for the racing masses. Our test bike is as-ridden by the Jelly Belly team though it's not quite available in this specification from Orbea USA.
Frame
The seat cluster is beefy

Orbea once again raises the bar of finish and attention to detail with its 2004 Orca Team Jelly Belly edition model. This is one of the three different paint schemes available in the Orca lineup and by far the most striking.
Aesthetically the Orca builds a balance between exposed raw carbon and the carefully painted waves of colour that this Basque company is now famous for. Flowing lines and inmoulded subtle curves are accentuated by multiple layers of airbrushed paint on a backdrop of natural carbon.
Plenty of carbon

The striking combination of paint and carbon allows the Orca Jelly Belly to stand out from the carbon crowd without having to resort to screaming with ghastly stickers and outrageous colours.
Rather than opt for a tubular carbon shape, Orbea has also broken with tradition by using a flowing, multi-shaped design. The frame is assembled from two monocoque pieces - the main frame is moulded in one, as is the chainstay/seatstay area. The frame components are assembled in a way that makes it almost impossible to detect the joins.
A tidy number-plate mount

The crowning glory of the Orca is the one piece high modulus bonded BB shell section. The true power centre of any frame, the BB shell features a threaded aluminium shell with plenty of carbon wrapped round it. It makes for a frame that's solid as hell against pedaling forces.
Also of note are the small flowing ridges across the top tube which both increase frame strength as well as enhancing appearance.
Even though Orbea are the new kid on the carbon fiber block, a host of mass production as well as boutique frame builders could learn something about design and presentation from the Orca.
Orbea has some seriously fat carbon fiber tube action going on here, but what looks like a relatively heavy frame is actually one of the lighter carbon bikes on the market.
Cable adjusters

By using superior quality carbon fiber materials and bonding techniques, Orbea has constructed a frame that not only looks fantastic, but also tips the scales at around 1000g, depending on size.
Orbea has also come up with some unusual solutions to common carbon fiber problems such as front derailleur cable routing. Instead of clunky cable stops or glued-on guides, there's a small hole in the BB shell/chainstay for the front derailleur cable to pass through.
Campagnolo Chorus transmission

This continues the sleek, smooth look and rounded lines as well as giving the front derailleur a sensible cable angle for maximum efficiency.
While taking notes, it might also interest a few other manufacturers to know that the all over raw lacquered carbon finish died in the 1990s. Okay so it might not be totally dead yet, but it's certainly coughing up blood. The steady increase of mass-produced nude carbon frames on shop floors and start lines has meant the end of the wow factor for bare carbon. Kudos to Orbea for adding some paint to the Orca.
Campagnolo Record chainset

The increasingly popular semi compact frame design will appeal to riders of both traditional and compact frames alike. The gently sloping top tube reduces triangle size for stiffness whilst not forcing the rider to perch atop a foot of seatpost.
Also of note is the respectable headtube size which allows for a comfortable position to be achieved without a big stack of spacers below the stem.
Campagnolo Chorus brakes

Nice touches included polished rather than painted fork and dropout wheel contact points. This prevents paint damage when removing wheels which was the only gripe I had with our pre-production test bike.
As well as the now mandatory replaceable derailleur hanger, Orbea has also added true racing touches such as the integrated number holder under the top tube.
Components
Campagnolo Chorus brake levers

Orbea has opted for a workhorse Campagnolo Chorus group where many manufacturers have been content to drape overpriced components purely to save weight.
Sure there are lighter cranks than the aluminium Chorus units, and lighter wheels than the Velomax pair on the Orca, but when it comes to keeping a team bike, or in the case of Jelly Belly, multiple team bikes, fit to fly race after race, the Orca component choice is a real winner.
Orbea Mission saddle

The solid, dependable Chorus group is enhanced by the Velomax Orion IIs. Although not always the first aftermarket wheel manufacturer to spring to mind, Velomax has quietly gone about making some of the finest pre-built wheels on the market. The Orion IIs are no exception and follow Orbea's performance on a budget trend. Simple maintenance and realistic spoke count mean that these wheels will perform with minimal maintenance or cost.
The Forged Lite's four-bolt, 31.8mm clamp

The Jelly Belly component lineup goes for functionality and strength rather than purely weight or good looks. This is a bold change from the too-light-to-fight single-race fit-outs that are currently being pawed over at trade shows. Not being scared to spec a real world bike is a trait I admire about Orbea, and it speaks volumes about the company's racing pedigree.
ITM Forged Lite stem

You'd expect a rider to comfortably get a full season of top level racing from the group and parts kit on the Orca without the worry of fatigue and failure half way through the race calendar. Weight versus longevity is a dilemma that both the budget conscious team director and self-funded racer alike need to consider.
So how does it ride? And who does it suit?
Velomax front wheel

As this is a team bike, the target market is the real world racer without a bottomless bank balance. As such, the Orca needs to be a great all rounder, and it's hard to find a discipline that it cannot excell at. Ideal for longer one-day races, the Orca really comes into its own after the 100km mark on a rough course.
No more standing to stretch out back pain and fatigue, the Orca's silky smooth ride would be reason alone to shoot the lock off your wallet at your local bike shop.
Velomax rear wheel

Its nimble handling and vibration damping construction will endear it to cyclists that want a smoother ride than any aluminium frame can hope to provide.
For the veteran rider, this bike may be just the ticket for prolonging a cycling career and keeping you from home on Sundays for just a few more years to come.
Velomax quick-release

Though the Orca excels on rough courses, it's as much at home on the criterium circuit as the open road. The nimble, race-proven handling allows for instantaneous direction and rail-like turns. Predictable cornering and responsive acceleration will also make it a favorite with the sprinters, the wheel and frame combination combining perfectly to provide a rock solid platform to blast out of corners with.
Continental Grand Prix 3000 tyres

And of course what you get with a carbon fiber frame is low weight and low weight means climbing ability, especially when combined with the Orca's resistance to flex when you stomp on the pedals. The physics of climbing dictates that a couple hundred grams off the bike doesn't really make an enormous difference to your ability to get it up hills. If you and the bike weigh, say, 75kg, then you're talking about a fraction of a percent off the total. But cycling is about the head as well as the heart, lungs and legs, and the Orca's low weight and eager feel are a definite mental booster.
While the Orca's climbing ability is stimulating, its steadiness at speed is reassuring. Enjoy bombing down steep mountain roads? The Orca plummets as willingly as it ascends, with rock-steady aim into twists and turns. Lovely, and masses of fun.
This is the point in a review where the reviewers talk about the downsides of the bike, but, really, we can't find any major ones with the Orca. No doubt there will be riders who'll be unable to get a perfect fit because the semi-compact frame only comes in five sizes, but there's enough variety in stems and seat posts out there that most people should be able to get comfortable.
Jelly Belly rider Adam Bergman's Orbea Orca
Photo ©: CN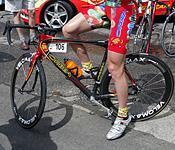 By the way, our test bike is as ridden by the Jelly Belly team. The main difference between this bike and the retail version is that the latter has Campagnolo Eurus wheels rather than Jelly Belly's Velomax wheels. Of course, the Orca is available as a bare frame for you to build up exactly as you desire.
Pro: Quality of finish; Frame design; Ride quality; Workhorse component group.
Con: Some riders will want intermediate frame sizes.
Cyclingnews Rating: