Tech review - May 22, 2004
On Test: DeFeet Armskins
With the riding at Cyclingnews South starting to get distinctly chilly, John Stevenson is grateful for the protection afforded by these well-thought-out armwarmers.
Defeet's very comfy Armskins
Photo ©: Cyclingnews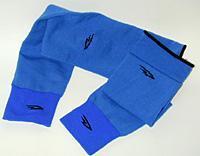 DeFeet's Armskins arm-warmers look at first glance like everyone else's arm-warmers: a tapered tube of mid-weight fabric - a Coolmax/Nylon/Lycra mix in this case - that slips over your arms to add sleeves to your jersey and keep off the winter chill.
Slip them on and you notice a few things, though. For a start, they're extremely comfortable - snug without being over-tight and warm without being overly insulating. I wore a set for an entire day at an eight-hour mountain bike race a couple of weeks ago and pretty much forgot I had them on.
A factor in that forgetfulness was the design of the cuffs, which sit snugly round your wrists and don't move no matter how much hammer your arms take, and the top, which is similarly anchored to the top of your arms. These babies just do not move.
That eight-hour race was held on a cool autumn day on the plateau of the Southern Highlands outside Sydney, and in the last few weeks that chilly weather has moved out here to the coast too. The Armskins have saved me from chills for the last few days commuting as the morning temperature has crept down into single figures Celsius (Defeet recommends Armskins for temperatures in the range 40 to 60 F/4 to 16 C). It was six degrees this morning. My arms were comfortable. I was happy.
Available in two sizes (S/M and L/XL) and three colours (red, black, blue), so you should be able to get a fit and a match with any outfit - black goes with everything, right?
Highly recommended.
Recommended retail price: US$19.99
Pro: Comfortable, warm, well-made, stay up no matter what
Con: None
More information: DeFeet's website
Cyclingnews Rating: