Tech review - May 4, 2004
On test: Specialized Body Geometry Bar Phat Tape
The gubbinses of Specialized's Body Geometry Bar Phat Tape.
Photo ©: Cyclingnews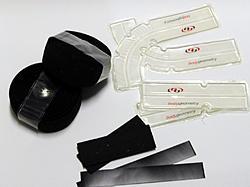 How do you improve something as simple as handlebar tape? U.S. bike manufacturer Specialized's Body Geometry Bar Phat Tape is a step up on the standard, and if a comfortable grip and reduced shock is your goal, Bar Phat offers a lot, as Cyclingnews' Chief Online Editor Jeff Jones writes.
At first glance, a racing bicycle looks to be one of the most uncomfortable things that you could ever wish to plant your behind on, and anyone who has ridden a bike for longer than about 15 minutes realises the importance of comfort. While correct bike and saddle fit rank very highly in the comfort stakes, there are other aspects of a bike that affect comfort - the types of wheels and tyres, forks, handlebars and, by extension, handlebar tape.
Bar tape comes in several types: cloth, foam, plastic (smooth or nobbled) and cork (real or synthetic), of which cork is generally considered the most comfortable. Just like its standard Phat Wrap, Specialized's Body Geometry Bar Phat is made out of cork. The main difference is that underneath the tape, there are four clear elastomer pads that are designed to fit on the top of the bars and in the drops. That means that with the exception of riding on the hoods, you have an extra pad in just about every position on the bars for your mitts.
When mounted on the bars, the Body Geometry Bar Phat certainly lives up to its "Phat" name. It's probably equivalent in thickness to having two sets of standard bar tape on, and has a slightly squishy feel to it.
Testing and performance
The Body Geometry Bar Phat - as used by the Domina Vacanze team riders - found its way onto my (un)faithful bike sometime in December 2003, and many thousands of kilometres later, its still there and not looking too bad. Like tyres, chains and sprockets, bar tape is an often replaced item and it's normally the first thing that gets written off in a crash (of course, there's nothing that several bits of electrical tape won't fix). I'm happy to say that I haven't had to dig into my supply of electrical tape yet.
The first thing I noticed was the increased thickness of the tape, which combined with the extra padding, gave my hands a completely new experience when it came to holding the bars. At first it was a bit disconcerting, but I quickly got used to the idea of having a little more 'give' and now I wouldn't voluntarily trade it for normal tape. I notice it when gripping the bars firmly in a sprint, but it's clearly not going to have a detrimental effect on one's speed.
As far as comfort goes, I normally don't have problems with calloused hands or sore arms with standard bar tape, so I didn't expect and didn't get any with the Bar Phat. Its most severe challenge came in the Wielertoerist version of the Ronde Van Vlaanderen, which featured quite a number of cobbled sections. In the past I've had problems with sore wrists and lower arms by about halfway, but this time around I was still pain-free by the end of the ride. OK, I admit I cheated and skipped the cobbles at Mater and Paddestraat/Lippenhovestraat, but what are a few bumps between friends?
The final thing I noticed about the Bar Phat is that it's less painful to rest your forearms on the tops of the bars in that semi-time trial position. In fact, that has become my preferred solo training position on the smooth, quiet canal tow paths around Gent, even though it's a bit more stressful on the lower back. But my forearms certainly don't suffer.
Overall
Specialized's Body Geometry Bar Phat Tape takes handlebar tape to a new level of comfort. It's great for rough roads and general riding, and is quite durable. The additional weight is very minor compared to a standard set of tape. Some riders may not like the added thickness, but I found the Bar Phat to be very comfortable.
Recommended retail price: US$30.00
Weight: 225g
Colour: Black with titanium finish plugs
Sizes: Comes in 2.5mm and 4.5mm thicknesses
Pro: Noticeably more comfortable compared with any other bar tape; claimed to reduce hand pressure by up to 50 percent
Con: Extra squishiness may be annoying for some
More information: Specialized's website
Cyclingnews Rating: