Reviews
Lance Armstrong: Images of a champion
by Graham Watson & Lance Armstrong
Reviewed by John Stevenson
Essential reading for Lanceaholics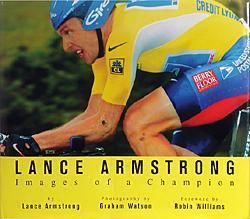 Lance Armstrong: Images of a champion combines over 250 of Graham Watson's images of the five-time Tour winner with commentary by the Boss himself on the progress of his long and varied career.
For readers of English-language cycling magazines, Graham Watson is their eyes at the world's biggest bike races. Ever since he took his first major race photos, of Eddy Merckx riding his final Tour in 1977, Watson has brought his clarity of composition and ability to capture the moment to every major race on the calendar.
Not surprisingly, then, he has a rather massive collection of images of Lance Armstrong - and not just of the lean, post-cancer stage race specialist Lance Armstrong, but also of the earlier, brash young rider who won the world championships at just 21 and had, it's fair to say, a rep as being, in his own word, a bit "impetuous".
The early years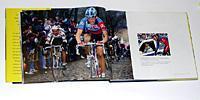 Lance Armstrong: Images of a champion is laid out in chronological order so it starts with images of that almost-forgotten incarnation of Armstrong. Armstrong's commentary on his early days with Motorola covers his victory at the world's and his burning desire to win the one-day Classics, and interestingly a name keeps cropping up: Viatcheslav Ekimov. Writing about his second place in the Zurich world cup in 1992, Armstrong says, "I'd gone into the Swiss race believing the course wasn't as hard as people said, that the entire opposition was no better than me, and that therefore I had a chance to win. As it turned out, a great Russian cyclist was more clever than me - Viatcheslav Ekimov." After his early-career tussles with Ekimov, it's no surprise that the Russian is now a valued lieutenant on US Postal.
Getting dirty at the World's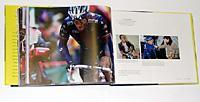 As well as Armstrong's commentary and captions on Watson's fine pictures, there are tributes from Miguel Indurain, Johan Bruyneel, and Eddy Merckx among others. As in Armstrong's own commentary what comes across in these comments is the man's total determination to win, self-belief and utter disappointment when he loses. As losing is what usually happens to bike racers, even ones as talented as Armstrong, Watson has captured plenty of the less-great moments in Armstrong's career as well as the triumphs.
Of course the bulk of the book comes from the period 1999-2003, chronicling Armstrong's five Tour victories, the preparation that went into them, and the incidents along the route from left-field surprise winner in 1999 to marked man battling just about everything a bike race can throw at you in 2003. Armstrong admits the huge difference between his dominant performance in 2002 and struggles in 2003, and Watson's images show a marked contrast between the confident, smiling Armstrong of 2002 and the worried man of the following year.
Leading the Blue Train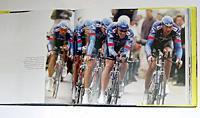 Of the difference between those races, Armstrong writes, "2002 was a Tour with little or no mishap at all, 2003 was like a battlefield each and every day - and I was the main target. In hindsight it is hard to know whether I was lucky to make Paris at all or unlucky to have so much get in my way." Watson's images perfectly capture everything that got in Armstrong's way, including his astonishing crash and recovery on the Col du Tourmalet.
Watson says he and Armstrong had to choose from over 1000 pictures, initially selecting 400, then whittling it down to 300 and letting the book's designer choose the final 250 or so that comprise the book. Was it worth it? It's hard to imagine a Lance fan who won't want a copy of this book on his or her coffee table, and even if you're not a died-in-the-wool Lanceaholic, this is a rare and fascinating look at the way a top rider develops both mentally and physically.
More photos from Lance Armstrong: Images of a champion
Recommended retail price: $35
Available: Good bookshops or direct from www.grahamwatson.com
Cyclingnews Rating: For Lance fans -

; For everyone else -