Reply to tech review - May 31, 2004
De Marchi Contour bib shorts
De Marchi's Contour bib shorts
Photo ©: Cyclingnews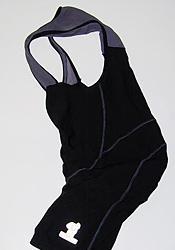 Since posting our review of De Marchi's Contour bib shorts on May 23, the company has penned a response to address a number of issues product tester Anthony Tan raised in his article. Below is their reply.
Dear Cyclingnews,
Thank you for having tested and for your positive judgement on our product, however we would like to make a few clarifications.
As you said, the choice for the fabric seems like it is light and that has been our choice. Our Contour shorts are similar to another model, Contour Plus. The model of Contour shorts you tested uses an advanced material called JL Intensive, made with an exclusive blend of polyamide microfiber and PowerLycra.
The weight of this fabric is around 200grams/square meter, well over the normal weight of fabric used on the market today. An untrained eye can easily misjudge the fabric weight. The seeming lightness is due to the elevated percentage of microfibre compared to its weight and has a lower volume. The advantages of this fabric technology (and in particular polyamide-nylon microfibre versus polyester, which is the principal component of Technifine that you like, and also with respect to normal, non-PowerLycra with non-microfibre polyamide-nylon, which makes up the majority of fabric on the market) are many:
1) Greater abliity to transport moisture from the internal part of the fabric (in contact with the skin) to the outside of the fabric, due to the capillary action from the smaller section of the polyamide microfibers.
2) Faster evaporation of perspiration after sweat has been transported to the outside of the fabric.
3) Greater elasticity - i.e. keeps its original shape better over a longer time period.
4) Faster elimination and less retention of odors and resists retention of bacteria.
5) Hold up better over long-term to washing, since the polyamide microfibers are woven with an "unweavable" structure ("indemagliabile" in Italian; that's to say if polyamide microfibers are damaged, the damage won't spread.
We have tested our shorts after crashes. Though it's not something we believe is fundamental, for two reasons. The first is that we develop all of our products to offer some protection and the second is that when one crashes, you will rip up and damage any shorts, no matter what brand.
The "slippery" short insert is something we've never heard mentioned before. However, we don't believe that this could be caused by the weight of the fabric used in our shorts. In general, the characteristics of elastic short inserts are to follow the movement of the body. In fact, that is the main difference with a traditional short insert that is more rigid and can create comfort problems thorough bunching and folding because they move less.
If you would like to learn more about De Marchi products, we would be very happy to provide you with a sample of our Contour Plus shorts, which are made with a heavier weight polyamide microfiber and PowerLycra fabric and a multiple density elastic short insert.
Editor's note: Subsequent to this letter, Cyclingnews will take up De Marchi's offer to test their Contour Plus shorts, which we will review in due course.