New Arrivals – May 7, 2004
Edited by John Stevenson
Got Tech? Send press releases, news, and tech questions to the Cyclingnews tech-heads.
Welcome to New Arrivals, a section showcasing the latest equipment that's landed on the Cyclingnews tech desk. Look out for reviews over the next few months when we've clocked up some saddle time with this stuff.
Crank Bros candy Ti pedals

Crank Bros Candy Ti pedals
What do you get when you put a small platform around a Crank Bros Egg Beater pedal? You get the Candy series pedals, which use Crank Bros' four-lobe mechanism nestled in a composite platform to provide more support than the super-minimalist Egg Beaters. The Candy Ti saves weight with a titanium axle for one of the ligfhtest double-sided pedals available.
More info: www.crankbrothers.com

De Marchi Contour bib short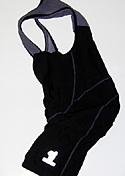 DeMarchi Contour bib shorts
Claimed by De Marchi to be some of the most comfortable shorts the Italian clothing company has ever made, the Contour bibs feature very fine microfibre stretch fabric and a shaped-panel construction that "gently envelopes the body without tightness." Initial testing certainly indicates that they're very comfortable.
More info: www.demarchi.com

Park Tool WTK-1 tool kit

Park Tool WTK-1 tool kit
Park Tool's WTK-1 essential tool kit contains the minimum necessary tools for a casual or beginning rider: 3, 4, 5 and 6mm hex wrenches, tire levers, patch kit, Straight blade screwdriverand a small adjustable wrench. The whole shebang comes in a tidy nylon pouch to keep it all under control in a backpack or saddlebag
More info: www.parktool.com

Park Tool PPM-3 tool kit

Park Tool PPM-3
For the more adventurous and technically0inclined trail mechanic, the PPM-3 contains just about everything you'd need to get out of trouble, including Park's rather nifty folding chain tool, tire levers, double-ended spoke wrench, open end wrench (8, 9, 10mm), IB-1 Mini Fold-Up Hex Wrench/Screwdriver Set, Pre-Glued Patch Kit and Tire Boot. Like the WTK-1 it comes with its own pouch for easy storage.
More info: www.parktool.com

Sports Instruments Pro Metal Nine HRM

Sports Instruments Pro Metal Nine HRM
Sports Instruments says the company's objective in designing the Pro Metal Nine was to create a heart rate monitor that wasn't just useful, but looked good too. With a steel case, and rubber strap we'd say it's a success on the style front. HRM features include automatic colculation of your training zones based on your maximum heart rate or lactate threshold, a five-workout memory - for each training session the Pro Metal Nine stores the amount of time spent in each training zone - training zone alarms and much more.
More info: www.sportsinstruments.com

Morningstar Drumstix

Morningstar Drumstix
Got an out-of-line rotor on a disc brake? Paul Morningstar to the rescue with this set of three tools that provide the leverage and control necessary to gently get it back into shape. And there's even a bottle-opener on one of them, for when the job's done.

Morningstar R2.O.C.-Tech

Morningstar R2.O.C.-Tech
An easily portable dial indicator for detecting out of true areas of wheels or disc rotors, the R2.O.C.-Tech is shown here with an optional adapter for 20mm through-axle MTB hubs. On standard quick releases it simply mounts in place of the quick-release nut, turning any bike into its own truing stand - handy, according to Morningstar, for quick repairs in race pits.

Panasonic DMC-FZ10

Panasonic DMC-FZ10
We know that lots of Cyclingnews readers like to take photos of races, so we're currently putting through its paces one of Panasonic's latest digital cameras that offers two features essential for action shooting: plenty of zoom in a whopping 12X magnification, and a big Leica lens that opens out to f2.8. The DMC-FZ10 also features an electronic image stabilisation system for those times when you just can't hand-hold a long focal length and a 4 megapixel sensor.
More info: www.panasonic.com