First Edition Cycling News for June 29, 2007
Edited by Laura Weislo
Di Luca and Mazzoleni to appear before CONI
By Gregor Brown
Danilo Di Luca (Liquigas) enjoys the moment in the 2007 Giro d'Italia
Photo ©: Sirotti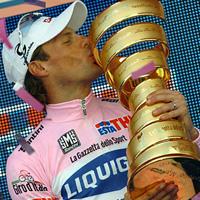 2007 Giro d'Italia winner Danilo Di Luca has been summoned by the Italian Olympic Committee (CONI), and is scheduled to appear on July 5 regarding the 2004 Oil for Drugs investigation. The announcement by CONI, including hearing dates for Eddy Mazzoleni, Alessandro Petacchi and Ruggero Marzoli, comes on the heels Italy's la Repubblica newspaper reporting part of evidence obtained during the investigation by Italy's Anti-Narcotics Group (NAS).
In the past days, NAS mailed a 572 page document with audio and video recordings to prosecuting attorney Paolo Ferraro. The documents centre on doctor Carlo Santuccione of Cepagatti, Pescara, including telephone and video recordings with 31 year-old Di Luca.
In a recorded conversation from March 3, 2004, five days before Milano-Sanremo, Santuccione expressed the need to inject Erythropoietin immediately since, at the time, the drug was only detectable for a few days. "You have to pass by. You have to hurry because you need to do it today," said the doctor. Di Luca responded that he would come by with Alessandro Spezialetti at 19.00.
"Doctor Carlo Santuccione enters the office. Takes with him, in his hands, two disposable syringes," reads the video description recorded at 19.21. According to the paper Santuccione is seen preparing the vials with the blood boosting hormone Erythropoietin (r-EPO) and then exiting the office where Di Luca and Spezialetti are waiting outside. Both riders were part of the Saeco team in 2004.
Eddy Mazzoleni, third in this year's Giro, who was also part of the 2004 Saeco squad. He will be heard by CONI on July 4. In the documents are recorded SMS messages that the rider from Bergamo sent to Santuccione mentioning Di Luca and hormone use.
"Hello it is Eddy I wanted to ask you when next week I am able to come for the three trainings... Bye and thanks," read a SMS message from Mazzoleni that NAS believes refers to illicit products.
For more details on the Oil for Drugs, read NAS blitz nets nada and NAS raid Giro again from 2004.
UCI antidoping agreement: 165 riders sign, Rabobank protests
Mark Cavendish (left) and Sandy Casar were some of the first to sign
Photo ©: AFP

A little more than one week after it introduced an antidoping agreement and required all ProTour riders to sign prior to competing in the Tour de France, the UCI has amassed a list of 165 riders' names on the charter as of Thursday evening, according to the UCI website. Many teams have added names en masse, including French teams AG2R, Credit Agricole, Agritubel, Bouygues Telecom and Cofidis, and the German teams T-Mobile and Gerolsteiner.
First time Tour de France participant Barloworld added its riders names to the list, as did most of Team Milram, however absent still are any riders from the Belgian Quickstep and Predictor-Lotto squads, Italian teams Liquigas and Lampre, and the Discovery Channel, Rabobank, Euskaltel-Euskadi, Astana, Unibet.com and Team CSC. Many teams are approaching the new document with caution.
In a press conference this week, Discovery team director Johan Bruyneel indicated that his riders would sign the document. "Yes. We're hoping it will be signed by all our riders before the Tour de France," Bruyneel said. "We definitely agree with it, but I believe that it is being amended as we speak because it is not a legally-binding document. But it's definitely a message all the teams want to send out together," he added.
Other teams have been more vocal about their objections to the document, which has the riders agree to give up a years' salary if found guilty of doping, and agreeing to give up a DNA sample. The Italian riders' association, ACCPI, is still debating the document, and the Rabobank team has released an official statement from the riders voicing their objections to the agreement. The riders' statement was quickly followed by a statement from the team saying that "All riders of the Rabo ProTeam will sign the statement 'Riders' commitment to a new cycling'" It added, "At the moment, the team is collecting all documents. Only when all signed statements have been collected, the team will present them to the UCI."
The Rabobank riders stated that they "unanimously question the actions of the International Cycling Union (UCI)," and felt that it displayed a "lack of respect for the rights of the individual cyclist."
The Rabobank riders' statement also criticised the UCI for failing to contact the riders before rolling out the agreement, and described the move as "a public tribunal by [the] UCI. It witnesses an undemocratic approach, that UCI makes public which riders have signed the statement on its website.
Wiggins to take on Le Tour
Wiggins at the Dauphiné
Photo ©: AFP

As expected, Cofidis rider Bradley Wiggins will have his chance to light up the prologue course in London next weekend. Wiggins was named to the team's Tour de France squad by manager Eric Boyer on Thursday. Wiggins, the reigning World Champion in the pursuit, won the prologue at the Dauphiné Libéré earlier this month, and is one of the hot favourites to win the 8km test on July 7th. Wiggins told Cyclingnews earlier this month that he is targeting a top finish. "I can really target the top five but I'm not the only one able to win, there'll be David Millar, David Zabriskie, George Hincapie, and Fabian Cancellara."
Wiggins will be joined by Frenchmen Stéphane Augé, Sylvain Chavanel and Geoffroy Lequatre, Italian Cristian Moreni, Colombien Ivan Parra, and Belgian riders Nick Nuyens, Staf Scheirlinckx and Rik Verbrugghe.
Jaksche, Kessler out of German championship
The German cycling federation (Bundes Deutscher Radfahrer - BDR) has said that riders Jörg Jaksche and Matthias Kessler will not be welcome at the German championship on Sunday, according the the news agency sid. While neither rider has been sanctioned by the UCI, Jaksche is currently suspended by his Tinkoff Credit Systems team after being named in the Operación Puerto affair, and Matthias Kessler was supsended by Astana this week after returning an elevated testosterone result from a surprise doping control on April 24th.
Kirchen renews with T-Mobile
Kim Kirchen (T-Mobile)
Photo ©: Sirotti

Tour de Suisse runner-up Kim Kirchen has signed a two-year extension to his contract with T-Mobile, the team announced Thursday. The contract will keep the defending Luxembourg champion in magenta until the end of 2009. "I feel very much at home with T-Mobile," Kirchen said on the team's website, www.t-mobile-team.com. "I have developed enormously as a rider during my two seasons with the team. I am sure that I can go on to achieve even more in this environment."
The 28-year old, who came to the team in 2006 from Fassa Bortolo, is set to ride his first Tour de France for T-Mobile this year. "Kim has ridden well all season and it's a hell of a comeback," said general manager Bob Stapleton. "He did not have a good season in the team last year - he struggled, but this year he feels a lot better on the bike, he's got better power transfer, he's more comfortable and he's more durable."
Kirchen's second overall at the Tour de Suisse is just the latest good result in a solid season that included a second overall Tirreno-Adriatico and third place finishes in Milano-Torino and Brabantse Pijl.
"Plus he's got a good role in the team," added Stapleton. "The team atmosphere is very positive and he feels accepted and liked by his team mates. It's great to have him on board."
Czech and Slovak TT championships cancelled
The joint time trial championships of Czech Republic and Slovakia, due to be held Thursday near Brno, were cancelled due to safety reasons after the race course became a detour from a major motorway. The resulting amount of traffic on the course made the conditions unsafe for the riders. "The Prague-Brno motorway was blocked following an accident and the traffic was deviated. Then, the trucks and the coaches [were] circulated on the road where the race was being held," the championships' director, Pavel Havranek, explained to AFP.
The women's and juniors races were run before officials decided the conditions were too unsafe to continue the competition. "We completely cancelled this competition. The traffic on the road is too dense. The health and the safety of the cyclists were in danger," explained the principal referee of the race, Richard Kratochvil.
While the race organisation searches for a way to reschedule the event, the time trial director, Zdenek Valenta, blamed the cancellation on a lack of co-operation on part of the local police force.
Russian track star dies
Russian track standout Yulia Arustamova was found dead in a Moscow apartment on Thursday, according to interfaksu. The multiple track World Cup medallist's body was discovered by her room-mate, Rudolf Zagaynov, according to Sportkom, where she had allegedly hung herself in the bathroom.
Arustamova last race in the Canadian stage race, the Tour of Prince Edward Island, where she finished 14th overall.
US National festival gets new sponsor
USA cycling has announced a new sponsor for its championship festival in July. California Giant Berry Farms was named as a presenting sponsor of the 2007 USA Cycling National Festival at Seven Springs, which will be held July 6-17 in Champion, Pennsylvania.
In addition to sponsoring the race, California Giant Berry Farms sponsors a 70-member amateur team, Giant Cycling Team, and also sponsored the USA Cycling Cyclo-cross National Championships.
"As a strong supporter of competitive cycling, California Giant is extremely proud and pleased to support the USA Cycling National Festival at Seven Springs," commented Anthony Gallino, vice president of sales for California Giant Berry Farms and team director of the California Giant cycling team. "We are equally excited for our cycling team to compete for national titles in several categories."
The 2007 USA Cycling National Festival at Seven Springs presented by California Giant Berry Farms kicks off July 6 with masters championship races, and ends July 17. Throughout the course of the event, national titles will be awarded in time trial, road race and criterium events across men's and women's junior, U23, elite and master categories.
New Prizes Added - Fantasy Le Tour Game
One week left - create your teams now!
A few days ago we announced the Cervelo Soloist Carbon bike as this year's le Tour Grand Prize. Today we are pleased to confirm that Saris will be joining the prize list again in this year's games. The first runner-up will win a Cycleops Powertap 2.4 wireless. They have upgraded the world's most accurate, lightest power meter to be the world's first wireless meter, meaning you can easily switch it between bikes. Powertap 2.4 measures watts, cadence, heart rate, speed, kilojoules, averages and graphs out your workout for you so you can chart your training progress. Powertap expert Allen Lim uses the Powertap 2.4 exclusively to coach the US based Slipstream Chipotle squad. The 2.4 combines the lightweight reliable SL hub with a 2.4GHz transmission. Hub to handlebar...no strings attached!
Even if you don't win the Grand Prize, the Fantasy Le Tour game is a great way to follow the Tour each day here at Cyclingnews. It's free to play the first three stages - try it out today. You don't need to be a cycling expert to win prizes. Registration has already begun.
Win a Cervélo Soloist Carbon.
Photo ©: Tim de Waele/TDW Sport

Le Tour Fantasy Game prize list updated
Prize summary: From one Grand Prize and one First Runner-up to three each Second, Third, and Fourth Runner-up prize packages, there are eleven chances for you to win based on your overall performance in the 2007 Le Tour Fantasy Game. There are also 21 daily prizes for each stage's top performer. All prizes are as listed (substitution requests cannot be honored). The roster of prizes so far is as follows:
Grand Prize from Cervelo Soloist Carbon CSC team replica bicycle worth $4750 USD. Equipped with Shimano Ultegra 10-speed, R-550 wheels, FSA cranks, bars & stem, Selle Italia Marco Ponza saddle, Cervelo aero carbon seatpost, and Vittoria Diamante Pro Lite tyres.
Daily Prize from BBB Parts - 21 pairs of BSG-23 Winner Quick-Step World Champion glasses designed for Tom Boonen - one for each day of tour.
Cycleops Powertap 2.4
Photo ©: Cyclingnews

10x Runners-up Prizes
Cycleops Powertap 2.4 Wireless
Set of Shimano Dura Ace WH-7801-SL Wheels - three sets on offer
Maxxis Courchevel road tyres - 10 sets on offer
Descente Classic Chevron design clothing - four sets on offer
PRO Carbon Bottle Cage - x10 on offer
Speedplay - Zero stainless steel pedals - 3 sets on offer
Giro Atmos Helmet - x3 Giro Atmos Helmet
More prizes will be announced in the coming days. To find out more visit the prizes page.
Speedplay Zero Stainless
Photo ©: Cyclingnews

What is the Fantasy Le Tour game?
The online game allows you to assume the role of a professional team manager for the 2007 Le Tour and create your own dream team from any of the real life riders in this year's Tour. In what's set to be the most open Tour in decades, based on the live racing action, you will take up the challenge of using your knowledge and tactical skill as a race team manager to compete with other virtual managers from around the world. Follow the races live and use your skill and knowledge to win some great prizes.
Play for free in the Fantasy Le Tour 2007 game
Maxxis Courchevel tires
Photo ©: Cyclingnews

Remember you can play for free for the first three stages! Try the game out and see how best to play. It's easy to play the Tour games - all you need to do is pick your dream team of 15 from the riders racing in this year's Le Tour start list. Then each day pick nine riders to race for your fantasy team from these 15. You'll need a good combination of climbers, sprinters, and general classification riders.
For more details register for free now. It's a great way to follow Le Tour 2007.
(All rights reserved/Copyright Knapp Communications Pty Limited 2007)