Giro d'Italia Cycling News for May 15, 2007
Edited by Ben Abrahams
Petacchi overcomes his doubts
By Jean-François Quénet in Cagliari
Ale-jet is back at the '07 Giro
Photo ©: Sirotti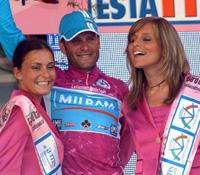 Alessandro Petacchi has won ten races already this year but there were still many lingering questions over his ability to win at the highest level after the Italian failed to claim either Milan-San Remo or Gent-Wevelgem this season. "Had I not won at the Giro, nothing else done before would have counted," said Petacchi of his season to date.
One year ago, on stage three, he was out of the race already with a broken knee. "I went through a lot of doubts afterwards," he commented, remembering his recovery period when he couldn't even match a 90 year-old woman in a pedaling exercise. "I've received huge support from Michele [former classics champion Bartoli]. He also had a serious accident in his career [at the Tour of Germany in 1999 - ed] and he knew what was happening to me. I've asked him for so much advice. You realise who your real friends are when you need them in a difficult time."
Petacchi also mentioned someone that he considers like a "second father" who has also helped him a lot and deserves the dedication for this Giro stage win. However, he maintained that this person wants to remain anonymous, although many of the assembled media suspected it to be Dr Luigi Cecchini who is now under investigation for the Italian arm of Operación Puerto. The Tuscan coach was quoted in Milan daily newspaper Il Giornale as having only five riders under his wings now: Damiano Cunego, Petacchi and three others that he wouldn't name.
Talking about his win, Petacchi said: "I'm a sprinter of instinct. Sometimes it has made me lose races but today it made me win. With 350 metres to go, I've taken the risk to go too early but it worked out. It's been one of the longest sprints of my career. In such a finish, the legs count more than the team."
In fact, there were no Milram riders forming a train like the day before, when he lost to Robbie McEwen and Paolo Bettini. "It's not the first time that I've won without a train," he said. "But the team has believed in me till the end. It's been our guys to go and catch the two breakaway riders [Mikhail Ignatiev and Giovanni Visconti]. The last 25 kilometres were very nervous. I stayed on the wheels very easily. I know my rivals were spending energy because of the side wind, I didn't."
Tears of joy
Photo ©: Sirotti

There have been doubts about Petacchi's train too, despite the Milram leader saying yesterday: "The train has worked but not me." Marco Velo was unable to ride the Giro this year because of his crash at Gent-Wevelgem and the other important part of the train, Fabio Sacchi, was left at home by Milram, officially for health reasons although Sacchi has said he's fine and not sick.
"We know that we have other good riders for the job", Petacchi said, referring to Brett Lancaster and Mirko Lorenzetto, the replacements at the end of the train with Alberto Ongarato in between.
"This is one of the most beautiful wins of my career. To win at the Giro is something different from winning anywhere else. You probably have seen my emotions today, there were cries of joy."
Judging by previous years, Petacchi could well experience more of those moments before reaching Milan.
Hansen breaks fingers
By Susan Westemeyer
T-Mobile's Adam Hansen was excited about riding the Giro in only his first year on a ProTour team, but it hasn't quite worked out the way the Australian hoped - instead of continuing triumphantly on to Milan, he is now facing an operating room at the Freiburg University Clinic in Germany.
There was only one mountain in Sunday's second stage, and it proved to be his undoing. "It was so simple, a rider in front of me riding uphill decided to cross my wheel without looking and there was nothing I could do as I had a rider on the other side," he told Cyclingnews.
"If he would have paid a little more attention, then I would have been still be racing today."
Although he hurt his hand in the resulting crash, Hansen finished the stage, but with difficulty. "In the last 40km I had huge problems because that was the hilly part, so I couldn't brake well or stand up. So getting dropped out of every corner and not being able to break with one hand made it hard to descend."
X-rays on Monday morning showed "two breaks, maybe three in my right hand. But one of the breaks goes through the joint, this is the major problem I have been told, otherwise I would continue, but the doc says no way."
On Monday afternoon the team announced that he had broken the ring finger and little finger on his right hand and will be operated on this week in Freiburg.
Ignatiev dreamt of the maglia rosa
By Jean-François Quénet in Cagliari
Visconti and Ignatiev
Photo ©: Sirotti

The Tinkoff show continues on the roads of the Tour of Italy. After seventh place in the team time trial and Pavel Brutt's long breakaway in stage two, which earned him the green jersey of the king of the mountains, it was Mikhail Ignatiev's turn to represent the young generation of Russian stars in the stage three escape.
"It was better for him than for me today," Brutt said after crossing the finishing line. Today it was dead flat, which is what suits Mikhail the best, while I'm a better climber and yesterday there were a few hills. I'm happy with the way I've recovered from my efforts yesterday. I felt comfortable in the bunch."
Listening to Ignatiev, there is another version of what Tinkoff's tactics might have been the day before. "I know the second day in a stage race is the best for me, the 22 year-old from St Petersburg said. "That's why I wanted to break away yesterday, but Brutt went before I did it. It doesn't matter because I got my chance today."
He expected a lot from his move from the gun. "Unfortunately the two Frenchmen [Alexandre Pichot from Bouygues Telecom and Mickaël Buffaz from Cofidis - Ed] who were with us didn't cooperate really, they didn't have good form. I still think it was possible to make it to the finish. I've worked a lot for that. I knew that the tail wind would favour the peloton which was racing at a very high speed in the last five kilometers."
Ignatiev revealed there was a deal between him and his breakaway buddy Giovanni Visconti on the way to Cagliari. "The Quick.Step team agreed that we would work together for the last two kilometres without looking back. Doing so, I would have left the stage win to Quick.Step and the maglia rosa would have been for me. I dreamt of seeing myself in pink with five kilometres to go. But when we looked behind, the bunch was very close."
Ignatiev gives it the juice
Photo ©: Roberto Bettini

Ignatiev thinks the Giro d'Italia "is not fun" and he amazed the assembled journalists by saying so. He explained: "You need a lot of luck for winning a stage when you go in a breakaway. It's more controlled than at any other bike race. When I attacked yesterday after Brutt was caught, I stayed away for five or six minutes, no more. Liquigas is a very big team."
The Tinkoff team is somewhat weakened by the loss of Tyler Hamilton and Jörg Jaksche, but it doesn't seem to bother Ignatiev too much, as he gets more freedom without big leaders in his team. "In the first month of the year our team didn't get good press because of these riders. I don't want to comment about Hamilton's life. Ask my sponsor. I can only say Hamilton is a very good guy."
At Sydney's Track World Cup at the end of last year, Ignatiev was skeptical about Hamilton joining his Russian-sponsored team since the American was the man who took the Olympic title away from Viatcheslav Ekimov in Athens. Now he has revised his opinion of his team-mate, but Hamilton's absence doesn't mean the end of Tinkoff's GC ambitions at the Tour of Italy. "Evgeni Petrov will be our man and we have Riccardo Serrano and Brutt for helping him in the mountains. For me, the flat stages are much better."
Ignatiev still has the pedaling style of a track racer, and the Olympic points race champion intends to defend his title in Beijing next year. "Road and track, it's 50-50 for me now", he said, knowing that road racing will only make him stronger.
Bileka speaks about rest day and stage three
By Shane Stokes in Cagliari
With the Giro d'Italia entourage moving to the mainland on Monday night and Tuesday morning, the riders have a rest day of sorts. Most of the race will take the ferry from Cagliari on Monday evening and sail through the night, while the riders will fly over in the morning.
Although it is early in the race, Discovery Channel rider Volodymyr Bileka said that the peloton would use it as an opportunity to rest in advance of the tough stages to come. "Tomorrow we will do a maximum of two hours on the bike. We will rest, sleep and eat. Next week will be very hard."
He said that the race to Cagliari was steady but that the speed ramped up towards the end. "The stage was long and hot with a very quick finale. At this point of the race everybody is fresh and therefore everybody is trying to be involved in the sprint. It makes things more risky and hard."
Roche shows speed in final kilometre
By Shane Stokes in Cagliari
Young Irish rider Nicolas Roche was riding to set up the sprint for his Crédit Agricole team but instead found himself off the front inside the final kilometre of Monday's stage to Cagliari. He hit the front at the red kite, got a gap and held off the rest of the field for approximately 600 metres. He was swamped with about 400 metres to go, while teammate Thor Hushovd hit the deck in a crash which took down several riders.
"I was clear inside the final kilometre," the 22 year old told Cyclingnews at the finish. "Initially I was riding to lead out the sprint [for Hushovd] but when I went, the guy behind me let the wheel go and I got a bit of a gap. They caught me with about 400 metres to go." Roche sat up once he was caught and rolled across the line in 46th place, being classified in the same time as stage winner Alessandro Petacchi (Team Milram).
Despite his prominent showing, Roche said that the stage was tough due to problems with his cycling shoes in the heat. "I wasn't feeling the best all day. With the heat, I can't feel my legs. It's the first time to ride with these shoes in such hot weather and my feet were killing me. I will try to have to get something sorted out. But I guess it is a good sign to go like that in the final kilometre of a stage."
(All rights reserved/Copyright Knapp Communications Pty Limited 2007)