First Edition Cycling News for May 19, 2007
Edited by Laura Weislo
Pinotti offers a fresh start for cycling
By Jean-François Quénet in Spoleto
Pinotti
Photo ©: Sirotti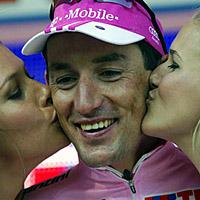 Marco Pinotti has believed that Danilo Di Luca would do what he said: get rid of the pink jersey. Now, his move into the maglia rosa symbolises a victory for T-Mobile and the Italians in their drive to clean up the sport. (See the stage 6 report.)
Pinotti, an engineer who represents the riders on the board of the Italian cycling federation, was third in the 2006 Giro d'Italia stage 11 individual time trial in Pontedera behind Jan Ullrich and Ivan Basso. Now that T-Mobile has put a strong antidoping policy in place, he carries the flag for both the German team and Italian cycling in the absence of the two main stars of Operación Puerto.
Since turning pro with Lampre in 1999 after completing his studies, Pinotti has had the reputation of being a clean athlete. "I would have never joined T-Mobile if it wasn't for this change of policy," he explained.
"Their ideas are clear and direct. The team gives us the best instruments for performing in cycling without using banned substances. For example we have followed a program for a muscular reinforcement of the back and abdominals. It's working really well. I feel stronger on the bike. We are also helped by a sport psychologist, although I have my own NLP (neuro linguistic programming) since 2004."
"T-Mobile has a line and they keep it," Pinotti continued. "It's not a small decision to come to the Giro without Sergei Gonchar who has always been an important rider for this race." Due to injuries, the German team is reduced to six men already, "but I have very good team-mates," Pinotti stated.
He hopes to keep the pink jersey until Genova (stage 10), and he even dreams of leading the race in stage 14 where it will finish in his home town of Bergamo, but he's a very realistic cyclist. "I'm not strong enough for the mountains." As a former Italian champion against the clock, Pinotti might make the headlines again after the stage 20 time trial in Verona, the only flat time trial there is this year. However, he doesn't pretend to be a big champion, and attributes his third place behind Ullrich and Basso to factors outside himself, saying "I was lucky with the wind and the course suited me at perfection."
At least the tifosi will be able to listen to all the positive things that Pinotti has to say because, with the power of the pink jersey, he now has the position to speak out. About Basso, he stands clear: "He made his confession only when he had his back against the wall, but it's an offense to the intelligence. I've been very disappointed by him. Well, this is my opinion."
Laverde has la verde
By Jean-François Quénet in Spoleto
Laverde wins
Photo ©: Sirotti

For Luis Felipe Laverde, the Giro d'Italia is nothing new. He already won a stage last year in Domodossola, but nothing since. "I try to win everywhere, but if I could make a choice it would be this one for sure: a win at the Tour of Italy, it's the best I can do", he said. Since he rides for Panaria which wasn't invited to the Tour de France, the Colombian rider has the pink race in mind, something he has aimed at since he turned pro with Formaggi Trentini in 2002 under the guidance of Stefano Giuliani. Giuliani was happy to meet him again at the start of Tivoli today.
Laverde had prepared for his move long before the start of the stage. "The breakaway was born in my head two days ago and scheduled for today," he commented. "Last year I got a beautiful win because it was the first one, today it's beautiful as well because I confirm it." He didn't sprint against Marco Pinotti because the deal between the two was clear: the stage for the Colombian, the pink jersey for the Italian.
Pinotti didn't want to repeat the bad experience he had at the Tour of Romandie just before the Giro where he bet it all on both aims and then didn't win the stage and missed out on the leader's jersey by just four seconds. "I trusted Pinotti," Laverde said. I've raced a lot with him but I never spoke with him. I didn't have any doubt that he would respect his words."
Laverde is proud to say that he has won the stage of the Terminillio, one of the Giro's famous climbs. He also got the maglia Verde (the green jersey) of the king of the mountains. "But it will be very difficult to keep it", he admitted. "I'd like to because my idol was Lucho Herrera."
Laverde hails from Medellin. "It's a big city of two million people, maybe not what you imagine. It's a beautiful town, I have it in my heart. When I go out on my bike, at 1,600 meters of altitude, I usually cover 20 to 30 kilometres of climbing during a single training ride, but if there is 50 to do, I cope with it."
"I'm in Europe for work, he said. When I'll complete my career, I'll go back to Colombia." With maybe more than two stage wins of the Giro in his bag…
Kern misses his chance
By Jean-François Quénet in Spoleto
Christophe Kern
Photo ©: JF Quenet

Credit Agricole's Christophe Kern made the successful breakaway in stage six of the Giro, and while he couldn't contend for the win, he held on for third place - a result that will go a long way toward his goal of being selected for the Tour de France squad. Last year with Bouygues Telecom, Kern was left off the Tour de France team although he came in third in the French time trial championship, and the last spot was given to veteran Laurent Brochard who was injured and couldn't finish. Then Kern decided to quit Jean-René Bernaudeau's organisation and his mate Voeckler to see if he could get more opportunities at Crédit Agricole.

"Apart from our leaders, there are still some spots available for the Tour de France this year and I'm up for it", the 26 years old said on the finishing line of Spoleto, but he had mixed feelings with coming third. "I haven't won - but it's been a while since I was in the front in a breakaway like that. Actually, this was the first day we were allowed to go away. In the previous stages, we had to protect Thor Hushovd and our staff knew that breaking clear was useless. We didn't want to spend energy for nothing."

The French outfit had an idea - getting their Italian climber Pietro Caucchioli in the break for the king of the mountains classification, but Kern was the one who made it. "I was the first to launch the 23 men breakaway and I insisted later, that's how we made a group of 5 in the front. I was afraid of that section at 16%. I had seen that the Panaria rider [stage winner Luis Felipe Laverde, ed.] was easy in the hills and I knew that he and Marco Pinotti were good in the downhills. I had to come across before the top of the last climb, otherwise it was game over." It was, indeed.

Crédit Agricole ended stage six with a nice result after starting without Patrice Halgand who had crashed the day before and hurt the collarbone that he broke last winter. He came to the start in Tivoli and put a number on the back of his jersey, but he quickly realized he'd be a non starter. "For the coming stages, we'll race for Hushovd", Kern said.

The Frenchman whose original speciality is time trialling is also keen to test himself on the penultimate stage against the clock from Bardolino to Verona. The town of Romeo and Juliet is exactly where he got the bronze medal at the Junior world championship road race when he won the sprint for third place and thought he had actually won the title. Cunego, the rainbow jersey that day, has gone much further than him in the hierarchy of cycling since, but Kern hasn't had his last words yet.
Quick Step takes white jersey
Hubert Schwab (Quickstep-Innergetic)
Photo ©: Sirotti

After a long day in the saddle, powering in the 120 kilometre long breakaway, 25 year old Quick Step rider Hubert Schwab was rewarded with the white jersey of the best young rider, which he took from Liquigas' Vincenzo Nibali, and Schwab had the calculations all set in his head the whole way.
Hubert Schwab, a graduate in mathematics from the University of Basilea, knew that he would have the maglia bianca at the end of the day, but the trouble was getting there. "In the last kilometres I was very tired," explained Schwab on the finishing line at Spoleto, "but I tried to do my best to stay focused. I dreamed about this jersey, it's a great satisfaction for me and for the whole team. I am very happy."
The Swiss rider was especially satisfied with the performance because it reverses bad luck he had earlier this season, "In March, before the start of the GP of Lugano, I suffered an ugly accident to the right hip that could have put my whole season in danger."
Schwab holds a 1'17" lead over Nibali, and he likes the look of the white jersey, "I hope to maintain it for a long time," Schwab said. "It's really the best moment of my career."
Geoghegan apologises for phone call, now absent from hearing
By Mark Zalewski in Malibu, California
Will Goeghegan
Photo ©: AFP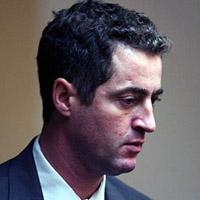 The now former business manager for Floyd Landis, Will Geoghegan, publicly apologised for his actions through a statement issued by his attorney.
"I apologize to Greg LeMond and his family for the distress I caused by my call," the statement began. "I also apologize to the arbitration panel and to Floyd Landis and his legal team for the distraction. I have been very angry about how unfair this whole proceeding is to Floyd, a great friend and a greater champion, and stupidly tried to take out my anger on Greg."
Geoghegan's statement went on to say that his actions were influenced partly by alcohol consumption. "I acted on my own, impulsively, after a beer or two. I never thought about keeping Greg from testifying. If I had, I would have concluded that since Greg is such a fierce competitor my stunt would likely make him more resolved to testify. What I did was wrong and very unfair to Greg. I am very sorry about and embarrassed by my conduct."
It is not clear if the statement was released as a result of any contact between the lawyers for Geoghegan or LeMond. Calls to Geoghegan were not returned. No ruling had been made by the three-person arbitration panel
At the end of the morning session, one of USADA's lawyers, Mr. Barnett, asked the panel if Mr. Geoghegan would be indeed returning to testify, as he was about to take the stand when Mr. Suh asked for a break so that Mr. Geoghegan could consult legal counsel. Mr. Barnett implied that the absence of Mr. Geoghegan from the proceedings today indicated that the Landis side was "trying to hide Mr. Geoghegan."
The panel responded that they have no authority to compel Mr. Geoghegan to appear and testify, as would be the case in a civil or criminal court. Mr. Suh responded to this, saying, "As the panel well knows, there were issues brought up by Mr. LeMond which made it entirely appropriate for him to have legal counsel. We took a break yesterday so that Mr. Geoghegan could consult legal counsel."
Following this Mr. Barnett seemed resolved to rely on Mr. Geoghegan's public statement in lieu of his testimony.
In a letter to Cyclingnews, Michael Henson, Executive Director of the Floyd Fairness Fund, clarified the position. "In light of the news coverage of yesterday's testimony at the Floyd Landis arbitration hearing, we are writing to clarify that Will Geoghegan, who served as Floyd's business manager until being fired yesterday, had no formal role with the FFF."
Henson, and likely the Landis side, believe that this situation will not have any effect on the actual case. "As the focus of the hearings returns to disproving WADA/USADA's allegations against Floyd, we are confident that the facts and science will continue to bear public proof of his innocence. Your continued support is greatly appreciated."
Cyclingnews' coverage of the Floyd Landis case
May 29, 2009 - French authorities summon Landis and Baker
September 28, 2008 - Landis takes case to US federal court
September 10, 2008 - Landis signing with current Health Net-Maxxis team for 2009
July 1, 2008 - CAS delivers final blow to Landis legal challenge
June 30, 2008 - Landis loses final appeal
June 28, 2008 - Landis decision due Monday
March 12, 2008 - Landis' judgment day nears
October 21, 2007 - Landis files appeal with CAS
October 18, 2007 - AFLD takes another look at Landis case
Thursday, October 11 - Landis continues fight, appeals to CAS
Saturday, September 22 - UCI officially names Pereiro 2006 Tour champion, Landis case raises issues
Friday, September 21 - Landis' appeal denied, two year suspension levied

Cyclingnews' complete coverage of the Floyd Landis case
Pereiro blasts Italian press
By Monika Prell
Spanish Oscar Pereiro of the Caisse D'Espagne team
Photo ©: AFP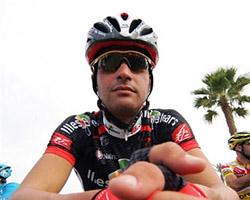 Oscar Pereiro blasted the media today for linking his name with the Operación Puerto, and vehemently denied that his is at all involved in the case. Last Tuesday, the Italian newspaper Il Giornale alleged that blood bags, marked with the name of 'Urko', belong to the Caisse d'Epargne rider, and that Urko is the name of Pereiro's dog, something the Spaniard fiercely denied.
In an interview with El Mundo, Pereiro stated that "the pathetic journalism that some practice, the fact that they make up rumours to disperse a lie" outrages him. "It's the fault of an website that wants to link me to the Operación Puerto saying that Urko is a mythological dog of Galicia, but in reality this dog is written with 'c'," claimed the cyclists who is born in Mos (Galicia), and added that "Urko with 'k' is a mountain in the Basque country." Urko, in the Basque province of Gipuzkoa, is situated between Eibar, Ermua and Markina.
Pereiro feels injured and so he decided today to file charges against the Italian newspaper. "Now it's enough, from now on I will file charges against all who accuse me without having proof," he threatened.
The 29 year-old declared that, "I have never talked to Eufemiano Fuentes, I don't know him at all and I don't know why they want to link me to him. I have never seen him in my life. I am willing to deliver my DNA so that they can compare it with the necessary things."
Pereiro did not discount the possibility that the publication in the Italian press is part of a strategy to keep him from claiming the 2006 Tour de France victory, something that could occur if Floyd Landis, the winner of last year's edition, will not be able to clear his name of the doping charges. Landis' arbitration hearing regarding his positive result for synthetic testosterone is currently ongoing in Malibu, California.
"I don't know what will happen, but I have to say that in the last Tour, I was the smartest one. I joined a breakaway group and gained back a half hour," he said. "If they don't want me to race in the Tour, they should clearly tell me. Cycling doesn't end with the Tour de France, if they don't let me start, that's no big deal, I will stay here and compete the Vuelta a España," he said to El Mundo.
However, Galician is disappointed with the publicity, and the fact that cyclists are constantly accused without basis. "I am bored and tired of the fact that people are accused only for signs. We have to realise a general change in the cycling, at all levels, but, above all, in the direction. It's outrageous that we, the riders, have to prove our innocence. I am willing to deliver all, but if I have to prove my innocence via my DNA, I will leave cycling, because it's clear that cycling in this form is not worth it."
According to El Mundo, he even speculated that there exists a campaign against him and against the entire team Caisse d'Epargne. "They lash out at Alejandro Valverde, me, etc. They begrudge us the great team we have. But they are not only attacking cycling, but also the Spanish sport in general. I believe that anybody should defend us, perhaps Jaime Lissavetzky [the Spanish sport minister] himself. There exists a persecution against all things Spanish."
Iran team for FBD Insurance Rás goes AWOL
By Shane Stokes
The FBD Insurance Rás cycling race will start on Sunday minus one team, following the news that what was believed to be an Iranian national selection has gone missing.
Following months of negotiations between the race organiser Dermot Dignam and what appeared to be a legitimate vice-president of the Iranian national cycling federation, visas were granted for five riders and four team officials to travel to the race, marking the first ever entry from the Middle Eastern country.
The first indication that something was amiss was when four of the group arrived a week earlier than scheduled. Dignam arranged for them to check in early to the official pre-race accommodation venue, but they failed to show up. Two more from the group then flew into Dublin airport on Thursday but were refused entry to the country.
Mahdi Fathi, Mohammad Rastad, Amir Shakeri, Mobin Bagherzadegan and Mahmoud Talei had been entered as the riders for the race. Dignam had believed he was in negotiations with Ali Zangi Abadi, double bronze medallist in the 1982 Asian games and current vice president of the Cycling Federation of the Islamic Republic of Iran, but it now seems possible that the person concerned was posing as the former international rider.
"Following discussions with the Iranian Embassy and immigration officials we immediately cancelled arrangements for the team's participation in the FBD Rás," said Dignam on Friday, confirming that the squad was bogus. It is believed that the four individuals are still at large.
Meanwhile, teams from the USA, Germany, Estonia, Czech Republic, Denmark, Britain, Australia and the Netherlands have arrived for the eight-day race, 2.2 ranked race, which gets underway with a 157 kilometre stage from Naas to Templemore. They will line out against some of Ireland's best riders, including a strong Subway Eat Fresh Irish national selection.
The riders will cover almost 1200 kilometres as they travel anti-clockwise around the country, taking in additional stage finishes at Loughrea, Sligo, Dungloe, Buncrana, Derry, Newcastle and Skerries.
Irish squad confirmed for Rás
By Shane Stokes
The Irish national squad for the eight-day, world-ranked event was announced on Thursday. National road race champion David McCann will lead the Subway Eat Fresh Irish Team, which will be backed by the sandwich company. He has been showing good form this year while racing in the US with the Colavita Sutter Home pro team. Paul Griffin has also been riding well in international competition with the Giant Asia team and while he would undoubtedly prefer a hillier FBD Insurance Rás, he should be prominent.
The team is completed by Dermot Nally, Martyn Irvine and former world junior champion Mark Scanlon. Irvine is one of the country's most promising young riders while Nally and Scanlon have both taken stage wins in the race.
Scanlon's presence in the team will generate interest. He won the junior world championship nine years ago and rode the Tour de France in 2004, but has been showing signs of a lack of motivation for the past couple of seasons. He was due to race this year with the Toyota United Pro team but has not done so, returning to Ireland earlier in the season prior to his scheduled season-opener, the Tour of California. However, it is hoped that taking part in the FBD Insurance Rás will help build his condition, with a view to becoming part of Cycling Ireland's new track programme.
Subway Eat Fresh Ireland manager Cian Lynch is expecting a strong showing. "This team has great strength and depth. Mc Cann has a great record in this race, claiming the overall in 2004, while Griffin, Nally and Scanlon have all scored stage wins in the Rás. The sole Espoir on the team, Martyn Irvine, has impressed with his rides on the U23 Espoirs National Team at Picardie and Liège-Bastogne-Liège, culminating with a win on the first stage of the Tour of Ulster."
The Murphy and Gunn/Newlyn Group/M. Donnelly Sean Kelly team, Ireland's only Continental squad, will also take part. Paídi O'Brien, Mark Cassidy, Stephen Gallagher, Simon Kelly and Danish rider Glenn Bak will line out for the Belgium-based team.
Caisse d'Epargne, Euskaltel and Milram for Catalunya
Caisse d'Epargne will head to the Volta a Catalunya (May 21 to 27) with a strong team. Under the direction of directeur sportif Eusebio Unzúe, Oscar Pereiro, time trialist José Iván Gutiérrez, Frenchmen Nicolas Portal, Russian Vladimir Karpets and Spaniards Imanol Erviti, Rubén Plaza and Xabier Zandio will make up the team for the Spanish squad.
The Basque team Euskaltel Euskadi will participate with their leader Samuel Sánchez, sprinters Aitor Galdos and Unai Etxebarria, veterans Jon Bru and Andoni Aranaga and the young riders Amets Txurruka, Andoni Lafuente and Juanjo Oroz, who will compete in his first race for the orange ones. Directeur sportif Gorka Gerrikagoitia will lead the team with sights on stage wins as well as the general classification.
Igor Astarloa and Mirko Celestino will lead Team Milram in the next ProTour race, the Volta a Catalunya, starting Monday. Erik Zabel will be available for any sprint finishes.
Milram for Catalunya: Igor Astarloa, Mirko Celestino, Volodymyr Diudia, Andrey Grivko, Matej Jurco, Carlo Scognamiglio, Niki Terpstra, and Erik Zabel
(All rights reserved/Copyright Knapp Communications Pty Limited 2007)