Recently on Cyclingnews.com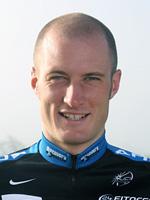 Photo: © Discovery Channel
Eyes on the road: The Steve Cummings Giro diary 2007
Well known for his role in Great Britain's fearsome team pursuit squad, 26 year-old Steve Cummings now has his sights firmly set on the road with Discovery Channel. And it doesn't get much bigger than the Giro d'Italia where Steve is making his Grand Tour debut.
Follow his progress on Cyclingnews as he helps Discovery's bid for Giro glory whilst also keeping one eye on the finish in Milan.
Tuesday, May 29, 2007
The hardest stage
Well, it's still the rest day evening and I have come back from dinner. I have a little more time to write, but I had made some notes so it's not too tiring, well we will see? However, if I stop suddenly don't be surprised - wasted (perceived) energy is the biggest enemy of a pro cyclist.
I promised to tell you earlier about my "new" hardest stage. Well, my previous hardest stage was stage 7. Not hard on the face of it, although it was the longestone, but as I said it just annoyed me. However the stage to Briancon (12th stage) was a real killer, although not as hard a finish as Sunday, which I have already talked to you about.
The two massive climbs made the stage very hard, but on a positive note, I was living the dream descending the Col d'Izoard. The climb has always been legendary for me, I don't really know why but it just is! And to be on the mountain at all in a major Tour was a fantastic experience.
I think I am a fair descender, but a lot of guys I was with weren't that impressive - but OK, it was a little damp. I guess it is better to be safe than sorry, but you have be very alert all the time. I have been told that Sean (Sean Yates, our team manager) was an awesome descender. I know him now! I can quite believe it!. Well, better get some kip, soon.
If tomorrow I get the chance I will have a go, but we all have the same opportunities because Popo & George have left the race. Chechu's always keen and has a lot of experience and knows the moves on a stage like tomorrow. But unless I feel the move is right I will back off. I would love and to win a stage this year. However, I don't want to frig about just for a good place, I want to win. Anyway I am going to bed now.
Thanks for taking the time to keep up to date with me.
Best,
Steve