Recently on Cyclingnews.com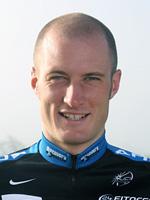 Photo: © Discovery Channel
Eyes on the road: The Steve Cummings Giro diary 2007
Well known for his role in Great Britain's fearsome team pursuit squad, 26 year-old Steve Cummings now has his sights firmly set on the road with Discovery Channel. And it doesn't get much bigger than the Giro d'Italia where Steve is making his Grand Tour debut.
Follow his progress on Cyclingnews as he helps Discovery's bid for Giro glory whilst also keeping one eye on the finish in Milan.
Monday, May 21, 2007
Another day in the Giro debut
Another day, George Hincapie and Chechu (José Luis Rubiera Vigil) were in the break. I would have loved to have been there as well, but as I said I have my job and that's looking after Poppo (Yaroslav Popovych). Maybe some other time.
I am feeling fine in my first major Tour. It's not easy, but I am feeling relaxed about the race at the moment, but of course I do not know what might happen next! I just do my best and hope!
As I have said before, if I get a chance one day I will do my best to take it. But if not, it's just great being part of the best team in the World!
Getting off cycling for a minute, Craig from Liverpool (Steve's hometown - Ed), asked me what soccer team I support: that's a silly question. There is only one team in Liverpool, isn't there? And the name certainly doesn't begin with an E!
Liverpool is playing in the Champions League final on Wednesday (European Championships - Ed), it would be great to do a ride in the Giro and my team to win the Championship! I will try my best to watch it, of course, even if I have to take my ten plates of pasta to my hotel room.
By the way, not a lot of people know this, but my Dad, Dave, went to the same school as John Lennon! He was known to write a couple of good tunes, I was just reminded of them because I had to play my tape myself! So I can't go without mentioning Mattie's (Matt White-Ed) position as bus DJ, except to say that if you are a DJ, it helps to play some sounds and your system works! ( Sorry Matt, but…hey!)
Keep sending your questions in, as I have said I will answer them when I can. By the way, Dave Harmon and Sean Kelly from Eurosport TV, I hope we can catch up soon. They just keep missing me to talk, I will try and be around next time but it's difficult sometimes at your first Giro! Sean was quite a good rider wasn't he? Yeah, right!
In my next diary I will tell you about a good 'con job' involving one of our mechanics after we landed in Italy !.
Great to talk to you all, until the next time, take it easy: not like me of course!
Talk soon, very best,
Steve.