Giro News Feature: May 12, 2007
Il Falco aims for podium spot
'Simoni and Cunego are the favourites'
He's won the race twice but while he is confident he is in good form, the difficult course means that Paolo Savoldelli is uncertain if he can take the maglia rosa all the way to Milan this year. Cyclingnews' Shane Stokes was at the Astana press conference on Thursday to get all the juicy details.
Paolo Savoldelli
Photo ©: Shane Stokes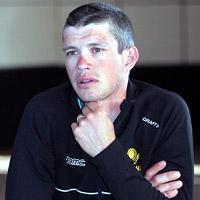 Double Giro d'Italia winner Paolo Savoldelli showed he is in strong form when he won the prologue and finished second overall in the Tour de Romandie last week. He was a full five seconds clear in the opening race against the clock, then finished the same margin behind Thomas Dekker in the final stage time trial to end the race second overall, 11 seconds behind the Dutchman.
The 34 year-old Italian has now turned his attention to the Giro d'Italia, a race he won in 2002 and 2005, and said that he is happy with his form heading into the Grand Tour. He was however playing down his chances slightly at the pre-race press conference held in the Marmorata Village resort near Santa Teresa di Gallura on Thursday evening, saying that the profile of the route meant that he believed a podium place was more likely than the overall victory. Instead, he nominated Gilberto Simoni and Damiano Cunego as his main favourite for this year's race.
Savoldelli was one of three from the team who was presented to the media gathering, held in a large room overlooking one of the stunning bays of northern Sardinia. Also there were compatriot Eddy Mazzoleni and Swiss rider Steve Morabito, as well as directeur sportif Mario Kummer and a small number of Astana and BMC staff.
"This will be a very hard Giro. The Zoncolan and the Tre Cime di Lavaredo will be really tough, they are hard climbs... . I think Simoni and Cunego are the main favourites.
-Paolo Savoldelli on this year's Giro.

Kummer, who moved to the team from T-Mobile at the end of last season, introduced the riders to the media and summed up their targets. "We are here to fight in the Giro for a good result," he said, looking relaxed with his new role. "Paolo Savoldelli is a rider who showed in the past that he can win the Giro, and he proved in the Tour de Romandie that he is in good shape.

"Beside him here we have Eddy [Mazzoleni]," he continued, speaking about the rider sitting to the left of Savoldelli. "He has prepared well to do a good Giro. He is also Italian and so he and Paolo are both very motivated to perform well at home, to fight for a good result.

"Steve, one of our Swiss riders, is also here for the media. We didn't bring the rest of the team [to the press conference] but they are important to us as well. They may not really be big names but that is because they are mostly younger riders and are here to help the leaders and to learn. Our captain is Paolo, that is clear."

The scenery was spectacular
Photo ©: Shane Stokes

The 90th Giro d'Italia gets underway on Saturday afternoon with a 24 kilometre team time trial held on the islands of Caprera and La Maddalena [somewhat fortunately, they are linked by a bridge]. Both Savoldelli and Morabito believe it is going to be a tough opener.

"The time trial is very important as it is on a difficult course," said the double Giro champ. "It has a lot of twists and turns and the wind could be a big factor."

Morabito said that they spent some time trying to work out the best equipment. "We rode the course today, and tried out different wheels to see which is the best combination. It is a course which changes a lot, with hills and descents and bends. I think we found a good solution, as regards the wheels. We have prepared well for the time trial and, as Paolo said, it is difficult but it is going to be hard for everyone."

There is a sense of purpose to the team, due in part to Savoldelli's history in the Giro and also his morale-boosting ride in the Tour de Romandie. That reassured the Italian that he was on track for his favourite race. "Romandie was a little bit surprising for me. I think that it is better not to have won there, though. The performance is good for my confidence and that of the team. If I came to the Giro with no previous results, that would not be good for the head. For sure it was good to have ridden well in Romandie."

He's going to fight hard for a place in the top three, feeling, as mentioned already, that the course does not make it likely that he can win.

"This will be a very hard Giro," he stated. "The Zoncolan and the Tre Cime di Lavaredo will be really tough, they are hard climbs. Personally I am a little disappointed with the course as regards the [individual] time trial because I think it takes away the advantage I might have gained. I think that means I won't be able to win and so, because of that, I am aiming for the podium instead. There is a chance to win, of course – I won twice and I suffered a lot then, too, but it will be very hard. I think Simoni and Cunego are the main favourites.

"Basso is not here and his absence will be noticed by the peloton. But I believe it would have been hard for him to win this Giro, I don't think it would have suited him very well. It is very difficult and for this reason I feel that Cunego and Simoni are the big favourites."

Eddy Mazzoleni
Photo ©: Shane Stokes

Mazolleni is doing his fifth Tour of Italy and will do all he can to help his team leader. "I think it will a hard Giro, in particular the final week because of all the climbs. I expect that Paolo can do a good Giro and that the podium is possible."

If he pulls that off, it would be a good result for the Kazakhstan-backed, Swiss-registered team. This is the first full year for the new Astana outfit, which came into being after Operación Puerto saw Manolo Saiz arrested and, ultimately, locked out of pro cycling. Alexandre Vinokourov and Andrej Kashechkin were first and third in the Vuelta a España last season and with Savoldelli and Andreas Klöden now also on board, the squad is looking like a good bet for success in this year's Grand Tours.

Savoldelli is excited by his move. He says that the team is in a process of development and that 2008 is going to be really special.

"There is not a huge difference from Discovery. This team is new, and has done a lot of work as regards organisation and those things. Discovery has been there a long time and everything is organised. But, for me, next year this will be the top team in the peloton. There is very good potential. The team has good riders and a lot of money, which is important."
Photography
For a thumbnail gallery of these images, click here
Images by Shane Stokes / Cyclingnews