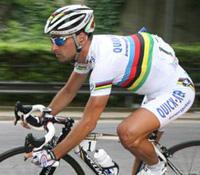 Photo: © Roberto Bettini
World Champ on the Corsa Rosa: The Paolo Bettini 2007 Giro diary
Paolo Bettini is a rider with a palmarès stacked with wins but this year he is even more noticeable thanks to his World Champion stripes. The 33 year-old is proudly racing his home tour to display his new colours and to hunt down stage wins.
Follow Bettini's progress on Cyclingnews as he crosses Italy in his rainbow jersey.
Wednesday, June 7, 2007
No pain, no gain
Ciao Amici di Cyclingnews!
Well, I'm finally at home after a long, hard Giro and I can send another diary for you. It's been a really tough Giro for me. In the last few days of the race, I was really suffering a lot from the pain caused by bruising to my ribs from crashes in Salento and at Pinerolo, which re-injured the same place I hurt when I crashed in Tirreno-Adriatico.
The last week was really hellish, with the cold and rain just making the situation worse. I couldn't even cough because the pain was so acute it was like I had a knife in my ribs. But that doesn't take away the fact that it was a really good Giro d'Italia this year with a deserving winner in Di Luca.
Danilo has succeeded in convincing even the sceptics with his perfect tactics and riding throughout. The first part of the Giro he was on offence, looking to get an advantage and the second part he was on defence, never showing any sign of giving up one second. In all the stages where his rivals tried to put him in difficulty when he was isolated, he responded like a champion. A big hand to him and his entire Liquigas team.
Regarding our Quick.Step-Innergetic team, what can I say? Besides my two crashes, we're going through a really unlucky time here, in which we just can't seem to convert good results into wins. We had three second places, two third places and were protagonists in at least three stages with Engels, Tosatto and Visconti.
We really tried hard to do something! So I'll leave this Giro with a little bit of a bad taste in my mouth but with the awareness that at least I honoured my World Champions jersey.
Let me also say a few words about my teammate Giovannino Visconti, a racer that showed his quality getting in good breaks during the first week, and also showing up in the Giro's final week, with an 8th place in Lienz, in the break of the day, a second place at Terme di Comano and 13th in the final time trial. It was a good demonstration of his qualities as a rider and his capacity to recover well. He still needs to develop more, but Giovannino brought a lot of satisfaction to our Quick.Step-Innergetic team at the Giro d'Italia.
To come back to me, I don't really know what my race program will be for the rest of the month. I am supposed to race the Tour de Suisse and the Italian championships, but it all depends on how well I recover from my bruised ribs.
I wanted to finish the Giro d'Italia to honour the World Champions jersey, but now I need to rest and recover. Of course the Italian championships is an objective of my season, but it won't be easy to win against the powerful Liquigas team. But I've already won the Italian championship twice and they say that there is never two without three...
In the meanwhile, I'm just chillin' out at home in La California, Italy at my house with the family and I am looking forward to Bettini Day, June 9 & 10. On the ninth, we have a fun ride with journalists (and Cyclingnews will be there too, I hear) through the beautiful natural area of Bibbona, where I was born.
On Sunday, June 10, we have another fun ride, this time with the kids, a great tradition I love. I love to meet people in these kids of situations. Hey, if you are in Tuscany this weekend, come on down! If you want more information check out www.bibbonaturismo.it or send an email to info@bibbonaturismo.it.
We're waiting for you!
Ciao!
Paolo