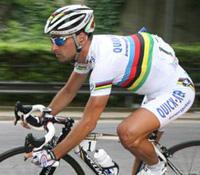 Photo: © Roberto Bettini
World Champ on the Corsa Rosa: The Paolo Bettini 2007 Giro diary
Paolo Bettini is a rider with a palmarès stacked with wins but this year he is even more noticeable thanks to his World Champion stripes. The 33 year-old is proudly racing his home tour to display his new colours and to hunt down stage wins.
Follow Bettini's progress on Cyclingnews as he crosses Italy in his rainbow jersey.
Wednesday, May 23, 2007
An attacking Giro
Hello all my friends at Cyclingnews! Ciao a tutti!
Once again I'm here at Cyclingnews with a new diary, this time at the Giro d'Italia. It's been really special for me to get to ride my national tour as World Champion and my tifosi have been really simpatico.
Up until now, the race has been really enjoyable and we've had some special experiences. First of all, the start of the Giro was incredible in one of the most beautiful places in the world, the Archipelago of Maddalena. On the other hand, the transfers have not been at all easy in this Giro.
To go on a boat is always something out of the ordinary, and this time it could have gone better. These are the magnificent places we have gone and I'm happy that being part of the Giro, we've shown all over the world via the TV broadcasts these great parts of Italy and also the really large crowds who have some out to see us race past.
The stages have been spectacular, even if my teammate Andrea Tonti crashed on the first stage and broke his nose. It was a mess! Andrea was getting ready for the Giro for a long time and he was really disappointed he had to abandon. He was going to be an important part of the Quickstep team. So there are still eight of us here at the Giro d'Italia and we really want to stir things up!
In fact, that's how our Giro started; we were always on the attack. We tried something every day. I was really close to a stage win on the stage to Fiorano. But at the end of the long breakaway, I was beaten by Arvesen. A lot of hurting that day for nothing! But at least I was beaten by a real racer. Congratulations to him. For my sake, I'll try again to win a stage for sure. But not on a climb.
This is the Giro of dei Santuari; Montevergine, Nostra signora della Guardia, Oropa. I know that it would really be a miracle for me to win on one of those climbs! But there are still other good stages for me and I hope I can break the ice. I have never fallen more in a race than this year at the Giro. That's the way it goes.
Some say it's the curse of the World Champions jersey. You know what I say? I hope I'm cursed this way next year! It seems like I'm always racing through a corridor of friends. The Italian fans have been fantastic! At this Giro, I've been racing in a special Worlds Champions jersey with accents of the tricolore flag of our beautiful Italy, as a dedication to the tifosi who are there along the roads to support me.
Only 10 of these special jerseys were made by our team race wear supplier Vermarc in a special fabric. Plus our eyewear supplier BBB has donated five pairs of special airbrushed glasses; they are beautiful. And so we have decided to put these items up for a benefit auction on www.ebay.it to benefit the European Oncological Institute in Milano. The first auction ended Sunday and the jersey went for 1290 euro and the eyewear for 255 euro! Incredible! And there are still two auctions left to go during this Giro, my friends of Cyclingnews, forza! Why not place a bid yourself'
Ciao
Paolo