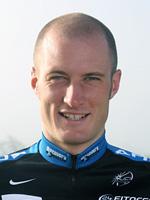 Photo: © Discovery Channel
Eyes on the road: The Steve Cummings Giro diary 2007
Well known for his role in Great Britain's fearsome team pursuit squad, 26 year-old Steve Cummings now has his sights firmly set on the road with Discovery Channel. And it doesn't get much bigger than the Giro d'Italia where Steve is making his Grand Tour debut.
Follow his progress on Cyclingnews as he helps Discovery's bid for Giro glory whilst also keeping one eye on the finish in Milan.
Saturday, May 26, 2007
Ice cream days
Well, one thing that wasn't missing yesterday (Wednesday) was ice cream, ok we know we shouldn't eat it in a race but after Matty (Matt White) brought us so many, well it would be rude to refuse! It was a pretty relaxed day but of course it got very, very fast in the last the last 40 K's.
Did you see the crash? It was like an ice rink and Popo came down heavy. Very scary but I managed to miss the most of it. Maybe it was the ice cream bringing me luck or the extra weight keeping me upright. It wouldn't surprise me if Popo didn't have any! Sean (Sean Yates team manager), will probably give us stick for eating the stuff but I am sure he has had his share in the past when he was racing!
Today (Thursday) was going to be one of the hardest stages, two massive mountains and such a hard finish that I don't know. But along with most of the other riders why the climb wasn't classified, we just don't know.
I saw it later on TV, Di Luca was awesome but it seems Simoni is coming into form. I finished a half-hour or so behind. Ok a lot better than some but I felt very empty. I hope I can recover well as I need to. But it's a hard time trial tomorrow and I won't try to over do it, although on a flatter course and if I was feeling good then I might have a go.
I keep forgetting this is my first big tour and at this stage I haven't done badly, I guess? But anything could happen, I just hope I can make it to Milan. It's a very, very tough last week. If I am feeling good one day, you never know if I am let off team duties, I might get a chance, along with a 100 others!
My girlfriend Nicky will be there in Milan, so I hope I get there. (On the bike.) It is great to be riding the Giro but it's tough, but hey that's what I am paid for. It's a great experience but not an easy one, that's the whole point of riding. I am looked after very well at Disco, that's all I can ask.
Until next time, best Steve.
PS: Keep the questions coming in. I WILL, I promise to get around to answering them all when I can.