An interview with Danilo Di Luca, June 3, 2007
Proving the pundits wrong
2007 Giro win - ProTour next
Danilo Di Luca had done it. He secured his first win in the Giro d'Italia with just under two minutes on runner-up Andy Schleck after the penultimate stage. Over the three weeks, from Caprera to Milano, 'The Killer' dominated his opposition to achieve a deserving victory. On the eve of the final stage, when in all likelihood the 31 year-old from Abruzzo will be fitted with the final Maglia Rosa on Corso Venezia, Di Luca spoke with Cyclingnews' Jean-François Quénet.
Fists-a-pumping.
Photo ©: Roberto Bettini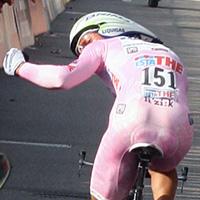 "It means everything for me," said Di Luca, reflecting on the Giro overall and the fist-pumping in the final metres before the line in Verona. The Liquigas captain had secured his victory in the Giro during the 43-kilometre time trial and turned back towards the team car to express his enthusiasm. "Since I've started with this wonderful sport when I was 8 years-old I've worked for this precise goal, and now I've achieved it - winning the Giro d'Italia. Especially for me as an Italian it's the best target to reach."
Di Luca, from the region of Abruzzo, became the first of the Giro's 64 Italian winners come from south of Tuscany.
Many people doubted his chances of winning the Giro, believing that 2005's near podium finish was more chance than anything else and that 2006 showed he could not contend in the Italian three-week race. Instead, like the Classics before, he came back to prove the pundits wrong. "Only a few people believed that I'd be able to win the Classics and the Giro, and I have now demonstrated that I was right to believe in myself and to keep thinking that I could do it.
"I've won it. I had desired this win so much. It gives me an enormous joy. There's nothing that needs to be said to my detractors."
There were key passages in this year's Corsa Rosa where Di Luca was put on the rivet; he survived and in some cases excelled. "Briançon and Zoncolan," he noted as his best and worst stages. "Briançon because I'd won it so easily and Zoncolan because I'd suffered a lot."
Thumbs up
Photo ©: Roberto Bettini

Di Luca came under fire from Andy Schleck (Team CSC) and Saunier's Leonardo Piepoli and Gilberto Simoni on the stiff 10.1-kilometre rise up Monte Zoncolan. "I wasn't on an exceptional day, but I defended myself very well. I also defended myself on the way to Bergamo but that was downhill. On the Zoncolan, it was a serious matter and it was the conclusion of my Giro."
"I have always stayed focused; I never panicked, especially when they attacked me."
-Di Luca explains how he controlled the Giro.
He revealed the cold and calculating side that has give rise to his nickname, 'The Killer.' "Today, the time trial was simpler than I expected. I listened to the intermediate times. Since I knew I wasn't even 30 seconds down on Schleck, I had nothing to worry about.
"The difference you make with your head. That's what has enabled me to win. I have always stayed focused; I never panicked, especially when they attacked me." Referring to the past years, he added, "I've learned that the big defeats make you stronger, and that has helped me a lot."
Di Luca is the first rider since Evgeni Berzin in 1994 to go from winning the Ardennes Classic Liège-Bastogne-Liège to take the leader's Maglia Rosa in the Giro. He ranks those two victories highly but also has his sights on other goals. "In the four or five remaining years of my career I will have different goals, like the World Championships. I'd like people not to forget what Liège-Bastogne-Liège represents [read A dream come true in Ans - ed.]. To double with, in what is my opinion, the best Classic and the Giro, I don't know what I can do that is better than that."
He insists his winning ways have not altered and will not alter his personality. "I've won quite a lot in my career already and it has never changed me. I don't think I've won the Giro by coincidence. I'm quite used to winning. I don't think I will change now.
Danilo Di Luca (Liquigas)
Photo ©: Sirotti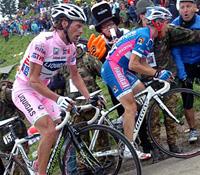 "I'm a complete rider," he continued of his strengths. "I am able to ride strongly all year, although with some recovery periods, like I will have next. But you can't win without luck - I believe my luck has been to become sick after my year's first win in Milano-Torino, otherwise I would have taken part in Tirreno-Adriatico and I would have won it. It would have affected my build-up to the Giro d'Italia and I would have reached my peak too early. It was an incident that has helped me achieve my goal."
The pundits were not counting on a Di Luca win in the Giro and, instead, were figuring on a mountainous romp by Cunego or Simoni. In fact, Liquigas played down its rider's chances. "We have always been convinced that I could reach that goal. It was always in our minds but we preferred not to talk about it, mainly for tactical reasons."
His three-year contract with Liquigas, in which time he has won the ProTour classification, Amstel, Flèche, Liège and, now, the Giro, is coming to an end, but he believes his future remains in the team's green colours. "It's logical that there are requests from other teams, mainly out of Italy, but I feel that I have a strong link with this team, which has helped me make the quality jump that I was looking for. If we reach an agreement, I'll stay."
The Giro's mountainous stages were the most memorable, but Di Luca believes that the 25.6-kilometre team time trial opening stage played a huge part in his success. His team took the Maglia Rosa that day and only let it go temporarily. It had shifted owners from Gasparotto to Noè and finally it rested on the shoulders of Di Luca.
The Killer
Photo ©: Sirotti

"The team time trial was a key of the win in this Giro because it was the first stage. For example, Saunier Duval showed how complicated it was to find a remedy to its day one losses. Our ride that day already put an important distance between us and our adversaries. After that, all of our guys did a fantastic job, especially at the time of the day when the TV cameras weren't yet filming, when we were working from start of the stage.
"I had a great condition coming off of Liège-Bastogne-Liège and I managed to keep it until today, but having a superb team was fundamental for winning the Giro. In stage four to Montevergine we demonstrated that we had strongest team."
He was surprised by his closest rival. "Andy Schleck has surprised all of us, not necessarily for how good he went but for how long he went. I'm sure he'll win the Giro, and more than once. He's more of a rider for the Giro than for the Tour [de France]. On the other hand, I see Vincenzo Nibali as the rider of the future for the Tour. In the long time trials of the Tour Nibali will be able to take two minutes from Schleck."
After the Giro celebrations in Milano, Di Luca will rest and then return for ProTour-specific races while building for the World Championships, September 30. "No Tour de France, and no Italian Championship either. I'll go back home to Pescara on Wednesday after doing some criteriums. I'll resume racing with the Brixia Tour, then I'll do ProTour races like San Sebastián and Plouay, also the Tour of Germany and the Tour of Poland as a preparation for the World Championships. ... Absolutely. I want [the ProTour classification win] again. I won it in 2005 with 228 points and I believe I'll now have 220. I think I can win it and I'll do my best."
Also read Cyclingnews' interview with Di Luca from earlier in the Giro, No ear piece required.