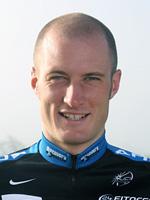 Photo: © Discovery Channel
Eyes on the road: The Steve Cummings Giro diary 2007
Well known for his role in Great Britain's fearsome team pursuit squad, 26 year-old Steve Cummings now has his sights firmly set on the road with Discovery Channel. And it doesn't get much bigger than the Giro d'Italia where Steve is making his Grand Tour debut.
Follow his progress on Cyclingnews as he helps Discovery's bid for Giro glory whilst also keeping one eye on the finish in Milan.
Friday, June 1, 2007
The end in sight
Hi,
Sorry for the delay in writing, but I have been tired, although I'm feeling generally ok. It now looks like I might finish the Giro, my first Grand Tour. That is very important both to me and my career.
Wednesday's finish on Mont Zoncolan was every bit as hard as I had expected, and then some. It was my worst stage finish on the Giro but I wasn't riding for a place just to finish. I am a relatively big guy so a very, very steep and short hill a couple kilometres or so in length is no problem, I can use my strength and power. But Zoncolan stands on its own, to put it mildly.
The next stage (Thursday) was ok and the peloton didn't go too mad and I used it as best as I could to recover. The weather has changed recently and is changing for the worst which doesn't help things .However, generally the weather has been very good and even too warm at times.
Discovery is a great team to ride for and have looked after me really well. Sean, as ever, is always there for you if you need him and you always know where you stand with him. SY isn't known for his bullshitting and it helps me because that's what I need.
My girlfriend Nicky is coming to the finish in Milan. It will be great to see her, we haven't been able to talk much as she works very hard as well .We are then going on a week's holiday, guess where...Italy. As I have said before I am loving it more and more here everyday.
Thanks for all you questions (especially from all the girls! quiet now) and all your support. Thanks to the guys and girls at Cyclingnews for their patience at times.
I have to catch up with the answers, so you will all get replies…eventually.
Time is getting short in the Giro but if I am not too knackered I might still have a pop. You never know, maybe in Milan! It will be very fast, but I have been trained for speed in the team pursuit (world champion in 2005 and silver at the Athens Olympic Games).
Speak to you all again soon.
All the best
Steve