An interview with Michael Barry, May 13, 2007
A new team and a new race
Canadian professional Michael Barry is a seasoned campaigner, who following a long stint at US Postal/Discovery has joined the revamped T-Mobile squad. Steve Thomas caught up with him on the eve of the Giro d'Italia, where he will be making his debut in the Grand Tour.
Rolling
Photo ©: Steve Thomas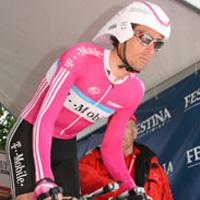 CN: Was it something of a last minute Giro call up? Were you prepared and what are your plans for your first Giro?
MB: Yes, [Serhiy] Honchar was taken off the team at the last minute so I got the call on Tuesday. Mentally, I wasn't really ready at all but now that I have had a few days to gather myself and get packed up, I am motivated for the race. We don't really have anybody for the overall classification so we will go for stages. I had a hectic time getting to Italy but hopefully as the race gets going I will be able to find my legs.
CN: You seem to be on good form at Romandie, how did the race go for you with crashing and losing Michael Rogers?
MB: My fitness has been slowly improving after a tough start to the season. In Romandie I was feeling good but had some back luck-and, yes, our team had some bad luck as well. We went there with big ambitions but with Michael getting sick things didn't go as well as we had hoped.
CN: How is the new team setup, including its anti-doping program? Is it very different to Disco?
"I raced in France as an amateur and somehow I feel a different spark in my pedal stroke when I am up there now."
-Barry on racing in France.
MB: The team is great; we have a good ambiance within the group of riders. The team is still evolving and progressing, but, that said, we have already achieved some nice results and victories so things are heading in the right direction. T-Mobile is certainly spearheading the campaign for clean sport and it is nice to be a part of that - especially in the current climate of cycling. There are internal controls to ensure the riders are clean, and we undergo these tests sporadically and randomly throughout the season.
The team is different from Discovery in the sense that we don't have one or two clear leaders, but many riders that can win, and are winning.
On any given day, any rider can be a leader if he has the legs, whereas at Discovery the roles of the riders were perhaps more clearly defined as the leaders were usually so potent that they could almost assure a good result.
Pondering
Photo ©: Steve Thomas

CN: What are your plans and aims for this season? Are you likely to get that Tour ride you've been after?
MB: I am gearing my summer towards being in condition to ride the Tour de France. Going there my goal is to support Michael Rogers, our leader for the overall classification, and to go for stage victories. I raced in France as an amateur and somehow I feel a different spark in my pedal stroke when I am up there now. My goal is to do the Tour and to race a great race.
CN: There don't seem to be many young Canadians making it through the system. What kind of development system is there and how do you think there could be more riders at your level?
MB: Ten to fifteen years ago we had a great crop of young Canadians, but many turned away from the road and went to mountain biking. The Canadian Men and women were then very successful on the mountain bike scene, but in the past couple of years there has certainly been a bit of a lull.
I know the numbers of juniors racing on the road is certainly increasing from the poor turnouts of the late nineties so that's a good sign for the future. Symmetrics, the best Canadian pro team, has had great results on the Continental circuit this year and are providing a nice spring-broad for riders to progress to the next level. Steve Bauer did a lot for youth cycling by being in the headlines while at the Tour, we need that kind of publicity for the sport again as it will certainly spark more interest.
CN: You came through Europe as an amateur, then back to the USA. Does it seem to you that few riders manage to get out of the USA once they return home?
MB: Yes, it's true that few riders go back to Europe after a career in America, but there are some exceptions: Chris Horner and Henk Vogels to name two. Racing in the USA is increasingly competitive and I think the European squads now have more respect for the level of riders in the States due to the quality of races like California, Georgia and Philly. If a rider is motivated to make the change he will be able to do it with the right results, patience and persistence.
The new team colours
Photo ©: Steve Thomas

CN: How did it feel having that great ride on home ground at the worlds a while back?
MB: Racing the Worlds in Hamilton was something I would never have dreamed of happening in my career. It was an awesome experience as I was racing on roads I had trained on as a kid in front of a home crowd, something that doesn't often happen for a Canadian pro cyclist. The crowd, the course, the moment all lifted me on that day and showed me that I could animate a Pro World Championship, and go for the win.
I have some great performances to come. I can perform well in one-day races and with patience and persistence I am sure a big win isn't far off.
CN: How is life in Girona these days, and have all the team changes affected the atmosphere?
MB: Life in Girona is good. The crowd of cyclists there grows each season and we are now up to about 20 riders, or maybe even more with all the Slipstream guys.
Within the group we represent several teams but still train together often and are friends as we were when we were all together on US Postal. Things have changed in the sense that no longer is the group full of bachelor cyclists, but of married men, and dads. The Slipstream boys are the new generation of young cyclists taking over the town.
CN: How did your book go? You always seem to be doing other projects, what else do you have planned?
Michael Barry
Photo ©: Steve Thomas

MB: Inside the Postal Bus sold very well and it was great experience writing it, as it was something completely new for me, and a nice challenge. Last year, my wife and I wrote a training book titled Fitness Cycling with a friend of ours who is a Doctor, Shannon Sovndal.
Both projects were great learning experiences and have me eager to write more and improve my skills. Now, I just need to make time to sit down and do it...
CN: What's the atmosphere like at the Giro following the Ivan Basso confession?
MB: Likely, there will be a bit of a cloud over the Giro for the first week, but hopefully, once the racing gets going the media will be able to focus on the racing and not just the story of Basso/Puerto.
CN: How is family life effecting things; travel, different countries, etc? How long do you think you can continue this lifestyle?
MB: Well, being a Dad is the best thing that could have happened to me as I am more content than I have ever been and have a new perspective on pretty much everything in life. Sure, travel is harder as a result but we are learning to simplify our life so that things are easier. Likely we will simply spend more time in Europe instead of trying to maintain two homes.