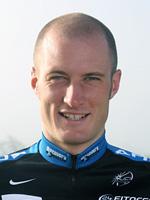 Photo: © Discovery Channel
Eyes on the road: The Steve Cummings Giro diary 2007
Well known for his role in Great Britain's fearsome team pursuit squad, 26 year-old Steve Cummings now has his sights firmly set on the road with Discovery Channel. And it doesn't get much bigger than the Giro d'Italia where Steve is making his Grand Tour debut.
Follow his progress on Cyclingnews as he helps Discovery's bid for Giro glory whilst also keeping one eye on the finish in Milan.
Friday, May 11, 2007
Getting set for my first Giro
It took me four flights to get to Sardinia - I missed a flight which didn't help much and arrived near midnight on Wednesday a little bit pissed off!
The next day we were out on our time trial bikes preparing for Saturday's TTT which didn't feel great after so much travelling, but all things considered it wasn't too bad. We even managed to get lost during the training ride and eventually clocked up 130km! It was a tough ride as everyone was going hard to find their legs before the race begins. Still, I managed to sleep well that night which is always a good sign, I hope!
Today was the team presentation aboard an aircraft carrier - weird but fun, although very tiring. I've only been back at the hotel for 40 minutes so far this evening but all we want to do is eat and have a good kip. Fortunately I'm sharing a room with Pavel Padrnos - legend!
Sean Yates [Discovery directeur sportif] has said it will be a tricky start to my first Giro - very tough and nervous for the first few stages. That's okay with me, especially if I'm feeling good. I've worked hard for this and hope to be in good form, we'll soon see.
I expect tomorrow to be really hard, however a TTT shouldn't be anything but. Although I hope to do my bit for the team at the very least.
Since I joined Discovery they have really looked after me. I've worked hard for them too and Sean has said that I may get the chance to ride for myself one day.
Having spent a little time racing in Italy and also training here recently, I really love the place. I'm even thinking about living here in the near future. Perhaps if I have a good Giro it'll make life more interesting here, eh?
Thanks for tuning in, I hope to keep you all up to date. Italy's a great place so enjoy the racing.
Be sure to keep in touch,
Steve.