An interview with Danilo Di Luca, May 29, 2007
No ear piece required
During the second rest day of the Giro d'Italia, in the Dolomite town of Agordo, maglia rosa Danilo Di Luca revealed an unusual fact that he never uses a radio while racing, and never has done. Cyclingnews' Jean-François Quénet spoke with the Italian about this peculiar trait, the rising stars of Italian cycling and why the Tour de France just doesn't appeal to him.
Danilo Di Luca (Liquigas)
Photo ©: Sirotti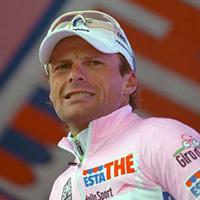 "It's not that I refuse it," said Di Luca, referring to his lack of an ear piece which many riders in the modern peloton cannot function without. "But after a little while it gives me troubles in my head. In fact, I've had to use my mind instead of just listening to the instructions given by the director. I'm convinced it has helped me improve to the level where I am now. I know what I have to do."
Two-time Giro champion Gilberto Simoni admitted Di Luca's tactical astuteness was a major factor in his success this year. "I wouldn't say that Di Luca is the revelation of this Giro," Simoni commented during the rest day. "But he's up there every day, that's the difference. I can see that his way of racing isn't the same. He thinks more."
In the crucial mountain stages, the 'killer' has controlled the race with a rare tactical intelligence. That might add to the ongoing debate in cycling regarding the use of ear pieces which many observers claim have ruined the excitement of races. The UCI has long been considering the possibility of banning radios among riders, a decision which may re-ignite interest in races where cycling doesn't enjoy such a passionate following as the Giro d'Italia.
"When I came to Giro, the newspapers weren't talking about cycling at all", remembered Di Luca, hinting at the ongoing doping sagas reported in the cycling press. "I was hoping that it would change and it has changed. Now the media focus on the race."
"Maybe in two years time I'll go for it because it's the biggest race in the world, not because it appeals to me."
-Di Luca says he holds no real affection for the Tour de France.
There are still some references to doping stories, of course. Monday's Il Giornale recalled that Eddy Mazzoleni, currently sitting second overall in the Giro, is involved in two investigations regarding performance enhancing drugs, one in Roma, another one in Bergamo. The investigations relate to phone conversations in which he allegedly mentioned a special form of EPO that he tried to import from the US via England or Spain, not directly to Italy because it would include too many risks.
Another Italian newspaper Il Corriere della Sera reported that Mazzoleni went to Tenerife for a training camp organised by his preparatore, the all too famous Dr Michele Ferrari, two months before the Giro.
"Since 2005, cycling has changed a lot," Di Luca argued. "You can see that riders really suffer. Races are won by margins of seconds, not minutes anymore. Ivan Basso was the exception at last year's Giro, but now everybody understands why."
Climbing the mythical Tre Cime Di Lavaredo
Photo ©: Sirotti

Di Luca is close to winning his first Giro after a serious improvement compared to his previous attempts. "Last year's Giro, let's forget about it," he said. "I had no condition. Between 29 and 31 years old, I've changed a lot. Two years ago, I only targeted the Classics and I continued with riding the Tour of Italy. I finished fourth and it gave me the idea to work precisely for the overall win. Now I know how to obtain that goal.
"I will improve again," he warned, hinting at the prospect of returning to the Giro as defending champion next year. However, the Liquigas rider revealed he would not take part in the Tour de France for at least the next two editions, perhaps remembering ASO's decision to deny him a start in the 2004 edition due to his implication in the 'Oils for Drugs' investigation from which he has since been cleared.
"I don't like the route nor the atmosphere of the Tour de France," he explained. "Maybe in two years time I'll go for it because it's the biggest race in the world, not because it appeals to me. We'll speak about it with the team."
On the subject of his Liquigas team, where his contract comes to an end this year, Di Luca indicated that he'd prefer to remain with the Italian squad and doesn't envy Saunier Duval with their group of climbing stars. "It's logical that some teams are interested in me but I'd like to continue with Liquigas, I feel good here," he said. "I'm not afraid of Saunier Duval. I'm afraid of Simoni himself, I'm also afraid of Mazzoleni in time trial."
Well protected
Photo ©: Sirotti

He's obviously not afraid of Damiano Cunego. "But I'm positively surprised by him since the beginning of the Giro," said Di Luca. "He makes a lot of efforts and he's always there, he never gives up. Maybe he has lost some of his climbing abilities because he has worked on gaining time trial abilities but I don't think he goes less well than when he won in 2004. He was very young and he's still young. He's six years younger than me. When my generation will go, he'll win a few more Giros and also the Tour de France, I think.
On the current crop of young stars, Di Luca cited young Luxemburger Andy Schleck from Team CSC as the biggest revelation of this year's race "I had heard that he'd become an even better rider than his brother and I didn't believe it because Fränk is already a great champion. But it's true; Andy can win big stage races."
Di Luca also had good words to say about his young team-mate Vincenzo Nibali who does a great job for him these days but he doesn't think that Italy's new sensation Riccardo Ricco will win the Giro next year. "He needs to gain experience. I'd rather think he'll win the Giro in four or five years time. I'm also impressed by Thomas Dekker. He's really above the others in time trials. Therefore I think the Tour de France should be good for him while Ricco is more adapted to the Giro because of his explosivity in the hills."
Di Luca knows Ricco's current situation all too well after being under the spotlights himself from an early age. "At his age I won the Tour of Lombardy, people said the same about me." Di Luca said, suggesting that if Ricco learns from his own mistakes, as he did himself, he'll become an established champion as well.
Maybe Ricco should refuse to use ear pieces as well...