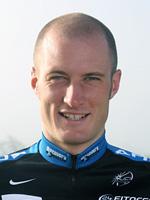 Photo: © Discovery Channel
Eyes on the road: The Steve Cummings Giro diary 2007
Well known for his role in Great Britain's fearsome team pursuit squad, 26 year-old Steve Cummings now has his sights firmly set on the road with Discovery Channel. And it doesn't get much bigger than the Giro d'Italia where Steve is making his Grand Tour debut.
Follow his progress on Cyclingnews as he helps Discovery's bid for Giro glory whilst also keeping one eye on the finish in Milan.
Thursday, May 17, 2007
Ambitions and duties
Steve takes time to answer a reader's question on his ambitions for the Giro.
Q: Steve, it's great to see a couple of English guys on the tour. Do you have any plans to have a go at a stage win? I would imagine simply finishing the tour on your first outing would be a geat start.
A: First of all, I have to do my job, which is to look after Popo. I stay close to him at all times, and keep him out the wind as much possible, and try to make it as easy for him as possible - get his bottlles and food. If he stops to piss, I stop to piss, etc.
But if I do get any freedom, for sure I will try one day at least. My best chance would be a long breakaway. In the first week when all the sprinters are here, it's very unlikely a break will reach the finish. I can't afford to expend energy unless there is a good chance the break will get to the finish. The 2nd and 3rd week I hope to get some freedom. I have good condition at the moment.
I was getting itchy today, feeling like I wanted to go. But I must be patient. A team like Discovery is only interested in results.
When we got to the mainland Sean had warned me about the possible conditions if it was wet. Again the guv was right - it was a 'crash fest' as you probably know. I didn't come off in the (BIG) crash but met a nice little doggie or bitch who decided he/she fancied me, and lost some time although I wasn't hurt too much really.
Thanks for taking time to tune in, watch the Giro when you can. I love Italy more every day!! I hope I will be able to put on a show for you when I can. Keep reading Cyclingnews, and I will keep you up to date when I can. Enjoy the race, any question please email in. I will try and answer but please understand it might take a little time to reply, but I will try my best.
All the best,
Steve