Recently on Cyclingnews.com
Bikes of the Giro: Zoncolan
By Tim Maloney and Paul Mirtschin
Popo's C-40
Photo: © Cyclingnews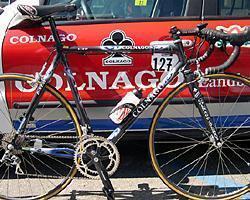 A stage that starts at sea-level and finishes at 1730 meters is considered hard by most people, but when the final 13.3 kilometers rise 1196 meters, you can expect even the fittest and strongest to be in pain.
And that is what happened on the 12 stage of the Giro d'Italia, a stage that finished atop the dreaded Monte Zoncolan. A stage this hard is brutal on both man and machine, so it was no wonder that mechanics were busy making changes to bikes in an attempt to make the final climb as easy as possible.
Cyclingnews European editor Tim Maloney took a wander around the pits to see what equipment was being prepped for the assault on Zoncolan.
Yaroslav Popovych's Colnago C-40 High Power
Yaroslav Popovych's C-40 High Power runs Campagnolo carbon fibre cranks. Popo likes the same Selle San Marco saddle as Lance Armstrong (and being an ex-track rider uses a forward saddle position) and only one water bottle carrier for weight savings.
Ernesto Colnago told Cyclingnews "Popovych's bike is a special lightweight model made from a new type of carbon fibre that saves about 200grams. We'll use this on our new C-50 model that will be introduced next September at the Milan Bike Show."
Popo's team mechanic Yuri used a 39 x 30 combo for the talented Ukrainian rider to climb Monte Zoncolan.
An unleashed Dogma
Photo: © Cyclingnews

Dario Frigo's Fassa Bortolo Pinarello Dogma
Frigo, Aitor Gonzalez and Alessandro Petacchi got new Dogma's just for the Giro d'Italia; note the different colour scheme than the Fassa Bortolo team bikes. The Dogma uses tubes made of a special Magnesium Ak 61 double butted alloy tubing that's exclusive to Pinarello. Frigo gets Campagnolo carbon fibre cranks as well.
The gearing is 39 x 30 (probably a Marchisio cluster, as Campagnolo only goes to 29), Onda carbon fibre seat stays and a single Elite carbon fibre bottle holder.
Marco Pantani's Mercantone Uno Carrera Icaro
Mellow Yellow
Photo: © Cyclingnews

This is a special lightweight sloping model built just for Pantani out of U2 tubing. Pantani is faithful to his Selle Italia Flite saddle and team sponsor ITM has equipped this rig with Millennium bars and stem. Pantani is using the new Shimano pedals, but isn't among the riders who are equipped with the new Dura-Ace 10 speed group.
Pantani's team wrench Roberto Mora mounted super light carbon fibre tubular wheels and a 39 x 28 for the difficult final 3km up Monte Zoncolan.
Gilberto "Spider" Simoni's Saeco Cannondale CAAD 7 team bike
Incy-wincy spider
Photo: © Cyclingnews

Custom made for Simoni, his rig sports Cannondale's Hollowgram crankset, Time carbon fork, Cinelli carbon handlebars and seatpost, Mavic Ksyrium clincher wheels and the new fi'zi:k Airone saddle.
You will not often see a pro rider with touring gears, but Simoni needed his 38 x 28 to get up the steep last 3km of Monte Zoncolan. Note the unique shape of the new fi'zi:k Airone saddle.
See it shine
Photo: © Cyclingnews

Michele Scarponi's Specialized E5
According to Specialized, the frame of Domina Vacanze's climber Michele Scarponi's Specialized E5 team bike is polished and not painted to reduce weight, which is claimed to be 7.2 kg for the complete bike.
Michele has carbon fibre tubular wheels, a 39 x 28 low gear ratio, and a new fork from Specialized that is 80 grams lighter than previous models.
Photos
Images by Tim Maloney/Cyclingnews
Recent tech
Tour tech: Zipp's slippery new wheel revealed
On test: Klein Palomino XV
June 25 news: New Giant carbon, Crank Bros, Colnago proto, Scott, Topolino
Book review: Lance Armstrong: Images of a champion
New bike for Van Moorsel
New bikes from BT
Cicli Pinarello displays its racing history: Fifty years of classic bikes
June 17 new arrivals: Specialized, Crank Bros, Thomson, Bicycling Science, Drop In
Pro bike: Iban Mayo's Euskaltel-Euskadi Orbea TT climbing prototype
On test: Campagnolo Eurus G3 wheels
Pro bike: Lance Armstrong's Trek Madone SSL proto
Pro bike: Emanuele Sella's Battaglin
June 8 news, part 1: Giro's Rev Six revs up at Dauphine, Rebellin conquers on Wilier carbon proto, Giant spy photos at the T-Mobile Service Course
June 8 news, part 2: Specialized unveils new kit, Cervelo & CSC fine-tune at MIT, New forks from Alpha Q, Paint job of the year?
Pro bike: Dede Demet-Barry's T-Mobile Giant TCR Carbon
Bikes of the Giro part 2: The mountains
New arrivals: DMT, Jaggad, Blue Steel, Cannibal, Ellsworth, LeMond Fitness, Atomic Mount
On test: Park Tool IB-1 & IB-2 multi-tools
De Marchi responds
On test: Giro Monza
On test: De Marchi Contour bib shorts,
On test: DeFeet Armskins
May 21 news: Petacchi's new Pinarello, Mayo's Orbea TT secret weapon, adidas, Mavic, Ambrosio, True Temper
On test: White Industries Eccentric ENO hub
World exclusive pro bike: Marion Clignet's Look 496 track bike
On test: Carnac Quartz road shoes
Repair & maintenance: Recording MTB position
Pro bike: Chris Horner's Webcor Lemond TT bike
May 13 news: New Shimano wheels, 29inch victory, CycleOps, Naviion
New arrivals: Crank Bros, Park Tool, Sports Instruments, Morningstar & Panasonic,
New arrivals: 2004 clothing from Campagnolo
On test: Orbea Orca - Real-world team issue
On Test: Specialized Bar Phat tape
Bikes of the Tour de Georgia
Apr 30 news: Campagnolo, Klein, Giant, Sports Instruments, Burley, La Ruta
Apr 27 news: IRD, Oval, Fi'zi:k, Camelbak