86th Giro d'Italia - Grand Tour
Italy, May 10-June 1, 2003
Map Stages Start List Past winners
Difficult and wide open 2003 Giro d'Italia
By Tim Maloney, European Editor
Roaring home for numero 40 in 2002
Photo: © Sirotti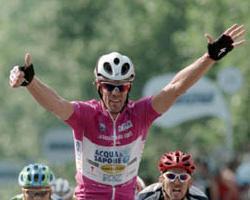 The 86th Giro d'Italia begins this May 10 in Lecce, Italy, at the heel of the Italian boot and is the first Grand Tour of the 2003 season. Although conventional wisdom may expect an Italian winner by default at the bitter end three weeks later in Milano June 1st, it's far more likely be a wide open contest this year. With over 1.3 million euro up for grabs in prize money, two flat, fast time trials in the last week totalling 42km and for the first time since 1999, there will be five mountaintop finishes among the eight mountain/climbing stages, with many new climbs like the dreaded Zoncolan included in the 17,300 total meters of climbing. New climbs like the Fuessa, Sella Valcalda, Colle di Esischie, Sampeyre, Chianale and Cascate del Toce may not be as well known as Stelvio, Marmolada, Pordoi or Mortirolo but this unexpected element makes the race wide open for climbers.
Unlike last year's Giro which started in Groningen, Holland and celebrated the launch of the Euro, the 86th Giro will remain entirely in Italy, spending the entire first week in the south of the peninsula. On this challenging and varied Giro parcours, perhaps the best in many years, the overall winner will be very hard to predict.
2002 Giro victor Paolo Savoldelli told Cyclingnews, "It's a very good Giro, open for all-comers. As always, the Giro will be decided in the last week. Everything will be in suspense until the final time trial."
This year Savoldelli signed for Telekom, where he was joined by his Giro rival Cadel Evans. Neither of the two will be competing in the 2003 Giro, preferring to concentrate on the Tour de France.
Image © Sirotti

World Champion Mario Cipollini also likes what he sees in this year's Giro. "Looks like there are a lot of opportunities for sprinters. There is a little bit of everything for all kinds of riders and the usual riders will be ready to make the race." Cipollini is seeking the all time stage win record in the Giro d'Italia; the Tuscan World Champ is currently sitting at 40 Giro stage victories, one behind the first Italian campionissimo Alfredo Binda. Cipo will only need 2 wins to surpass the 70 year old record.
Cipo's main rival for the sprints in 2003 will certainly be Australian Robbie McEwen (Lotto-Domo). In the last Giro, the fiesty and fast Lotto rider battled Cipo and even won a few sprints from him, but left the Giro to return home for the birth of his son. At this year's Giro, McEwen will certainly be looking to make Cipo's life difficult in the last 50 meters to avenge his Zolder World's defeat. Another rapid Aussie also be looking to make his mark will be Commonwealth Games double gold medalist Graeme Brown. Then there is Fassa Bortolo turbo Alessandro Petacchi, who has a strong team and could well upset Mario on a few occasions.
Image © Sirotti

This year's Giro looks excellent for Gilberto Simoni (Saeco-Longoni Sport), winner of the '01 Giro. Simoni was a major contender in last season's Giro until he retired from the race due to some ambiguous drug testing issues, both out and in competition. Simoni was later exonerated of any positive drug tests and the difficult '03 Giro course really suits the tough 31 year old Trentino climber, who is out to revenge his disappointing forced exit from the '02 Giro.
"Even as soon as the Terminillo, the first uphill stage finish after one week of racing, in my opinion we'll see who can win this Giro. In the next few weeks, I'm going to go see the Zoncolan climb because I'm curious about it. This Giro doesn't scare me, no, the more climbing there is, the more I like it."
Simoni is already in good shape this year, winning the Giro del Trentino and the Giro dell'Appennino in the weeks leading up to the Giro. He is for many the outright favourite for this year's even.t
Simoni's key rival last Giro was Stefano Garzelli, who rode brilliantly into the Maglia Rosa until the former Mapei man was sidelined by a weird, unexpected positive test for probenicid, an obsolete steroid masking agent. Garzelli retired in shame halfway through the Giro and was later suspended for nine months by the Swiss federation. He returned to competition in late April, putting his race readiness somewhat in doubt, but managed to win his first race back (stage 1 of the Giro del Trentino) as well as finishing second overall.
"This looks like a hard Giro", Garzelli said, "with unknown climbs and some long, hard stages. It's for a strong climber who's also a good time trialist. I still have no idea where I will be at, but to be in top form at the start will be very important."
Image © Sirotti

Lampre will field an impressive squad at the 86th Giro d'Italia; last year, Basque rider Juan Manuel Garate was an excellent 4th on GC. Unfortunately he won't be riding this year, but there is no shortage of talent in Pietro Algeri's squad. Francesco Casagrande will lead the team, looking to improve on his rather disastrous race last year, when he was ejected for an altercation with another rider. He will have Sergio Barbero, Wladimir Belli, and Raimondas Rumsas at his side, and the team will rely on Jan Svorada in the sprints.
Verona's Pietro Caucchioli (Alessio) was third in last season's Giro, a testament to his all-around talents. Caucchioli was cautious about his chances, saying that "I have to improve my climbing since this will be a hard Giro."
The occasionally gravity challenged Caucchioli scoffed at his descending errors; "before anything, I have to climb better and go faster in the time trials," said the bottle blond. "I'm working hard to improve in both areas."
Image © Sirotti

One rider who will also be working on his strength and time trialing for next years Giro is Mexican Julio Perez Cuapio. One of the most exciting riders in the peloton, Perez Cuapio has never met an ascent he didn't like; seemingly the steeper the better to launch himself on. Winner of two stages and top climber in last year's Giro, Perez Cuapio will be back again on the Panaria team with winning ambitions. If the Panaria team does not implode from another drug scandal and he can keeps his focus, this Aztec warrior may even it make it to the Maglia Rosa.
And what about Marco Pantani? Seemingly K.O.'ed since his expulsion from the 1999 Giro wearing the Maglia Rosa on the penultimate day, "il Pirata" has managed to overcome all his problems and will be on the start line with his Mercatone Uno squad. Pantani's first race back in 2003 was quite promising, but he is still looking for that elusive race win.
Image © Sirotti

Thanks to Biella artist Ugo Nespoli, the Giro will have an attractive new look this year. Nespoli futurist-inspired painting "Il rosa della maglia" that was commissioned by the Giro d'Italia organizers and will replicate the design on the Maglia Rosa and the other race category tunics. Despite the fashion statement, the winner of the 86th Giro d'Italia will have to battle hard from bottom of the boot to the top of the Italian peninsula to have the honour of wearing the final Maglia Rosa in Milano.
Unlike the occasionally formulaic and tradition-bound Tour De France, RCS Sport, the organizers of the Giro d'Italia are to be lauded for ignoring a standard approach and put together what is a real classic edition of the Italian national tour.
Past Winners
Year Maglia Rosa               Second                     Third
2002 Paolo Savoldelli (Ita)    Tyler Hamilton (USA)       Pietro Caucchioli (Ita)
2001 Gilberto Simoni (Ita)     Abraham Olano (Spa)        Unai Osa (Spa)
2000 Stefano Garzelli (Ita)    Francesco Casagrande (Ita) Gilberto Simoni (Ita)
1999 Ivan Gotti (Ita)          Paolo Savoldelli (Ita)     Gilberto Simoni (Ita)
1998 Marco Pantani (Ita)       Pavel Tonkov (Rus)         Giuseppe Guerini (Ita)
1997 Ivan Gotti (Ita)          Pavel Tonkov (Rus)         Giuseppe Guerini (Ita)
1996 Pavel Tonkov (Rus)        Enrico Zaina (Ita)         Abraham Olano (Spa)
1995 Tony Rominger (Swi)       Evgeni Berzin (Rus)        Piotr Ugrumov (Rus)
1994 Evgeni Berzin (Rus)       Marco Pantani (Ita)        Miguel Indurain (Spa)
1993 Miguel Indurain (Spa)     Piotr Ugrumov (Lat)        Claudio Chiappucci (Ita)
1992 Miguel Indurain (Spa)     Claudio Chiappucci (Ita)   Franco Chioccioli (Ita)
1991 Franco Chioccioli (Ita)   Claudio Chiappucci (Ita)   Massimiliano Lelli (Ita)
1990 Gianni Bugno (Ita)        Charles Mottet (Fra)       Marco Giovannetti (Ita)
1989 Laurent Fignon (Fra)      Flavio Giupponi (Ita)      Andrew Hampsten (USA)
1988 Andrew Hampsten (USA)     Erik Breukink (Ned)        Urs Zimmermann (Swi)
1987 Stephen Roche (Irl)       Robert Millar (Sco)        Erik Breukink (Ned)
1986 Roberto Visentini (Ita)   Giuseppe Saronni (Ita)     Francesco Moser (Ita)
1985 Bernard Hinault (Fra)     Francesco Moser (Ita)      Greg Lemond (USA)
1984 Francesco Moser (Ita)     Laurent Fignon (Fra)       Moreno Argentin (Ita)
1983 Giuseppe Saronni (Ita)    Roberto Visentini (Ita)    Alberto Fernandez (Spa)
1982 Bernard Hinault (Fra)     Tommy Prim (Swe)           Silvano Contini (Ita)
1981 Giovanni Battaglin (Ita)  Tommy Prim (Swe)           Giuseppe Saronni (Ita)
1980 Bernard Hinault (Fra)     Wladimiro Panizza (Ita)    Giovanni Battaglin (Ita)
1979 Giuseppe Saronni (Ita)    Francesco Moser (Ita)      Bernt Johansson (Swe)
1978 Johan De Muynck (Bel)     G. Baronchelli (Ita)       Francesco Moser (Ita)
1977 Michel Pollentier (Bel)   Francesco Moser (Ita)      G. Baronchelli (Ita)
1976 Felice Gimondi (Ita)      Johan De Muynck (Bel)      Fausto Bertoglio (Ita)
1975 Fausto Bertoglio (Ita)    Francisco Galdos (Spa)     Felice Gimondi (Ita)
1974 Eddy Merckx (Bel)         G. Baronchelli (Ita)       Felice Gimondi (Ita)
1973 Eddy Merckx (Bel)         Felice Gimondi (Ita)       Giovanni Battaglin (Ita)
1972 Eddy Merckx (Bel)         Jose Manuel Fuente (Spa)   Francisco Galdos (Spa)
1971 Gosta Pettersson (Swe)    Herman Van Springel (Bel)  Ugo Colombo (Ita)
1970 Eddy Merckx (Bel)         Felice Gimondi (Ita)       Martin Vandenbossche (Bel)
1969 Felice Gimondi (Ita)      Claudio Michelotto (Ita)   Italo Zilioli (Ita)
1968 Eddy Merckx (Bel)         Vittorio Adorni (Ita)      Felice Gimondi (Ita)
1967 Felice Gimondi (Ita)      Franco Balmamion (Ita)     Jacques Anquetil (Fra)
1966 Gianni Motta (Ita)        Italo Zilioli (Ita)        Jacques Anquetil (Fra)
1965 Vittorio Adorni (Ita)     Italo Zilioli (Ita)        Felice Gimondi (Ita)
1964 Jacques Anquetil (Fra)    Italo Zilioli (Ita)        Guido De Rosso (Ita)
1963 Franco Balmamion (Ita)    Vittorio Adorni (Ita)      Giorgio Zancanaro (Ita)
1962 Franco Balmamion (Ita)    Imerio Massignan (Ita)     Nino Defilippis (Ita)
1961 Arnaldo Pambianco (Ita)   Jacques Anquetil (Fra)     Antonio Suarez (Spa)
1960 Jacques Anquetil (Fra)    Gastone Nencini (Ita)      Charly Gaul (Lux)
1959 Charly Gaul (Lux)         Jacques Anquetil (Fra)     Diego Ronchini (Ita)
1958 Ercole Baldini (Ita)      Jean Brankart (Bel)        Charly Gaul (Lux)
1957 Gastone Nencini (Ita)     Louison Bobet (Fra)        Ercole Baldini (Ita)
1956 Charly Gaul (Lux)         Fiorenzo Magni (Ita)       Agostino Coletto (Ita)
1955 Fiorenzo Magni (Ita)      Fausto Coppi (Ita)         Gastone Nencini (Ita)
1954 Carlo Clerici (Swi)       Hugo Koblet (Swi)          Nino Assirelli (Ita)
1953 Fausto Coppi (Ita)        Hugo Koblet (Swi)          Pasquale Fornara (Ita)
1952 Fausto Coppi (Ita)        Fiorenzo Magni (Ita)       Ferdy Kubler (Swi)
1951 Fiorenzo Magni (Ita)      Rik Van Steenbergen (Bel)  Ferdy Kubler (Swo)
1950 Hugo Koblet (Swi)         Gino Bartali (Ita)         Alfredo Martini (Ita)
1949 Fausto Coppi (Ita)        Gino Bartali (Ita)         Giordano Cottur (Ita)
1948 Fiorenzo Magni (Ita)      Ezio Cecchi (Ita)          Giordano Cottur (Ita)
1947 Fausto Coppi (Ita)        Gino Bartali (Ita)         Giulio Bresci (Ita)
1946 Gino Bartali (Ita)        Fausto Coppi (Ita)         Vito Ortelli (Ita)
1940 Fausto Coppi (Ita)        Enrico Mollo (Ita)         Giordano Cottur (Ita)
1939 Giovanni Valetti (Ita)    Gino Bartali (Ita)         Mario Vicini (Ita)
1938 Giovanni Valetti (Ita)    Ezio Cecchi (Ita)          Severino Canavesi (Ita)
1937 Gino Bartali (Ita)        Giovanni Valetti (Ita)     Enrico Mollo (Ita)
1936 Gino Bartali (Ita)        Giuseppe Olmo (Ita)        Severino Canavesi (Ita)
1935 Vasco Bergamaschi (Ita)   Giuseppe Martano (Ita)     Giuseppe Olmo (Ita)
1934 Learco Guerra (Ita)       Francesco Camusso (Ita)    Giovanni Cazzulani (Ita)
1933 Alfredo Binda (Ita)       Jef Demuysere (Bel)        Domenico Piemontesi (Ita)
1932 Antonio Pesenti (Ita)     Jef Demuysere (Bel)        Remo Bertoni (Ita)
1931 Francesco Camusso (Ita)   Luigi Giacobbe (Ita)       Luigi Marchisio (Ita)
1930 Luigi Marchisio (Ita)     Luigi Giacobbe (Ita)       Allegro Grandi (Ita)
1929 Alfredo Binda (Ita)       Domenico Piemontesi (Ita)  Leonida Frascarelli (Ita)
1928 Alfredo Binda (Ita)       Giuseppe Pancera (Ita)     Bartolomeo Aymo (Ita)
1927 Alfredo Binda (Ita)       Giovanni Brunero (Ita)     Antonio Negrini (Ita)
1926 Giovanni Brunero (Ita)    Alfredo Binda (Ita)        Arturo Bresciani (Ita)
1925 Alfredo Binda (Ita)       Costante Girardengo (Ita)  Giovanni Brunero (Ita)
1924 Giuseppe Enrici (Ita)     Federico Gay (Ita)         Angiolo Gabrielli (Ita)
1923 Costante Girardengo (Ita) Giovanni Brunero (Ita)     Bartolomeo Aymo (Ita)
1922 Giovanni Brunero (Ita)    Bartolomeo Aymo (Ita)      Giuseppe Enrici (Ita)
1921 Giovanni Brunero (Ita)    Gaetano Belloni (Ita)      Bartolomeo Aymo (Ita)
1920 Gaetano Belloni (Ita)     Angelo Gremo (Ita)         Jean Alavoine (Fra)
1919 Costante Girardengo (Ita) Gaetano Belloni (Ita)      Marcel Buysse (Fra)
1914 Alfonso Calzolari (Ita)   Pierino Albini (Ita)       Luigi Lucotti (Ita)
1913 Carlo Oriani (Ita)        Eberardo Pavesi (Ita)      Giuseppe Azzini (Ita)
1912 Atala                     Peugeot                    Gerbi
1911 Carlo Galetti (Ita)       Giovanni Rossignoli (Ita)  Giovanni Gerbi (Ita)
1910 Carlo Galetti (Ita)       Eberardo Pavesi (Ita)      Luigi Ganna (Ita)
1909 Luigi Ganna (Ita)         Carlo Galetti (Ita)        Giovanni Rossignoli (Ita)