Recently on Cyclingnews.com
Tech update – July 3, 2002
Edited by John Stevenson
Got tech? Send press releases, news, and tech questions to the Cyclingnews tech-heads.
Giant's Tour de France special
Joseba Beloki's new ride
Photo: © Giant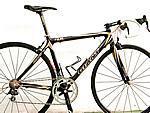 Le Tour is always a venue for spotting new kit, from amended team strips to semi-prototype bikes and components. The ONCE-Eroski team will be aboard new Giant carbon bikes on July 6, and while Giant Europe's Tom Davies admits "the changes are mainly cosmetic", they're a pretty droolsome set of cosmetic changes.
As always, ONCE-Eroski will be using Campagnolo components, but with a twist: the aluminium parts of the team's Record OR groups have been anodised black (the carbon parts already are, of course) and finished with gold highlights. Shades of the gold detailing on the fiftieth anniversary groupset!
Interestingly, Davies tells us that only Joseba Beloki will be using the carbon cranks because Campagnolo currently makes them in only a 172.5mm length. This might explain why some eagle-eyed Cyclingnews readers have commented on the apparent lack of these cranks on Campagnolo-sponsored bikes so far this year.
Other special touches for ONCE-Eroski's Tour bikes include Selle Italia gold saddles and TACX gold bottle cages, though neither arrived in time for the photo here.
On the 'things mere mortals can actually buy' shelf, Giant has launched a new range of carbon components: forks, round and aero seat posts, stem and drop handlebar. According to Davies, most of the ONCE-Eroski team will be using these new components in the Tour.
Ritchey makes the Tour
From a company that's been under a Tour team for several years to one that will be making its Tour debut in Luxembourg. Ritchey parts will appear on the Tour start line for the first time this year on the bikes of Credit Agricole and Jean Delatour. Credit Agricole will use Ritchey's WCS handlebar, stem, seatpost and headset, plus Ritchey's new aero bar in the time trial stages. Jean Delatour – a late addition to the Tour after the organisers withdrew Saeco's invitation – will also use the WCS bar, stem, headset and seatpost.
Recent tech
Tour tech: Zipp's slippery new wheel revealed
On test: Klein Palomino XV
June 25 news: New Giant carbon, Crank Bros, Colnago proto, Scott, Topolino
Book review: Lance Armstrong: Images of a champion
New bike for Van Moorsel
New bikes from BT
Cicli Pinarello displays its racing history: Fifty years of classic bikes
June 17 new arrivals: Specialized, Crank Bros, Thomson, Bicycling Science, Drop In
Pro bike: Iban Mayo's Euskaltel-Euskadi Orbea TT climbing prototype
On test: Campagnolo Eurus G3 wheels
Pro bike: Lance Armstrong's Trek Madone SSL proto
Pro bike: Emanuele Sella's Battaglin
June 8 news, part 1: Giro's Rev Six revs up at Dauphine, Rebellin conquers on Wilier carbon proto, Giant spy photos at the T-Mobile Service Course
June 8 news, part 2: Specialized unveils new kit, Cervelo & CSC fine-tune at MIT, New forks from Alpha Q, Paint job of the year?
Pro bike: Dede Demet-Barry's T-Mobile Giant TCR Carbon
Bikes of the Giro part 2: The mountains
New arrivals: DMT, Jaggad, Blue Steel, Cannibal, Ellsworth, LeMond Fitness, Atomic Mount
On test: Park Tool IB-1 & IB-2 multi-tools
De Marchi responds
On test: Giro Monza
On test: De Marchi Contour bib shorts,
On test: DeFeet Armskins
May 21 news: Petacchi's new Pinarello, Mayo's Orbea TT secret weapon, adidas, Mavic, Ambrosio, True Temper
On test: White Industries Eccentric ENO hub
World exclusive pro bike: Marion Clignet's Look 496 track bike
On test: Carnac Quartz road shoes
Repair & maintenance: Recording MTB position
Pro bike: Chris Horner's Webcor Lemond TT bike
May 13 news: New Shimano wheels, 29inch victory, CycleOps, Naviion
New arrivals: Crank Bros, Park Tool, Sports Instruments, Morningstar & Panasonic,
New arrivals: 2004 clothing from Campagnolo
On test: Orbea Orca - Real-world team issue
On Test: Specialized Bar Phat tape
Bikes of the Tour de Georgia
Apr 30 news: Campagnolo, Klein, Giant, Sports Instruments, Burley, La Ruta
Apr 27 news: IRD, Oval, Fi'zi:k, Camelbak