Recently on Cyclingnews.com
Tech News – July 25, 2003
Edited by John Stevenson
Got tech? Send press releases, news, and tech questions to the Cyclingnews tech-heads.
New bars and fork
Photo: © Olympia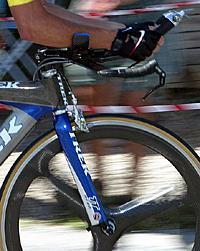 Trek gets forking aero
US Postal has been campaigning new forks from the Trek/Bontrager line-up at the Tour, as well as the new Madone 5.9 frame. According to Trek teams liaison guy Scott Daubert, the Bontrager XXX fork is lighter than the previous 5900 fork by dint of a carbon crown lug and standard headset, rather than the 5900's permanent lower bearing. "The lug begins at the top of the fork blades and extends up to about 20mm above the lower bearing race," Daubert told Cyclingnews. "The bearing race is a metal ring bonded to the carbon just above the brake mount hole. The aluminum steer tube is bonded to the carbon fork crown."
The XXX fork will be available from August 1 with a US RRP of $425.
Also new from Trek is the Aero fork that's appeared on USPS time trial bikes at this year's Tour. According to Daubert, "most of the fastest forks Trek and other makers have developed are illegal under UCI regulations but this new fork falls within the rules and is very fast. It's design proved out after a lengthy trip to the wind tunnel where we compared other maker's current forks as well as older, now-illegal designs. It works with both bladed spoke wheels and three-spoke wheels equally well. This also will be available as an aftermarket fork under the Bontrager brand as the TT Aero."
Doug Cusack, Trek's engineer who developed the Aero TT fork said, "I think what makes the fork fast is the clean aero shape that goes from crown all the way to the dropouts. Having the full aero shape at the dropouts helps smooth the flow from around the hub axle. Also the space between the tire and crown is fairly large. This helps let air through a critical area. This is really important with the three-spoke wheels."
Also on the aero front, Daubert says that the time trial bar used by Lance Armstrong in this year's Tour "could go to market in the future."
"Right now it is only a prototype but relatively far along in its development," said Daubert. "The first bars were faster than all the other four makes we tested in the tunnel (on Lance's 2002 TT bike with him on board) but since those tests the bar has lost nearly 800g in weight. Most of the TT bar uses OCLV Carbon so its light weight doesn't affect its stiffness or its ride comfort. The latest version and a special pair will be on Lance's TT bikes in the Tour's remaining TT."
Incidentally, the world, his uncle and his dog have all been asking why Lance Armstrong has been using a 5900 Superlight instead of the Madone 5.9 in the mountain stages> We asked Scott Daubert, and got this reply:
"Lance brought seven different Trek bikes to this year's Tour. He chooses the bike that is right for the day, terrain or application. He chose to ride the 5900 when the Tour arrived in the Pyrenees I assume because that is when his race got (more) serious. I don't know which bike he will ride from day to day but when he pulled the 5900 out of the truck for Luz-Ardiden, it may have been to complement the change he wanted to make in the GC standings."
This was confirmed by US Postal mechanic Chris van Roosbroeck who also told Cyclingnews that Armstrong has seven bikes at the Tour, and he basically decides what bike he wants to ride. The Madone is still a beta model, according to van Roosbroeck, and it's not set up with the right STI shifter and left downtube shifter, which Lance prefers. Once he sets it up he doesn't want to change it.
New arrivals on Tour podium
As well as traditional component company players at the Tour such as Campagnolo, and Shimano, some other, US-based companies have been happy with the success of riders using their equipment in the Centenary Tour de France. We mentioned pedal manufacturer Speedplay in our last tech update, here's a couple more.
Jean Delatour & Probiscus
Photo: © Olympia

A happy SRAM user
Photo: © Olympia

It's that crank again
Photo: © Shimano
More aluminium for less weight
Photo: © Shimano

The bottom bracket bearings
Photo: © Shimano

15g has been shaved from the rear derailleur
Photo: © Shimano

The new shifter/lever shape
Photo: © Shimano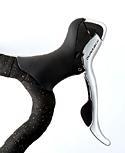 You need wheels..
Photo: © Shimano

Ritchey steps up to the bar
Ritchey, known for its seatposts, bars and stems, is supplying components to four teams: Jean Delatour, Gerolsteiner, Credit Agricole and a fourth, mystery team that can't be named because, according to Ritchey PR Kevin Miller, "We don't have a license to use their name!" The high point of Ritchey's Tour has been the day in yellow spent by Jean Delatour's Jean-Patrick Nazon, whose team-mates Patrice Halgand and Samuel Dumoulin have been using Ritchey's new carbon bar.
Another new Ritchey component, the Probiscus time trial bar, also got its first outing in the Tour prologue.
SRAM chains
Meanwhile transmission component maker SRAM has scored its first Tour stage wins aboard Jakob Piil's and Tyler Hamilton's bikes in stages 10 and 16. The whole CSC team is using SRAM PC-89R HollowPin chains and R9 cassettes.
SRAM hasn't had much presence in the road world in the last few years, though its chain-making arm (formerly known as Sachs and before that as Sedis) was once synonymous with good-quality, good-value chains. After stage 16, SRAM could do worse than telling the world its chains are 'Tyler tough'...
2004 Dura-Ace questions answered
Shimano honch Matt Bazzano dropped by the Cyclingnews office a couple of days ago to show off his new personal ride, a Giant equipped with the new Dura-Ace 10 speed. In exchange for letting him brag, we demanded the answers to a few of the questions you've been asking.
Will the new Dura-Ace be compatible with existing nine-speed wheels?
Yes. The ten-speed cluster is very slightly wider than the old nine-speed, but will fit on a nine-speed hub with just a little over-hang. However, the new ten-speed hubs and wheels will only take a ten-speed cluster.
Is the Q-factor of the new cranks the same as previous Dura-Ace?
Shimano claims the Q-factor (the measurement across the pedal faces of the cranks that determines the pedal spacing) is the same, but we have seen counter-claims from people who've had a chance to measure the new Dura-Ace that it's actually about 4mm wider. We weren't able to make the necessary measurements during Bazzano's brief visit, but we expect to get a longer look at the new Dura-Ace soon and will get the callipers out when we do.
Will I need new tools for the bottom bracket?
The new bearings require a specially-shaped spanner to fit and remove them, but that spanner will be supplied with the cranks.
Why aluminium and not carbon for the cranks?
Shimano claims its testing shows that the Dura-Ace cranks are more rigid in torsion and bending than several carbon fiber cranks they were tested against. However, by Shimano's admission, the carbon cranks were all lighter, so you have a choice of a trade-off between very light and stiff Shimano cranks, and extremely light and not quite as stiff carbon cranks from other manufacturers.
What chainring and sprocket combinations will be available?
Chainrings: 53/42, 52/39, 53/39, 50/39, 54/42, 55/42, 56/44
Sprockets:
11/12/13/14/15/16/17/18/19/21
11/12/13/14/15/16/17/19/21/23
12/13/14/15/16/17/18/19/20/21
12/13/14/15/16/17/18/19/21/23
12/13/14/15/16/17/19/21/23/25
12/13/14/15/16/17/19/21/24/27
Underlined sprockets will be titanium.
Masters Fatties (like this writer) with lots of money (unlike this writer) will be disappointed to learn that there is no triple version of the new crank. Shimano seems to think that ten sprockets and a fairly wide range of chainrings will be enough for everyone, but we'd expect to see a triple in a year or two for those who could use a little help on the steep stuff.
Will there be wheels?
There will be wheels. The new WH-7800 clincher wheels use evenly-spaced spokes (20 rear, 16 front) instead of the previous paired-spoke design and have a claimed weight of 852/721g (front/rear) compared to 950/755g for the 2003 clincher wheels.
What's the weight difference?
Shimano claims a total weight saving of 125g over 2003 Dura-Ace - and more if you take into account complete wheels rather than hubs.
Fondriest Direct to more of the world
Denver Colorado-based US Fondriest distributor the P4 Group has announced that it is now able to supply Fondriest frames to a wider range of countries after an agreement with manufacturer Biciclette Fondriest.
"Biciclette Fondriest is continually inundated with requests from countries where they currently do not have distribution. We agreed to service these additional countries," said Scott Mellin, president of P4 Group.
The move means that frames will now be available from Fondriest Direct to riders in Spain, Sweden, Finland, Norway, Russia and the former Soviet republics, India, Iran, Iraq, Israel, Saudi Arabia, Kuwait, United Arab Emirates, Palestine, Guatemala, Costa Rica, Honduras, Argentina, Chile, Brazil, Bolivia, Venezuela and Columbia.
For more details see www.fondriest-usa.cog
Recent tech
Tour tech: Zipp's slippery new wheel revealed
On test: Klein Palomino XV
June 25 news: New Giant carbon, Crank Bros, Colnago proto, Scott, Topolino
Book review: Lance Armstrong: Images of a champion
New bike for Van Moorsel
New bikes from BT
Cicli Pinarello displays its racing history: Fifty years of classic bikes
June 17 new arrivals: Specialized, Crank Bros, Thomson, Bicycling Science, Drop In
Pro bike: Iban Mayo's Euskaltel-Euskadi Orbea TT climbing prototype
On test: Campagnolo Eurus G3 wheels
Pro bike: Lance Armstrong's Trek Madone SSL proto
Pro bike: Emanuele Sella's Battaglin
June 8 news, part 1: Giro's Rev Six revs up at Dauphine, Rebellin conquers on Wilier carbon proto, Giant spy photos at the T-Mobile Service Course
June 8 news, part 2: Specialized unveils new kit, Cervelo & CSC fine-tune at MIT, New forks from Alpha Q, Paint job of the year?
Pro bike: Dede Demet-Barry's T-Mobile Giant TCR Carbon
Bikes of the Giro part 2: The mountains
New arrivals: DMT, Jaggad, Blue Steel, Cannibal, Ellsworth, LeMond Fitness, Atomic Mount
On test: Park Tool IB-1 & IB-2 multi-tools
De Marchi responds
On test: Giro Monza
On test: De Marchi Contour bib shorts,
On test: DeFeet Armskins
May 21 news: Petacchi's new Pinarello, Mayo's Orbea TT secret weapon, adidas, Mavic, Ambrosio, True Temper
On test: White Industries Eccentric ENO hub
World exclusive pro bike: Marion Clignet's Look 496 track bike
On test: Carnac Quartz road shoes
Repair & maintenance: Recording MTB position
Pro bike: Chris Horner's Webcor Lemond TT bike
May 13 news: New Shimano wheels, 29inch victory, CycleOps, Naviion
New arrivals: Crank Bros, Park Tool, Sports Instruments, Morningstar & Panasonic,
New arrivals: 2004 clothing from Campagnolo
On test: Orbea Orca - Real-world team issue
On Test: Specialized Bar Phat tape
Bikes of the Tour de Georgia
Apr 30 news: Campagnolo, Klein, Giant, Sports Instruments, Burley, La Ruta
Apr 27 news: IRD, Oval, Fi'zi:k, Camelbak