Recently on Cyclingnews.com
Tech News – July 10, 2003
Edited by Paul Mirtschin
Got tech? Send press releases, news, and tech questions to the Cyclingnews tech-heads.
Carbon Cannondale?
That's not stock
Photo: © Chris Henry/CN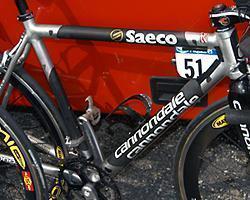 Observant readers have noticed that Gilberto Simoni's Cannondale isn't quite the model found on the shop floor. In fact, it appears to have a lot of aluminium missing, and carbon fibre tubing in its place.
Word is that the new bike is based on what will soon be released as Cannondale's CAAD8 frame, a carbon-fibre/aluminium lugged frame aimed at the elite end of the road market.
Cannondale is being very tight-lipped about this new frame at the moment, but will hopefully reveal more information as the Tour continues.
Team CSC on all-new gear
A few weeks ago when we covered CSC's new Cervelo R2.5 bikes, a few readers commented on its resemblance to an Argon18 frame. But as co-founder Cervélo, Gerard Vroomen, points out, the R2.5 is all Cervelo.
All Cervelo
Photo: © Chris Henry/CN

"It may not be clear from the pictures you are looking at, but the R2.5 has quite a unique rear stay (with Wolf aero cross section), lug designs with a combination of male and female shapes not found on any other frame, a unique biconical downtube shape and the lightest integrated carbon headtube around." Vroomen told Cyclingnews. "In fact, every little piece of this frame is unique to the R2.5."
Vroomen also stated that Cervelo has a long background in composites technology.
"Both Phil White and myself have solid education and professional backgrounds in composite technology, in fact we met in a composites lab and then decided to start Cervélo."
Red goes faster
Photo: © Speedplay

CSC are also sporting their new red Speedplay Zero pedals, and Speedplay has announced that these pedals will now be available to the public.
"I was really impressed by the amount of interest Speedplay received from the red Zeros," said Speedplay designer and CEO Richard Bryne. "There has been a lot of media coverage of the team that started with Tyler's big win. People noticed in photographs that the guys on the team were using red pedals and wanted to know if they could buy them."
Speedplay will offer the CSC Team Edition Zero in both titanium and stainless steel, although the team only uses the titanium model. Both pedal systems are Team CSC red, but the titanium version can be identified by its silver end caps, while the stainless steel version has Speedplay's standard black end caps.
The Speedplay CSC Team Edition Zero Stainless will retail for US$185 while the Speedplay CSC Team Edition Zero Titanium is will sell for US$270.
A good cause
Photo: © ZIPP

CSC has also had some new ZIPP Z9 wheels supplied by ZIPP, complete with gold hubs and Tour Centenary decals. The Z9 is a new wheel from ZIPP, and is a 1500gram time trial wheelset using the same ceramic bearings as other Z series wheels along with other special modifications.
Josh Poertner, a design engineer at ZIPP, told Cyclingnews "These wheels are a one of a kind, and have special gold plated hubs, gold leaf decals overlayed on a special black reflective film outline, which makes them look quite incredible when photographed with the flash. After the Tour, the CSC team will autograph the wheelset and it will go up for auction on eBay with all funds going to the American Cancer Society."
ZIPP hopes that the auction will generate some interest for the American Cancer Society, along with some much-needed cash.
What's Up With Colnago?
By Tim Maloney
Next years biggest bike?
Photo: © Tim Maloney/CN

Cyclingnews recently paid a pre-Tour de France visit to Ernesto Colnago, where il maestro is preparing for his 50th Anniversary as a bicycle builder.
Colnago gave us a very brief sneak peek at his stunning new C-50 carbon bike, to be unveiled later this year in conjunction with his Cinquentanario celebration. "I'm very proud of this new C-50 bicycle… it will be something special, " said Colnago
Colnago told Cyclingnews that his new C-50 bicycle would only be available at first as a complete bike.
He went on to explain, "of course, my C-40 will continue as is... we are still selling this model very well! The C-40 you showed (Bikes Of Zoncolan) of Popovych's from the Giro d'Italia was a special, one-off model for the Giro that was using a lighter carbon fibre that will only be available in the new C-50 model. We don't plan to change the C-40 at all for now."
Ernesto Colnago also has a long-term relationship with Ferrari and as the Casa di Maranello has successfully re-launched the Maserati brand, they have asked Colnago to develop some Maserati bikes. "This is just a first prototype," Colnago explained, "but we will have three bikes in the line-up that will bear the Maserati name. It is an exciting project to work with Maserati," said Colnago.
The show must go on
When IMAX put forth plans to follow Tyler Hamilton, it must have seemed like a really good idea. But Tyler's crash in Stage Two of the race must have had the IMAX management a little worried.
However with Tyler deciding to carry on, even with a fractured collarbone, IMAX might get more than they expected.
The file, to be called Brain Power, will explore the extraordinary processes of the human brain by following Hamilton as he trains and participates in the Tour de France, one of the world's most gruelling competitions. The film uses the latest advances in neuroscience technology and computer-imaging devices, as well as spectacular specialized computer graphics sequences provided by nWave's digital studio, Movida/Trix, to highlight what happens to the brain in an event such as le Tour.
The film is scheduled for release in 2004, along with a shorter 3D version to be released and distributed by nWave to the expanding specialty film and high definition video markets.
Spinning out
Spin faster
Photo: © CycleOps

CycleOps has teamed up with USPS to celebrate their first year in the Tour de France peloton with a new limited-edition Fluid2 Tour Edition Trainer.
The trainer features CycleOps's patented Power Band Technology, and shares all of the features common to the current Fluid model. The Fluid Tour Edition comes in the USPS team colours, and will be available in limited quantities for US$399.99 from July 15.
Photos
Recent tech
Tour tech: Zipp's slippery new wheel revealed
On test: Klein Palomino XV
June 25 news: New Giant carbon, Crank Bros, Colnago proto, Scott, Topolino
Book review: Lance Armstrong: Images of a champion
New bike for Van Moorsel
New bikes from BT
Cicli Pinarello displays its racing history: Fifty years of classic bikes
June 17 new arrivals: Specialized, Crank Bros, Thomson, Bicycling Science, Drop In
Pro bike: Iban Mayo's Euskaltel-Euskadi Orbea TT climbing prototype
On test: Campagnolo Eurus G3 wheels
Pro bike: Lance Armstrong's Trek Madone SSL proto
Pro bike: Emanuele Sella's Battaglin
June 8 news, part 1: Giro's Rev Six revs up at Dauphine, Rebellin conquers on Wilier carbon proto, Giant spy photos at the T-Mobile Service Course
June 8 news, part 2: Specialized unveils new kit, Cervelo & CSC fine-tune at MIT, New forks from Alpha Q, Paint job of the year?
Pro bike: Dede Demet-Barry's T-Mobile Giant TCR Carbon
Bikes of the Giro part 2: The mountains
New arrivals: DMT, Jaggad, Blue Steel, Cannibal, Ellsworth, LeMond Fitness, Atomic Mount
On test: Park Tool IB-1 & IB-2 multi-tools
De Marchi responds
On test: Giro Monza
On test: De Marchi Contour bib shorts,
On test: DeFeet Armskins
May 21 news: Petacchi's new Pinarello, Mayo's Orbea TT secret weapon, adidas, Mavic, Ambrosio, True Temper
On test: White Industries Eccentric ENO hub
World exclusive pro bike: Marion Clignet's Look 496 track bike
On test: Carnac Quartz road shoes
Repair & maintenance: Recording MTB position
Pro bike: Chris Horner's Webcor Lemond TT bike
May 13 news: New Shimano wheels, 29inch victory, CycleOps, Naviion
New arrivals: Crank Bros, Park Tool, Sports Instruments, Morningstar & Panasonic,
New arrivals: 2004 clothing from Campagnolo
On test: Orbea Orca - Real-world team issue
On Test: Specialized Bar Phat tape
Bikes of the Tour de Georgia
Apr 30 news: Campagnolo, Klein, Giant, Sports Instruments, Burley, La Ruta
Apr 27 news: IRD, Oval, Fi'zi:k, Camelbak