90th Giro d'Italia - GT
Italy, May 12-June 3, 2007
Main Page Results Overall standings Stage Details Live report Previous Stage Next Stage
Stage 13 - Friday, May 25: Biella - Santuario Di Oropa (Mountain TT), 12.6 km
Italian Champ Bruseghin conquers Oropa
Maglia Rosa Di Luca adds time, Piepoli shows mountain strength
By Gregor Brown and Tim Maloney
Marzio Bruseghin (Lampre-Fondital)
Photo ©: Sirotti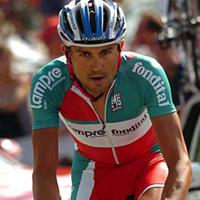 Italian Time Trial Champion Marzio Bruseghin showed his skills are also effective on the vertical slopes by conquering the 12.58-kilometre climb to the Santuario di Oropa in 28 minutes and 55 seconds. Maglia Rosa Danilo Di Luca (Liquigas) marched up the mountain to take third, behind mountain goat Leonardo Piepoli (Saunier Duval-Prodir). He kept his race lead and in the process earned precious seconds on his rivals.
With a time of 28'55", 32 year-old Bruseghin took his second win in his eleventh year as a professional. He crossed the line next to the Santuario dressed in the Maglia Tricolore, the reward from his first pro win, which came on June 20, 2006, in the Italian time trial championships.
Bruseghin passed into the professional ranks in 1997 with Brescialat and then from 1999 to 2002 he raced in Spain with Banesto. In 2003, he returned to Italy to serve as a gregario for Petacchi at Fassa Bortolo and, starting with 2006, working for Cunego at Lampre-Fondital. He is currently in second overall, 1'03" behind Di Luca, but will dedicate himself in the coming stages to his team captain.
The rider from Piadera di Vittorio Veneto, Italy's north, just edged out Leo Piepoli, who comes from the south, in Puglia. Piepoli stormed through the early time check at kilometre 9.4 with a time of 21'02" and then arrived at the summit, clad in the best climber's Maglia Verde (on loan from Di Luca), with a time of 28'56".
Piepoli's time knocked out Captain America, David Zabriskie, who arrived in his national TT champion's jersey with the provisional best time of 29'14". It was a small ray of light for Team CSC considering that the team's manager, Bjarne Riis, was admitting to doping at the same moment in Denmark.
"To lose by one second always hurts," said Piepoli who ended the day with a time of 28'56". "But this is another result to confirm a condition that, especially in the mountains, sees me up with the front-runners. There are some regrets but the verdict is accepted, also because Saunier Duval's Giro does not end here at Oropa."
Leonardo Piepoli (Saunier Duval-Prodir)
Photo ©: Sirotti

Clad in the pink colours of race leader, Danilo Di Luca rolled out of the start house in Biella last. He smoothly rotated his gears, bettering Piepoli by four seconds at kilometre 9.4 but falling short where it mattered, at the line, by eight seconds. However, he did gain 21" on Garzelli, 30" on Cunego, 32" on Schleck and 58" on Simoni.
"For me it was important to add something more on the other rivals," Di Luca confirmed. "Milano is still a long ways off."
He commented on his growth as a GC rider. "I have always thought to win a Giro. Maybe now it is closer than ever. I know my characteristics well and my abilities. When I turned pro, I always believed it was possible and then, at 30 years-old, I started to think it was the time to try winning the Giro.
Gilberto Simoni (Saunier Duval-Prodir)
Photo ©: Sirotti

2004 Champion Damiano Cunego (Lampre-Fondital) closed the day at 29'33", just behind Garzelli and Mazzoleni. After the stage he was happy with his team's performance and he is looking forward to Sunday's Tre Cime di Lavaredo and Wednesday's Monte Zoncolan.
"I am happy for [teammate] Marzio because he is a specialist against the clock and it is good for the team," noted a relaxed Cunego. "I am satisfied with my time. I did more or less what I wanted to do for this stage. We [the favourites] are all still together in the same time range. ... Di Luca went well but the Giro is still long. There are still some big days to go."
Youngster Andy Schleck (Team CSC) rode impressively in the first half of the stage and finished the day just ahead of Julio Pérez (Ceramica Panaria-Navigare) and Gilberto Simoni (Saunier Duval-Prodir). Two-time Giro winner, Simoni, rounded out the top Giro contenders. He prefers the longer mountain passes, where he can get his diesel engine up to running speed.
"I gave all I had," said 35 year-old Gibo at the finish. "Evidently I did not recover well from yesterday's stage, and honestly I expected something better. Today's distance won't jeopardize anything, even if it confirms that Di Luca, in this moment, is going really well."
He noted of his teammate, winner of stage 10, "I am sorry for Piepoli; after yesterday's work on the Izoard, more than anyone else, he deserved this win."
How it unfolded
Danilo Di Luca (Liquigas)
Photo ©: Sirotti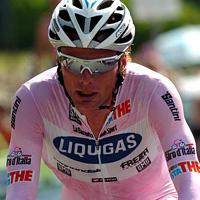 Today's uphill time test from Biella to the Santuario di Oropa was a short, steep and difficult stage which gained 734m at an average grade of 5.8%, with steepest pitches of 13%. It was a tough, irregular climb and the short distance limited the time differences between the Giro contenders and made even more difficult as it came after Thursday's tough mountain stage to France.
Huge crowds of tifosi were on hand Friday as the lined the ascent to the Santuario to cheer on their Giro heroes. One Giro rider who didn't take the start was Discovery Channel leader Yaroslav Popovych. The Ukrainian rider had hurt his back and knee in the stage 11 finish line crash and was feeling the pain in yesterday's mountain stage, losing over 6'00". "It was very hard to decide to stop at the Giro d'Italia, but I know it is the best decision. I still have many races left this year, including the Tour de France, so all is not lost. I expect to recover quickly and be back in good form for the remainder of 2007," said Popovych.
Friday, the first rider to approach the 31 minute barrier was Quickstep's young talent Visconti, who posted a good time of 31'12". Then Panaria's magic Mexican Julio Pérez Cuapio took off like a rocket on the flat first two kilometres, then powered through the first time check at five kilometres with the fastest time, and was then 1'13" faster than Visconti at the second time check. With his face a picture of pain, Pérez Cuapio finished under 30 minutes in 29'38", 1'34" faster than Visconti and had gained 21 seconds on Visconti in the last three kilometres, to take the race lead.
Clad in his stars & stripes jersey of American time trial champion, CSC's David Zabriskie passed through the first time check at five kilometres, the same time as Pérez Cuapio. Alternating between his handlebar extensions and his brakes, Zabriskie looked smooth and strong as he hit the steep middle section of the ascent. Meanwhile, Lampre's Marco Marzano, a former Giro d'Italia dilletante winner finished in 30'29" for the second fastest time. At the second time check, Dave Z was 16" faster than Pérez Cuapio as World Road Champion Paolo Bettini didn't ride like a turista and had a good effort wearing his Quickstep jersey.
American David Zabriskie (Team CSC)
Photo ©: Sirotti

As Astana's Paolo Savoldelli started, looking to get some time back he lost on stage 12, Dave Z was still looking smooth and fast as he entered the last kilometre and then finished in 29'14" at a 25.860 km/hr average, 24" faster than the Mexican to take the lead in stage 13. Clad in the Maglia Verde of Best Climber, Saunier Duval climber Leo Piepoli was next up, and started slower in the flat, but as he hit the ascent, pure climber Piepoli, who weighs 52kg, just flew up the climb and by the second time check after nine kilometres, he was 4" faster than Zabriskie! At the summit finish, Piepoli sprinted home after a great final three kilometres in 28'56" to smash Dave Z's time by 20", with an average speed of 26.129km/hr.
Piepoli's Saunier Duval teammate Riccardo Riccò had a fast start and was already 8" ahead of Piepoli at the first time check, while behind him, Tinkoff's Petrov started with the fastest at the first time check and was powering up the climb. Savoldelli finished the stage at 30'41", posting the seventh fastest at that point, the same as his Astana teammate Yakovlev.
As CSC's Bjarne Riis was confessing his doping sins on a split screen, his team's young talent Andy Schleck was second fastest at five kilometres as atop the climb, Stefano Garzelli (Acqua e Sapone) had an excellent ride, posting the third fastest time of 29'29" to that point.
Julio Pérez (Ceramica Panaria-Navigare)
Photo ©: Sirotti

After his super fast start, Petrov had slowed and at second time check was third fastest, 9" slower than Piepoli. Now on the course, Lampre-Fondital's Cunego looked fresh with a low profile wheel in front and a high profile wheel in the rear as he pedalled at a fast pace on the first slopes to the Santuario di Oropa.
In the finale, Saunier Duval's Riccò had cracked a bit and lost 40" to Piepoli in last three kilometres to post 30'46", while Maglia Rosa Di Luca's teammate Fast Franco Pellizotti blasted in at 29'17" and had lost only 4" to Piepoli in the final three kilometres. Meanwhile, the Giro's Best Young Rider Andy Schleck was burning up the road and at the second time check, he had already moved past Caisse d'Epargne's Arroyo into third place on GC.
Saunier Duval leader Simoni had a good time at the first time check, but the 35 year-old from Palù di Giovo seemed to have heavy legs. Maglia Rosa Di Luca was out for the win on Stage 13 and had the second fastest at first time check and was already putting time into all his rivals, except one. Simoni wasn't on a brilliant day as he tried to maintain a regular pace, but Italian TT champ Marzio Bruseghin, second on GC was honouring his maglia tricolore with a superb start.
Andy Schleck (Team CSC)
Photo ©: Sirotti

At second time check, Cunego was riding well, 26" slower than leader Piepoli and just faster than Simoni, while Petrov finished third fastest in 29'26", clearly paying dearly for his fast start. Schleck was fourth fastest at the second time check at 15", while Simoni had slowed, losing 32" to Piepoli at the second time check and then finishing in 30'01".
Ascending to the Santuario di Oropa between two walls of tifosi, Maglia Rosa Di Luca was showing his class and was looking like a winner. Damiano Cunego had punched it over the last three kilometres to finish in 29'33", seventh fastest, gaining 28" on Gibo Simoni. But the story of the day was unfolding over the last few kilometres of stage 13, as Italian TT champ Bruseghin had just set the second fastest time at the nine-kilometre point. Andy Schleck had also paid for his fast start and lost 20" to Piepoli in the last three kilometres, but still set the excellent time of 29'35".
On the final slopes to the Santuario di Oropa, there was a pitched battle for the win between Bruseghin in his Maglia Tricolore and Danilo Di Luca in his Maglia Rosa for the stage victory. Lampre's Bruseghin was simply magic over the final three kilometres and finished just one second faster than Saunier Duval's Piepoli in 28'55" to take the lead in stage 13.
Two minutes behind, Maglia Rosa Di Luca was going all out but the noise from the cheering crowds limited his ability to hear the split times in ear piece. He tried his hardest to win his third stage at the 2007 Giro, but Di Luca fell short by just 9", posting a 29'03" to finish third. Bruseghin took his second career win after the victory in the 2006 Italian TT championships and moved to within 55" of Maglia Rosa Di Luca.
Stefano Garzelli (Acqua & Sapone-Caffè Mokambo)
Photo ©: Sirotti

Best Young Rider Andy Schleck was ninth on the stage, and as his close rival Arroyo wilted and Schleck moved in to third on overall GC, 1'57" behind Di Luca, while Arroyo slipped to sixth on GC at 2'51". Damiano Cunego's strong ninth place finish moved the 2004 Giro winner into fourth on GC at 2'40" and Cunego's Lampre-Fondital team looks to be good for the next week, being able to put pressure on Di Luca's Liquigas squad with three riders (Bruseghin 2nd at 55" / Cunego 4th at 2'40" / Vila 5th at 2'44").
Tinkoff's Petrov is on the move, currently seventh on GC at 3'11" and looking to move up, while Saunier Duval-Prodir leader Simoni finished 13th on the stage, losing 1'00" to Maglia Rosa Di Luca and stayed at eighth on GC 3'32". Special mention to Stefano Garzelli (Acqua e Sapone), who after his gutsy ride yesterday to Briançon recovered well to finish sixth on today's stage and Di Luca's Liquigas teammate Franco Pellizotti, who was fifth today at 22" and could be precious help to his team leader.
Stage 14 - Saturday, May 26: Cantù - Bergamo, 192 km
The Giro weekend opens with a stage from the furniture city of Cantù in Brianza to the dynamic city of Bergamo, via the Lecco arm of Lake Como, then over the 26-kilometre ascent of Passo San Marco above Morbegno, and the final ascent of La Trinità-Dossena with 40 kilometres to go to Bergamo. No sprinters will survive while Astana's local lads Paolo Savoldelli and Eddy Mazzoleni, along with Marco Pinotti (T-Mobile) will be looking to shine in their hometown.
Photography
For a thumbnail gallery of these images, click here
Images by Fotoreporter Sirotti
Images by Roberto Bettini/www.bettiniphoto.net
Images by Luc Claessen/www.ctm-images.com
Results

1 Marzio Bruseghin (Ita) Lampre - Fondital                               28.55
2 Leonardo Piepoli (Ita) Saunier Duval - Prodir                           0.01
3 Danilo Di Luca (Ita) Liquigas                                           0.08
4 David Zabriskie (USA) Team CSC                                          0.19
5 Franco Pellizotti (Ita) Liquigas                                        0.22
6 Stefano Garzelli (Ita) Acqua & Sapone - Caffe Mokambo                   0.29
7 Evgeni Petrov (Rus) Tinkoff Credit System                               0.31
8 Eddy Mazzoleni (Ita) Astana                                             0.33
9 Damiano Cunego (Ita) Lampre - Fondital                                  0.38
10 Andy Schleck (Lux) Team CSC                                            0.40
11 Julio Alberto Perez Cuapio (Mex) Ceramica Panaria - Navigare           0.43
12 Branislau Samoilau (Blr) Acqua & Sapone - Caffe Mokambo                    
13 Gilberto Simoni (Ita) Saunier Duval - Prodir                           1.06
14 Francisco Javier Vila Errandonea (Spa) Lampre - Fondital               1.13
15 Andrea Noe' (Ita) Liquigas                                             1.21
16 Marco Marzano (Ita) Lampre - Fondital                                  1.34
17 Ivan Ramiro Parra Pinto (Col) Cofidis - Le Crédit par Téléphone        1.41
18 David Arroyo Duran (Spa) Caisse d'Epargne                              1.43
19 Paolo Savoldelli (Ita) Astana                                          1.46
20 Emanuele Sella (Ita) Ceramica Panaria - Navigare                           
21 Serguei Yakovlev (Kaz) Astana                                              
22 Riccardo Ricco (Ita) Saunier Duval - Prodir                            1.51
23 Paolo Tiralongo (Ita) Lampre - Fondital                                2.00
24 Vincenzo Nibali (Ita) Liquigas                                         2.02
25 Charles Wegelius (GBr) Liquigas                                        2.07
26 Marco Pinotti (Ita) T-Mobile Team                                      2.10
27 Sylvester Szmyd (Pol) Lampre - Fondital                                2.13
28 Domenico Pozzovivo (Ita) Ceramica Panaria - Navigare                   2.15
29 Giovanni Visconti (Ita) Quickstep - Innergetic                         2.17
30 Andrey Mizourov (Kaz) Astana                                           2.20
31 Yoann Le Boulanger (Fra) Bouygues Telecom                              2.23
32 Pietro Caucchioli (Ita) Crédit Agricole                                2.24
33 Andrei Kunitski (Blr) Acqua & Sapone - Caffe Mokambo                   2.25
34 Yuriy Krivtsov (Ukr) AG2r Prévoyance                                   2.30
35 Paolo Bettini (Ita) Quickstep - Innergetic                                 
36 Matthias Russ (Ger) Gerolsteiner                                       2.31
37 Aketza Pena Iza (Spa) Euskaltel - Euskadi                              2.32
38 Massimo Codol (Ita) Acqua & Sapone - Caffe Mokambo                     2.33
39 Vladimir Miholjevic (Cro) Liquigas                                     2.41
40 Amaël Moinard (Fra) Cofidis - Le Crédit par Téléphone                  2.42
41 Jussi Veikkanen (Fin) Française des Jeux                               2.43
42 Kurt-Asle Arvesen (Nor) Team CSC                                           
43 Christophe Riblon (Fra) AG2r Prévoyance                                2.45
44 Christophe Kern (Fra) Crédit Agricole                                  2.46
45 Iban Mayo Diez (Spa) Saunier Duval - Prodir                            2.48
46 Francesco Bellotti (Ita) Crédit Agricole                                   
47 Fortunato Baliani (Ita) Ceramica Panaria - Navigare                    2.55
48 Hubert Dupont (Fra) AG2r Prévoyance                                    2.58
49 Alessandro Vanotti (Ita) Liquigas                                      3.00
50 Luis Felipe Laverde Jimenez (Col) Ceramica Panaria - Navigare          3.01
51 Hubert Schwab (Swi) Quickstep - Innergetic                             3.03
52 Dmitriy Muravyev (Kaz) Astana                                          3.04
53 Ivan Rovny (Rus) Tinkoff Credit System                                     
54 Gorazd Stangelj (Slo) Lampre - Fondital                                3.06
55 Wim Van Huffel (Bel) Predictor - Lotto                                 3.09
56 Koos Moerenhout (Ned) Rabobank                                             
57 Jurgen Van Den Broeck (Bel) Predictor - Lotto                          3.18
58 José Luis Rubiera Vigil (Spa) Discovery Channel Pro Cycling Team           
59 Andrea Pagoto (Ita) Ceramica Panaria - Navigare                        3.22
60 Nicolas Crosbie (Fra) Bouygues Telecom                                     
61 Addy Engels (Ned) Quickstep - Innergetic                               3.23
62 Jurgen Van De Walle (Bel) Quickstep - Innergetic                       3.26
63 Alessandro Spezialetti (Ita) Liquigas                                  3.27
64 Mikhail Ignatiev (Rus) Tinkoff Credit System                               
65 Giuseppe Palumbo (Ita) Acqua & Sapone - Caffe Mokambo                  3.28
66 Michael Rasmussen (Den) Rabobank                                       3.29
67 Mauro Facci (Ita) Quickstep - Innergetic                                   
68 Mario Aerts (Bel) Predictor - Lotto                                    3.30
69 Alexandr Arekeev (Rus) Acqua & Sapone - Caffe Mokambo                      
70 Laszlo Bodrogi (Hun) Crédit Agricole                                   3.32
71 Rinaldo Nocentini (Ita) AG2r Prévoyance                                3.35
72 Francis Mourey (Fra) Française des Jeux                                3.36
73 Dario Andriotto (Ita) Acqua & Sapone - Caffe Mokambo                       
74 Christian Knees (Ger) Team Milram                                      3.38
75 Axel Merckx (Bel) T-Mobile Team                                        3.41
76 Frantisek Rabon (Cze) T-Mobile Team                                    3.44
77 Frédéric Bessy (Fra) Cofidis - Le Crédit par Téléphone                     
78 Olivier Bonnaire (Fra) Bouygues Telecom                                3.47
79 Steve Zampieri (Swi) Cofidis - Le Crédit par Téléphone                     
80 Pablo Lastras Garcia (Spa) Caisse d'Epargne                            3.48
81 Pavel Brutt (Rus) Tinkoff Credit System                                3.51
82 Matthew Lloyd (Aus) Predictor - Lotto                                  3.52
83 Dario David Cioni (Ita) Predictor - Lotto                                  
84 Pavel Padrnos (Cze) Discovery Channel Pro Cycling Team                 3.53
85 Bingen Fernandez Bustinza (Spa) Cofidis - Le Crédit par Téléphone      3.56
86 Aitor Perez Arrieta (Spa) Caisse d'Epargne                             3.57
87 William Walker (Aus) Rabobank                                          3.59
88 Dmitry Kozontchouk (Rus) Rabobank                                      4.01
89 Alexandre Usov (Blr) AG2r Prévoyance                                   4.03
90 Mathieu Perget (Fra) Caisse d'Epargne                                      
91 Julian Dean (NZl) Crédit Agricole                                      4.04
92 Mauricio Alberto Ardila Cano (Col) Rabobank                            4.07
93 Alessandro Cortinovis (Ita) Team Milram                                4.08
94 Volodymyr Bileka (Ukr) Discovery Channel Pro Cycling Team              4.10
95 Carl Naibo (Fra) AG2r Prévoyance                                       4.11
96 Volodymir Gustov (Ukr) Team CSC                                        4.13
97 Maximiliano Richeze (Arg) Ceramica Panaria - Navigare                      
98 Lloyd Mondory (Fra) AG2r Prévoyance                                        
99 Assan Bazayev (Kaz) Astana                                             4.15
100 Matteo Bono (Ita) Lampre - Fondital                                   4.16
101 Sven Krauss (Ger) Gerolsteiner                                        4.18
102 Eric Berthou (Fra) Caisse d'Epargne                                   4.19
103 Anton Luengo Celaya (Spa) Euskaltel - Euskadi                         4.20
104 Daniele Contrini (Ita) Tinkoff Credit System                              
105 Luca Mazzanti (Ita) Ceramica Panaria - Navigare                           
106 Iban Velasco (Spa) Euskaltel - Euskadi                                4.22
107 Raivis Belohvosciks (Lat) Saunier Duval - Prodir                      4.24
108 Leonardo Scarselli (Ita) Quickstep - Innergetic                           
109 Steve Morabito (Swi) Astana                                           4.26
110 Oliver Zaugg (Swi) Gerolsteiner                                       4.28
111 Steven Cummings (GBr) Discovery Channel Pro Cycling Team                  
112 David Canada Gracia (Spa) Saunier Duval - Prodir                      4.29
113 Benoît Joachim (Lux) Astana                                           4.30
114 Brian Vandborg (Den) Discovery Channel Pro Cycling Team               4.31
115 Alexandre Pichot (Fra) Bouygues Telecom                               4.32
116 Salvatore Commesso (Ita) Tinkoff Credit System                        4.33
117 Josep Jufre Pou (Spa) Predictor - Lotto                               4.34
118 Rubens Bertogliati (Swi) Saunier Duval - Prodir                       4.35
119 Angel Gomez (Spa) Saunier Duval - Prodir                              4.36
120 Alessandro Petacchi (Ita) Team Milram                                 4.38
121 Alberto Losada Alguacil (Spa) Caisse d'Epargne                            
122 Lilian Jégou (Fra) Française des Jeux                                 4.44
123 Maxim Gourov (Kaz) Astana                                             4.49
124 Enrico Gasparotto (Ita) Liquigas                                      4.50
125 Markel Irizar Aranburu (Spa) Euskaltel - Euskadi                          
126 Nikolai Trusov (Rus) Tinkoff Credit System                            4.51
127 Matteo Tosatto (Ita) Quickstep - Innergetic                           4.53
128 Matti Breschel (Den) Team CSC                                         4.55
129 Stefano Zanini (Ita) Predictor - Lotto                                4.56
130 Aaron Olson (USA) T-Mobile Team                                       4.59
131 Fabien Patanchon (Fra) Française des Jeux                                 
132 Martin Müller (Ger) Team Milram                                           
133 Matthew White (Aus) Discovery Channel Pro Cycling Team                5.05
134 Pedro Horrillo Munoz (Spa) Rabobank                                   5.09
135 Laurent Mangel (Fra) AG2r Prévoyance                                  5.10
136 Pierre Drancourt (Fra) Bouygues Telecom                               5.14
137 Arnaud Gérard (Fra) Française des Jeux                                    
138 Hervé Duclos-Lassalle (Fra) Cofidis - Le Crédit par Téléphone         5.15
139 Nicolas Roche (Irl) Crédit Agricole                                   5.24
140 Mirco Lorenzetto (Ita) Team Milram                                    5.26
141 Oscar Gatto (Ita) Gerolsteiner                                        5.27
142 Lorenzo Bernucci (Ita) T-Mobile Team                                  5.30
143 Fabio Sabatini (Ita) Team Milram                                      5.34
144 Nick Gates (Aus) Predictor - Lotto                                    5.36
145 Mickaël Buffaz (Fra) Cofidis - Le Crédit par Téléphone                5.41
146 Brett Lancaster (Aus) Team Milram                                         
147 Jurgen Van Goolen (Bel) Discovery Channel Pro Cycling Team            5.46
148 Thomas Fothen (Ger) Gerolsteiner                                      5.51
149 Ricardo Serrano Gonzalez (Spa) Tinkoff Credit System                  5.58
150 Manuele Mori (Ita) Saunier Duval - Prodir                             5.59
151 Joseba Zubeldia Agirre (Spa) Euskaltel - Euskadi                          
152 Mathieu Heijboer (Ned) Cofidis - Le Crédit par Téléphone              6.03
153 Franck Renier (Fra) Bouygues Telecom                                  6.18
154 Elio Aggiano (Ita) Tinkoff Credit System                              6.20
155 Angelo Furlan (Ita) Crédit Agricole                                   6.30
156 Tristan Valentin (Fra) Cofidis - Le Crédit par Téléphone              6.45
157 Koldo Fernandez (Spa) Euskaltel - Euskadi                             6.50
158 Max Van Heeswijk (Ned) Rabobank                                       7.05
DNS Yaroslav Popovych (Ukr) Discovery Channel Pro Cycling Team                
 
Points

1 Marzio Bruseghin (Ita) Lampre - Fondital                                  25 pts
2 Leonardo Piepoli (Ita) Saunier Duval - Prodir                             20
3 Danilo Di Luca (Ita) Liquigas                                             16
4 David Zabriskie (USA) Team CSC                                            14
5 Franco Pellizotti (Ita) Liquigas                                          12
6 Stefano Garzelli (Ita) Acqua & Sapone - Caffe Mokambo                     10
7 Evgeni Petrov (Rus) Tinkoff Credit System                                  9
8 Eddy Mazzoleni (Ita) Astana                                                8
9 Damiano Cunego (Ita) Lampre - Fondital                                     7
10 Andy Schleck (Lux) Team CSC                                               6
11 Julio Alberto Perez Cuapio (Mex) Ceramica Panaria - Navigare              5
12 Branislau Samoilau (Blr) Acqua & Sapone - Caffe Mokambo                   4
13 Gilberto Simoni (Ita) Saunier Duval - Prodir                              3
14 Francisco Javier Vila Errandonea (Spa) Lampre - Fondital                  2
15 Andrea Noe' (Ita) Liquigas                                                1
 
Mountains

Oropa (12.6km)

1 Marzio Bruseghin (Ita) Lampre - Fondital                                  15 pts
2 Leonardo Piepoli (Ita) Saunier Duval - Prodir                             10
3 Danilo Di Luca (Ita) Liquigas                                              6
4 David Zabriskie (USA) Team CSC                                             4
5 Franco Pellizotti (Ita) Liquigas                                           2
 
Most Combative

1 Marzio Bruseghin (Ita) Lampre - Fondital                                   6 pts
2 Leonardo Piepoli (Ita) Saunier Duval - Prodir                              5
3 Danilo Di Luca (Ita) Liquigas                                              4
4 David Zabriskie (USA) Team CSC                                             3
5 Franco Pellizotti (Ita) Liquigas                                           2
6 Stefano Garzelli (Ita) Acqua & Sapone - Caffe Mokambo                      1
 
Azzurri d'Italia
 
1 Marzio Bruseghin (Ita) Lampre - Fondital                                   4 pts
2 Leonardo Piepoli (Ita) Saunier Duval - Prodir                              2
3 Danilo Di Luca (Ita) Liquigas                                              1
 
Trofeo fast team

1 Liquigas                                                             1.28.36
2 Lampre - Fondital                                                           
3 Saunier Duval - Prodir                                                  1.07
4 Acqua & Sapone - Caffe' Mokambo                                         1.46
5 Team CSC                                                                1.51
6 Astana                                                                  2.14
7 Ceramica Panaria - Navigare                                             2.53
8 Tinkoff Credit Systems                                                  5.11
9 Quick Step - Innergetic                                                 5.59
10 Credit Agricole                                                        6.07
11 Cofidis, Le Credit P. Telephone                                        6.16
12 AG2r Prevoyance                                                        6.22
13 Caisse D'Epargne                                                       7.37
14 Bouygues Telecom                                                       7.41
15 T-Mobile Team                                                          7.44
16 Predictor - Lotto                                                      8.06
17 Rabobank                                                               8.46
18 Francaise Des Jeux                                                     9.12
19 Euskaltel - Euskadi                                                    9.23
20 Gerolsteiner                                                           9.26
21 Discovery Channel Pro C.T.                                             9.30
22 Team Milram                                                           10.33
 
Trofeo super team

1 Lampre - Fondital                                                         44 pts
2 Liquigas                                                                  40
3 Team CSC                                                                  28
4 Saunier Duval - Prodir                                                    27
5 Acqua & Sapone - Caffe' Mokambo                                           24
6 Astana                                                                    15
7 Tinkoff Credit Systems                                                    14
8 Ceramica Panaria - Navigare                                               11
9 Cofidis, Le Credit P. Telephone                                            4
10 Caisse D'Epargne                                                          3
11 T-Mobile Team                                                              
12 Quick Step - Innergetic                                                    
13 Bouygues Telecom                                                           
14 Credit Agricole                                                            
15 AG2r Prevoyance                                                            
16 Gerolsteiner                                                               
17 Euskaltel - Euskadi                                                        
18 Francaise Des Jeux                                                         
19 Predictor - Lotto                                                          
20 Rabobank                                                                   
21 Discovery Channel Pro C.T.                                                 
22 Team Milram  
 
General classification after stage 13
 
1 Danilo Di Luca (Ita) Liquigas                                       57.11.28
2 Marzio Bruseghin (Ita) Lampre - Fondital                                0.55
3 Andy Schleck (Lux) Team CSC                                             1.57
4 Damiano Cunego (Ita) Lampre - Fondital                                  2.40
5 Francisco Javier Vila Errandonea (Spa) Lampre - Fondital                2.44
6 David Arroyo Duran (Spa) Caisse d'Epargne                               2.51
7 Evgeni Petrov (Rus) Tinkoff Credit System                               3.11
8 Gilberto Simoni (Ita) Saunier Duval - Prodir                            3.32
9 Emanuele Sella (Ita) Ceramica Panaria - Navigare                        3.52
10 Eddy Mazzoleni (Ita) Astana                                            3.53
11 Franco Pellizotti (Ita) Liquigas                                       4.17
12 Stefano Garzelli (Ita) Acqua & Sapone - Caffe Mokambo                  6.24
13 Riccardo Ricco (Ita) Saunier Duval - Prodir                            6.54
14 Andrea Noe' (Ita) Liquigas                                             8.20
15 Paolo Savoldelli (Ita) Astana                                          9.29
16 Domenico Pozzovivo (Ita) Ceramica Panaria - Navigare                  10.23
17 Serguei Yakovlev (Kaz) Astana                                         10.53
18 Marco Pinotti (Ita) T-Mobile Team                                     12.07
19 Mario Aerts (Bel) Predictor - Lotto                                   12.42
20 Ivan Ramiro Parra Pinto (Col) Cofidis - Le Crédit par Téléphone       13.43
21 Paolo Tiralongo (Ita) Lampre - Fondital                               13.50
22 Andrey Mizourov (Kaz) Astana                                          14.20
23 Wim Van Huffel (Bel) Predictor - Lotto                                14.56
24 Leonardo Piepoli (Ita) Saunier Duval - Prodir                         15.04
25 Luca Mazzanti (Ita) Ceramica Panaria - Navigare                       15.25
26 Yoann Le Boulanger (Fra) Bouygues Telecom                             15.31
27 Dario David Cioni (Ita) Predictor - Lotto                             15.46
28 Luis Felipe Laverde Jimenez (Col) Ceramica Panaria - Navigare         16.21
29 Matthias Russ (Ger) Gerolsteiner                                      16.28
30 Hubert Schwab (Swi) Quickstep - Innergetic                            16.35
31 Branislau Samoilau (Blr) Acqua & Sapone - Caffe Mokambo               17.41
32 William Walker (Aus) Rabobank                                         18.07
33 Vincenzo Nibali (Ita) Liquigas                                        18.09
34 David Zabriskie (USA) Team CSC                                        19.02
35 Massimo Codol (Ita) Acqua & Sapone - Caffe Mokambo                    19.22
36 Amaël Moinard (Fra) Cofidis - Le Crédit par Téléphone                 20.47
37 Steve Zampieri (Swi) Cofidis - Le Crédit par Téléphone                21.16
38 Pietro Caucchioli (Ita) Crédit Agricole                               21.36
39 Sylvester Szmyd (Pol) Lampre - Fondital                               22.17
40 Iban Mayo Diez (Spa) Saunier Duval - Prodir                           22.20
41 Aitor Perez Arrieta (Spa) Caisse d'Epargne                            22.40
42 Charles Wegelius (GBr) Liquigas                                       22.43
43 Hubert Dupont (Fra) AG2r Prévoyance                                   22.50
44 Francis Mourey (Fra) Française des Jeux                               22.52
45 Paolo Bettini (Ita) Quickstep - Innergetic                            23.04
46 Olivier Bonnaire (Fra) Bouygues Telecom                               24.05
47 Alexandr Arekeev (Rus) Acqua & Sapone - Caffe Mokambo                 24.18
48 Marco Marzano (Ita) Lampre - Fondital                                 24.51
49 Pablo Lastras Garcia (Spa) Caisse d'Epargne                           26.14
50 Francesco Bellotti (Ita) Crédit Agricole                              26.33
51 Bingen Fernandez Bustinza (Spa) Cofidis - Le Crédit par Téléphone     28.16
52 Rinaldo Nocentini (Ita) AG2r Prévoyance                               29.28
53 Carl Naibo (Fra) AG2r Prévoyance                                      29.40
54 José Luis Rubiera Vigil (Spa) Discovery Channel Pro Cycling Team      30.00
55 Fortunato Baliani (Ita) Ceramica Panaria - Navigare                   30.03
56 Dmitriy Muravyev (Kaz) Astana                                         30.27
57 Vladimir Miholjevic (Cro) Liquigas                                    33.13
58 Jussi Veikkanen (Fin) Française des Jeux                              33.15
59 Julio Alberto Perez Cuapio (Mex) Ceramica Panaria - Navigare          36.07
60 Volodymyr Bileka (Ukr) Discovery Channel Pro Cycling Team             36.31
61 Koos Moerenhout (Ned) Rabobank                                        37.50
62 Aketza Pena Iza (Spa) Euskaltel - Euskadi                             39.26
63 Mauro Facci (Ita) Quickstep - Innergetic                              39.31
64 Kurt-Asle Arvesen (Nor) Team CSC                                      40.27
65 Christophe Riblon (Fra) AG2r Prévoyance                               41.23
66 Matthew Lloyd (Aus) Predictor - Lotto                                 41.56
67 Mauricio Alberto Ardila Cano (Col) Rabobank                           43.58
68 Alberto Losada Alguacil (Spa) Caisse d'Epargne                        46.03
69 Alessandro Spezialetti (Ita) Liquigas                                 46.37
70 Yuriy Krivtsov (Ukr) AG2r Prévoyance                                  47.52
71 Steve Morabito (Swi) Astana                                           49.30
72 Addy Engels (Ned) Quickstep - Innergetic                              49.48
73 Pavel Padrnos (Cze) Discovery Channel Pro Cycling Team                50.05
74 Pavel Brutt (Rus) Tinkoff Credit System                               50.21
75 Axel Merckx (Bel) T-Mobile Team                                       51.33
76 David Canada Gracia (Spa) Saunier Duval - Prodir                      52.22
77 Christian Knees (Ger) Team Milram                                     52.41
78 Oliver Zaugg (Swi) Gerolsteiner                                       52.45
79 Markel Irizar Aranburu (Spa) Euskaltel - Euskadi                      53.54
80 Laszlo Bodrogi (Hun) Crédit Agricole                                  53.56
81 Nicolas Crosbie (Fra) Bouygues Telecom                                54.20
82 Volodymir Gustov (Ukr) Team CSC                                       54.24
83 Josep Jufre Pou (Spa) Predictor - Lotto                               54.54
84 Jurgen Van Den Broeck (Bel) Predictor - Lotto                         56.30
85 Jurgen Van De Walle (Bel) Quickstep - Innergetic                      57.09
86 Giuseppe Palumbo (Ita) Acqua & Sapone - Caffe Mokambo                 58.31
87 Lilian Jégou (Fra) Française des Jeux                                 58.43
88 Iban Velasco (Spa) Euskaltel - Euskadi                                58.57
89 Andrei Kunitski (Blr) Acqua & Sapone - Caffe Mokambo                  59.06
90 Frédéric Bessy (Fra) Cofidis - Le Crédit par Téléphone                59.59
91 Frantisek Rabon (Cze) T-Mobile Team                                 1.00.20
92 Salvatore Commesso (Ita) Tinkoff Credit System                      1.00.31
93 Jurgen Van Goolen (Bel) Discovery Channel Pro Cycling Team          1.01.25
94 Andrea Pagoto (Ita) Ceramica Panaria - Navigare                     1.01.44
95 Mathieu Perget (Fra) Caisse d'Epargne                               1.02.43
96 Enrico Gasparotto (Ita) Liquigas                                    1.03.17
97 Daniele Contrini (Ita) Tinkoff Credit System                        1.07.28
98 Gorazd Stangelj (Slo) Lampre - Fondital                             1.08.08
99 Alexandre Usov (Blr) AG2r Prévoyance                                1.08.17
100 Eric Berthou (Fra) Caisse d'Epargne                                1.08.21
101 Michael Rasmussen (Den) Rabobank                                   1.09.04
102 Ricardo Serrano Gonzalez (Spa) Tinkoff Credit System               1.09.21
103 Leonardo Scarselli (Ita) Quickstep - Innergetic                    1.10.07
104 Angel Gomez (Spa) Saunier Duval - Prodir                           1.10.48
105 Lorenzo Bernucci (Ita) T-Mobile Team                               1.10.53
106 Assan Bazayev (Kaz) Astana                                         1.11.51
107 Hervé Duclos-Lassalle (Fra) Cofidis - Le Crédit par Téléphone      1.12.54
108 Benoît Joachim (Lux) Astana                                        1.12.59
109 Matthew White (Aus) Discovery Channel Pro Cycling Team             1.14.19
110 Alessandro Vanotti (Ita) Liquigas                                  1.14.35
111 Alessandro Petacchi (Ita) Team Milram                              1.14.46
112 Matteo Tosatto (Ita) Quickstep - Innergetic                        1.15.08
113 Maximiliano Richeze (Arg) Ceramica Panaria - Navigare              1.15.10
114 Rubens Bertogliati (Swi) Saunier Duval - Prodir                    1.15.52
115 Mirco Lorenzetto (Ita) Team Milram                                 1.17.40
116 Steven Cummings (GBr) Discovery Channel Pro Cycling Team           1.18.26
117 Manuele Mori (Ita) Saunier Duval - Prodir                          1.18.49
118 Lloyd Mondory (Fra) AG2r Prévoyance                                1.19.22
119 Dmitry Kozontchouk (Rus) Rabobank                                  1.21.02
120 Julian Dean (NZl) Crédit Agricole                                  1.21.39
121 Franck Renier (Fra) Bouygues Telecom                               1.23.27
122 Alessandro Cortinovis (Ita) Team Milram                            1.23.40
123 Maxim Gourov (Kaz) Astana                                          1.24.10
124 Christophe Kern (Fra) Crédit Agricole                              1.24.39
125 Giovanni Visconti (Ita) Quickstep - Innergetic                     1.25.30
126 Brett Lancaster (Aus) Team Milram                                         
127 Matti Breschel (Den) Team CSC                                      1.25.56
128 Angelo Furlan (Ita) Crédit Agricole                                1.27.58
129 Pedro Horrillo Munoz (Spa) Rabobank                                1.28.03
130 Dario Andriotto (Ita) Acqua & Sapone - Caffe Mokambo               1.29.32
131 Raivis Belohvosciks (Lat) Saunier Duval - Prodir                   1.29.38
132 Thomas Fothen (Ger) Gerolsteiner                                   1.29.57
133 Joseba Zubeldia Agirre (Spa) Euskaltel - Euskadi                   1.30.20
134 Laurent Mangel (Fra) AG2r Prévoyance                               1.31.32
135 Mickaël Buffaz (Fra) Cofidis - Le Crédit par Téléphone             1.32.26
136 Nicolas Roche (Irl) Crédit Agricole                                1.36.04
137 Arnaud Gérard (Fra) Française des Jeux                             1.36.11
138 Alexandre Pichot (Fra) Bouygues Telecom                            1.36.23
139 Martin Müller (Ger) Team Milram                                    1.37.42
140 Pierre Drancourt (Fra) Bouygues Telecom                            1.37.43
141 Ivan Rovny (Rus) Tinkoff Credit System                             1.39.28
142 Mikhail Ignatiev (Rus) Tinkoff Credit System                       1.40.23
143 Nikolai Trusov (Rus) Tinkoff Credit System                         1.40.59
144 Brian Vandborg (Den) Discovery Channel Pro Cycling Team                   
145 Mathieu Heijboer (Ned) Cofidis - Le Crédit par Téléphone           1.41.03
146 Tristan Valentin (Fra) Cofidis - Le Crédit par Téléphone           1.44.13
147 Fabien Patanchon (Fra) Française des Jeux                          1.44.17
148 Stefano Zanini (Ita) Predictor - Lotto                             1.47.55
149 Elio Aggiano (Ita) Tinkoff Credit System                           1.54.27
150 Matteo Bono (Ita) Lampre - Fondital                                1.55.31
151 Koldo Fernandez (Spa) Euskaltel - Euskadi                          1.56.00
152 Nick Gates (Aus) Predictor - Lotto                                 1.56.15
153 Max Van Heeswijk (Ned) Rabobank                                    2.01.25
154 Anton Luengo Celaya (Spa) Euskaltel - Euskadi                      2.01.35
155 Oscar Gatto (Ita) Gerolsteiner                                     2.04.48
156 Sven Krauss (Ger) Gerolsteiner                                     2.06.15
157 Fabio Sabatini (Ita) Team Milram                                   2.11.31
158 Aaron Olson (USA) T-Mobile Team                                    2.11.47
 
Points classification

1 Alessandro Petacchi (Ita) Team Milram                                    135 pts
2 Danilo Di Luca (Ita) Liquigas                                             90
3 Paolo Bettini (Ita) Quickstep - Innergetic                                76
4 Maximiliano Richeze (Arg) Ceramica Panaria - Navigare                     59
5 Alexandre Usov (Blr) AG2r Prévoyance                                      56
6 Andy Schleck (Lux) Team CSC                                               52
7 Leonardo Piepoli (Ita) Saunier Duval - Prodir                             47
8 Marzio Bruseghin (Ita) Lampre - Fondital                                  45
9 Damiano Cunego (Ita) Lampre - Fondital                                    44
10 Stefano Garzelli (Ita) Acqua & Sapone - Caffe Mokambo                    40
11 Gilberto Simoni (Ita) Saunier Duval - Prodir                             38
12 Assan Bazayev (Kaz) Astana                                               37
13 Franco Pellizotti (Ita) Liquigas                                         36
14 Riccardo Ricco (Ita) Saunier Duval - Prodir                              34
15 Evgeni Petrov (Rus) Tinkoff Credit System                                30
16 Kurt-Asle Arvesen (Nor) Team CSC                                         29
17 Luis Felipe Laverde Jimenez (Col) Ceramica Panaria - Navigare            28
18 David Arroyo Duran (Spa) Caisse d'Epargne                                27
19 Christophe Kern (Fra) Crédit Agricole                                    24
20 Marco Pinotti (Ita) T-Mobile Team                                        24
21 Eddy Mazzoleni (Ita) Astana                                              22
22 Emanuele Sella (Ita) Ceramica Panaria - Navigare                         21
23 Mickaël Buffaz (Fra) Cofidis - Le Crédit par Téléphone                   20
24 David Zabriskie (USA) Team CSC                                           20
25 Daniele Contrini (Ita) Tinkoff Credit System                             18
26 Enrico Gasparotto (Ita) Liquigas                                         17
27 Yoann Le Boulanger (Fra) Bouygues Telecom                                17
28 Hubert Schwab (Swi) Quickstep - Innergetic                               16
29 Nicolas Crosbie (Fra) Bouygues Telecom                                   15
30 Fortunato Baliani (Ita) Ceramica Panaria - Navigare                      13
31 Yuriy Krivtsov (Ukr) AG2r Prévoyance                                     12
32 Hervé Duclos-Lassalle (Fra) Cofidis - Le Crédit par Téléphone            12
33 Lloyd Mondory (Fra) AG2r Prévoyance                                      12
34 Mikhail Ignatiev (Rus) Tinkoff Credit System                             12
35 Giuseppe Palumbo (Ita) Acqua & Sapone - Caffe Mokambo                    11
36 Frédéric Bessy (Fra) Cofidis - Le Crédit par Téléphone                   11
37 Markel Irizar Aranburu (Spa) Euskaltel - Euskadi                         10
38 Francisco Javier Vila Errandonea (Spa) Lampre - Fondital                 10
39 Paolo Savoldelli (Ita) Astana                                            10
40 Julio Alberto Perez Cuapio (Mex) Ceramica Panaria - Navigare             10
41 Volodymyr Bileka (Ukr) Discovery Channel Pro Cycling Team                10
42 Alessandro Spezialetti (Ita) Liquigas                                    10
43 Luca Mazzanti (Ita) Ceramica Panaria - Navigare                           9
44 Pierre Drancourt (Fra) Bouygues Telecom                                   9
45 Serguei Yakovlev (Kaz) Astana                                             8
46 Giovanni Visconti (Ita) Quickstep - Innergetic                            8
47 Andrea Noe' (Ita) Liquigas                                                8
48 Rinaldo Nocentini (Ita) AG2r Prévoyance                                   8
49 Alexandre Pichot (Fra) Bouygues Telecom                                   8
50 Pavel Brutt (Rus) Tinkoff Credit System                                   7
51 Lorenzo Bernucci (Ita) T-Mobile Team                                      7
52 Pedro Horrillo Munoz (Spa) Rabobank                                       7
53 Yaroslav Popovych (Ukr) Discovery Channel Pro Cycling Team                7
54 Christophe Riblon (Fra) AG2r Prévoyance                                   6
55 Alberto Losada Alguacil (Spa) Caisse d'Epargne                            6
56 Rubens Bertogliati (Swi) Saunier Duval - Prodir                           6
57 Max Van Heeswijk (Ned) Rabobank                                           6
58 Aitor Perez Arrieta (Spa) Caisse d'Epargne                                5
59 Alexandr Arekeev (Rus) Acqua & Sapone - Caffe Mokambo                     5
60 Koldo Fernandez (Spa) Euskaltel - Euskadi                                 5
61 Dario David Cioni (Ita) Predictor - Lotto                                 4
62 Branislau Samoilau (Blr) Acqua & Sapone - Caffe Mokambo                   4
63 Andrei Kunitski (Blr) Acqua & Sapone - Caffe Mokambo                      4
64 Nikolai Trusov (Rus) Tinkoff Credit System                                4
65 Ivan Ramiro Parra Pinto (Col) Cofidis - Le Crédit par Téléphone           3
66 Elio Aggiano (Ita) Tinkoff Credit System                                  3
67 William Walker (Aus) Rabobank                                             3
68 Sylvester Szmyd (Pol) Lampre - Fondital                                   3
69 Jurgen Van Den Broeck (Bel) Predictor - Lotto                             3
70 Fabien Patanchon (Fra) Française des Jeux                                 3
71 Domenico Pozzovivo (Ita) Ceramica Panaria - Navigare                      2
72 Mario Aerts (Bel) Predictor - Lotto                                       2
73 Hubert Dupont (Fra) AG2r Prévoyance                                       2
74 Francis Mourey (Fra) Française des Jeux                                   2
75 Mauro Facci (Ita) Quickstep - Innergetic                                  2
76 Ricardo Serrano Gonzalez (Spa) Tinkoff Credit System                      2
77 Paolo Tiralongo (Ita) Lampre - Fondital                                   1
78 Iban Mayo Diez (Spa) Saunier Duval - Prodir                               1
79 José Luis Rubiera Vigil (Spa) Discovery Channel Pro Cycling Team          1
80 Mauricio Alberto Ardila Cano (Col) Rabobank                               1
81 Brett Lancaster (Aus) Team Milram                                         1
82 Martin Müller (Ger) Team Milram                                           1
83 Oscar Gatto (Ita) Gerolsteiner                                            1
84 Matti Breschel (Den) Team CSC                                            -5
85 Marco Marzano (Ita) Lampre - Fondital                                    -6
86 Christian Knees (Ger) Team Milram                                        -9
87 Jurgen Van Goolen (Bel) Discovery Channel Pro Cycling Team              -10
88 Benoît Joachim (Lux) Astana                                             -10
89 Mathieu Heijboer (Ned) Cofidis - Le Crédit par Téléphone                -10
90 Tristan Valentin (Fra) Cofidis - Le Crédit par Téléphone                -10
 
Mountains classification

1 Danilo Di Luca (Ita) Liquigas                                             41 pts
2 Leonardo Piepoli (Ita) Saunier Duval - Prodir                             35
3 Luis Felipe Laverde Jimenez (Col) Ceramica Panaria - Navigare             23
4 Yoann Le Boulanger (Fra) Bouygues Telecom                                 20
5 Gilberto Simoni (Ita) Saunier Duval - Prodir                              16
6 Marzio Bruseghin (Ita) Lampre - Fondital                                  15
7 Christophe Riblon (Fra) AG2r Prévoyance                                   15
8 Emanuele Sella (Ita) Ceramica Panaria - Navigare                          14
9 Andy Schleck (Lux) Team CSC                                               14
10 Riccardo Ricco (Ita) Saunier Duval - Prodir                              12
11 Damiano Cunego (Ita) Lampre - Fondital                                   11
12 Fortunato Baliani (Ita) Ceramica Panaria - Navigare                       8
13 Pavel Brutt (Rus) Tinkoff Credit System                                   8
14 Marco Pinotti (Ita) T-Mobile Team                                         8
15 Hubert Schwab (Swi) Quickstep - Innergetic                                8
16 Eddy Mazzoleni (Ita) Astana                                               4
17 David Zabriskie (USA) Team CSC                                            4
18 Rubens Bertogliati (Swi) Saunier Duval - Prodir                           3
19 Ivan Ramiro Parra Pinto (Col) Cofidis - Le Crédit par Téléphone           3
20 Steve Zampieri (Swi) Cofidis - Le Crédit par Téléphone                    3
21 Mauro Facci (Ita) Quickstep - Innergetic                                  3
22 Christophe Kern (Fra) Crédit Agricole                                     3
23 Francisco Javier Vila Errandonea (Spa) Lampre - Fondital                  2
24 Franco Pellizotti (Ita) Liquigas                                          2
25 Stefano Garzelli (Ita) Acqua & Sapone - Caffe Mokambo                     2
26 Pietro Caucchioli (Ita) Crédit Agricole                                   2
27 Markel Irizar Aranburu (Spa) Euskaltel - Euskadi                          2
28 Lorenzo Bernucci (Ita) T-Mobile Team                                      2
29 Fabien Patanchon (Fra) Française des Jeux                                 2
30 William Walker (Aus) Rabobank                                             1
31 Alberto Losada Alguacil (Spa) Caisse d'Epargne                            1
32 Yuriy Krivtsov (Ukr) AG2r Prévoyance                                      1
33 Frédéric Bessy (Fra) Cofidis - Le Crédit par Téléphone                    1
34 Daniele Contrini (Ita) Tinkoff Credit System                              1
35 Eric Berthou (Fra) Caisse d'Epargne                                       1
 
Best Young Rider classification

1 Andy Schleck (Lux) Team CSC                                         57.13.25
2 Riccardo Ricco (Ita) Saunier Duval - Prodir                             4.57
3 Domenico Pozzovivo (Ita) Ceramica Panaria - Navigare                    8.26
4 Matthias Russ (Ger) Gerolsteiner                                       14.31
5 Hubert Schwab (Swi) Quickstep - Innergetic                             14.38
6 Branislau Samoilau (Blr) Acqua & Sapone - Caffe Mokambo                15.44
7 William Walker (Aus) Rabobank                                          16.10
8 Vincenzo Nibali (Ita) Liquigas                                         16.12
9 Amaël Moinard (Fra) Cofidis - Le Crédit par Téléphone                  18.50
10 Olivier Bonnaire (Fra) Bouygues Telecom                               22.08
11 Alexandr Arekeev (Rus) Acqua & Sapone - Caffe Mokambo                 22.21
12 Carl Naibo (Fra) AG2r Prévoyance                                      27.43
13 Mauro Facci (Ita) Quickstep - Innergetic                              37.34
14 Matthew Lloyd (Aus) Predictor - Lotto                                 39.59
15 Alberto Losada Alguacil (Spa) Caisse d'Epargne                        44.06
16 Steve Morabito (Swi) Astana                                           47.33
17 Pavel Brutt (Rus) Tinkoff Credit System                               48.24
18 Jurgen Van Den Broeck (Bel) Predictor - Lotto                         54.33
19 Andrei Kunitski (Blr) Acqua & Sapone - Caffe Mokambo                  57.09
20 Frantisek Rabon (Cze) T-Mobile Team                                   58.23
21 Andrea Pagoto (Ita) Ceramica Panaria - Navigare                       59.47
22 Mathieu Perget (Fra) Caisse d'Epargne                               1.00.46
23 Enrico Gasparotto (Ita) Liquigas                                    1.01.20
24 Maximiliano Richeze (Arg) Ceramica Panaria - Navigare               1.13.13
25 Lloyd Mondory (Fra) AG2r Prévoyance                                 1.17.25
26 Dmitry Kozontchouk (Rus) Rabobank                                   1.19.05
27 Giovanni Visconti (Ita) Quickstep - Innergetic                      1.23.33
28 Matti Breschel (Den) Team CSC                                       1.23.59
29 Thomas Fothen (Ger) Gerolsteiner                                    1.28.00
30 Nicolas Roche (Irl) Crédit Agricole                                 1.34.07
31 Arnaud Gérard (Fra) Française des Jeux                              1.34.14
32 Alexandre Pichot (Fra) Bouygues Telecom                             1.34.26
33 Pierre Drancourt (Fra) Bouygues Telecom                             1.35.46
34 Ivan Rovny (Rus) Tinkoff Credit System                              1.37.31
35 Mikhail Ignatiev (Rus) Tinkoff Credit System                        1.38.26
36 Nikolai Trusov (Rus) Tinkoff Credit System                          1.39.02
37 Mathieu Heijboer (Ned) Cofidis - Le Crédit par Téléphone            1.39.06
38 Tristan Valentin (Fra) Cofidis - Le Crédit par Téléphone            1.42.16
39 Fabien Patanchon (Fra) Française des Jeux                           1.42.20
40 Matteo Bono (Ita) Lampre - Fondital                                 1.53.34
41 Oscar Gatto (Ita) Gerolsteiner                                      2.02.51
42 Sven Krauss (Ger) Gerolsteiner                                      2.04.18
43 Fabio Sabatini (Ita) Team Milram                                    2.09.34
 
TV Garibaldi Classification
 
1 Mickaël Buffaz (Fra) Cofidis - Le Crédit par Téléphone                    13 pts
2 Nicolas Crosbie (Fra) Bouygues Telecom                                     9
3 Mikhail Ignatiev (Rus) Tinkoff Credit System                               8
4 Frédéric Bessy (Fra) Cofidis - Le Crédit par Téléphone                     7
5 Markel Irizar Aranburu (Spa) Euskaltel - Euskadi                           6
6 Pierre Drancourt (Fra) Bouygues Telecom                                    6
7 Serguei Yakovlev (Kaz) Astana                                              5
8 Ivan Ramiro Parra Pinto (Col) Cofidis - Le Crédit par Téléphone            5
9 Yoann Le Boulanger (Fra) Bouygues Telecom                                  5
10 Christophe Kern (Fra) Crédit Agricole                                     5
11 Giovanni Visconti (Ita) Quickstep - Innergetic                            5
12 Elio Aggiano (Ita) Tinkoff Credit System                                  5
13 Pavel Brutt (Rus) Tinkoff Credit System                                   5
14 Marzio Bruseghin (Ita) Lampre - Fondital                                  4
15 Christophe Riblon (Fra) AG2r Prévoyance                                   4
16 Alberto Losada Alguacil (Spa) Caisse d'Epargne                            4
17 Yuriy Krivtsov (Ukr) AG2r Prévoyance                                      4
18 Daniele Contrini (Ita) Tinkoff Credit System                              4
19 Rubens Bertogliati (Swi) Saunier Duval - Prodir                           4
20 Marco Pinotti (Ita) T-Mobile Team                                         3
21 Dario David Cioni (Ita) Predictor - Lotto                                 3
22 Andrei Kunitski (Blr) Acqua & Sapone - Caffe Mokambo                      3
23 Luis Felipe Laverde Jimenez (Col) Ceramica Panaria - Navigare             2
24 Evgeni Petrov (Rus) Tinkoff Credit System                                 2
25 Fortunato Baliani (Ita) Ceramica Panaria - Navigare                       2
26 Jurgen Van Den Broeck (Bel) Predictor - Lotto                             2
27 Giuseppe Palumbo (Ita) Acqua & Sapone - Caffe Mokambo                     2
28 Fabien Patanchon (Fra) Française des Jeux                                 2
29 Alessandro Petacchi (Ita) Team Milram                                     1
30 Mario Aerts (Bel) Predictor - Lotto                                       1
31 Hubert Schwab (Swi) Quickstep - Innergetic                                1
32 Hubert Dupont (Fra) AG2r Prévoyance                                       1
33 Marco Marzano (Ita) Lampre - Fondital                                     1
34 Mauro Facci (Ita) Quickstep - Innergetic                                  1
 
Most combative classification

1 Alessandro Petacchi (Ita) Team Milram                                     31 pts
2 Danilo Di Luca (Ita) Liquigas                                             25
3 Luis Felipe Laverde Jimenez (Col) Ceramica Panaria - Navigare             20
4 Paolo Bettini (Ita) Quickstep - Innergetic                                17
5 Leonardo Piepoli (Ita) Saunier Duval - Prodir                             13
6 Mickaël Buffaz (Fra) Cofidis - Le Crédit par Téléphone                    13
7 Andy Schleck (Lux) Team CSC                                               13
8 Gilberto Simoni (Ita) Saunier Duval - Prodir                              12
9 Marco Pinotti (Ita) T-Mobile Team                                         12
10 Christophe Kern (Fra) Crédit Agricole                                    11
11 Marzio Bruseghin (Ita) Lampre - Fondital                                 10
12 Pavel Brutt (Rus) Tinkoff Credit System                                  10
13 Yoann Le Boulanger (Fra) Bouygues Telecom                                 9
14 Nicolas Crosbie (Fra) Bouygues Telecom                                    9
15 Emanuele Sella (Ita) Ceramica Panaria - Navigare                          9
16 Hubert Schwab (Swi) Quickstep - Innergetic                                8
17 Fortunato Baliani (Ita) Ceramica Panaria - Navigare                       8
18 Mikhail Ignatiev (Rus) Tinkoff Credit System                              8
19 Ivan Ramiro Parra Pinto (Col) Cofidis - Le Crédit par Téléphone           7
20 Markel Irizar Aranburu (Spa) Euskaltel - Euskadi                          7
21 Riccardo Ricco (Ita) Saunier Duval - Prodir                               7
22 Christophe Riblon (Fra) AG2r Prévoyance                                   7
23 Frédéric Bessy (Fra) Cofidis - Le Crédit par Téléphone                    7
24 Assan Bazayev (Kaz) Astana                                                7
25 Kurt-Asle Arvesen (Nor) Team CSC                                          6
26 Damiano Cunego (Ita) Lampre - Fondital                                    6
27 Daniele Contrini (Ita) Tinkoff Credit System                              6
28 Maximiliano Richeze (Arg) Ceramica Panaria - Navigare                     6
29 Rubens Bertogliati (Swi) Saunier Duval - Prodir                           6
30 Pierre Drancourt (Fra) Bouygues Telecom                                   6
31 Serguei Yakovlev (Kaz) Astana                                             5
32 Giovanni Visconti (Ita) Quickstep - Innergetic                            5
33 Elio Aggiano (Ita) Tinkoff Credit System                                  5
34 Evgeni Petrov (Rus) Tinkoff Credit System                                 5
35 Eddy Mazzoleni (Ita) Astana                                               4
36 Stefano Garzelli (Ita) Acqua & Sapone - Caffe Mokambo                     4
37 Alberto Losada Alguacil (Spa) Caisse d'Epargne                            4
38 Yuriy Krivtsov (Ukr) AG2r Prévoyance                                      4
39 Alexandre Usov (Blr) AG2r Prévoyance                                      4
40 Franco Pellizotti (Ita) Liquigas                                          3
41 Dario David Cioni (Ita) Predictor - Lotto                                 3
42 David Zabriskie (USA) Team CSC                                            3
43 Mauro Facci (Ita) Quickstep - Innergetic                                  3
44 Andrei Kunitski (Blr) Acqua & Sapone - Caffe Mokambo                      3
45 Fabien Patanchon (Fra) Française des Jeux                                 3
46 Steve Zampieri (Swi) Cofidis - Le Crédit par Téléphone                    2
47 Pietro Caucchioli (Ita) Crédit Agricole                                   2
48 Jurgen Van Den Broeck (Bel) Predictor - Lotto                             2
49 Giuseppe Palumbo (Ita) Acqua & Sapone - Caffe Mokambo                     2
50 Koldo Fernandez (Spa) Euskaltel - Euskadi                                 2
51 Francisco Javier Vila Errandonea (Spa) Lampre - Fondital                  1
52 Paolo Savoldelli (Ita) Astana                                             1
53 Mario Aerts (Bel) Predictor - Lotto                                       1
54 Hubert Dupont (Fra) AG2r Prévoyance                                       1
55 Marco Marzano (Ita) Lampre - Fondital                                     1
56 Lorenzo Bernucci (Ita) T-Mobile Team                                      1
57 Angelo Furlan (Ita) Crédit Agricole                                       1
 
Azzurri d'Italia classification

1 Alessandro Petacchi (Ita) Team Milram                                     15 pts
2 Danilo Di Luca (Ita) Liquigas                                             11
3 Leonardo Piepoli (Ita) Saunier Duval - Prodir                              6
4 Paolo Bettini (Ita) Quickstep - Innergetic                                 5
5 Marzio Bruseghin (Ita) Lampre - Fondital                                   4
6 Luis Felipe Laverde Jimenez (Col) Ceramica Panaria - Navigare              4
7 Kurt-Asle Arvesen (Nor) Team CSC                                           4
8 Andy Schleck (Lux) Team CSC                                                2
9 Gilberto Simoni (Ita) Saunier Duval - Prodir                               2
10 Riccardo Ricco (Ita) Saunier Duval - Prodir                               2
11 Marco Pinotti (Ita) T-Mobile Team                                         2
12 Christophe Kern (Fra) Crédit Agricole                                     1
13 Damiano Cunego (Ita) Lampre - Fondital                                    1
14 Assan Bazayev (Kaz) Astana                                                1
15 Maximiliano Richeze (Arg) Ceramica Panaria - Navigare                     1
 
Fuga Gilera Classification

1 Mickaël Buffaz (Fra) Cofidis - Le Crédit par Téléphone                   365 pts
2 Mikhail Ignatiev (Rus) Tinkoff Credit System                             314
3 Elio Aggiano (Ita) Tinkoff Credit System                                 304
4 Pavel Brutt (Rus) Tinkoff Credit System                                  303
5 Frédéric Bessy (Fra) Cofidis - Le Crédit par Téléphone                   268
6 Rubens Bertogliati (Swi) Saunier Duval - Prodir                          206
7 Fabien Patanchon (Fra) Française des Jeux                                206
8 Mauro Facci (Ita) Quickstep - Innergetic                                 174
9 Ivan Ramiro Parra Pinto (Col) Cofidis - Le Crédit par Téléphone          173
10 Giovanni Visconti (Ita) Quickstep - Innergetic                          172
11 Fortunato Baliani (Ita) Ceramica Panaria - Navigare                     170
12 Alberto Losada Alguacil (Spa) Caisse d'Epargne                          170
13 Hubert Dupont (Fra) AG2r Prévoyance                                     148
14 Mauricio Alberto Ardila Cano (Col) Rabobank                             148
15 Yoann Le Boulanger (Fra) Bouygues Telecom                               124
16 Marco Pinotti (Ita) T-Mobile Team                                       118
17 Luis Felipe Laverde Jimenez (Col) Ceramica Panaria - Navigare           118
18 Alexandre Pichot (Fra) Bouygues Telecom                                 115
19 Yuriy Krivtsov (Ukr) AG2r Prévoyance                                    109
20 Markel Irizar Aranburu (Spa) Euskaltel - Euskadi                        104
21 Nicolas Crosbie (Fra) Bouygues Telecom                                   94
22 Andrei Kunitski (Blr) Acqua & Sapone - Caffe Mokambo                     94
23 Hubert Schwab (Swi) Quickstep - Innergetic                               92
24 Daniele Contrini (Ita) Tinkoff Credit System                             92
25 Christophe Kern (Fra) Crédit Agricole                                    92
26 Christophe Riblon (Fra) AG2r Prévoyance                                  79
27 Danilo Di Luca (Ita) Liquigas                                            25
28 Andy Schleck (Lux) Team CSC                                              25
29 Gilberto Simoni (Ita) Saunier Duval - Prodir                             25
30 Damiano Cunego (Ita) Lampre - Fondital                                   24
31 Eddy Mazzoleni (Ita) Astana                                              24
32 Dario David Cioni (Ita) Predictor - Lotto                                15
34 Julio Alberto Perez Cuapio (Mex) Ceramica Panaria - Navigare              8
 
Trofeo Fast Team classification

1 Lampre - Fondital                                                  170.28.16
2 Liquigas                                                                6.40
3 Ceramica Panaria - Navigare                                            13.11
4 Astana                                                                 15.17
5 Saunier Duval - Prodir                                                 22.16
6 Acqua & Sapone - Caffe' Mokambo                                        34.11
7 Predictor - Lotto                                                      38.28
8 Team CSC                                                               41.52
9 Caisse D'Epargne                                                       47.51
10 Cofidis, Le Credit P. Telephone                                       49.48
11 AG2r Prevoyance                                                       50.01
12 Quick Step - Innergetic                                               58.25
13 Discovery Channel Pro C.T.                                          1.04.25
14 Rabobank                                                            1.15.59
15 Credit Agricole                                                     1.19.17
16 Bouygues Telecom                                                    1.21.31
17 Tinkoff Credit Systems                                              1.33.53
18 T-Mobile Team                                                       1.40.05
19 Euskaltel - Euskadi                                                 1.47.41
20 Francaise Des Jeux                                                  1.48.02
21 Gerolsteiner                                                        1.53.54
22 Team Milram                                                         2.59.18
 
Trofeo Super Team Classification
 
1 Lampre - Fondital                                                        288 pts
2 Liquigas                                                                 242
3 Ceramica Panaria - Navigare                                              216
4 Team CSC                                                                 162
5 Saunier Duval - Prodir                                                   161
6 Acqua & Sapone - Caffe' Mokambo                                          156
7 Caisse D'Epargne                                                         154
8 Team Milram                                                              148
9 AG2r Prevoyance                                                          143
10 Astana                                                                  136
11 Quick Step - Innergetic                                                 121
12 Credit Agricole                                                         120
13 Predictor - Lotto                                                       114
14 Tinkoff Credit Systems                                                  110
15 Gerolsteiner                                                             92
16 Euskaltel - Euskadi                                                      81
17 Discovery Channel Pro C.T.                                               75
18 Bouygues Telecom                                                         65
19 Rabobank                                                                 57
20 T-Mobile Team                                                            40
21 Cofidis, Le Credit P. Telephone                                          36
22 Francaise Des Jeux                                                       13
 
Fair Play Classification

1 Caisse D'Epargne                                                            
2 Quick Step - Innergetic                                                     
3 AG2r Prevoyance                                                             
4 Francaise Des Jeux                                                          
5 Predictor - Lotto                                                          3 pts
6 Ceramica Panaria - Navigare                                               10
7 Liquigas                                                                  25
8 Tinkoff Credit Systems                                                    25
9 Acqua & Sapone - Caffe' Mokambo                                           25
10 T-Mobile Team                                                            25
11 Bouygues Telecom                                                         25
12 Gerolsteiner                                                             30
13 Saunier Duval - Prodir                                                   45
14 Astana                                                                   50
15 Discovery Channel Pro C.T.                                               50
16 Team Milram                                                              50
17 Rabobank                                                                 63
18 Credit Agricole                                                          63
19 Cofidis, Le Credit P. Telephone                                         145
20 Euskaltel - Euskadi                                                     145
21 Team CSC                                                                155
22 Lampre - Fondital                                                       180