Recently on Cyclingnews.com
Road test: Specialized S-Works E5 Road
I wish I was special
By Anthony Tan
Even for a man with all the self-confidence in the world, it took some time to convince Mario Cipollini that frames designed and made in the USA were comparable to his ol' faves from the eighties built by Ugo de Rosa. But ever since he threw the leg over his first Cannondale in the summer of '97, it was Re Leone that had to be tamed, not the frame.
Off to the Gong for a real ride
Into the road scene
When the guys from Morgan Hill, CA decided to forge a name for themselves on the road, they did so with a bang, kitting out the boys from Division 1 road squad Festina during the summer of 2000. Sponsoring a Division 1 European road team is a big deal for any bike company, and when it's an American company at the helm it's an even bigger deal and a huge R&D exercise for a youngish American upstart (their inception being in 1974).
Casero's off-the-shelf S-Works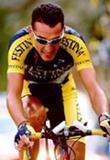 Festina's riders used a combination of custom and production bikes, with the TT bikes made by in-house custom frame builder Gary Yokota. And while most of the profies at Festina requested custom-built frames, it's interesting to note that in last year's Vuelta, Angel Casero's S-Works TT bike could not be delivered on time - so he was given a standard geometry frame - which he then unknowingly rode to victory.
And so with Casero's dramatic final stage win and overall victory in the Vuelta and Christophe Moreau's huge win in the prologue of the 2001 TDF you could safely say Specialized was onto a good thing - in fact a great thing. However at the end of last year, Specialized was caught out with the untimely demise of Festina, meaning its largely successful foray in the upper echelons of European road cycling may have ended somewhat prematurely after only two seasons.
However the astute men at Festina weren't to be denied that fast. The Californian company are now back in Europe, this time providing bikes to the self-proclaimed fastest man in the world and the rest of the Acqua e Sapone squadra with the S-Works E5.
I'd already been on a few rides with the E5, but I still hadn't been on a "real" ride. So on a rare day off work, I drove down to the coastal town of Wollongong, about 100 clicks south of Sydney. The "Gong" was where I developed my passion for cycling while studying at university, so it felt nice to go back and ride on the quiet country roads that provided a perfect excuse not to study for four years.
Picture perfect. Bloody freezing too.
Photo: © CN
I opted for one of my favourite rides - Wollongong to Robertson and back to the Gong. It's about a 80km ride that takes in the 10km climb of Macquarie Pass, a climb that has sorted the overall classification of many Commonwealth Bank Cycle Classics in years gone past. It's not a particularly steep ascent, but what made Macquarie Pass so selective in the "Bank Race" was its length - from Sydney, you have to drive a further 500km south to the Snowy Mountains to experience a climb longer than this in New South Wales.
I head out on a chilly morning, riding along the Princes Highway and cruise towards Dapto. As I reminisce about old times, I make a right turn at Albion Park along the Illawarra Highway that in 25km or so will take me to the foot of Macquarie Pass. The E5 rolls sweetly, even on the rough bitumen that is characteristic of country roads. And being a high-quality compact aluminium frame, one of the first things you notice is that it's super stiff - combine that with an oversize downtube, Mavic's Kysrium SSL wheels and carbon seatpost and we're talking stiffer than a ten year-old cadaver from the local morgue.
With such a rigid bike, the choice of saddle is crucial, and I have to admit the Body Geometry saddle was a little hard for my liking - obviously the geometry of my ass doesn't match the geometry of the seat. No biggie though.
An Alpe d'Huez on Valium
Blinded by the light
Photo: © CN

After 40 kilometres, I approach the climb with a slight trepidation - it's been a good seven years since I've been humbled by this hill. But what I love about this climb is its staggeringly close resemblance to a French Alpine climb, with its numerous switchbacks, steady grade and typical mountain scenery; probably best described as an Alpe d'Huez on Valium.
There's definitely a key to riding long climbs with this many switchbacks - approach the corners as wide as you can if you want to stay in the saddle; or take the corner tight and get out of the saddle before exiting the switchback, dancing on the pedals for 8-10 pedal strokes to maintain your rhythm - a lā il Elphantino of old, Marco Pantani. And if you ride these climbs like Marco, the E5 responds immediately - almost pre-empting your next pedal stroke before you can stamp down with the other leg.
Another feature that makes Macquarie Pass different is that there's no descent once you reach the top - the road continues to veer upwards ever so slightly on a false flat, all the way to Moss Vale then along undulating roads to Nowra (which is where this often-decisive 93km stage of the Bank Race used to finish). What also makes a difference is the famous Robertson Pie shop - after all, it's a bit nippy up here and I need to keep my body warm, right?
A dog that thinks it's a pig?
Big, deep breaths
Photo: © CN

For the trivia buffs out there, Robertson happened to be the set for that lovable film Babe, which was about a pig that thought it was a sheep dog. Well after a hard 10k slog up the Pass, I felt like a dog that thought it was a pig. Hence my order of two pies, a Coke and a Mars bar for the trip home. And two dollars worth of mixed lollies. Told you I thought I was a pig.
It wouldn't be more than 5 degrees C up here in the Southern Highlands, so I kindly borrow a few sheets of the Southern Highlands News (old news anyway), tuck it down my shirt and begin what will be a frosty-cold descent back down the Pass.
With switchbacks galore, off-camber corners and oil slicks aplenty, it's a very technical descent to say the least - not your straightforward spinning out in the 11 cog-type scenario. But that's how I like 'em, and with the light streaming through the eucalyptus trees at odd angles, it's going to be a real challenge for the E5 and I.
Time to ponder
Photo: © CN

The bike feels solid, with the Reynolds Ouzo forks holding up nicely, although the tail end is not quite as compliant as I would have liked. I back off a touch as the rear wheel skips out after I carve through a left and then a right-hander at speed. The S-Works tyres feel nice, but I have to say my Michelin Axial Pros are yet to be beaten for true road feel. Having said that, I can't expect to feel totally at ease on a bike I've only been on for a few weeks.
As I head back towards Wollongong, I retrace some of my old training roads of years gone past and count my blessings as a blue heeler chooses to ignore my presence, pondering life without the need for work as I cruise around the shores of Lake Illawarra. Sounds pleasant, but then I'd never get a chance to test lovely little machines like the S-Works E5.
Round up
After the initial teething problems I had with tightening the seatpin, the E5's all right, and gets the thumbs up. It's what you'd expect from Specialized - not any more, but not any less either.
Those who aren't used to compact frames will first experience the unusual sensation of feeling like you're riding a kiddie's bike. But what you won't feel is that you're riding a bike with all the wrong geometry - which is a sad indictment on a number of other compact frame manufacturers. This means that on the E5, you'll be blessed with the same sense of balance that you get with your standard sized frames, and don't have to come to terms with an overly twitchy bike. Specialized have done their homework in this department - hence its availability in eleven sizes.
Cipo's custom: notice the non-tapered head tube
Photo: © AFP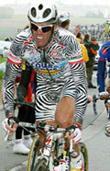 What I call the add-ons - saddle, handlebars, tyres, stem, pedals - are in my opinion a very personal choice, especially for your stubborn roadie like myself. So for someone who only eats choc-chip cookies, freshly-made pasta with home-made tomato sauce and Blue Ribbon ice-cream, Specialized's own brand of home-made add-ons fared well. I'm not going to go into detail about the Dura-Ace groupset, the Ouzo fork nor the Ksyrium SL hoops - other than to say they're bloody good and that's why they're seen bloody everywhere, all over the bloody place. Capice?
For a fairly generic American-made frame that isn't super light (our scales read 1.302kg for the 55cm model), the E5 isn't cheap - however the tubes are custom-made by Columbus in Italy and both the tubes and weld quality are on par with most high-end Euro frames. Another titbit to ponder over is that only half the Acqua e Sapone boys are on stock-standard E5s; the rest (including Super Mario's) are custom-built. Having said that, when was the last time you needed the head tube stiffened because you're used to contesting bunch gallops along the via Roma at 80 clicks an hour?
Once again, a special thanks to Mark Rowling at Turramurra Cyclery for building the pushy and lending his expert opinion on the E5 (see below).
Full specification: Specialized S-Works E5 Road

Frame: E5 super light alloy frame with Aerotec tubeset by Columbus and Specialized
Fork: Reynolds Ouzo Pro, 455gm
Material: Aluminum is alloyed with silicon, copper, manganese, magnesium and zinc
Colour: Team Glo Red
Weight: 1,302gm (frame only, 55cm)
Sizes: 47-62cm (11 sizes)

Cranks: Shimano Dura-Ace 53/39
Bottom bracket: Shimano Dura-Ace cartridge splined
Chain: Shimano Dura-Ace
Front derailleur: Shimano Dura-Ace
Rear derailleur: Shimano Dura-Ace
Brakes & levers: Shimano Dura-Ace Dual Pivot
Rear sprockets: Shimano Dura-Ace, 12-23, 9 speed

RRP (complete bike): US$3,999

Wheels: Mavic Ksyrium SSC SL 18h front 20h rear 700x23c
Spokes: Mavic Ksyrium SSC, Zicral bladed
Skewers: Mavic
Tyres: Specialized Turbo S-Works 700x25c, 220gm

Stem: 3T Zepp XL, 160gm
Bar: 3T Zepp XL, 210gm
Tape: 3T Cork Ribbon
Head set: Aheadset integrated

Pedals: Time Magnesium (rider's own)
Seat post: Specialized carbon aero, 218gm
Saddle: Specialized S-Works Body Geometry, 255gm

Cyclingnews Rating:
More information: Specialized website
Tech talk
Giving the low-down
Photo: © CN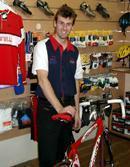 The E5 was packed ever so nicely, but it wasn't going anywhere in twenty different bits and pieces, so off to Turramurra Cyclery I went, where proprietor Mark Rowling put the S-Works E5 together for me in a flash. Mark's reputation as a bike shop owner that really knows his stuff, particularly nice purdy roadie stuff, meant that he could give me a pretty good run-down on the ins and outs of the E5.
Equivalent to a top of the line Euro frame
Mark found the E5 a cinch to build, and believed the frame quality to be equal to that of the top of the line Trek or good European frame, acknowledging that "the welds are excellent - something you still don't see on nearly all frames coming out of Taiwan".
E5 aluminum is alloyed with silicon, copper, manganese, magnesium and zinc, which allow the tubes to be as thin as possible without comprising on strength. E5 is claimed to have a higher UTS (ultimate tensile strength) than 6061, 6110A or 7005 grades of aluminium and the greatest elongation, meaning that it can be radically manipulated.
Got the angles and length right
Another important aspect to consider is the seat and head tube angles and effective top tube length. A lot of manufacturers that design compact frames don't make enough sizes, which means they have to play around with the geometry to make it look right without really thinking about how this affects ride quality. However the E5 is available in a whopping 11 sizes from 47cm right through to their LA Lakers 62cm model, with the seat and head tube angles no different to that of a standard size frameset.
Proper geometry
Photo: © CN

Mark also mentioned that the effective top-tube length is by far the most important measurement on a compact frame. As a general rule, compact frame sizes equal to a 56cm centre-to-centre (C-C) frame or smaller (using the seat tube measurement) on a standard bike should have an effective top-tube length equal or greater than C-C measurement on the seat tube; once the frames go over 56cm, the top-tube length can be slightly shorter, and the seat angle can also be more relaxed.
Taking a closer look at the geometry of the E5, Specialized have done exactly that: their 57cm model, equivalent to a 57cm C-C on the seat tube, is equal to a bike with a 57cm C-C top tube, and is perfectly "square". All frame sizes below have a sightly longer effective top tube length, and all frame sizes above the 57cm model have a slightly shorter top tube length. Seat angles also follow Mark's guide, ranging from a 76š seat angle for their teeny-weeny 47cm frame to a much more relaxed 72.5š for their 62cm model.
Posso problemo?
One area where compact frames can still be a bit of a problem is in the excessive amount of spacers required for those not as flexible in the lumbar region. As Mark explains, "they're great for smaller people, but if you haven't been riding for years or aren't that flexible, perfect set-up can sometimes be a problem".
Stacked to the max
Photo: © CN

Not only is it aesthetically unpleasing to the eye, it's also dangerous, and especially so when you have a full carbon steerer. When the two bolts on the end of the A-head stems are tightened, it causes significant stress on the steerer tube that creates shearing forces when considerable amounts of pressure are applied.
Mark's guess is that frame manufacturers that use independent fork companies will work together to build an aluminium sleeve that runs in between the steerer and the head tube - very light, but very effective - and much safer for those cyclists requiring a reasonable stack height above the head tube.
Visit Turramurra Cyclery's website.
What do you think of the S-Works E5? - Tell us your thoughts
Recent tech
Tour tech: Zipp's slippery new wheel revealed
On test: Klein Palomino XV
June 25 news: New Giant carbon, Crank Bros, Colnago proto, Scott, Topolino
Book review: Lance Armstrong: Images of a champion
New bike for Van Moorsel
New bikes from BT
Cicli Pinarello displays its racing history: Fifty years of classic bikes
June 17 new arrivals: Specialized, Crank Bros, Thomson, Bicycling Science, Drop In
Pro bike: Iban Mayo's Euskaltel-Euskadi Orbea TT climbing prototype
On test: Campagnolo Eurus G3 wheels
Pro bike: Lance Armstrong's Trek Madone SSL proto
Pro bike: Emanuele Sella's Battaglin
June 8 news, part 1: Giro's Rev Six revs up at Dauphine, Rebellin conquers on Wilier carbon proto, Giant spy photos at the T-Mobile Service Course
June 8 news, part 2: Specialized unveils new kit, Cervelo & CSC fine-tune at MIT, New forks from Alpha Q, Paint job of the year?
Pro bike: Dede Demet-Barry's T-Mobile Giant TCR Carbon
Bikes of the Giro part 2: The mountains
New arrivals: DMT, Jaggad, Blue Steel, Cannibal, Ellsworth, LeMond Fitness, Atomic Mount
On test: Park Tool IB-1 & IB-2 multi-tools
De Marchi responds
On test: Giro Monza
On test: De Marchi Contour bib shorts,
On test: DeFeet Armskins
May 21 news: Petacchi's new Pinarello, Mayo's Orbea TT secret weapon, adidas, Mavic, Ambrosio, True Temper
On test: White Industries Eccentric ENO hub
World exclusive pro bike: Marion Clignet's Look 496 track bike
On test: Carnac Quartz road shoes
Repair & maintenance: Recording MTB position
Pro bike: Chris Horner's Webcor Lemond TT bike
May 13 news: New Shimano wheels, 29inch victory, CycleOps, Naviion
New arrivals: Crank Bros, Park Tool, Sports Instruments, Morningstar & Panasonic,
New arrivals: 2004 clothing from Campagnolo
On test: Orbea Orca - Real-world team issue
On Test: Specialized Bar Phat tape
Bikes of the Tour de Georgia
Apr 30 news: Campagnolo, Klein, Giant, Sports Instruments, Burley, La Ruta
Apr 27 news: IRD, Oval, Fi'zi:k, Camelbak