Tech feature - August 6, 2004
The crossover man
Keith Bontrager started out tuning competition motorbikes, made his name as a mountain bike framebuilder and component designer and has lately turned his attention to the road, contributing to the coordinated effort among US Postal's equipment sponsors to ensure the team had state-of-the-art kit for this year's Tour de France. John Stevenson got the KB word on innovation, wheels, stems and more.
Keith Bontrager
Photo ©: Bontrager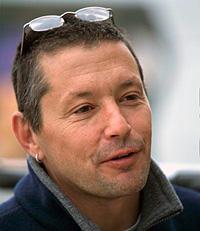 Cyclingnews: It's just over ten years since Bontrager became part of the Trek empire. What's your role now and how has it developed over the last few years?
Keith Bontrager: I do some design, some engineering and some mentoring of engineers with less hands on experience. I also get to ride a lot - there's quite a bit of testing on the bike to do.
Not much has changed over the last few years. Of course a lot of the details of the work change as we go along.
CN: Bontrager was part of the 'Formula One' effort to provide US Postal with the best possible stuff for the 2004 Tour. What was your involvement with that project?
KB: Our work this year on the road stuff had some edge, but it wasn't really an all out F1 approach. You'd know if we ever really pulled the trigger on that (and so would the UCI). It would be fun to do it that way though I have reservations about what it might do to the sport.
Last year I worked very hard for most of the winter and spring developing brake pads for carbon wheels. We didn't make many big changes to those other than the special rims made for Lance with the super light material. Jim Colgrove is the carbon fiber specialist at the factory and he did the engineering on that and Scott Daubert did the ride testing. They are both very good at what they do.
That was better for me in an odd way. All the road testing I did to make sure the pads worked made me fit for the road, but it was not very good for the long off road races I do. I rode my mountain bike a lot more this spring because I was doing MTB wheel and tire development, and that went well in a few respects. The tires work, and my off road racing results have been a bit better in long events too.
What's cooking?
Photo ©: Chipps

Spätzle!
Photo ©: Chipps

CN: You were able to innovate several important developments in mountain biking such as gussets and very light rims - is there room for that sort of innovation on the road or are you looking at more small, incremental improvements?
KB: Twenty years ago innovation in MTBs was fairly easy. Road stuff is very highly developed from a performance point of view so it's unlikely that anyone will come up with big improvements in that area (and the UCI would be likely to stomp on them anyway).
The successful application of carbon fiber to components that are traditionally made from metal is one area that can result in real performance improvements. There might be some aspects of tires that could be also be beneficial though that remains to be demonstrated.
The potential performance gains from incremental improvements are not trivial given the small differences between the winning rider and the rest of the bunch. Anything that gives a rider a legal advantage is worth chasing.
CN: How much feedback is there between your road and MTB products? For example, does finding a way to make a mountain bike part stronger without adding weight translate into a way of making an adequately strong road bike part lighter?
KB: Yes. There are some valuable lessons in developing parts for off road bikes that transfer to road bikes. The connections are often in the materials used or the manufacturing methods employed rather than the specific shape of the part's design, though the shape of road bikes has been influenced by off road development too. MTB frame and component designers have had plenty of freedom in the way the things they design look. There was no real precedent or tradition to adhere to. I think that pushed road designers to loosen up a little, and step away from the traditions that they were locked into so rigorously. Some of that is just fashion of course, but that's fine as long as it's done well.
As a designer (tainted by years of off road work of course) I like the way road bikes look these days. As an engineer and rider I like the way they perform as well. Having said that there is always the possibility to improve performance or durability.
CN: How much lighter can wheels get? Your carbon-rimmed wheels are fairly light, but there are wheels out there, from folks like CarbonSports/Lightweight that are lighter still. Where are the limits?
KB: Our wheels are a bit heavier than the ones you mentioned but our rims are as light as any as far as I know. With this recent round of development I think our rims are close to the limits given the materials we are aware of right now. Hubs and spokes are pretty close to their practical limits too, though the one piece design approach the companies you mentioned employ is a way to shave a few more grams out of those parts. That's the source of the weight difference you noted. The Postal bikes are down to the UCI weight limits without resorting to that in our wheels though, so we don't.
Job description: ride bike
Photo ©: Bontrager

Are we there yet?
Photo ©: Bontrager

Making wheels in one piece also makes them even more expensive and essentially throwaways if they are damaged. That isn't worth the small additional weight reduction to us. The one piece approach is not wrong; other wheel companies have designed very light, very fast wheels that way. In general we are not anxious to complicate our wheel designs without a very good reason to do so, and we've done very well with practical and serviceable designs. Lance and the Postal team showed pretty clearly that our approach is working pretty well.
I put a pair of 300 gram carbon rims on my cross bike last year and raced on them without a problem. I was pretty happy with that and it gave me a lot of confidence in how tough they are.
I thought I'd be the first to take them off road so I was bummed when Lance did his little detour through the field in the Tour last year. He beat me to it. I was glad he made it though, and that remount in road shoes must have been difficult.
CN: There seemed to be a heck of a lot of tubular tyres at this year's Tour, despite the their oft-predicted death. It seems to me that the weight advantage of carbon tubular rims is one of the things keeping them alive. Any thoughts? Is there a place for tubulars for anyone but the pros?
KB: Pros ride tubulars because they are light, fast, resist pinch flats well and because they can ride with them for a while when they puncture. The latter two are not negotiable so I don't think they will abandon them in the near future, at least not until another system is developed that will offer the same advantages.
Other riders do not need to put such a high priority on riding with a puncture. Otherwise tubulars are a hassle, so it isn't likely that they are going to ever be a popular tire for the masses. Good clinchers are available in a wide range of sizes, tread configurations and prices. They are fine for almost everyone, including pros when they are training.
I'll warn you though - if you are ever lucky enough to take a ride on a pair of light carbon wheels with good racing tires on them you have to be careful. They can be seductive. Luckily they cost so much that most riders will not succumb.
I ride tubulars on my cross bike and I think the pinch flat resistance they offer is useful even for a mid-pack amateur, maybe especially so given a certain lack of skills. I am lucky enough to have a garage full of carbon tubular prototype wheels I used for the brake pad development so putting them to use is a little easier than it would be if I had to buy them.
CN: On a related topic, have you been working with any of the companies that are introducing tubeless road clinchers in 2005? Any thoughts and opinions on that development?
KB: No, I am not in contact with any of those companies. It was the same in tubeless wheel and tire development for MTBs though, and doing that work independently resulted in designs that are better in many ways, so it is a good way for me to do the work.
So far I do not think they are faster on the road than a good tubular so they are not going to be the best choice for pros on most courses. I think there will eventually be some improvements in this development for road riders, and possibly the most important improvements will be for non-racers. We'll see.
Moto man
Photo ©: Bontrager

Early days
Photo ©: Bontrager

CN: You once said, "Cheap, light, strong; choose two." But we're now seeing plenty of surprisingly inexpensive frames and parts at weights that would have cost the earth ten years ago. What gives?
KB: "Strong, light, cheap. pick two" describes the situation an engineer faces in product design or what a consumer faces when selecting a product in a very accurate way - if you don't consider world economics. If fairly complex things can be made properly in a place where very inexpensive, skilled labor is available the simple rule can unravel a bit. The important part of that last line is "can be made properly" of course.
I do not know much about the lightweight frames offered these days so I can't be too specific about any details. I ride a very nice aluminum cyclocross bike that was not very expensive and it seems to be holding up fine, so I am willingly participating in the experiment I guess. I do check it over carefully from time to time.
CN: Everyone seems to have spent this year's Tour banging up against the UCI's 6.8kg bike weight limit, which apparently has two aims: safety and making sure Div II and III teams can still obtain competitive bikes. Is it time for the UCI to lower the limit, or to find another way of achieving those aims?
KB: Speaking as a fan of the sport I think it is fine the way it is. Bike racing is and probably ought to always be a contest between riders, not a space race.
On the other hand, as an engineer who has spent a fair portion of his life developing trick bits for two wheeled vehicles, if the approach to development of bicycle equipment for racing ever did become more open and unrestricted, I would be into it. We'd be able to do a lot more interesting work from a technical POV.
CN: 31.8mm handlebar clamps. Did the world really need yet another bike component 'standard'?
KB: Yes and no.
I agree with you in one respect; there are too many handlebar clamp dimension standards as it is. It's a mess.
But that is an old problem. Cinelli and the other established road bar manufacturers started it and carried on with it, though they could have simplified it at any point easily. The cycling world has had to live with it for a long time. In the short term the new standard adds a little additional complexity to fitting bars and stems to a bike, though it is not as subtle or dangerous as the 26.0/26.4 issue.
There is a brighter side to it though. It opens up some possibilities for developing new handlebars and it could simplify stem and handlebar standards eventually too. In the future road and MTB bars, stems and forks can have the same dimensions at the points at which they connect to the bike. Finding the stem you want is more likely since dealers can stock more sizes and angles because they don't have to stock parts in all of the clamp standards. Finding parts that conform to the older standards will still be a breeze on Ebay.
One aspect of the new standard seems to be a bit grim though. (This is where I get to hop up on my old soapbox for a little ranting - you knew I would, eh?)
There were some broken bars and stems in the Tour this year, one in a sprint that was pretty messy. There has also been a lot of chatter about using precise torque meters on stem clamp fasteners in order to avoid damaging lightweight handlebars, damage that I have seen happen fairly often in the field. I think there is a connection.
Product designers and engineers need to understand what is and what is not possible (or maybe what is and what is not a good idea is a better way to say it) when they are designing parts to the new standard, especially when the parts are delivered to anyone who wants one instead of careful, professional mechanics. The larger diameter/thinner wall approach that works so well on frames is not always a good one on bars. Stems that have been trimmed to a minimum create very small contact areas between the bars and the clamp. An overzealous application of a wrench (something that is inevitable in spite of warning labels and lectures from dealers) is going to lead to damaged, and eventually to broken handlebars. That is not something the world needs.
Recent tech
Tour tech: Zipp's slippery new wheel revealed
On test: Klein Palomino XV
June 25 news: New Giant carbon, Crank Bros, Colnago proto, Scott, Topolino
Book review: Lance Armstrong: Images of a champion
New bike for Van Moorsel
New bikes from BT
Cicli Pinarello displays its racing history: Fifty years of classic bikes
June 17 new arrivals: Specialized, Crank Bros, Thomson, Bicycling Science, Drop In
Pro bike: Iban Mayo's Euskaltel-Euskadi Orbea TT climbing prototype
On test: Campagnolo Eurus G3 wheels
Pro bike: Lance Armstrong's Trek Madone SSL proto
Pro bike: Emanuele Sella's Battaglin
June 8 news, part 1: Giro's Rev Six revs up at Dauphine, Rebellin conquers on Wilier carbon proto, Giant spy photos at the T-Mobile Service Course
June 8 news, part 2: Specialized unveils new kit, Cervelo & CSC fine-tune at MIT, New forks from Alpha Q, Paint job of the year?
Pro bike: Dede Demet-Barry's T-Mobile Giant TCR Carbon
Bikes of the Giro part 2: The mountains
New arrivals: DMT, Jaggad, Blue Steel, Cannibal, Ellsworth, LeMond Fitness, Atomic Mount
On test: Park Tool IB-1 & IB-2 multi-tools
De Marchi responds
On test: Giro Monza
On test: De Marchi Contour bib shorts,
On test: DeFeet Armskins
May 21 news: Petacchi's new Pinarello, Mayo's Orbea TT secret weapon, adidas, Mavic, Ambrosio, True Temper
On test: White Industries Eccentric ENO hub
World exclusive pro bike: Marion Clignet's Look 496 track bike
On test: Carnac Quartz road shoes
Repair & maintenance: Recording MTB position
Pro bike: Chris Horner's Webcor Lemond TT bike
May 13 news: New Shimano wheels, 29inch victory, CycleOps, Naviion
New arrivals: Crank Bros, Park Tool, Sports Instruments, Morningstar & Panasonic,
New arrivals: 2004 clothing from Campagnolo
On test: Orbea Orca - Real-world team issue
On Test: Specialized Bar Phat tape
Bikes of the Tour de Georgia
Apr 30 news: Campagnolo, Klein, Giant, Sports Instruments, Burley, La Ruta
Apr 27 news: IRD, Oval, Fi'zi:k, Camelbak