Recently on Cyclingnews.com
Reviews
Yellow Jersey Companion to the Tour de France
By John Stevenson
All you need to know
Photo: © Cyclingnews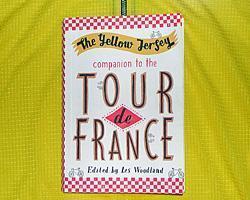 Les Woodland's 'Yellow Jersey Companion to the Tour de France' is part dictionary, part handbook, part history and wholly a labour of love. Woodland is a hugely experienced British cycling journalist who now lives in France, and whether he's tackling the contentious subject of doping, or telling the story of a now almost-forgotten Tour hero, Woodland's deep love of the sport comes through.
But this isn't a gushing hymn of praise to le Tour. Many of the Tour's protagonists over the years have had their flaws, and Woodland isn't shy about identifying them, which makes randomly dipping into the book's almost 400 pages of facts and trivia hugely entertaining. Woodland describes the Tour's original director, Henri Desgrange as "neither an experienced editor nor an original thinker" and even the modern Tour itself is a spectacle that "can close the centre of Paris and bring in presidents and politicians merely so that advertisement-plastered cyclists can ride around for the benefit of loan companies, washing machine makers and freesheet newspapers." You have to love something deeply to appreciate its flaws that clearly and still not care.
This is small-room reading par excellence. Want to know more about the character who dresses as a devil and waves a trident at the riders? He's here. How about Paul Duboc, poisoned while in the lead in the 1911 Tour? He's here too. (He survived, and finished second, you'll be pleased to know.) Famous Tour characters such as the first-ever maillot jaune, Eugene Christophe are here - complete with another telling of the broken fork story - but so are almost-forgotten heroes such as Norbert Callens, "the yellow jersey who never got to wear it".
As well as the expected parade of facts and figures - there's a list of all the winners, of course, and how much they won (plus the number of 250g baguettes it would buy at the time) - Woodland presents the Tour achievements of each of the riders he profiles, and throws in a number of essays on Tour topics such as doping, jerseys, the 1904 affair and the Tour's use of bikes and gears. It's disappointing, however, to see nothing on the podium girls - we hope Les was simply unable to complete the necessary extensive research in time for this edition, and an exploration of this topic will appear next time.
That tiny flaw aside, this is an essential addition to every cyclist's bookshelf.
To order this book
Cyclingnews and Amazon have joined to bring this book to the rest of the world. Priced at just £11.20 plus postage, you can own this essential addition to every cyclist's bookshelf. To order from Europe and the UK, just click here. For North America, Asia-Pacific and rest of the world, use this link.
Weight: 465g
Recommended retail price: £16 from bookshops, £11.20 from Amazon
Format: 217mm x 145mm format
Available: Good bookshops
Cyclingnews Rating:

What do you think of the Yellow Jersey Companion to the Tour de France? Let us know
Recent tech
Tour tech: Zipp's slippery new wheel revealed
On test: Klein Palomino XV
June 25 news: New Giant carbon, Crank Bros, Colnago proto, Scott, Topolino
Book review: Lance Armstrong: Images of a champion
New bike for Van Moorsel
New bikes from BT
Cicli Pinarello displays its racing history: Fifty years of classic bikes
June 17 new arrivals: Specialized, Crank Bros, Thomson, Bicycling Science, Drop In
Pro bike: Iban Mayo's Euskaltel-Euskadi Orbea TT climbing prototype
On test: Campagnolo Eurus G3 wheels
Pro bike: Lance Armstrong's Trek Madone SSL proto
Pro bike: Emanuele Sella's Battaglin
June 8 news, part 1: Giro's Rev Six revs up at Dauphine, Rebellin conquers on Wilier carbon proto, Giant spy photos at the T-Mobile Service Course
June 8 news, part 2: Specialized unveils new kit, Cervelo & CSC fine-tune at MIT, New forks from Alpha Q, Paint job of the year?
Pro bike: Dede Demet-Barry's T-Mobile Giant TCR Carbon
Bikes of the Giro part 2: The mountains
New arrivals: DMT, Jaggad, Blue Steel, Cannibal, Ellsworth, LeMond Fitness, Atomic Mount
On test: Park Tool IB-1 & IB-2 multi-tools
De Marchi responds
On test: Giro Monza
On test: De Marchi Contour bib shorts,
On test: DeFeet Armskins
May 21 news: Petacchi's new Pinarello, Mayo's Orbea TT secret weapon, adidas, Mavic, Ambrosio, True Temper
On test: White Industries Eccentric ENO hub
World exclusive pro bike: Marion Clignet's Look 496 track bike
On test: Carnac Quartz road shoes
Repair & maintenance: Recording MTB position
Pro bike: Chris Horner's Webcor Lemond TT bike
May 13 news: New Shimano wheels, 29inch victory, CycleOps, Naviion
New arrivals: Crank Bros, Park Tool, Sports Instruments, Morningstar & Panasonic,
New arrivals: 2004 clothing from Campagnolo
On test: Orbea Orca - Real-world team issue
On Test: Specialized Bar Phat tape
Bikes of the Tour de Georgia
Apr 30 news: Campagnolo, Klein, Giant, Sports Instruments, Burley, La Ruta
Apr 27 news: IRD, Oval, Fi'zi:k, Camelbak