Recently on Cyclingnews.com
Reviews
L'Equipe three-volume Tour de France history book set
By Gerard Knapp
The perfect coffee-table book?
Photo: © Cyclingnews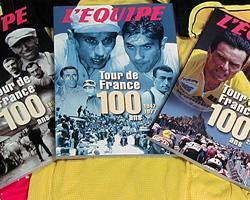 L'Equipe's three-volume set defies comparison.
This is without doubt the Eddy Merckx of Tour de France retrospectives that have been released to coincide with the race's centenary.
With its unparalleled access to race archives, L'Equipe has published a stunning three-volume retrospective of 100 years of the Tour de France. Given the race is owned by the Amaury Sports Organisation (ASO), publisher of L'Equipe, this retrospective is unrivalled among all of the '100 years of the TdF' books that have been released.
Cyclingnews recommends the following:
If you have a friend or colleague in France - and perhaps lucky enough to be following the Tour - insist that they do not come home without this boxed set. Yes, it's expensive at 50 euros. Yes, it's big and heavy and will be expensive to send by any kind of airmail.
But is it worth it? Yes, even if it's only available with the text in French.
The images are unsurpassed and the 350mm x 260mm format (13 ¾" x 10 ¼") allows for many double-page spreads of sensational Tour images.
The boxed set features one volume for the three main eras of the Tour: from 1903 to 1939; 1947 to 1977, then 1978 to 2002. Every edition of the 90 Tours de France is covered in detail with full results and classifications.
For persons of English-speaking backgrounds, it is the earlier eras that hold the greatest fascination, as they pre-date television, the Internet and even specialist magazines.
The images in this boxed set are exceptional. We can be thankful the photographers of the day choose fine-grain, black and white stock as the images are pinpoint sharp. Indeed, on double-page spreads of legends such as Fausto Coppi it is possible to count the number of gears and teeth on the rear sprockets.
The volumes cover not only the racing but also the drama surrounding the race. Each year, it seems, there is always a serial of off-course drama.
There are literally hundreds of cycling stories and beautiful images in the L'Equipe boxed set that have not been told in English or seen before. They await your discovery.
To order this book
Cyclingnews and Amazon.fr have joined to bring this book to the rest of the world. Priced at just EUR 47,50 plus postage, you can own this stunning three-volume retrospective of 100 years of the Tour de France. To order, just follow the link. [We understand this book has sold out - if we hear of a reprint we'll let you know! - Ed]
Weight: 4880g
Recommended retail price: 47,50 euros
Format: Three-volume, 350mm x 260mm format (13 ¾" x 10 ¼")
Available: French bookshops and newsstands
Cyclingnews Rating:

What do you think of the L'Equipe three-volume set? Let us know
Recent tech
Tour tech: Zipp's slippery new wheel revealed
On test: Klein Palomino XV
June 25 news: New Giant carbon, Crank Bros, Colnago proto, Scott, Topolino
Book review: Lance Armstrong: Images of a champion
New bike for Van Moorsel
New bikes from BT
Cicli Pinarello displays its racing history: Fifty years of classic bikes
June 17 new arrivals: Specialized, Crank Bros, Thomson, Bicycling Science, Drop In
Pro bike: Iban Mayo's Euskaltel-Euskadi Orbea TT climbing prototype
On test: Campagnolo Eurus G3 wheels
Pro bike: Lance Armstrong's Trek Madone SSL proto
Pro bike: Emanuele Sella's Battaglin
June 8 news, part 1: Giro's Rev Six revs up at Dauphine, Rebellin conquers on Wilier carbon proto, Giant spy photos at the T-Mobile Service Course
June 8 news, part 2: Specialized unveils new kit, Cervelo & CSC fine-tune at MIT, New forks from Alpha Q, Paint job of the year?
Pro bike: Dede Demet-Barry's T-Mobile Giant TCR Carbon
Bikes of the Giro part 2: The mountains
New arrivals: DMT, Jaggad, Blue Steel, Cannibal, Ellsworth, LeMond Fitness, Atomic Mount
On test: Park Tool IB-1 & IB-2 multi-tools
De Marchi responds
On test: Giro Monza
On test: De Marchi Contour bib shorts,
On test: DeFeet Armskins
May 21 news: Petacchi's new Pinarello, Mayo's Orbea TT secret weapon, adidas, Mavic, Ambrosio, True Temper
On test: White Industries Eccentric ENO hub
World exclusive pro bike: Marion Clignet's Look 496 track bike
On test: Carnac Quartz road shoes
Repair & maintenance: Recording MTB position
Pro bike: Chris Horner's Webcor Lemond TT bike
May 13 news: New Shimano wheels, 29inch victory, CycleOps, Naviion
New arrivals: Crank Bros, Park Tool, Sports Instruments, Morningstar & Panasonic,
New arrivals: 2004 clothing from Campagnolo
On test: Orbea Orca - Real-world team issue
On Test: Specialized Bar Phat tape
Bikes of the Tour de Georgia
Apr 30 news: Campagnolo, Klein, Giant, Sports Instruments, Burley, La Ruta
Apr 27 news: IRD, Oval, Fi'zi:k, Camelbak