Recently on Cyclingnews.com
Tech News – July 28, 2003
Edited by Paul Mirtschin
Got tech? Send press releases, news, and tech questions to the Cyclingnews tech-heads.
Check out those cranks!
Photo: © Olympia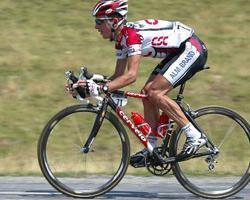 A sore Hamilton goes Compact
When Tyler Hamilton crashed and fractured his collarbone in the final kilometer of the Tour's first stage, many people felt that his race was over; there was no way a rider with a broken collarbone could tackle the big climbs that were to come. But we'd reckoned without Hamilton's sheer determination, and a little help from component maker FSA. FSA supplied Hamilton with a special version of its new 515gram Carbon Pro Elite crank, with a 110mm bolt circle, allowing him to run a 36 tooth inner chainring with a 52 tooth outer.
The lower gears helped Hamilton stay seated on the climbs, and recover enough eventually to break away from the peloton on the first slopes of the Col de Soudet and take out a stage win.
Very pretty!
Photo: © FSA

"If you are a rider that 'requires' a top gear of 53 x 11 or 12, the compact gearing may not be for you," said Full Speed Ahead's president, Doug Stuart. "We are finding many cyclists who are willing to sacrifice those exceptionally big gears in order to have sufficient gearing to tackle the climbs."
Prior to the Tour, FSA had meetings with Bjarne Riis, Hamilton and Team CSC's mechanical staff to discuss the use of the new cranks, deciding that the gearing might be a good choice for the team's domestiques. The idea was to give the team's support riders gearing that would allow them to make it to the finish with less effort after their hard pulls on the big climbs.
The Carbon Pro Elite cranks are available in 170, 172.5 and 175mm crank lengths for Shimano Octalink or Isis Drive splined bottom brackets.
Mick Rogers has the Time
All carbon, all the Time
Photo: © Cyclingnews

Twenty-three-year-old Australian rider Mick Rogers may not have had the glory that came to sprinters Baden Cooke, Robbie McEwen, or Centenaire classification winner Stuart O'Grady, but he still managed to finish a respectable 42nd overall and sixth in the Young rider classification in his first Tour de France.
Along with Quick.Step-Davitamon teammate Richard Virenque, Rogers was riding a special all-carbon prototype Time bike for the mountain stages where the pair rode together much of the time as Rogers carried out his role of helping Virenque to his sixth King of the Mountains title.
The new frame and forks have been beefed up in the more stressed areas to increase stiffness when climbing out of the saddle. Campagnolo's carbon Record group matches the naked carbon frame perfectly, while the Mavic Tour de France Ksyriums give the bike just enough metal to set off airport metal detectors.
Oakley at Le Tour
By Tim Maloney
The future's so bright...
Photo: © Cyclingnews

Lance Armstrong's eyewear sponsor Oakley has had much success with its long-term relationship with the five-time Tour winner. But it's just not about bucks. When Armstrong got cancer in 1996, Oakley put the Texan on its health insurance plan since he didn't have his own coverage. Today Armstrong is fiercely loyal to Oakley.
Oakley's involvement with cycling didn't start with Lance, though. Back in the day, Greg LeMond was one of the first riders wear modern eyewear with the Oakley Eyeshields.
Every year, we see Pat McIlvain, known as Pat Mac, and Kiko Garcia at the Tour de France. Pat and Kiko are the "Oakley Guys" - the sports marketing managers that Oakley sends out into the field to make sure sponsored riders are happy and have the latest Oakley gear. Cyclingnews reporters Chris Henry and Gabbi Ekstrom met up with Pat and Kiko in Dax before Stage 17 to compare notes on this year's Tour de France.
Sleek lines, classic parts
A classic
Photo: © Cyclingnews

As part of the celebrations of the Tour de France's Centenary, the organizers had a lot of "retro" display showing off the tours of old. One display was of a number of team cars from previous Tours, carefully restored to an as-new condition.
Pictured is Cyclingnews reporter Gabbi Ekstrom, along side the team car of Roger Riviere and Raphaël Geminiani. Riviere is known for his crash in the 1960 Tour de France where he left the road, crashed into a ravine and sustained major back injuries while descending the Col de Perjuret in stage 14. The crash left Riviere without full use of his limbs, ending his career.
Photos
Recent tech
Tour tech: Zipp's slippery new wheel revealed
On test: Klein Palomino XV
June 25 news: New Giant carbon, Crank Bros, Colnago proto, Scott, Topolino
Book review: Lance Armstrong: Images of a champion
New bike for Van Moorsel
New bikes from BT
Cicli Pinarello displays its racing history: Fifty years of classic bikes
June 17 new arrivals: Specialized, Crank Bros, Thomson, Bicycling Science, Drop In
Pro bike: Iban Mayo's Euskaltel-Euskadi Orbea TT climbing prototype
On test: Campagnolo Eurus G3 wheels
Pro bike: Lance Armstrong's Trek Madone SSL proto
Pro bike: Emanuele Sella's Battaglin
June 8 news, part 1: Giro's Rev Six revs up at Dauphine, Rebellin conquers on Wilier carbon proto, Giant spy photos at the T-Mobile Service Course
June 8 news, part 2: Specialized unveils new kit, Cervelo & CSC fine-tune at MIT, New forks from Alpha Q, Paint job of the year?
Pro bike: Dede Demet-Barry's T-Mobile Giant TCR Carbon
Bikes of the Giro part 2: The mountains
New arrivals: DMT, Jaggad, Blue Steel, Cannibal, Ellsworth, LeMond Fitness, Atomic Mount
On test: Park Tool IB-1 & IB-2 multi-tools
De Marchi responds
On test: Giro Monza
On test: De Marchi Contour bib shorts,
On test: DeFeet Armskins
May 21 news: Petacchi's new Pinarello, Mayo's Orbea TT secret weapon, adidas, Mavic, Ambrosio, True Temper
On test: White Industries Eccentric ENO hub
World exclusive pro bike: Marion Clignet's Look 496 track bike
On test: Carnac Quartz road shoes
Repair & maintenance: Recording MTB position
Pro bike: Chris Horner's Webcor Lemond TT bike
May 13 news: New Shimano wheels, 29inch victory, CycleOps, Naviion
New arrivals: Crank Bros, Park Tool, Sports Instruments, Morningstar & Panasonic,
New arrivals: 2004 clothing from Campagnolo
On test: Orbea Orca - Real-world team issue
On Test: Specialized Bar Phat tape
Bikes of the Tour de Georgia
Apr 30 news: Campagnolo, Klein, Giant, Sports Instruments, Burley, La Ruta
Apr 27 news: IRD, Oval, Fi'zi:k, Camelbak