Recently on Cyclingnews.com
Trek's new 5.9 Madone
By Tim Maloney and Paul Mirtschin
Named after a little hill
Photo: © Cyclingnews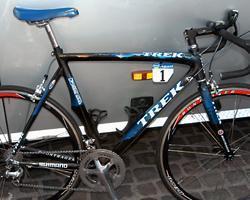 Trek's new 5.9 Madone road bike was developed by Trek's engineers in close cooperation with the man himself, Lance Armstrong. The Waterloo, WI outfit has equipped Armstrong since he joined with the USPS squad, and for the Centenary Tour both Lance and Trek wanted something special. Trek used the lessons learned from their TT bikes in creating the new rig, with goals of better aerodynamics and lighter weight at the very top of the list. The Trek 5.9 Madone is made with Trek's patented OCLV carbon fibre technology, but is lighter than it's predecessor, the 5900. Trek explained that "there isn't a flat surface on this bike; it has been so carefully developed in the wind tunnel and moulded and shaped to enhance the aerodynamics."
The development cycle on the 5.9 Madone road bike was very rapid; Trek sat down with Armstrong in October last year and delivered frame number one in April, just in time for the Liége-Bastogne-Liége. Armstrong then commandeered the bike to victory at the Criterium du Dauphiné Libéré in June.
Still number one
Photo: © Cyclingnews

Trek spokesman Scott Daubert told Cyclingnews that Lance's TdF bike, pictured sporting number 1, is a special Project One paint job that may be available to the public in a limited edition. As for the 5.9 Madone's availability, Trek told Cyclingnews that "Madone is expected to be available in September 2003 in three sizes; 54, 56 and 58 cm., with other sizes available later on. There will be a premium on the price for this bike over the previous models as well."
Why Madone? Lance actually named the bike himself after the Col de la Madone in Menton, France, where Armstrong tested himself in training. "The Col de la Madone is a 12km climb that starts in the French village of Menton. It rises from close to sea level to 927 meters. Cyclists have long used it to test themselves. Having lived in Nice for four years, I rode it many times as well. The record of 31:30 stood for many years, until in 1999 when I broke it with a 30:47. For me, the Madone is the ultimate test. It always tells me if I'm ready - ready to ride fast and ultimately, win the Tour de France. It never fails."
Trek also unveiled a new version of its TT bike that USPS-Berry Floor just rode to a TTT stage win at the Tour De France. This model has been upgraded to a lighter OCLV 110 carbon fiber for 2004.
2000 Superlight vs. 2003 Madone
Superlight

Madone

Frame: 1145g (2.52lb)
Fork: 345g (0.76lb)
Total: 1490g (3.28lb)

1100g (2.43lb
339g (0.75lb)
1439g (3.17lb)
Nike Cycling
Slinky
Photo: © Cyclingnews

Trek collaborated with Nike to create Nike Cycling in 2000 and the USPS-Berry Floor squad is using one of the fruits of this collaboration in this year's TdF. In Wednesday's TTT, the Postal riders used Nike's innovative new Swift Spin Time trial suit. Specially created with an "articulated fit" designed for someone in the TT position, Nike's patented "Zoned Aerodynamics" place appropriately textured fabric where necessary and align seams with airflow for the optimum aero performance.
Nike claims that their featherweight Hors Categorie climbing jersey is 27 percent lighter due to the use of ultra-light fabrics. We didn't weigh the HC jersey, but its gossamer feel and futuristic look will certainly attract attention. Armstrong and USPS will reportedly use this jersey in the Tour's mountain stages, while Nike will also supply this to the leaders, green, spotted and white jerseys used to sponsor the Tour De France.
Photos
Images by Chris Henry/Cyclingnews
Recent tech
Tour tech: Zipp's slippery new wheel revealed
On test: Klein Palomino XV
June 25 news: New Giant carbon, Crank Bros, Colnago proto, Scott, Topolino
Book review: Lance Armstrong: Images of a champion
New bike for Van Moorsel
New bikes from BT
Cicli Pinarello displays its racing history: Fifty years of classic bikes
June 17 new arrivals: Specialized, Crank Bros, Thomson, Bicycling Science, Drop In
Pro bike: Iban Mayo's Euskaltel-Euskadi Orbea TT climbing prototype
On test: Campagnolo Eurus G3 wheels
Pro bike: Lance Armstrong's Trek Madone SSL proto
Pro bike: Emanuele Sella's Battaglin
June 8 news, part 1: Giro's Rev Six revs up at Dauphine, Rebellin conquers on Wilier carbon proto, Giant spy photos at the T-Mobile Service Course
June 8 news, part 2: Specialized unveils new kit, Cervelo & CSC fine-tune at MIT, New forks from Alpha Q, Paint job of the year?
Pro bike: Dede Demet-Barry's T-Mobile Giant TCR Carbon
Bikes of the Giro part 2: The mountains
New arrivals: DMT, Jaggad, Blue Steel, Cannibal, Ellsworth, LeMond Fitness, Atomic Mount
On test: Park Tool IB-1 & IB-2 multi-tools
De Marchi responds
On test: Giro Monza
On test: De Marchi Contour bib shorts,
On test: DeFeet Armskins
May 21 news: Petacchi's new Pinarello, Mayo's Orbea TT secret weapon, adidas, Mavic, Ambrosio, True Temper
On test: White Industries Eccentric ENO hub
World exclusive pro bike: Marion Clignet's Look 496 track bike
On test: Carnac Quartz road shoes
Repair & maintenance: Recording MTB position
Pro bike: Chris Horner's Webcor Lemond TT bike
May 13 news: New Shimano wheels, 29inch victory, CycleOps, Naviion
New arrivals: Crank Bros, Park Tool, Sports Instruments, Morningstar & Panasonic,
New arrivals: 2004 clothing from Campagnolo
On test: Orbea Orca - Real-world team issue
On Test: Specialized Bar Phat tape
Bikes of the Tour de Georgia
Apr 30 news: Campagnolo, Klein, Giant, Sports Instruments, Burley, La Ruta
Apr 27 news: IRD, Oval, Fi'zi:k, Camelbak