Recently on Cyclingnews.com
Dura-Ace 2004: In the flesh
By Paul Mirtschin with Mark Shimahara
Ready for inspection
Photo: © Mark Shimahara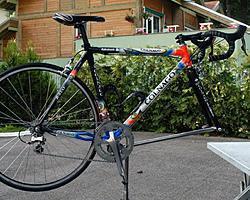 For the past few months, the cycling public has been privy to random snippets of information about the 2004 Dura-Ace: occasional photos of Lance Armstrong's bike, press releases from Shimano and the usual rumours.
When Mark Shimahara popped along to visit the Rabobank training camp, he got a chance to not just look at Levi Leipheimer's Dura-Ace equipped bike, but to speak to Rabobank mechanic Bart van Go about how it all falls together.
Lots of questions about the new gear have centred around the new bottom bracket and cranks. How does the new bottom bracket work; how does the new design affect the pedal spacing (aka "Q-factor"); how does it all fit together?
Outboard bearings
Photo: © Mark Shimahara

Well as you can see from the photos, the bottom bracket bearings sit more-or-less where the exposed section of axle is on your current bike. So there appears to be no change in the Q-factor, but there should be a significant reduction in the loads on the bearings, and, theoretically, a longer bearing lifespan.
The new chainring design is also a hot topic of conversation, and even if you don't like the look of it, all reports are that it is one of the stiffest and better shifting chainrings out there. And if you take a look at this photo you can see that there really is no spare metal in the back of the crank.
Inboard pins
Photo: © Mark Shimahara

The new 2004 Dura-Ace chain is something that hasn't garnered much attention; after all, what can be so exciting about a chain? Well with Shimano completely changing the pin design so that nothing is sticking out of the side-plates, it has managed to make a thinner chain without reducing the plate-to-plate measurement too much.
A close look
Photo: © Mark Shimahara

The new STI levers now incorporate a lot more plastic composite, allowing less-stressed parts to be made lighter. Both the rear derailleur and brake calipers also feature the same plastic composite material.
The reach on the STI levers is noticeably shorter. We know riders who can't get on with previous STI systems at all because the throw to the levers is just too great, so this should broaden the range of people who can use Shimano's top kit.
Photos
Images by Mark Shimahara/BikeZen.com
Recent tech
Tour tech: Zipp's slippery new wheel revealed
On test: Klein Palomino XV
June 25 news: New Giant carbon, Crank Bros, Colnago proto, Scott, Topolino
Book review: Lance Armstrong: Images of a champion
New bike for Van Moorsel
New bikes from BT
Cicli Pinarello displays its racing history: Fifty years of classic bikes
June 17 new arrivals: Specialized, Crank Bros, Thomson, Bicycling Science, Drop In
Pro bike: Iban Mayo's Euskaltel-Euskadi Orbea TT climbing prototype
On test: Campagnolo Eurus G3 wheels
Pro bike: Lance Armstrong's Trek Madone SSL proto
Pro bike: Emanuele Sella's Battaglin
June 8 news, part 1: Giro's Rev Six revs up at Dauphine, Rebellin conquers on Wilier carbon proto, Giant spy photos at the T-Mobile Service Course
June 8 news, part 2: Specialized unveils new kit, Cervelo & CSC fine-tune at MIT, New forks from Alpha Q, Paint job of the year?
Pro bike: Dede Demet-Barry's T-Mobile Giant TCR Carbon
Bikes of the Giro part 2: The mountains
New arrivals: DMT, Jaggad, Blue Steel, Cannibal, Ellsworth, LeMond Fitness, Atomic Mount
On test: Park Tool IB-1 & IB-2 multi-tools
De Marchi responds
On test: Giro Monza
On test: De Marchi Contour bib shorts,
On test: DeFeet Armskins
May 21 news: Petacchi's new Pinarello, Mayo's Orbea TT secret weapon, adidas, Mavic, Ambrosio, True Temper
On test: White Industries Eccentric ENO hub
World exclusive pro bike: Marion Clignet's Look 496 track bike
On test: Carnac Quartz road shoes
Repair & maintenance: Recording MTB position
Pro bike: Chris Horner's Webcor Lemond TT bike
May 13 news: New Shimano wheels, 29inch victory, CycleOps, Naviion
New arrivals: Crank Bros, Park Tool, Sports Instruments, Morningstar & Panasonic,
New arrivals: 2004 clothing from Campagnolo
On test: Orbea Orca - Real-world team issue
On Test: Specialized Bar Phat tape
Bikes of the Tour de Georgia
Apr 30 news: Campagnolo, Klein, Giant, Sports Instruments, Burley, La Ruta
Apr 27 news: IRD, Oval, Fi'zi:k, Camelbak