Recently on Cyclingnews.com
Gonzalez and Frigo's special Giro time-trial bike
Got tech? Send press releases, news, and tech questions to the Cyclingnews tech-heads.
By Paul Mirtschin
Curvacious carbon
Photo: © Chris Henry/Cyclingnews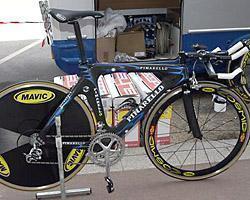 For the two time-trials of the Giro d'Italia, Pinarello rolled out an all-new frame designed to put Fassa Bortolo riders Dario Frigo and Aitor Gonzalez where they want to be: on the podium.
The Treviso based company has a long history of amazing time-trial specific frames, having supplied the "Espada" frame for Miguel Indurain's hour record attempt in 1994 where he set a distance of 53.040km. Indurain also used a road version of that frame in time-trials over the next two years.
Pinarello continued to produce time-trial specific frames until new UCI rules were introduced in 2000 that stopped the use of these bikes.
Frigo at full steam
Photo: © Cyclingnews

A few years down the track, and a few more changes to the UCI rules, and Pinarello have rolled out yet another time-trial specific frame, the Montello. The new monocoque frame, supplied to both Frigo and Gonzalez, is designed to be used both in time trials and on the track. The frame was conceived following the new UCI rules which required a triangular structure with tolerances based on the thickness of the elements which make up the frame's triangle.
By running right to the edge of the UCI's rules, the engineers at Pinarello have been able to produce a bike that they feel cover almost 70% of the advantages of the old frames, designed before the change in the rules.
Towards the win
Photo: © Pinarello

The frames extreme aerodynamic shape and elevated rigidity comes about by carefully designing the profile of the tubes and the positioning of the components. The rear brake is placed behind the bottom bracket shell to increase the aerodynamic flow above, instead of its normal position on top of the seat-stays were it would be more exposed and disrupt airflow.
As is Pinarello's long-standing tradition, the aerodynamic qualities of the frame are continually tested and proved both in wind tunnel and on the road. The frame used by Dario Frigo and Aitor Gonzalez weighs between 1.200kg/1.350kg respectively and is equipped with Shark Pinarello Full Carbon forks made from very light and very rigid carbon fibre.
The two frames are equipped with Campagnolo Record 10 speed groups, Mavic Cosmic Carbon SSC wheels, Vittoria Crono tubulars, Deda Elementi Aero Blue bars, Selle Italia saddle, Look pedals and an Elite carbon bottle cage.
Recent tech
Tour tech: Zipp's slippery new wheel revealed
On test: Klein Palomino XV
June 25 news: New Giant carbon, Crank Bros, Colnago proto, Scott, Topolino
Book review: Lance Armstrong: Images of a champion
New bike for Van Moorsel
New bikes from BT
Cicli Pinarello displays its racing history: Fifty years of classic bikes
June 17 new arrivals: Specialized, Crank Bros, Thomson, Bicycling Science, Drop In
Pro bike: Iban Mayo's Euskaltel-Euskadi Orbea TT climbing prototype
On test: Campagnolo Eurus G3 wheels
Pro bike: Lance Armstrong's Trek Madone SSL proto
Pro bike: Emanuele Sella's Battaglin
June 8 news, part 1: Giro's Rev Six revs up at Dauphine, Rebellin conquers on Wilier carbon proto, Giant spy photos at the T-Mobile Service Course
June 8 news, part 2: Specialized unveils new kit, Cervelo & CSC fine-tune at MIT, New forks from Alpha Q, Paint job of the year?
Pro bike: Dede Demet-Barry's T-Mobile Giant TCR Carbon
Bikes of the Giro part 2: The mountains
New arrivals: DMT, Jaggad, Blue Steel, Cannibal, Ellsworth, LeMond Fitness, Atomic Mount
On test: Park Tool IB-1 & IB-2 multi-tools
De Marchi responds
On test: Giro Monza
On test: De Marchi Contour bib shorts,
On test: DeFeet Armskins
May 21 news: Petacchi's new Pinarello, Mayo's Orbea TT secret weapon, adidas, Mavic, Ambrosio, True Temper
On test: White Industries Eccentric ENO hub
World exclusive pro bike: Marion Clignet's Look 496 track bike
On test: Carnac Quartz road shoes
Repair & maintenance: Recording MTB position
Pro bike: Chris Horner's Webcor Lemond TT bike
May 13 news: New Shimano wheels, 29inch victory, CycleOps, Naviion
New arrivals: Crank Bros, Park Tool, Sports Instruments, Morningstar & Panasonic,
New arrivals: 2004 clothing from Campagnolo
On test: Orbea Orca - Real-world team issue
On Test: Specialized Bar Phat tape
Bikes of the Tour de Georgia
Apr 30 news: Campagnolo, Klein, Giant, Sports Instruments, Burley, La Ruta
Apr 27 news: IRD, Oval, Fi'zi:k, Camelbak