Recently on Cyclingnews.com
Bikes at NORBA
By Jeffrey Zelek at Mount Snow
Got tech? Send press releases, news, and tech questions to the Cyclingnews tech-heads.
Meirhaeghe and his Epic
Photo: © Jeffrey Zelek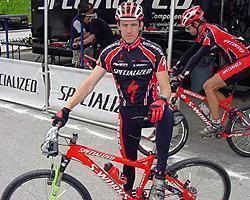 The buzz at Mt. Snow is that Filip Meirhaeghe is in town. This weekend's men's XC pro race is shaping into a battle between Meirhaeghe and the in-form Ryder Hesjedal. I caught up with Meirhaghe at the Specialized Team camp. Filip is reportedly using Mt. Snow as a tune up race before next weekends World Cup at Mt. Saint Anne. I asked Filip if he planned to save himself for Quebec and he replied that he is going for the win at Mt. Snow.
I asked Filip how he planned to set up his bike for this weekend's race. He explained that he was not travelling with his bike and that Specialized had set him up with a new ride to be used at Mt. Snow and Mt. Saint Anne.
Filip quickly pulled his new bike off the rack and he was proud to show it off. I will tell you that Filip is one very polite and accommodating statesman. When I asked Filip for his comments about the Mt Snow course, he invited me to pre-ride the course with him and another teammate to gather his comments first hand. I politely declined because I did not want to disrupt his pre-race training and avoid having to go anaerobic trying to keep up.
Dan Crean and JHK's Tomac
Photo: © Jeffrey Zelek

Over at the RLX Ralph Lauren tent, team mechanic Dan Crean was building a titanium Tomac hardtail for rider Jeremy Horgan-Kobelski. Dan was outfitting JHK's ride with the latest SRAM Blackbox components. Blackbox is SRAM's product development program, which passes the latest and greatest goods to its top riders. JHK will be riding on a set of Panracer TrailBaster UST tires this weekend, filled with Stan's No-Tubes puncture sealant. JHK apparently punctured 5 minutes into a ride at Moab early this year and the sealant patched the hole within seconds and saved the day.
Jimena Florit had just returned from a training ride on the road and showed me her Tomac team bike. I don't know what is more impressive; Jimena's athletic abilities or her stunning good looks. I asked Jimena about tire choice for this weekend, as the course has dry climbs and muddy descents. She showed me a set of Panracer FireXCpro 2.1's which she has picked because she wanted a tire with more volume. Jimena states she is also going for the win this weekend. I asked her who her competition would be, she immediately replied "Chrissie Redden".
Wade Bootes Fuel
Photo: © Jeffrey Zelek

Wade Boots looked great in Mountain Cross practice and was in good spirits when I spoke with him at the Trek Team camp. Boots described the course as sandy having a flat start with a few simple jumps; very well groomed without a single rock. Wade feels the Mountain Cross course favours someone with a BMX background. Perhaps we will see some new faces on the podium this weekend.
Probably the coolest looking bike at the races will belong to Kashi Leuchs. His carbon fibre Trek Hardtail sports an incredible flame paint job done up in candy apple colours that would make any hot-rodder jealous.
Riding the course.
The author and Jimena Florit
Photo: © Jeffrey Zelek

It has rained or snowed in New England the last 19 out of 22 weekends so I expected the worst conditions on the trail. I was surprised to find the climbs up the fire road to be dry. The roads are packed-sand and gravel, and have drained almost to the point of being dusty. The black gnats are out in full force and swarm over riders as they slow during their climbs. The trails through the woods however are slick with mud. The first single track ascent has been improved with a fine crushed gravel to improve traction. This should keep the riders speed high as they hit the next muddy technical section, which has been left in its natural slimy state. The course is lined with front-wheel-size holes just waiting to send riders over the handlebars if they don't pay attention.
The course is completely rideable; however, the final long decent to the finish line is choppy and slick, and will be a challenge during the final laps when the riders are tired and focusing becomes a problem.
The boy's on fire
Photo: © Jeffrey Zelek

The weather is currently humid and the forecast calls for rain. However, this is New England and like Mark Twain said, "If you don't like the weather in New England then wait a minute". One junior level rider from Orlando, Florida told me that Vermont is now hotter than Florida.
So if you are heading to Vermont this weekend bring 3 things. Sunglasses, bug spray, and a rain coat just in case.
Photos
Images by Jeffrey Zelek
Recent tech
Tour tech: Zipp's slippery new wheel revealed
On test: Klein Palomino XV
June 25 news: New Giant carbon, Crank Bros, Colnago proto, Scott, Topolino
Book review: Lance Armstrong: Images of a champion
New bike for Van Moorsel
New bikes from BT
Cicli Pinarello displays its racing history: Fifty years of classic bikes
June 17 new arrivals: Specialized, Crank Bros, Thomson, Bicycling Science, Drop In
Pro bike: Iban Mayo's Euskaltel-Euskadi Orbea TT climbing prototype
On test: Campagnolo Eurus G3 wheels
Pro bike: Lance Armstrong's Trek Madone SSL proto
Pro bike: Emanuele Sella's Battaglin
June 8 news, part 1: Giro's Rev Six revs up at Dauphine, Rebellin conquers on Wilier carbon proto, Giant spy photos at the T-Mobile Service Course
June 8 news, part 2: Specialized unveils new kit, Cervelo & CSC fine-tune at MIT, New forks from Alpha Q, Paint job of the year?
Pro bike: Dede Demet-Barry's T-Mobile Giant TCR Carbon
Bikes of the Giro part 2: The mountains
New arrivals: DMT, Jaggad, Blue Steel, Cannibal, Ellsworth, LeMond Fitness, Atomic Mount
On test: Park Tool IB-1 & IB-2 multi-tools
De Marchi responds
On test: Giro Monza
On test: De Marchi Contour bib shorts,
On test: DeFeet Armskins
May 21 news: Petacchi's new Pinarello, Mayo's Orbea TT secret weapon, adidas, Mavic, Ambrosio, True Temper
On test: White Industries Eccentric ENO hub
World exclusive pro bike: Marion Clignet's Look 496 track bike
On test: Carnac Quartz road shoes
Repair & maintenance: Recording MTB position
Pro bike: Chris Horner's Webcor Lemond TT bike
May 13 news: New Shimano wheels, 29inch victory, CycleOps, Naviion
New arrivals: Crank Bros, Park Tool, Sports Instruments, Morningstar & Panasonic,
New arrivals: 2004 clothing from Campagnolo
On test: Orbea Orca - Real-world team issue
On Test: Specialized Bar Phat tape
Bikes of the Tour de Georgia
Apr 30 news: Campagnolo, Klein, Giant, Sports Instruments, Burley, La Ruta
Apr 27 news: IRD, Oval, Fi'zi:k, Camelbak