Recently on Cyclingnews.com

Pro Team Tech 2004
Tech feature - March 29, 2004
Bikes at the 2004 Milan-San Remo
By Anthony Tan & Tim Maloney
With opening round of the 2004 World Cup kicking off last weekend at Milan-San Remo, it was time for bike and accessories manufacturers to begin showing off their new schwag. Here's the stuff that caught the eye of Cyclingnews' European Editor Tim Maloney.
Mick's Monster Mash: Michael Rogers' Quick.Step-Davitamon Time VX R-S
Michael Roger's monster mash
Photo ©: CN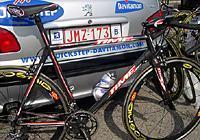 While we can't seem to detect a great deal of difference between Michael Rogers' Time VX R-S and team-mate Jose Antonio Pecharroman's VX R that we reviewed last month, other than a matte versus a polished carbon finish, the tubing on the down and seat tubes are noticeably more ovalised at the tubes' mid-section before rounding out towards the bottom bracket.
The seatpost has also been integrated to shave a few more grams off its VX R predecessor, with Mighty Mick having the flexibility to warrant a big drop between the seat and his bars, opting for a sloping top tube version that we measured at 51.8cm centre-to-centre (C-C) along the seat tube. The Canberra-born Rogers also likes a little extra leverage with his 175mm FSA carbon cranks, and was kitted for speed with Mavic's Cosmic Carbone clinchers.
Hop, step and a jump: Paolo Bettini's Quick.Step-Davitamon Time VX R
Paolo Bettini's Time VX R
Photo ©: CN
Defending World Cup champion and team-mate of Michael Rogers, Paolo Bettini, was looking very dapper on his custom designed World Cup Time VX R, complete with a signature edition Selle San Marco Era Pro saddle. Il Grillo [The Cricket] may have lost the right to wear his rainbow-striped jersey after Oscar Freire triumphed in Sanremo, but at least he got to keep the bike!
Every Dog-ma has his day: Alessandro Petacchi's Fassa Bortolo Pinarello Dogma
Detailed rear view
Photo ©: CN

BIG drop!
Photo ©: CN

When Fausto Pinarello debuted the Dogma at the Milano bike show in September 2003, it set a new paradigm for pro road bike builders with its innovative use of Dedacciai's AK61 magnesium tubes. Seldom found in bicycle construction, magnesium has greater durability than 6061 aluminium due to its superior elongation characteristics. Not only that, but magnesium absorbs shock more effectively, and according to Pinarello, is over 30 percent lighter than an equivalent 6061 aluminium tubeset.
For Milano-San Remo, Fausto Pinarello told Cyclingnews that he supplied a more rigid frame with a stiffer bottom bracket and chainstays to Petacchi and his Fassa Bortolo team-mate, Fillipo "Pippo" Pozzato. What is quite astounding, however, are the frame dimensions: Petacchi's custom Dogma is measured 54cm C-C along the seat tube and 58.5cm C-C on the top tube - a whopping four and a half centimetres longer - indicative of his amazing flexibility while positioned in the drops. (Petacchi does appear to have long-ish arms too, as this finishing shot shows.) The sprinter from La Spezia uses 175mm cranks, 140mm stem and 44cm (measured outside to outside) bars, both by Deda, Look CX7 pedals, and sits on Selle Italia's SLR Carbonio saddle.
Silver bullet: Mario Cipollini's Domina Vacanze Specialized E5
Mario Cipollini's Specialized E5
Photo ©: CN

Unfortunately for Cipo and Domina Vacanze, not even his Specialized E5 silver bullet could bring him back to the front group after being dropped on the penultimate climb of the Cipressa at Milan-San Remo. A well-proportioned frame for a well-proportioned rider (Mario's never been afraid to remind us, either), Re Leone's frame is measured 58cm C-C on the downtube and just a half centimetre more on the top tube. The E5's oversized tubes keep flex in check, not to mention Specialized's chunky, full carbon Zertz monocoque fork. Mario rolls on Mavic's Cosmic Carbone tubulars and rests on Specialized's Body Geometry saddle.
Come fly with me: Fabrizio Guidi's Team CSC Cervélo Soloist
Fabrizio Guidi's Cervélo Soloist
Photo ©: CN

Always an eye-catcher with their massive airfoil-shaped down and seat tubes, Fabrizio Guidi's Team CSC Cervélo Soloist boasts a mix of lightweight components, including FSA carbon cranks, bottom bracket, bars and Shimano Dura-Ace STI shifters and brakes, Speedplay pedals and Selle Italia's Max Flite saddle.
Coming to America: Martin Perdiguero's Saunier Duval Scott CR1
Martin Perdiguero's Scott CR1
Photo ©: CN

Soon to be available in America, Scott goes out on a limb and claims the their CR1 is the lightest frame in the peloton at a mere 895 grams (excluding carbon fork). Incorporating HMF (High Modular Fibers) technology that has already been used in their Strike full-suspension mountain bike, this frame has uses what Scott has named (get ready for another acronym) SDS, or Shock Dampening System, a special carbon fibre lay-up that the company says absorb road shock better than traditional layering. Combining speed with agility, Perdiguero has a Mavic Cosmic Carbone clincher wheel on the rear and Mavic Ksyrium SL up front, rolling on Conti rubber, Shimano Dura-Ace 10 speed and perched on the trusty Selle Italia Flite saddle.
Off to the Opera: Pablo Lastras' Illes Balears-Banesto Opera Leonardo
Pablo Lastras' Opera Leonardo
Photo ©: CN

Now morphed into Iles Balears-Banesto, the team formerly known as Banesto continues - with the gracious support from the Majorcan Government - the Spanish cycling dynasty that reached dizzying heights with Miguel Indurain's five consecutive Tour de France victories from 1991-95. Along with the name change comes new sponsors. Well, sort of... Opera is a sister company of Pinarello, Banesto's long-time bike sponsor, but these bikes are not just re-badged: Lastras' Opera features specially shaped, Colnago-esque carbon fibre main tubes bonded to aluminum lugs along with wishbone seat stays. Full Campagnolo Record 10 speed, some rather dated Look-ing pedals, Vittoria rubber and Deda bars and stem rounds out the package.
Photography
Images by Tim Maloney/Cyclingnews
Recent tech
Tour tech: Zipp's slippery new wheel revealed
On test: Klein Palomino XV
June 25 news: New Giant carbon, Crank Bros, Colnago proto, Scott, Topolino
Book review: Lance Armstrong: Images of a champion
New bike for Van Moorsel
New bikes from BT
Cicli Pinarello displays its racing history: Fifty years of classic bikes
June 17 new arrivals: Specialized, Crank Bros, Thomson, Bicycling Science, Drop In
Pro bike: Iban Mayo's Euskaltel-Euskadi Orbea TT climbing prototype
On test: Campagnolo Eurus G3 wheels
Pro bike: Lance Armstrong's Trek Madone SSL proto
Pro bike: Emanuele Sella's Battaglin
June 8 news, part 1: Giro's Rev Six revs up at Dauphine, Rebellin conquers on Wilier carbon proto, Giant spy photos at the T-Mobile Service Course
June 8 news, part 2: Specialized unveils new kit, Cervelo & CSC fine-tune at MIT, New forks from Alpha Q, Paint job of the year?
Pro bike: Dede Demet-Barry's T-Mobile Giant TCR Carbon
Bikes of the Giro part 2: The mountains
New arrivals: DMT, Jaggad, Blue Steel, Cannibal, Ellsworth, LeMond Fitness, Atomic Mount
On test: Park Tool IB-1 & IB-2 multi-tools
De Marchi responds
On test: Giro Monza
On test: De Marchi Contour bib shorts,
On test: DeFeet Armskins
May 21 news: Petacchi's new Pinarello, Mayo's Orbea TT secret weapon, adidas, Mavic, Ambrosio, True Temper
On test: White Industries Eccentric ENO hub
World exclusive pro bike: Marion Clignet's Look 496 track bike
On test: Carnac Quartz road shoes
Repair & maintenance: Recording MTB position
Pro bike: Chris Horner's Webcor Lemond TT bike
May 13 news: New Shimano wheels, 29inch victory, CycleOps, Naviion
New arrivals: Crank Bros, Park Tool, Sports Instruments, Morningstar & Panasonic,
New arrivals: 2004 clothing from Campagnolo
On test: Orbea Orca - Real-world team issue
On Test: Specialized Bar Phat tape
Bikes of the Tour de Georgia
Apr 30 news: Campagnolo, Klein, Giant, Sports Instruments, Burley, La Ruta
Apr 27 news: IRD, Oval, Fi'zi:k, Camelbak