Recently on Cyclingnews.com
89th Giro d'Italia - GT
Italy, May 6-28, 2006
Main Page Results Overall standings Stage Details Live report Previous Stage Next Stage
Stage 12 - Friday, May 19: Livorno - Sestri Levante, 171 km
Breakthrough victory for Horrach
Three changes to the top ten, more expected tomorrow
By Anthony Tan in Sestri Levante, with additional reporting from Tim Maloney
Joan Horrach (Caisse d'Epargne-Illes Balears)
Photo ©: Sirotti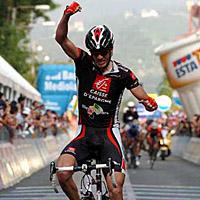 As he turned his head around metres before the line, making sure no-one would pass him, Joan Horrach Rippoll's strawberry blonde ponytail flicked back softly against his neck, his right arm began swinging in a circular motion as if waving a lasso, before both arms lifted in unison, his index fingers and azure eyes pointing towards the baby blue Ligurian sky.
Catching his breakaway companions by surprise with a perfectly-timed move five hundred metres from the line, the 32 year-old Caisse d'Epargne-Illes Balears rider took the greatest win of his six-year career in the seaside town of Sestri Levante. Until today, no-one had heard too much of this man who hails from Deia on the popular Spanish holiday island of Majorca, who hadn't taken a trick since his two stage wins in the Volta a Portugal four years ago. But now, Horrach had the eyes of the Giro upon him.
"When the Panaria rider [Emanuele Sella] started the forcing on the final climb, it was tough but I managed to hang on. I thought about making an attack in the finale and the time was right, so I was able to win. It's the most important win of my career," he stated.
"It is a very special victory for me, because it is a big race, three weeks, twenty-one stages, a lot of riders... and the chances of winning a stage are very small," continued Horrach. "Illes Balears don't have a man for the general [classification] now, so every day, we'll try to go in the breaks. I don't like the high mountains but the medium-sized ones are good for me, where there aren't too many riders and there's no big sprint [at the finish]; I'm quite fast but only in a group of ten riders or so."
Today's escape contained three men relatively high on the overall classification - Sella (Ceramica Panaria-Navigare), Wladimir Belli (Selle Italia-Serramenti Diquigiovanni) and Manuel Beltran Martinez (Discovery Channel) - who profited from a hard day's work as five riders - Sella, Belli, Addy Engels (Quick Step-Innergetic), Manuele Mori (Saunier Duval-Prodir) and Sella's teammate Fortunato Baliani - all finished on the same time, five seconds behind Horrach.
Emanuele Sella (Ceramica Panaria-Navigare)
Photo ©: Sirotti

But despite Sella jumping eighteen places, now fourth overall at 4'17 behind maglia rosa Ivan Basso; Belli twenty, 5'31 behind; and Beltran sixteen, 6'36 behind, Basso and his team were rock solid again, and did not panic.
Said Basso: "We can't chase every rider and only let go riders who are 30 minutes behind [on general classification], so it's not unusual to see Belli and Sella move to the top of the classification. The break was actually good for us; on the final descent, we took it very easy because we knew there had been some crashes ahead."
Sella, along with Mori, twice fell victim on the highly technical and dangerous descent of the Passo del Bracco, and will no doubt be licking their war wounds tonight and maybe for a few more days to come.
Ivan Basso (CSC)
Photo ©: Sirotti

"We got away on the final descent and it was a good move with Mori," said Sella. "But we hit some tough corners; I followed Mori and we crashed - then it happened again! After the second time, it was too late and the others were gone. I'm really sorry because I wanted to win today; I didn't think the descent was that bad... "
Mori was looking worse off than Sella, holding a towel underneath his bleeding chin while being interviewed. "Yes, I'm disappointed about what happened. Me and Sella were ahead; we gave it our best shot and I just blew the curve," he said. "For a while, it was looking good for us but it ended up bad. I went into the corner too fast."
Ouch!
Photo ©: Sirotti

While Sella and Mori bravely got back on their bikes and lost no time, Serguei Gonchar (T-Mobile Team) was not so lucky. After roughly ten kilometres' racing, the Ukraine, third overall at the start of the day, crashed hard along with Cyrille Monnerais (Française des Jeux), Daniel Navarro (Liberty Seguros-Würth), Dario Cioni (Liquigas) and Roberto Laiseka (Euskaltel-Euskadi), and never properly recovered, with Gonchar dropped on the final climb and stumbling down the classifica generale by the day's end to 21st place, ten minutes in arrears.
Manuele Mori (Saunier Duval)
Photo ©: Luc Claessen

"Today was quite difficult but in saying that, this year's race has been difficult; it feels like the Tour de France," said Basso. "The speed is very high, there is no time to rest, and it's been a very competitive race.
Asked if Simoni and Cunego are racing for second, he swiftly replied: "No, I'm sure they aren't looking at things like that, because they are champions and I'm sure they'll attack and make life as difficult as possible for me. Anything can happen in the coming stages.
"Tomorrow, maybe there is a break and behind, the battle between the favourites will take place... or maybe a favourite wants to win tomorrow, and his team will want to control the race. The last descent is quite difficult, but I'm not afraid of descents; I'm more afraid of the climbs. Saturday's crucial moment is the ascent of Colle San Carlo; it's very hard and then there's a descent to La Thuile. Also, if Savoldelli chooses to go like a motorbike on the descents, I will not take risks [to try and follow]... he's crazy on the descents."
Added Simoni: "I'm still looking to the podium even if Basso seems unbeatable - I have a lot of work to do!" he said with a wry grin, fully aware he was stating the bleeding obvious.
So what will Horrach do now?
In the short term, most likely try and get himself in a few more breakaways, but he already knows what he wants to do once his career as a cyclist is over. "After I retire, I want to be a carpenter, like my Dad and brother. This [victory] won't change my life, but it's a good souvenir," he said.
How it unfolded
The peloton
Photo ©: Sirotti

On a warm, sunny spring Friday, 182 riders departed Rotonda di Ardenza in the attractive Tuscan port city of Livorno at 12:52 with two riders non-starters, Belgian puncheur Phillipe Gilbert (Francaise de Jeux) and climber Michael Rasmussen (Rabobank). The percorso headed due north along the Ligurian Sea through Pisa, the city of the famous Torre Pendente (Leaning Tower) and then rejoined the coast road of the via Aurelia. As expected, the pace was high from the start, as many riders didn't go all out in Thursday's time test and were looking to go on the attack.
After 8km exiting Livorno, Bonnet (Credit Agricole) attacked alone before a crash two kilometres later involving Gonchar, Di Luca, Cioni and Laiseka, but all rejoined without consequence except Laiseka, who abandoned 4km later with a suspected broken collarbone.
The leaders
Photo ©: Luc Claessen

A huge surge of riders chased Bonnet and soon 15 riders were up the road, consisting: Alberto Ongarato (Team Milram), Wladimir Belli (Selle Italia-Serramenti Diquigiovanni), Joerg Ludewig (T-Mobile Team), Addy Engels (Quick Step-Innergetic), Pat Mc Carty (Phonak), Patrick "Beautiful" Calcagni (Liquigas), Fortunato Baliani and Emanuele Sella (Ceramica Panaria-Navigare), Joan Horrach (Caisse d'Epargne-Illes Balears), Triki Beltran (Discovery Channel), Manuele Mori (Saunier Duval-Prodir) and Sven Krauss (Gerolsteiner), Mickael Delage (Française des Jeux), Arnaud Labbe (Bouygues Telecom) and William Bonnet (Credit Agricole).
Once CSC saw that there were no dangerous riders up the road, they let the break go and after 19km of liberty in Pisa, the front runners already had 2'06. At the seaside resort of Viareggio after 38km, the break was riding hard up the via Aurelia and had doubled their advantage to 4'10, with Bonnet taking the intermediate sprint in Viareggio. After one hour of racing, the coastal tailwind had propelled the riders over 51.1 kilometres.
At the intermediate sprint in Marina di Carrara, with the Alpe Apuane and their vertiginous marble quarries looming above, it was old pro Belli riding his 13th Giro d'Italia, who took the prize with CSC riding the tempo on the gruppo maglia rosa 6'24 behind. Up past Amelia through the feed zone and through La Spezia, the escapees headed toward the first climbs into the beautiful hills of Cinque Terre. Back in the peloton, AG2R's Mark Scanlon abandoned in Amelia.
The mist comes
Photo ©: Luc Claessen

After two hours, the average speed was high at 49.2 km/hr and the climbing had started. Up and over the small Madonna di Buonviaggio climb, the break hit the base of Stage 12's first serious ascent up to Biassa and at the GPM signaling 67km to go, it was Panaria's Balliani who took the points, while the CSC led gruppo maglia rosa was at 7 seconds. The break flew down the twisting climb high above the Mar Ligure and at the 110 Gazzetta sprint in Volastra, it was Horrach who took the sprint and tried to attack, but was brought back as the gruppo maglia rosa was still 7'02 behind. Despite Labbe and Bonnet going out the back on the climb out of Volastra, it looked like the break would stay away with 56km to go.
Through the beautiful terraced hills of Cinque Terre, among some of the most beautiful scenery in Europe, the break sped along with Panaria's Balliani pushing the pace for his team-mate Sella. CSC was chasing hard but not all out, just to keep the gap at a reasonable level. Past the turning down to the beautiful seaside village of Vernazza, cool grey gusts of foschia (sea fog) enveloped the riders but as they descended to Levanto, the town at the north end of Cinque Terre, the sun came back out and after three hours, the average speed was 44.3 km/hr. The break commenced the Valico di Guaitarola, a 9.5km ascent with an average grade of 6.5 percent
Cunego and Ullrich share a moment
Photo ©: Sirotti

Seven minutes behind in the gruppo maglia rosa, Gonchar was hurting up the Valico di Guaitarola climb. Suddenly Di Luca went on the attack, with Bettini and Cunego, as CSC's Gustov desperately tried to hang on. Di Luca's move exploded the gruppo but the action only lasted one kilometre as Basso's men took control of the situation. Balliani was hammering hard on the front of the break and his pace reduced the front break to six: Balliani, Sella, Mori, Engels, Horrach and Belli.
With 20km to go on the long descent from Passo del Bracco down towards Sestri Levanti, Sella and Mori had gotten off the front and as they hit the turn that led to the steep 4km descent to Casarza Ligure with 9km to go, the young duo had gained 15 seconds. A four-man chase group was close behind, though, with a another group containing Ongarato, Krauss, and the gruppo maglia rosa 6'34 back. Ullrich was still with them, but Gonchar was suffering from his crash and had dropped off the back of Basso's group.
Suddenly, both Mori and Sella had crashed on a steep, tight left-hand bend. Mori made a youthful mistake and went into the curve too fast. The Saunier Duval rider put his right foot out and managed to make a soft landing. Sella did a header and went over the guardrail, but both got up quickly as the break caught up with them. The young riders went down again less than a kilometre later on the steep descent, and this time, Mori and Sella both lost contact with the four other riders.
A happy Spaniard on the podium
Photo ©: Sirotti

Finally down the descent in Casarza Ligure, with Mori and Sella desperately chasing, Balliani, Horrach Belli and Engels began the pre-sprint manoeuvres. First Belli went with 2.5km to go and got a gap, but Balliani chased him down 500 metres later.
All together again with 1400m to go, Engels made a test jump, while Horrach was playing it smart on the back. With 600 metres to go, Sella and Mori caught up and as the others were looking at each other, Horrach made a classic finneseur move to ride home solo, finishing 50 metres ahead of the remains of the break. Engels won the sprint, while Sella was third and got an eight second time bonus.
A four-man chase group of Kraus, Ongarato, Ludewig, and Beltran came in 1'05 behind, while the CSC-led gruppo maglia rosa crossed the line in Sestri Levanti 7'02 behind, led home by Paolo Bettini. After the stage, Gonchar went to the hospital to have his shoulder and back checked out.
Stage 13 - Saturday, May 20: Alessandria-La Thuile, 216 km
The first real mountain stage of the '06 Giro. The course heads from Alessandria across Piemonte, gradually climbing to Val d'Aosta, then climbing out of Morgex to the Colle S. Carlo at 1951m, before a 7km to finish to the La Thuile ski station. Climbing kid Jose Rujano will test his legs on the ascent, but watch out for daring descender and defending Giro champ Savoldelli to take a dynamic win.
Photography
For a thumbnail gallery of these images, click here
Images by Luc Claessen/www.ctm-images.com
Images by Fotoreporter Sirotti
Results
1 Joan Horrach Rippoll (Spa) Caisse d'Epargne-Illes Balears             3.55.53 (42.987 km/h)
2 Addy Engels (Ned) Quick Step-Innergetic                                  0.05
3 Emanuele Sella (Ita) Ceramica Panaria-Navigare                               
4 Manuele Mori (Ita) Saunier Duval-Prodir                                      
5 Fortunato Baliani (Ita) Ceramica Panaria-Navigare                            
6 Wladimir Belli (Ita) Selle Italia-Serramenti Diquigiovanni                   
7 Sven Krauss (Ger) Gerolsteiner                                           1.03
8 Alberto Ongarato (Ita) Team Milram                                           
9 Joerg Ludewig (Ger) T-Mobile Team                                            
10 Manuel Beltran Martinez (Spa) Discovery Channel Pro Cycling Team            
11 Patrick Calcagni (Swi) Liquigas                                         2.25
12 Jonathan Patrick Mc Carty (USA) Phonak Hearing Systems                  2.35
13 Paolo Bettini (Ita) Quick Step-Innergetic                               7.03
14 Mickael Delage (Fra) Française des Jeux                                     
15 Josep Jufre Pou (Spa) Davitamon-Lotto                                       
16 Raffaele Illiano (Ita) Selle Italia-Serramenti Diquigiovanni                
17 Sylvain Calzati (Fra) AG2R Prevoyance                                       
18 William Bonnet (Fra) Credit Agricole                                        
19 Vladimir Efimkin (Rus) Caisse d'Epargne-Illes Balears                       
20 Wim Van Huffel (Bel) Davitamon-Lotto                                        
21 Patrice Halgand (Fra) Credit Agricole                                       
22 Martin Elmiger (Swi) Phonak Hearing Systems                                 
23 Laurent Lefevre (Fra) Bouygues Telecom                                      
24 Inigo Chaurreau Bernardez (Spa) AG2R Prevoyance                             
25 Jose Serpa (Col) Selle Italia-Serramenti Diquigiovanni                      
26 Sandy Casar (Fra) Française des Jeux                                        
27 José E. Gutierrez Cataluna (Spa) Phonak Hearing Systems                     
28 Jose Luis Carrasco Gamiz (Spa) Caisse d'Epargne-Illes Balears               
29 Marco Fertonani (Ita) Caisse d'Epargne-Illes Balears                        
30 Juan Manuel Garate (Spa) Quick Step-Innergetic                              
31 Fabio Sacchi (Ita) Team Milram                                              
32 Gabriele Missaglia (Ita) Selle Italia-Serramenti Diquigiovanni              
33 Ivan Basso (Ita) Team CSC                                                   
34 Jens Voigt (Ger) Team CSC                                                   
35 Maxime Monfort (Bel) Cofidis, le Credit par Telephone                       
36 Steve Zampieri (Swi) Phonak Hearing Systems                                 
37 Damiano Cunego (Ita) Lampre-Fondital                                        
38 Victor Hugo Pena Grisales (Col) Phonak Hearing Systems                      
39 Gilberto Simoni (Ita) Saunier Duval-Prodir                                  
40 Luca Mazzanti (Ita) Ceramica Panaria-Navigare                               
41 Sergio Ghisalberti (Ita) Team Milram                                        
42 Iker Flores Galarza (Spa) Euskaltel-Euskadi                                 
43 Guido Trentin (Ita) Saunier Duval-Prodir                                    
44 Giampaolo Caruso (Ita) Liberty Seguros-Würth Team                           
45 Marzio Bruseghin (Ita) Lampre-Fondital                                      
46 José Ivan Gutierrez Palacios (Spa) Caisse d'Epargne-Illes Balears           
47 Franco Pellizotti (Ita) Liquigas                                            
48 Jurgen Van De Walle (Bel) Quick Step-Innergetic                             
49 Paolo Savoldelli (Ita) Discovery Channel Pro Cycling Team                   
50 Matthias Russ (Ger) Gerolsteiner                                            
51 José Rujano Guillen (Ven) Selle Italia-Serramenti Diquigiovanni             
52 Gorazd Stangelj (Slo) Lampre-Fondital                                       
53 Francisco J. Vila Errandonea (Spa) Lampre-Fondital                          
54 Andrea Noe' (Ita) Liquigas                                                  
55 Francisco Perez Sanchez (Spa) Caisse d'Epargne-Illes Balears                
56 Danilo Di Luca (Ita) Liquigas                                               
57 Evgeni Petrov (Rus) Lampre-Fondital                                         
58 Unai Osa Eizaguirre (Spa) Liberty Seguros-Würth Team                        
59 Tom Danielson (USA) Discovery Channel Pro Cycling Team                      
60 Paolo Tiralongo (Ita) Lampre-Fondital                                       
61 Volodymir Gustov (Ukr) Team CSC                                             
62 Inigo Cuesta Lopez De Castro (Spa) Team CSC                                 
63 Hubert Dupont (Fra) AG2R Prevoyance                                         
64 Michele Scarponi (Ita) Liberty Seguros-Würth Team                           
65 Sylvester Szmyd (Pol) Lampre-Fondital                                       
66 Torsten Hiekmann (Ger) Gerolsteiner                                         
67 Luis Felipe Laverde Jimenez (Col) Ceramica Panaria-Navigare                 
68 Francesco Bellotti (Ita) Credit Agricole                                    
69 John Gadret (Fra) AG2R Prevoyance                                           
70 Jan Ullrich (Ger) T-Mobile Team                                             
71 Tadej Valjavec (Slo) Lampre-Fondital                                        
72 Matthias Kessler (Ger) T-Mobile Team                                        
73 Nicolas Vogondy (Fra) Credit Agricole                                       
74 Ivan Ramiro Parra Pinto (Col) Cofidis, le Credit par Telephone              
75 Andrea Moletta (Ita) Gerolsteiner                                           
76 Anton Luengo Celaya (Spa) Euskaltel-Euskadi                                 
77 Leonardo Piepoli (Ita) Saunier Duval-Prodir                                 
78 Marcos A. Serrano Rodriguez (Spa) Liberty Seguros-Würth Team                
79 Julio Alberto Perez Cuapio (Mex) Ceramica Panaria-Navigare                  
80 David Lopez Garcia (Spa) Euskaltel-Euskadi                                  
81 Dario David Cioni (Ita) Liquigas                                            
82 José Luis Rubiera Vigil (Spa) Discovery Channel Pro Cycling Team            
83 Carlos Sastre Candil (Spa) Team CSC                                         
84 Miguel Angel Rubiano Chavez (Col) Ceramica Panaria-Navigare            10.07
85 Benoit Poilvet (Fra) Credit Agricole                                        
86 Bert Roesems (Bel) Davitamon-Lotto                                          
87 Alessandro Spezialetti (Ita) Liquigas                                       
88 Jussi Veikkanen (Fin) Française des Jeux                                    
89 Alexandre Botcharov (Rus) Credit Agricole                                   
90 Elia Rigotto (Ita) Team Milram                                         12.03
91 Marco Pinotti (Ita) Saunier Duval-Prodir                                    
92 Alessandro Vanotti (Ita) Team Milram                                        
93 Markel Irizar Aranburu (Spa) Euskaltel-Euskadi                         13.40
94 Yannick Talabardon (Fra) Credit Agricole                                    
95 Santo Anza' (Ita) Selle Italia-Serramenti Diquigiovanni                     
96 Stef Clement (Ned) Bouygues Telecom                                         
97 Scott Davis (Aus) T-Mobile Team                                             
98 Theo Eltink (Ned) Rabobank                                                  
99 Johann Tschopp (Swi) Phonak Hearing Systems                                 
100 Mikel Pradera Rodriguez (Spa) Caisse d'Epargne-Illes Balears               
101 Javier Ramirez Abeja (Spa) Liberty Seguros-Würth Team                      
102 Grischa Niermann (Ger) Rabobank                                            
103 Mauricio Alberto Ardila Cano (Col) Rabobank                                
104 Nicki Sorensen (Den) Team CSC                                              
105 Mirco Lorenzetto (Ita) Team Milram                                         
106 Ronny Scholz (Ger) Gerolsteiner                                            
107 Leonardo Duque (Col) Cofidis, le Credit par Telephone                      
108 Serguei Gonchar (Ukr) T-Mobile Team                                        
109 Paolo Fornaciari (Ita) Lampre-Fondital                                14.57
110 Angel Gomez Gomez (Spa) Saunier Duval-Prodir                               
111 Alessandro Cortinovis (Ita) Team Milram                                    
112 Staf Scheirlinckx (Bel) Cofidis, le Credit par Telephone                   
113 Dario Andriotto (Ita) Liquigas                                             
114 Nick Gates (Aus) Davitamon-Lotto                                           
115 Michael Blaudzun (Den) Team CSC                                            
116 Matthew White (Aus) Discovery Channel Pro Cycling Team                     
117 Christian Knees (Ger) Team Milram                                          
118 Pavel Padrnos (Cze) Discovery Channel Pro Cycling Team                     
119 Leonardo Scarselli (Ita) Quick Step-Innergetic                             
120 Olivier Bonnaire (Fra) Bouygues Telecom                                    
121 Viatcheslav Ekimov (Rus) Discovery Channel Pro Cycling Team                
122 Koen De Kort (Ned) Liberty Seguros-Würth Team                              
123 Imanol Erviti (Spa) Caisse d'Epargne-Illes Balears                         
124 Gustav Erik Larsson (Swe) Française des Jeux                               
125 Sergio Barbero (Ita) Selle Italia-Serramenti Diquigiovanni                 
126 Carlos Da Cruz (Fra) Française des Jeux                                    
127 Preben Van Hecke (Bel) Davitamon-Lotto                                     
128 Axel Merckx (Bel) Phonak Hearing Systems                                   
129 Alberto Loddo (Ita) Selle Italia-Serramenti Diquigiovanni             17.14
130 Volker Ordowski (Ger) Gerolsteiner                                         
131 Olaf Pollack (Ger) T-Mobile Team                                           
132 Robbie McEwen (Aus) Davitamon-Lotto                                        
133 Yuriy Krivtsov (Ukr) AG2R Prevoyance                                       
134 Alexandr Kolobnev (Rus) Rabobank                                           
135 Stefan Schumacher (Ger) Gerolsteiner                                       
136 Marc Wauters (Bel) Rabobank                                                
137 Marc De Maar (Ned) Rabobank                                                
138 Davide Bramati (Ita) Quick Step-Innergetic                                 
139 Serge Baguet (Bel) Quick Step-Innergetic                                   
140 Grégory Rast (Swi) Phonak Hearing Systems                                  
141 Mathew Hayman (Aus) Rabobank                                               
142 Tomas Vaitkus (Ltu) AG2R Prevoyance                                        
143 Renaud Dion (Fra) AG2R Prevoyance                                          
144 Fabrizio Guidi (Ita) Phonak Hearing Systems                                
145 Jan Kuyckx (Bel) Davitamon-Lotto                                           
146 Robert Forster (Ger) Gerolsteiner                                          
147 Rik Verbrugghe (Bel) Cofidis, le Credit par Telephone                      
148 Henk Vogels (Aus) Davitamon-Lotto                                          
149 José Antonio Garrido Lima (Spa) Quick Step-Innergetic                      
150 Arnaud Gerard (Fra) Française des Jeux                                     
151 Vladimir Miholjevic (Cro) Liquigas                                         
152 Serguei Yakovlev (Kaz) Liberty Seguros-Würth Team                          
153 Daniel Navarro Garcia (Spa) Liberty Seguros-Würth Team                     
154 Christophe Edaleine (Fra) Credit Agricole                                  
155 Bobby Julich (USA) Team CSC                                                
156 Giovanni Lombardi (Ita) Team CSC                                           
157 Jose Cayetano Julia Cegarra (Spa) Caisse d'Epargne-Illes Balears           
158 Moises Aldape Chavez (Mex) Ceramica Panaria-Navigare                       
159 Benoit Joachim (Lux) Discovery Channel Pro Cycling Team                    
160 Peter Mazur (Pol) Saunier Duval-Prodir                                     
161 Ruben Lobato Elvira (Spa) Saunier Duval-Prodir                             
162 Axel Maximiliano Richeze (Arg) Ceramica Panaria-Navigare                   
163 Rémi Pauriol (Fra) Credit Agricole                                         
164 Benat Albizuri Aransolo (Spa) Euskaltel-Euskadi                            
165 Arnaud Labbe (Fra) Bouygues Telecom                                        
166 Amael Moinard (Fra) Cofidis, le Credit par Telephone                       
167 Aaron Olson (USA) Saunier Duval-Prodir                                     
168 Charles Wegelius (GBr) Liquigas                                            
169 Carl Naibo (Fra) AG2R Prevoyance                                           
170 Michael Rogers (Aus) T-Mobile Team                                         
171 Yohann Gene (Fra) Bouygues Telecom                                         
172 Ivan Mayoz (Spa) Euskaltel-Euskadi                                         
173 Yoann Le Boulanger (Fra) Bouygues Telecom                                  
174 Sergiy Matveyev (Ukr) Ceramica Panaria-Navigare                       18.48
175 Andoni Aranaga Azkune (Spa) Euskaltel-Euskadi                              
176 Giovanni Bernaudeau (Fra) Bouygues Telecom                                 
177 Frantisek Rabon (Cze) T-Mobile Team                                        
178 Cyrille Monnerais (Fra) Française des Jeux                            18.56
179 Jason McCartney (USA) Discovery Channel Pro Cycling Team              21.49
DNF Mark Scanlon (Irl) AG2R Prevoyance                                         
DNF Roberto Laiseka Jaio (Spa) Euskaltel-Euskadi                               
DNS Philippe Gilbert (Bel) Française des Jeux                                  
DNS Michael Rasmussen (Den) Rabobank                                           
 
Points
 
1 Joan Horrach Rippoll (Spa) Caisse d'Epargne-Illes Balears                  33 pts
2 Addy Engels (Ned) Quick Step-Innergetic                                    20
3 Manuele Mori (Ita) Saunier Duval-Prodir                                    18
4 Emanuele Sella (Ita) Ceramica Panaria-Navigare                             16
5 Wladimir Belli (Ita) Selle Italia-Serramenti Diquigiovanni                 13
6 Fortunato Baliani (Ita) Ceramica Panaria-Navigare                          12
7 Patrick Calcagni (Swi) Liquigas                                            11
8 Sven Krauss (Ger) Gerolsteiner                                              9
9 Alberto Ongarato (Ita) Team Milram                                          9
10 Manuel Beltran Martinez (Spa) Discovery Channel Pro Cycling Team           8
11 Joerg Ludewig (Ger) T-Mobile Team                                          7
12 Jonathan Patrick Mc Carty (USA) Phonak Hearing Systems                     4
13 Paolo Bettini (Ita) Quick Step-Innergetic                                  3
14 Mickael Delage (Fra) Française des Jeux                                    2
15 Josep Jufre Pou (Spa) Davitamon-Lotto                                      1
 
Mountains
 
Biassa - km 103,1
 
1 Fortunato Baliani (Ita) Ceramica Panaria-Navigare                           3 pts
2 Joan Horrach Rippoll (Spa) Caisse d'Epargne-Illes Balears                   2
3 Manuele Mori (Ita) Saunier Duval-Prodir                                     1
 
Valico Gaitarola - km 147,3
 
1 Fortunato Baliani (Ita) Ceramica Panaria-Navigare                           5 pts
2 Emanuele Sella (Ita) Ceramica Panaria-Navigare                              3
3 Manuele Mori (Ita) Saunier Duval-Prodir                                     1
 
110 Gazzetta
 
1 Joan Horrach Rippoll (Spa) Caisse d'Epargne-Illes Balears                   5 pts
2 Patrick Calcagni (Swi) Liquigas                                             4
3 Manuele Mori (Ita) Saunier Duval-Prodir                                     3
4 Wladimir Belli (Ita) Selle Italia-Serramenti Diquigiovanni                  2
5 Manuel Beltran Martinez (Spa) Discovery Channel Pro Cycling Team            1
6 Alberto Ongarato (Ita) Team Milram                                           
 
Combination
 
1 Ivan Basso (Ita) Team CSC                                                  39 pts
2 Paolo Savoldelli (Ita) Discovery Channel Pro Cycling Team                  38
3 José E. Gutierrez Cataluna (Spa) Phonak Hearing Systems                    36
4 Joan Horrach Rippoll (Spa) Caisse d'Epargne-Illes Balears                  21
5 Damiano Cunego (Ita) Lampre-Fondital                                       19
6 Sandy Casar (Fra) Française des Jeux                                       18
7 Patrick Calcagni (Swi) Liquigas                                            15
8 Robbie McEwen (Aus) Davitamon-Lotto                                        15
9 Paolo Bettini (Ita) Quick Step-Innergetic                                  14
10 Sylvain Calzati (Fra) AG2R Prevoyance                                     14
11 Staf Scheirlinckx (Bel) Cofidis, le Credit par Telephone                  14
12 Mickael Delage (Fra) Française des Jeux                                   14
13 Grischa Niermann (Ger) Rabobank                                           13
14 Emanuele Sella (Ita) Ceramica Panaria-Navigare                            12
15 Markel Irizar Aranburu (Spa) Euskaltel-Euskadi                            12
16 Olaf Pollack (Ger) T-Mobile Team                                          12
17 Wladimir Belli (Ita) Selle Italia-Serramenti Diquigiovanni                11
18 Juan Manuel Garate (Spa) Quick Step-Innergetic                            11
19 Tomas Vaitkus (Ltu) AG2R Prevoyance                                       11
20 Tom Danielson (USA) Discovery Channel Pro Cycling Team                    10
21 Franco Pellizotti (Ita) Liquigas                                          10
22 Fortunato Baliani (Ita) Ceramica Panaria-Navigare                         10
23 Manuel Beltran Martinez (Spa) Discovery Channel Pro Cycling Team           9
24 Marco Pinotti (Ita) Saunier Duval-Prodir                                   9
25 Rik Verbrugghe (Bel) Cofidis, le Credit par Telephone                      8
26 Stefan Schumacher (Ger) Gerolsteiner                                       8
27 Victor Hugo Pena Grisales (Col) Phonak Hearing Systems                     7
28 Serguei Gonchar (Ukr) T-Mobile Team                                        6
29 Serge Baguet (Bel) Quick Step-Innergetic                                   6
30 Moises Aldape Chavez (Mex) Ceramica Panaria-Navigare                       6
31 Gilberto Simoni (Ita) Saunier Duval-Prodir                                 5
32 Danilo Di Luca (Ita) Liquigas                                              5
33 Leonardo Duque (Col) Cofidis, le Credit par Telephone                      5
34 Marc Wauters (Bel) Rabobank                                                5
35 Amael Moinard (Fra) Cofidis, le Credit par Telephone                       5
36 Francisco J. Vila Errandonea (Spa) Lampre-Fondital                         4
37 Cyrille Monnerais (Fra) Française des Jeux                                 4
38 Axel Maximiliano Richeze (Arg) Ceramica Panaria-Navigare                   4
39 José Ivan Gutierrez Palacios (Spa) Caisse d'Epargne-Illes Balears          3
40 Manuele Mori (Ita) Saunier Duval-Prodir                                    3
41 Andoni Aranaga Azkune (Spa) Euskaltel-Euskadi                              3
42 José Luis Rubiera Vigil (Spa) Discovery Channel Pro Cycling Team           2
43 Giampaolo Caruso (Ita) Liberty Seguros-Würth Team                          2
44 Sergiy Matveyev (Ukr) Ceramica Panaria-Navigare                            2
 
Most combative
 
1 Joan Horrach Rippoll (Spa) Caisse d'Epargne-Illes Balears                  12 pts
2 Manuele Mori (Ita) Saunier Duval-Prodir                                     7
3 Fortunato Baliani (Ita) Ceramica Panaria-Navigare                           7
4 Emanuele Sella (Ita) Ceramica Panaria-Navigare                              6
5 Addy Engels (Ned) Quick Step-Innergetic                                     5
6 Patrick Calcagni (Swi) Liquigas                                             4
7 Wladimir Belli (Ita) Selle Italia-Serramenti Diquigiovanni                  3
8 Manuel Beltran Martinez (Spa) Discovery Channel Pro Cycling Team            1
 
Azzurri d'Italia
 
1 Joan Horrach Rippoll (Spa) Caisse d'Epargne-Illes Balears                   4 pts
2 Addy Engels (Ned) Quick Step-Innergetic                                     2
3 Emanuele Sella (Ita) Ceramica Panaria-Navigare                              1
 
Trofeo Fuga Piaggio
 
1 Emanuele Sella (Ita) Ceramica Panaria-Navigare                             19 pts
2 Manuele Mori (Ita) Saunier Duval-Prodir                                    19
3 Joan Horrach Rippoll (Spa) Caisse d'Epargne-Illes Balears                  15
4 Fortunato Baliani (Ita) Ceramica Panaria-Navigare                          15
5 Wladimir Belli (Ita) Selle Italia-Serramenti Diquigiovanni                 15
6 Addy Engels (Ned) Quick Step-Innergetic                                    14

Trofeo Fast Team
 
1 Ceramica Panaria-Navigare                                            11.54.52
2 Caisse d'Epargne-Illes Balears                                           6.53
3 Quickstep-Innergetic                                                     6.58
4 Selle Italia-Serramenti Diquigiovanni                                        
5 Saunier Duval-Prodir                                                         
6 Team Milram                                                              7.56
7 Discovery Channel Pro Cycling Team                                           
8 Gerolsteiner                                                                 
9 T-Mobile Team                                                                
10 Liquigas                                                                9.18
11 Phonak Hearing Systems                                                  9.28
12 Ag2R Prevoyance                                                        13.56
13 Credit Agricole                                                             
14 Team CSC                                                                    
15 Lampre-Fondital                                                             
16 Liberty Seguros-Würth Team                                                  
17 Euskaltel-Euskadi                                                           
18 Davitamon-Lotto                                                        17.00
19 Francaise Des Jeux                                                          
20 Cofidis                                                                20.33
21 Bouygues Telecom                                                       28.27
22 Rabobank                                                               33.47
 
Trofeo Super Team
 
1 Ceramica Panaria-Navigare                                                  34 pts
2 Quickstep-Innergetic                                                       27
3 Caisse d'Epargne-Illes Balears                                             22
4 Selle Italia-Serramenti Diquigiovanni                                      20
5 Saunier Duval-Prodir                                                       17
6 Gerolsteiner                                                               14
7 Team Milram                                                                13
8 T-Mobile Team                                                              12
9 Discovery Channel Pro Cycling Team                                         11
10 Liquigas                                                                  10
11 Phonak Hearing Systems                                                     9
12 Francaise Des Jeux                                                         7
13 Davitamon-Lotto                                                            7
14 Ag2R Prevoyance                                                            4
15 Credit Agricole                                                            3
16 Bouygues Telecom                                                            
17 Team CSC                                                                    
18 Cofidis                                                                     
19 Lampre-Fondital                                                             
20 Euskaltel-Euskadi                                                           
21 Liberty Seguros-Würth Team                                                  
22 Rabobank                                                                    
 
General classification after stage 12
 
1 Ivan Basso (Ita) Team CSC                                            44.31.52
2 José E. Gutierrez Cataluna (Spa) Phonak Hearing Systems                  2.48
3 Paolo Savoldelli (Ita) Discovery Channel Pro Cycling Team                3.26
4 Emanuele Sella (Ita) Ceramica Panaria-Navigare                           4.21
5 Wladimir Belli (Ita) Selle Italia-Serramenti Diquigiovanni               5.31
6 Tom Danielson (USA) Discovery Channel Pro Cycling Team                   5.38
7 Manuel Beltran Martinez (Spa) Discovery Channel Pro Cycling Team         6.36
8 Franco Pellizotti (Ita) Liquigas                                         6.37
9 Victor Hugo Pena Grisales (Col) Phonak Hearing Systems                   6.54
10 Damiano Cunego (Ita) Lampre-Fondital                                        
11 Gilberto Simoni (Ita) Saunier Duval-Prodir                              7.13
12 Danilo Di Luca (Ita) Liquigas                                           7.33
13 José Ivan Gutierrez Palacios (Spa) Caisse d'Epargne-Illes Balears       8.17
14 José Luis Rubiera Vigil (Spa) Discovery Channel Pro Cycling Team        8.28
15 Joan Horrach Rippoll (Spa) Caisse d'Epargne-Illes Balears               8.37
16 Juan Manuel Garate (Spa) Quick Step-Innergetic                          9.17
17 José Rujano Guillen (Ven) Selle Italia-Serramenti Diquigiovanni         9.19
18 Andrea Noe' (Ita) Liquigas                                              9.24
19 Francisco J. Vila Errandonea (Spa) Lampre-Fondital                      9.43
20 Francesco Bellotti (Ita) Credit Agricole                                9.44
21 Serguei Gonchar (Ukr) T-Mobile Team                                    10.01
22 Patrice Halgand (Fra) Credit Agricole                                  10.12
23 Luca Mazzanti (Ita) Ceramica Panaria-Navigare                          10.21
24 Sandy Casar (Fra) Française des Jeux                                        
25 Giampaolo Caruso (Ita) Liberty Seguros-Würth Team                      11.48
26 Sylvester Szmyd (Pol) Lampre-Fondital                                  11.54
27 Marzio Bruseghin (Ita) Lampre-Fondital                                 12.50
28 Josep Jufre Pou (Spa) Davitamon-Lotto                                  13.21
29 Paolo Tiralongo (Ita) Lampre-Fondital                                  14.23
30 Michele Scarponi (Ita) Liberty Seguros-Würth Team                      15.00
31 Jens Voigt (Ger) Team CSC                                              15.01
32 Laurent Lefevre (Fra) Bouygues Telecom                                 15.47
33 Carlos Sastre Candil (Spa) Team CSC                                    16.05
34 Manuele Mori (Ita) Saunier Duval-Prodir                                16.39
35 Leonardo Piepoli (Ita) Saunier Duval-Prodir                            17.14
36 Inigo Chaurreau Bernardez (Spa) AG2R Prevoyance                        17.17
37 Unai Osa Eizaguirre (Spa) Liberty Seguros-Würth Team                   18.24
38 Guido Trentin (Ita) Saunier Duval-Prodir                               18.26
39 Jan Ullrich (Ger) T-Mobile Team                                        18.46
40 Tadej Valjavec (Slo) Lampre-Fondital                                   18.52
41 David Lopez Garcia (Spa) Euskaltel-Euskadi                             19.01
42 Wim Van Huffel (Bel) Davitamon-Lotto                                   19.39
43 Alexandre Botcharov (Rus) Credit Agricole                              21.22
44 Leonardo Duque (Col) Cofidis, le Credit par Telephone                  21.40
45 Vladimir Efimkin (Rus) Caisse d'Epargne-Illes Balears                  22.03
46 Axel Merckx (Bel) Phonak Hearing Systems                               22.52
47 Michael Rogers (Aus) T-Mobile Team                                     22.53
48 Sergio Ghisalberti (Ita) Team Milram                                   22.57
49 Addy Engels (Ned) Quick Step-Innergetic                                24.53
50 Nicki Sorensen (Den) Team CSC                                          25.06
51 Evgeni Petrov (Rus) Lampre-Fondital                                    25.29
52 Paolo Bettini (Ita) Quick Step-Innergetic                              26.07
53 John Gadret (Fra) AG2R Prevoyance                                      26.34
54 Marcos A. Serrano Rodriguez (Spa) Liberty Seguros-Würth Team           26.39
55 Inigo Cuesta Lopez De Castro (Spa) Team CSC                            27.09
56 Grischa Niermann (Ger) Rabobank                                        27.17
57 Theo Eltink (Ned) Rabobank                                             27.20
58 Ivan Ramiro Parra Pinto (Col) Cofidis, le Credit par Telephone         27.22
59 Hubert Dupont (Fra) AG2R Prevoyance                                    27.44
60 Johann Tschopp (Swi) Phonak Hearing Systems                            28.00
61 Maxime Monfort (Bel) Cofidis, le Credit par Telephone                  30.15
62 Fortunato Baliani (Ita) Ceramica Panaria-Navigare                      32.20
63 Francisco Perez Sanchez (Spa) Caisse d'Epargne-Illes Balears           33.14
64 Marco Pinotti (Ita) Saunier Duval-Prodir                               34.26
65 Javier Ramirez Abeja (Spa) Liberty Seguros-Würth Team                  34.40
66 Alessandro Vanotti (Ita) Team Milram                                   34.54
67 Jose Serpa (Col) Selle Italia-Serramenti Diquigiovanni                 35.28
68 Christian Knees (Ger) Team Milram                                      38.49
69 Volodymir Gustov (Ukr) Team CSC                                        39.27
70 Alexandr Kolobnev (Rus) Rabobank                                       39.44
71 Ruben Lobato Elvira (Spa) Saunier Duval-Prodir                         40.49
72 Jose Luis Carrasco Gamiz (Spa) Caisse d'Epargne-Illes Balears          41.37
73 Joerg Ludewig (Ger) T-Mobile Team                                      41.44
74 Dario David Cioni (Ita) Liquigas                                       41.55
75 Gorazd Stangelj (Slo) Lampre-Fondital                                  42.10
76 Rik Verbrugghe (Bel) Cofidis, le Credit par Telephone                  42.55
77 Fabio Sacchi (Ita) Team Milram                                         43.12
78 Jurgen Van De Walle (Bel) Quick Step-Innergetic                        43.16
79 Pavel Padrnos (Cze) Discovery Channel Pro Cycling Team                 43.46
80 Nicolas Vogondy (Fra) Credit Agricole                                  43.48
81 Luis Felipe Laverde Jimenez (Col) Ceramica Panaria-Navigare            43.53
82 Serguei Yakovlev (Kaz) Liberty Seguros-Würth Team                      44.05
83 Viatcheslav Ekimov (Rus) Discovery Channel Pro Cycling Team            44.22
84 Iker Flores Galarza (Spa) Euskaltel-Euskadi                            44.30
85 Benoit Poilvet (Fra) Credit Agricole                                   44.39
86 Steve Zampieri (Swi) Phonak Hearing Systems                            45.59
87 Jussi Veikkanen (Fin) Française des Jeux                               46.52
88 Stefan Schumacher (Ger) Gerolsteiner                                   47.19
89 Jonathan Patrick Mc Carty (USA) Phonak Hearing Systems                 48.29
90 Charles Wegelius (GBr) Liquigas                                        49.03
91 Julio Alberto Perez Cuapio (Mex) Ceramica Panaria-Navigare             49.31
92 Grégory Rast (Swi) Phonak Hearing Systems                              49.53
93 Daniel Navarro Garcia (Spa) Liberty Seguros-Würth Team                 50.19
94 Andrea Moletta (Ita) Gerolsteiner                                      50.41
95 Sven Krauss (Ger) Gerolsteiner                                         51.41
96 Torsten Hiekmann (Ger) Gerolsteiner                                    51.47
97 Scott Davis (Aus) T-Mobile Team                                        52.45
98 Sylvain Calzati (Fra) AG2R Prevoyance                                  53.02
99 Stef Clement (Ned) Bouygues Telecom                                    55.03
100 Raffaele Illiano (Ita) Selle Italia-Serramenti Diquigiovanni          55.12
101 Matthias Russ (Ger) Gerolsteiner                                      55.40
102 Matthew White (Aus) Discovery Channel Pro Cycling Team                     
103 Alessandro Spezialetti (Ita) Liquigas                                 55.45
104 Matthias Kessler (Ger) T-Mobile Team                                  55.54
105 Mikel Pradera Rodriguez (Spa) Caisse d'Epargne-Illes Balears          59.06
106 Yuriy Krivtsov (Ukr) AG2R Prevoyance                                  59.33
107 Staf Scheirlinckx (Bel) Cofidis, le Credit par Telephone              59.40
108 Giovanni Lombardi (Ita) Team CSC                                      59.48
109 Rémi Pauriol (Fra) Credit Agricole                                  1.00.40
110 William Bonnet (Fra) Credit Agricole                                1.01.41
111 Markel Irizar Aranburu (Spa) Euskaltel-Euskadi                      1.01.44
112 Olivier Bonnaire (Fra) Bouygues Telecom                             1.02.19
113 Leonardo Scarselli (Ita) Quick Step-Innergetic                      1.03.09
114 Martin Elmiger (Swi) Phonak Hearing Systems                         1.03.19
115 Renaud Dion (Fra) AG2R Prevoyance                                   1.04.21
116 Benoit Joachim (Lux) Discovery Channel Pro Cycling Team             1.04.38
117 Angel Gomez Gomez (Spa) Saunier Duval-Prodir                        1.04.44
118 Miguel Angel Rubiano Chavez (Col) Ceramica Panaria-Navigare         1.05.10
119 Gustav Erik Larsson (Swe) Française des Jeux                        1.05.21
120 Michael Blaudzun (Den) Team CSC                                     1.05.25
121 Ivan Mayoz (Spa) Euskaltel-Euskadi                                  1.05.29
122 Arnaud Labbe (Fra) Bouygues Telecom                                 1.06.11
123 Olaf Pollack (Ger) T-Mobile Team                                    1.06.14
124 Ronny Scholz (Ger) Gerolsteiner                                     1.06.28
125 Serge Baguet (Bel) Quick Step-Innergetic                            1.06.43
126 Imanol Erviti (Spa) Caisse d'Epargne-Illes Balears                  1.06.46
127 Santo Anza' (Ita) Selle Italia-Serramenti Diquigiovanni             1.07.04
128 Alessandro Cortinovis (Ita) Team Milram                             1.07.26
129 Jose Cayetano Julia Cegarra (Spa) Caisse d'Epargne-Illes Balears    1.07.30
130 Mauricio Alberto Ardila Cano (Col) Rabobank                         1.08.32
131 Volker Ordowski (Ger) Gerolsteiner                                  1.08.58
132 Marco Fertonani (Ita) Caisse d'Epargne-Illes Balears                1.09.10
133 Carlos Da Cruz (Fra) Française des Jeux                             1.09.12
134 Yannick Talabardon (Fra) Credit Agricole                            1.09.18
135 Marc De Maar (Ned) Rabobank                                         1.10.18
136 Bert Roesems (Bel) Davitamon-Lotto                                         
137 Alberto Ongarato (Ita) Team Milram                                  1.11.03
138 Patrick Calcagni (Swi) Liquigas                                     1.11.30
139 Christophe Edaleine (Fra) Credit Agricole                           1.12.43
140 Bobby Julich (USA) Team CSC                                         1.14.00
141 Gabriele Missaglia (Ita) Selle Italia-Serramenti Diquigiovanni      1.14.06
142 Yoann Le Boulanger (Fra) Bouygues Telecom                           1.14.07
143 Sergiy Matveyev (Ukr) Ceramica Panaria-Navigare                     1.15.41
144 Mickael Delage (Fra) Française des Jeux                             1.16.14
145 Tomas Vaitkus (Ltu) AG2R Prevoyance                                 1.16.22
146 Moises Aldape Chavez (Mex) Ceramica Panaria-Navigare                1.17.06
147 Anton Luengo Celaya (Spa) Euskaltel-Euskadi                         1.17.36
148 Jan Kuyckx (Bel) Davitamon-Lotto                                    1.17.57
149 Nick Gates (Aus) Davitamon-Lotto                                    1.18.53
150 Robbie McEwen (Aus) Davitamon-Lotto                                 1.19.32
151 Peter Mazur (Pol) Saunier Duval-Prodir                              1.19.47
152 Koen De Kort (Ned) Liberty Seguros-Würth Team                       1.20.39
153 Elia Rigotto (Ita) Team Milram                                      1.21.33
154 Mathew Hayman (Aus) Rabobank                                        1.21.47
155 Mirco Lorenzetto (Ita) Team Milram                                  1.22.29
156 Davide Bramati (Ita) Quick Step-Innergetic                          1.22.43
157 Robert Forster (Ger) Gerolsteiner                                   1.23.08
158 Marc Wauters (Bel) Rabobank                                         1.23.19
159 Paolo Fornaciari (Ita) Lampre-Fondital                              1.25.18
160 Fabrizio Guidi (Ita) Phonak Hearing Systems                         1.25.39
161 Henk Vogels (Aus) Davitamon-Lotto                                   1.25.56
162 Sergio Barbero (Ita) Selle Italia-Serramenti Diquigiovanni          1.26.45
163 Dario Andriotto (Ita) Liquigas                                      1.26.50
164 Preben Van Hecke (Bel) Davitamon-Lotto                              1.27.37
165 Alberto Loddo (Ita) Selle Italia-Serramenti Diquigiovanni           1.28.14
166 Cyrille Monnerais (Fra) Française des Jeux                          1.28.29
167 Axel Maximiliano Richeze (Arg) Ceramica Panaria-Navigare            1.28.56
168 Arnaud Gerard (Fra) Française des Jeux                              1.29.16
169 Frantisek Rabon (Cze) T-Mobile Team                                 1.29.52
170 Giovanni Bernaudeau (Fra) Bouygues Telecom                          1.31.27
171 Vladimir Miholjevic (Cro) Liquigas                                  1.31.31
172 Aaron Olson (USA) Saunier Duval-Prodir                              1.31.39
173 Benat Albizuri Aransolo (Spa) Euskaltel-Euskadi                     1.31.41
174 Jason McCartney (USA) Discovery Channel Pro Cycling Team            1.33.01
175 José Antonio Garrido Lima (Spa) Quick Step-Innergetic               1.33.37
176 Amael Moinard (Fra) Cofidis, le Credit par Telephone                1.34.00
177 Yohann Gene (Fra) Bouygues Telecom                                  1.35.22
178 Andoni Aranaga Azkune (Spa) Euskaltel-Euskadi                       1.46.53
179 Carl Naibo (Fra) AG2R Prevoyance                                    1.47.04
 
Points classification
 
1 Robbie McEwen (Aus) Davitamon-Lotto                                        89 pts
2 Paolo Bettini (Ita) Quick Step-Innergetic                                  86
3 Paolo Savoldelli (Ita) Discovery Channel Pro Cycling Team                  73
4 Olaf Pollack (Ger) T-Mobile Team                                           68
5 Tomas Vaitkus (Ltu) AG2R Prevoyance                                        60
6 José E. Gutierrez Cataluna (Spa) Phonak Hearing Systems                    60
7 Ivan Basso (Ita) Team CSC                                                  58
8 Stefan Schumacher (Ger) Gerolsteiner                                       46
9 Joan Horrach Rippoll (Spa) Caisse d'Epargne-Illes Balears                  39
10 Serguei Gonchar (Ukr) T-Mobile Team                                       36
11 Leonardo Duque (Col) Cofidis, le Credit par Telephone                     36
12 Axel Maximiliano Richeze (Arg) Ceramica Panaria-Navigare                  36
13 Manuele Mori (Ita) Saunier Duval-Prodir                                   34
14 Franco Pellizotti (Ita) Liquigas                                          33
15 Marco Pinotti (Ita) Saunier Duval-Prodir                                  33
16 Jan Ullrich (Ger) T-Mobile Team                                           29
17 Luca Mazzanti (Ita) Ceramica Panaria-Navigare                             28
18 Damiano Cunego (Ita) Lampre-Fondital                                      27
19 Rik Verbrugghe (Bel) Cofidis, le Credit par Telephone                     25
20 Alberto Loddo (Ita) Selle Italia-Serramenti Diquigiovanni                 25
21 Vladimir Efimkin (Rus) Caisse d'Epargne-Illes Balears                     24
22 Patrick Calcagni (Swi) Liquigas                                           22
23 Jens Voigt (Ger) Team CSC                                                 21
24 Danilo Di Luca (Ita) Liquigas                                             20
25 José Luis Rubiera Vigil (Spa) Discovery Channel Pro Cycling Team          20
26 Addy Engels (Ned) Quick Step-Innergetic                                   20
27 Mickael Delage (Fra) Française des Jeux                                   17
28 Gilberto Simoni (Ita) Saunier Duval-Prodir                                17
29 José Ivan Gutierrez Palacios (Spa) Caisse d'Epargne-Illes Balears         17
30 Giampaolo Caruso (Ita) Liberty Seguros-Würth Team                         17
31 Sven Krauss (Ger) Gerolsteiner                                            17
32 Emanuele Sella (Ita) Ceramica Panaria-Navigare                            16
33 Francisco Perez Sanchez (Spa) Caisse d'Epargne-Illes Balears              16
34 Serguei Yakovlev (Kaz) Liberty Seguros-Würth Team                         16
35 Alexandre Botcharov (Rus) Credit Agricole                                 14
36 Hubert Dupont (Fra) AG2R Prevoyance                                       14
37 Wladimir Belli (Ita) Selle Italia-Serramenti Diquigiovanni                13
38 Theo Eltink (Ned) Rabobank                                                13
39 Alexandr Kolobnev (Rus) Rabobank                                          13
40 Andrea Moletta (Ita) Gerolsteiner                                         13
41 Alberto Ongarato (Ita) Team Milram                                        13
42 Tom Danielson (USA) Discovery Channel Pro Cycling Team                    12
43 Fortunato Baliani (Ita) Ceramica Panaria-Navigare                         12
44 Sandy Casar (Fra) Française des Jeux                                      11
45 Markel Irizar Aranburu (Spa) Euskaltel-Euskadi                            11
46 Grischa Niermann (Ger) Rabobank                                           11
47 Dario David Cioni (Ita) Liquigas                                          11
48 Leonardo Piepoli (Ita) Saunier Duval-Prodir                               10
49 Michael Rogers (Aus) T-Mobile Team                                        10
50 Jose Luis Carrasco Gamiz (Spa) Caisse d'Epargne-Illes Balears             10
51 Gustav Erik Larsson (Swe) Française des Jeux                              10
52 Mirco Lorenzetto (Ita) Team Milram                                        10
53 Fabrizio Guidi (Ita) Phonak Hearing Systems                               10
54 Sylvain Calzati (Fra) AG2R Prevoyance                                      8
55 Serge Baguet (Bel) Quick Step-Innergetic                                   8
56 Marc Wauters (Bel) Rabobank                                                8
57 Andoni Aranaga Azkune (Spa) Euskaltel-Euskadi                              8
58 Manuel Beltran Martinez (Spa) Discovery Channel Pro Cycling Team           8
59 Marzio Bruseghin (Ita) Lampre-Fondital                                     8
60 Benoit Poilvet (Fra) Credit Agricole                                       8
61 Elia Rigotto (Ita) Team Milram                                             8
62 José Rujano Guillen (Ven) Selle Italia-Serramenti Diquigiovanni            7
63 Laurent Lefevre (Fra) Bouygues Telecom                                     7
64 Sergiy Matveyev (Ukr) Ceramica Panaria-Navigare                            7
65 Michele Scarponi (Ita) Liberty Seguros-Würth Team                          6
66 Viatcheslav Ekimov (Rus) Discovery Channel Pro Cycling Team                6
67 Julio Alberto Perez Cuapio (Mex) Ceramica Panaria-Navigare                 6
68 Raffaele Illiano (Ita) Selle Italia-Serramenti Diquigiovanni               6
69 Alessandro Spezialetti (Ita) Liquigas                                      6
70 Yuriy Krivtsov (Ukr) AG2R Prevoyance                                       6
71 Staf Scheirlinckx (Bel) Cofidis, le Credit par Telephone                   6
72 Bert Roesems (Bel) Davitamon-Lotto                                         6
73 Christophe Edaleine (Fra) Credit Agricole                                  6
74 Victor Hugo Pena Grisales (Col) Phonak Hearing Systems                     5
75 Francisco J. Vila Errandonea (Spa) Lampre-Fondital                         5
76 Patrice Halgand (Fra) Credit Agricole                                      5
77 Axel Merckx (Bel) Phonak Hearing Systems                                   5
78 Evgeni Petrov (Rus) Lampre-Fondital                                        5
79 Jurgen Van De Walle (Bel) Quick Step-Innergetic                            5
80 William Bonnet (Fra) Credit Agricole                                       5
81 Robert Forster (Ger) Gerolsteiner                                          5
82 Alessandro Vanotti (Ita) Team Milram                                       4
83 Jonathan Patrick Mc Carty (USA) Phonak Hearing Systems                     4
84 Stef Clement (Ned) Bouygues Telecom                                        4
85 Gabriele Missaglia (Ita) Selle Italia-Serramenti Diquigiovanni             4
86 Moises Aldape Chavez (Mex) Ceramica Panaria-Navigare                       4
87 Cyrille Monnerais (Fra) Française des Jeux                                 3
88 Andrea Noe' (Ita) Liquigas                                                 3
89 Josep Jufre Pou (Spa) Davitamon-Lotto                                      3
90 Charles Wegelius (GBr) Liquigas                                            3
91 Grégory Rast (Swi) Phonak Hearing Systems                                  3
92 Benoit Joachim (Lux) Discovery Channel Pro Cycling Team                    3
93 Arnaud Labbe (Fra) Bouygues Telecom                                        3
94 Alessandro Cortinovis (Ita) Team Milram                                    3
95 Koen De Kort (Ned) Liberty Seguros-Würth Team                              3
96 Amael Moinard (Fra) Cofidis, le Credit par Telephone                       3
97 Juan Manuel Garate (Spa) Quick Step-Innergetic                             2
98 Sylvester Szmyd (Pol) Lampre-Fondital                                      2
99 Joerg Ludewig (Ger) T-Mobile Team                                          2
100 Iker Flores Galarza (Spa) Euskaltel-Euskadi                               2
101 Davide Bramati (Ita) Quick Step-Innergetic                                2
102 Gorazd Stangelj (Slo) Lampre-Fondital                                     1
103 Leonardo Scarselli (Ita) Quick Step-Innergetic                            1
104 Jan Kuyckx (Bel) Davitamon-Lotto                                          1
105 Benat Albizuri Aransolo (Spa) Euskaltel-Euskadi                           1
106 Henk Vogels (Aus) Davitamon-Lotto                                        -1
107 Matthias Russ (Ger) Gerolsteiner                                         -4
108 Maxime Monfort (Bel) Cofidis, le Credit par Telephone                    -5
109 Torsten Hiekmann (Ger) Gerolsteiner                                      -5
110 Nick Gates (Aus) Davitamon-Lotto                                         -5
111 Jason McCartney (USA) Discovery Channel Pro Cycling Team                 -5
 
Mountains classification
 
1 Ivan Basso (Ita) Team CSC                                                  15 pts
2 Staf Scheirlinckx (Bel) Cofidis, le Credit par Telephone                   13
3 Damiano Cunego (Ita) Lampre-Fondital                                       10
4 José E. Gutierrez Cataluna (Spa) Phonak Hearing Systems                     9
5 Juan Manuel Garate (Spa) Quick Step-Innergetic                              9
6 Fortunato Baliani (Ita) Ceramica Panaria-Navigare                           8
7 Sandy Casar (Fra) Française des Jeux                                        7
8 Rik Verbrugghe (Bel) Cofidis, le Credit par Telephone                       5
9 Sylvain Calzati (Fra) AG2R Prevoyance                                       5
10 Moises Aldape Chavez (Mex) Ceramica Panaria-Navigare                       5
11 Amael Moinard (Fra) Cofidis, le Credit par Telephone                       5
12 Francisco J. Vila Errandonea (Spa) Lampre-Fondital                         5
13 Joan Horrach Rippoll (Spa) Caisse d'Epargne-Illes Balears                  4
14 Giampaolo Caruso (Ita) Liberty Seguros-Würth Team                          4
15 Paolo Savoldelli (Ita) Discovery Channel Pro Cycling Team                  3
16 Arnaud Labbe (Fra) Bouygues Telecom                                        3
17 Emanuele Sella (Ita) Ceramica Panaria-Navigare                             3
18 Luca Mazzanti (Ita) Ceramica Panaria-Navigare                              2
19 Manuele Mori (Ita) Saunier Duval-Prodir                                    2
20 Vladimir Efimkin (Rus) Caisse d'Epargne-Illes Balears                      2
21 Jurgen Van De Walle (Bel) Quick Step-Innergetic                            2
22 Markel Irizar Aranburu (Spa) Euskaltel-Euskadi                             2
23 Mickael Delage (Fra) Française des Jeux                                    2
24 Victor Hugo Pena Grisales (Col) Phonak Hearing Systems                     1
25 Danilo Di Luca (Ita) Liquigas                                              1
26 Jens Voigt (Ger) Team CSC                                                  1
27 Grischa Niermann (Ger) Rabobank                                            1
28 Marco Pinotti (Ita) Saunier Duval-Prodir                                   1
29 Benat Albizuri Aransolo (Spa) Euskaltel-Euskadi                            1
 
110 Gazzetta classification
 
1 Patrick Calcagni (Swi) Liquigas                                            11 pts
2 Mickael Delage (Fra) Française des Jeux                                    10
3 Grischa Niermann (Ger) Rabobank                                             7
4 Markel Irizar Aranburu (Spa) Euskaltel-Euskadi                              6
5 Paolo Savoldelli (Ita) Discovery Channel Pro Cycling Team                   5
6 Joan Horrach Rippoll (Spa) Caisse d'Epargne-Illes Balears                   5
7 Sandy Casar (Fra) Française des Jeux                                        5
8 Marco Pinotti (Ita) Saunier Duval-Prodir                                    5
9 Sylvain Calzati (Fra) AG2R Prevoyance                                       5
10 Serge Baguet (Bel) Quick Step-Innergetic                                   5
11 Marc Wauters (Bel) Rabobank                                                5
12 Cyrille Monnerais (Fra) Française des Jeux                                 5
13 Andoni Aranaga Azkune (Spa) Euskaltel-Euskadi                              5
14 Sergiy Matveyev (Ukr) Ceramica Panaria-Navigare                            5
15 Danilo Di Luca (Ita) Liquigas                                              4
16 Alexandr Kolobnev (Rus) Rabobank                                           4
17 Raffaele Illiano (Ita) Selle Italia-Serramenti Diquigiovanni               4
18 Yuriy Krivtsov (Ukr) AG2R Prevoyance                                       4
19 Staf Scheirlinckx (Bel) Cofidis, le Credit par Telephone                   4
20 Bert Roesems (Bel) Davitamon-Lotto                                         4
21 Christophe Edaleine (Fra) Credit Agricole                                  4
22 Benat Albizuri Aransolo (Spa) Euskaltel-Euskadi                            4
23 Jan Ullrich (Ger) T-Mobile Team                                            3
24 José E. Gutierrez Cataluna (Spa) Phonak Hearing Systems                    3
25 Manuele Mori (Ita) Saunier Duval-Prodir                                    3
26 Paolo Bettini (Ita) Quick Step-Innergetic                                  3
27 Jurgen Van De Walle (Bel) Quick Step-Innergetic                            3
28 Benoit Poilvet (Fra) Credit Agricole                                       3
29 Andrea Moletta (Ita) Gerolsteiner                                          3
30 Gabriele Missaglia (Ita) Selle Italia-Serramenti Diquigiovanni             3
31 Moises Aldape Chavez (Mex) Ceramica Panaria-Navigare                       3
32 Wladimir Belli (Ita) Selle Italia-Serramenti Diquigiovanni                 2
33 Charles Wegelius (GBr) Liquigas                                            2
34 Arnaud Labbe (Fra) Bouygues Telecom                                        2
35 Alessandro Cortinovis (Ita) Team Milram                                    2
36 Amael Moinard (Fra) Cofidis, le Credit par Telephone                       2
37 Franco Pellizotti (Ita) Liquigas                                           1
38 Manuel Beltran Martinez (Spa) Discovery Channel Pro Cycling Team           1
39 Michael Rogers (Aus) T-Mobile Team                                         1
40 Alessandro Vanotti (Ita) Team Milram                                       1
41 Iker Flores Galarza (Spa) Euskaltel-Euskadi                                1
42 Gustav Erik Larsson (Swe) Française des Jeux                               1
43 Davide Bramati (Ita) Quick Step-Innergetic                                 1
 
Combination classification
 
1 Paolo Savoldelli (Ita) Discovery Channel Pro Cycling Team                 518 pts
2 José E. Gutierrez Cataluna (Spa) Phonak Hearing Systems                   323
3 Ivan Basso (Ita) Team CSC                                                 223
4 Danilo Di Luca (Ita) Liquigas                                             210
5 Sandy Casar (Fra) Française des Jeux                                      182
6 Mickael Delage (Fra) Française des Jeux                                   181
7 Stefan Schumacher (Ger) Gerolsteiner                                      180
8 Serguei Gonchar (Ukr) T-Mobile Team                                       149
9 Robbie McEwen (Aus) Davitamon-Lotto                                       146
10 Paolo Bettini (Ita) Quick Step-Innergetic                                142
11 Markel Irizar Aranburu (Spa) Euskaltel-Euskadi                           139
12 Olaf Pollack (Ger) T-Mobile Team                                         135
13 Damiano Cunego (Ita) Lampre-Fondital                                     130
14 Staf Scheirlinckx (Bel) Cofidis, le Credit par Telephone                 101
15 Moises Aldape Chavez (Mex) Ceramica Panaria-Navigare                     100
16 Patrick Calcagni (Swi) Liquigas                                           90
17 Amael Moinard (Fra) Cofidis, le Credit par Telephone                      88
18 Michael Rogers (Aus) T-Mobile Team                                        83
19 Arnaud Labbe (Fra) Bouygues Telecom                                       79
20 Grischa Niermann (Ger) Rabobank                                           78
21 Sylvain Calzati (Fra) AG2R Prevoyance                                     76
22 Tom Danielson (USA) Discovery Channel Pro Cycling Team                    75
23 José Luis Rubiera Vigil (Spa) Discovery Channel Pro Cycling Team          75
24 Tomas Vaitkus (Ltu) AG2R Prevoyance                                       74
25 Juan Manuel Garate (Spa) Quick Step-Innergetic                            74
26 Benat Albizuri Aransolo (Spa) Euskaltel-Euskadi                           70
27 José Ivan Gutierrez Palacios (Spa) Caisse d'Epargne-Illes Balears         66
28 Rik Verbrugghe (Bel) Cofidis, le Credit par Telephone                     62
29 Francisco Perez Sanchez (Spa) Caisse d'Epargne-Illes Balears              55
30 Leonardo Duque (Col) Cofidis, le Credit par Telephone                     49
31 Andoni Aranaga Azkune (Spa) Euskaltel-Euskadi                             47
32 Giampaolo Caruso (Ita) Liberty Seguros-Würth Team                         43
33 Francisco J. Vila Errandonea (Spa) Lampre-Fondital                        42
34 Franco Pellizotti (Ita) Liquigas                                          41
35 Axel Maximiliano Richeze (Arg) Ceramica Panaria-Navigare                  40
36 Serge Baguet (Bel) Quick Step-Innergetic                                  39
37 Gilberto Simoni (Ita) Saunier Duval-Prodir                                38
38 Raffaele Illiano (Ita) Selle Italia-Serramenti Diquigiovanni              35
39 Jens Voigt (Ger) Team CSC                                                 32
40 Jurgen Van De Walle (Bel) Quick Step-Innergetic                           32
41 Marco Pinotti (Ita) Saunier Duval-Prodir                                  29
42 Luca Mazzanti (Ita) Ceramica Panaria-Navigare                             27
43 Gabriele Missaglia (Ita) Selle Italia-Serramenti Diquigiovanni            26
44 Victor Hugo Pena Grisales (Col) Phonak Hearing Systems                    24
45 Cyrille Monnerais (Fra) Française des Jeux                                22
46 Joan Horrach Rippoll (Spa) Caisse d'Epargne-Illes Balears                 21
47 Andrea Noe' (Ita) Liquigas                                                20
48 Marzio Bruseghin (Ita) Lampre-Fondital                                    18
49 Christophe Edaleine (Fra) Credit Agricole                                 18
50 Alberto Loddo (Ita) Selle Italia-Serramenti Diquigiovanni                 18
51 Emanuele Sella (Ita) Ceramica Panaria-Navigare                            12
52 Marc Wauters (Bel) Rabobank                                               11
53 Wladimir Belli (Ita) Selle Italia-Serramenti Diquigiovanni                11
54 Fortunato Baliani (Ita) Ceramica Panaria-Navigare                         10
55 Manuel Beltran Martinez (Spa) Discovery Channel Pro Cycling Team           9
56 Nicki Sorensen (Den) Team CSC                                              9
57 Alessandro Vanotti (Ita) Team Milram                                       8
58 Bobby Julich (USA) Team CSC                                                7
59 Vladimir Efimkin (Rus) Caisse d'Epargne-Illes Balears                      7
60 Sergiy Matveyev (Ukr) Ceramica Panaria-Navigare                            6
61 Yuriy Krivtsov (Ukr) AG2R Prevoyance                                       5
62 Alexandr Kolobnev (Rus) Rabobank                                           4
63 Manuele Mori (Ita) Saunier Duval-Prodir                                    3
64 José Rujano Guillen (Ven) Selle Italia-Serramenti Diquigiovanni            2
65 Dario David Cioni (Ita) Liquigas                                           2
66 Jan Ullrich (Ger) T-Mobile Team                                            1
67 Francesco Bellotti (Ita) Credit Agricole                                   1
68 Michele Scarponi (Ita) Liberty Seguros-Würth Team                          1
69 Davide Bramati (Ita) Quick Step-Innergetic                                 1
 
Most combative classification
 
1 Robbie McEwen (Aus) Davitamon-Lotto                                        21 pts
2 Paolo Bettini (Ita) Quick Step-Innergetic                                  20
3 Paolo Savoldelli (Ita) Discovery Channel Pro Cycling Team                  18
4 José E. Gutierrez Cataluna (Spa) Phonak Hearing Systems                    17
5 Olaf Pollack (Ger) T-Mobile Team                                           16
6 Joan Horrach Rippoll (Spa) Caisse d'Epargne-Illes Balears                  13
7 Ivan Basso (Ita) Team CSC                                                  12
8 Tomas Vaitkus (Ltu) AG2R Prevoyance                                        11
9 Mickael Delage (Fra) Française des Jeux                                    11
10 Patrick Calcagni (Swi) Liquigas                                           11
11 Staf Scheirlinckx (Bel) Cofidis, le Credit par Telephone                  10
12 Jan Ullrich (Ger) T-Mobile Team                                            9
13 Rik Verbrugghe (Bel) Cofidis, le Credit par Telephone                      9
14 Stefan Schumacher (Ger) Gerolsteiner                                       9
15 Sandy Casar (Fra) Française des Jeux                                       9
16 Marco Pinotti (Ita) Saunier Duval-Prodir                                   9
17 Sylvain Calzati (Fra) AG2R Prevoyance                                      8
18 Franco Pellizotti (Ita) Liquigas                                           7
19 Manuele Mori (Ita) Saunier Duval-Prodir                                    7
20 Grischa Niermann (Ger) Rabobank                                            7
21 Fortunato Baliani (Ita) Ceramica Panaria-Navigare                          7
22 Markel Irizar Aranburu (Spa) Euskaltel-Euskadi                             6
23 Emanuele Sella (Ita) Ceramica Panaria-Navigare                             6
24 Luca Mazzanti (Ita) Ceramica Panaria-Navigare                              6
25 Vladimir Efimkin (Rus) Caisse d'Epargne-Illes Balears                      6
26 Moises Aldape Chavez (Mex) Ceramica Panaria-Navigare                       6
27 Serge Baguet (Bel) Quick Step-Innergetic                                   5
28 Marc Wauters (Bel) Rabobank                                                5
29 Cyrille Monnerais (Fra) Française des Jeux                                 5
30 Andoni Aranaga Azkune (Spa) Euskaltel-Euskadi                              5
31 Damiano Cunego (Ita) Lampre-Fondital                                       5
32 José Luis Rubiera Vigil (Spa) Discovery Channel Pro Cycling Team           5
33 Juan Manuel Garate (Spa) Quick Step-Innergetic                             5
34 Serguei Gonchar (Ukr) T-Mobile Team                                        5
35 Leonardo Duque (Col) Cofidis, le Credit par Telephone                      5
36 Addy Engels (Ned) Quick Step-Innergetic                                    5
37 Sergiy Matveyev (Ukr) Ceramica Panaria-Navigare                            5
38 Amael Moinard (Fra) Cofidis, le Credit par Telephone                       5
39 Danilo Di Luca (Ita) Liquigas                                              4
40 Alexandr Kolobnev (Rus) Rabobank                                           4
41 Jurgen Van De Walle (Bel) Quick Step-Innergetic                            4
42 Serguei Yakovlev (Kaz) Liberty Seguros-Würth Team                          4
43 Raffaele Illiano (Ita) Selle Italia-Serramenti Diquigiovanni               4
44 Yuriy Krivtsov (Ukr) AG2R Prevoyance                                       4
45 Arnaud Labbe (Fra) Bouygues Telecom                                        4
46 Bert Roesems (Bel) Davitamon-Lotto                                         4
47 Christophe Edaleine (Fra) Credit Agricole                                  4
48 Alberto Loddo (Ita) Selle Italia-Serramenti Diquigiovanni                  4
49 Benat Albizuri Aransolo (Spa) Euskaltel-Euskadi                            4
50 Wladimir Belli (Ita) Selle Italia-Serramenti Diquigiovanni                 3
51 Francisco J. Vila Errandonea (Spa) Lampre-Fondital                         3
52 Giampaolo Caruso (Ita) Liberty Seguros-Würth Team                          3
53 Hubert Dupont (Fra) AG2R Prevoyance                                        3
54 Benoit Poilvet (Fra) Credit Agricole                                       3
55 Andrea Moletta (Ita) Gerolsteiner                                          3
56 Gabriele Missaglia (Ita) Selle Italia-Serramenti Diquigiovanni             3
57 Axel Maximiliano Richeze (Arg) Ceramica Panaria-Navigare                   3
58 Theo Eltink (Ned) Rabobank                                                 2
59 Charles Wegelius (GBr) Liquigas                                            2
60 Alessandro Cortinovis (Ita) Team Milram                                    2
61 Manuel Beltran Martinez (Spa) Discovery Channel Pro Cycling Team           1
62 Jens Voigt (Ger) Team CSC                                                  1
63 Leonardo Piepoli (Ita) Saunier Duval-Prodir                                1
64 Alexandre Botcharov (Rus) Credit Agricole                                  1
65 Michael Rogers (Aus) T-Mobile Team                                         1
66 Francisco Perez Sanchez (Spa) Caisse d'Epargne-Illes Balears               1
67 Alessandro Vanotti (Ita) Team Milram                                       1
68 Jose Luis Carrasco Gamiz (Spa) Caisse d'Epargne-Illes Balears              1
69 Iker Flores Galarza (Spa) Euskaltel-Euskadi                                1
70 Gustav Erik Larsson (Swe) Française des Jeux                               1
71 Mirco Lorenzetto (Ita) Team Milram                                         1
72 Davide Bramati (Ita) Quick Step-Innergetic                                 1
73 Fabrizio Guidi (Ita) Phonak Hearing Systems                                1
 
Azzurri d'Italia classification
 
1 Robbie McEwen (Aus) Davitamon-Lotto                                        12 pts
2 Paolo Savoldelli (Ita) Discovery Channel Pro Cycling Team                   6
3 Ivan Basso (Ita) Team CSC                                                   6
4 Tomas Vaitkus (Ltu) AG2R Prevoyance                                         5
5 Paolo Bettini (Ita) Quick Step-Innergetic                                   5
6 Olaf Pollack (Ger) T-Mobile Team                                            5
7 Joan Horrach Rippoll (Spa) Caisse d'Epargne-Illes Balears                   4
8 Franco Pellizotti (Ita) Liquigas                                            4
9 Jan Ullrich (Ger) T-Mobile Team                                             4
10 Rik Verbrugghe (Bel) Cofidis, le Credit par Telephone                      4
11 Stefan Schumacher (Ger) Gerolsteiner                                       4
12 José E. Gutierrez Cataluna (Spa) Phonak Hearing Systems                    2
13 Damiano Cunego (Ita) Lampre-Fondital                                       2
14 José Luis Rubiera Vigil (Spa) Discovery Channel Pro Cycling Team           2
15 Vladimir Efimkin (Rus) Caisse d'Epargne-Illes Balears                      2
16 Addy Engels (Ned) Quick Step-Innergetic                                    2
17 Marco Pinotti (Ita) Saunier Duval-Prodir                                   1
18 Emanuele Sella (Ita) Ceramica Panaria-Navigare                             1
19 Luca Mazzanti (Ita) Ceramica Panaria-Navigare                              1
20 Serguei Yakovlev (Kaz) Liberty Seguros-Würth Team                          1
21 Alberto Loddo (Ita) Selle Italia-Serramenti Diquigiovanni                  1
 
Trofeo Fuga Piaggio classification
 
1 Christophe Edaleine (Fra) Credit Agricole                                 207 pts
2 Sergiy Matveyev (Ukr) Ceramica Panaria-Navigare                           207
3 Andoni Aranaga Azkune (Spa) Euskaltel-Euskadi                             207
4 Markel Irizar Aranburu (Spa) Euskaltel-Euskadi                            165
5 Moises Aldape Chavez (Mex) Ceramica Panaria-Navigare                      165
6 Amael Moinard (Fra) Cofidis, le Credit par Telephone                      165
7 Sandy Casar (Fra) Française des Jeux                                      164
8 Grischa Niermann (Ger) Rabobank                                           164
9 Jurgen Van De Walle (Bel) Quick Step-Innergetic                           164
10 Staf Scheirlinckx (Bel) Cofidis, le Credit par Telephone                 164
11 Patrick Calcagni (Swi) Liquigas                                          164
12 Raffaele Illiano (Ita) Selle Italia-Serramenti Diquigiovanni             161
13 Gabriele Missaglia (Ita) Selle Italia-Serramenti Diquigiovanni           146
14 Benat Albizuri Aransolo (Spa) Euskaltel-Euskadi                          146
15 Arnaud Labbe (Fra) Bouygues Telecom                                      140
16 Mickael Delage (Fra) Française des Jeux                                  140
17 Sylvain Calzati (Fra) AG2R Prevoyance                                    102
18 Yuriy Krivtsov (Ukr) AG2R Prevoyance                                      99
19 Cyrille Monnerais (Fra) Française des Jeux                                81
20 Manuele Mori (Ita) Saunier Duval-Prodir                                   78
21 Rik Verbrugghe (Bel) Cofidis, le Credit par Telephone                     64
22 Victor Hugo Pena Grisales (Col) Phonak Hearing Systems                    59
23 Juan Manuel Garate (Spa) Quick Step-Innergetic                            59
24 Francisco J. Vila Errandonea (Spa) Lampre-Fondital                        59
25 Vladimir Efimkin (Rus) Caisse d'Epargne-Illes Balears                     26
26 Matthias Kessler (Ger) T-Mobile Team                                      24
27 Serguei Yakovlev (Kaz) Liberty Seguros-Würth Team                         20
28 Emanuele Sella (Ita) Ceramica Panaria-Navigare                            19
29 Wladimir Belli (Ita) Selle Italia-Serramenti Diquigiovanni                15
30 Joan Horrach Rippoll (Spa) Caisse d'Epargne-Illes Balears                 15
31 Axel Merckx (Bel) Phonak Hearing Systems                                  15
32 Fortunato Baliani (Ita) Ceramica Panaria-Navigare                         15
33 Addy Engels (Ned) Quick Step-Innergetic                                   14
34 Marzio Bruseghin (Ita) Lampre-Fondital                                     6
35 Carlos Sastre Candil (Spa) Team CSC                                        5
36 Marcos A. Serrano Rodriguez (Spa) Liberty Seguros-Würth Team               5
37 Hubert Dupont (Fra) AG2R Prevoyance                                        5
38 Jose Luis Carrasco Gamiz (Spa) Caisse d'Epargne-Illes Balears              5
39 Torsten Hiekmann (Ger) Gerolsteiner                                        5
40 Angel Gomez Gomez (Spa) Saunier Duval-Prodir                               5
 
Trofeo Fast Team classification
 
1 Discovery Channel Pro Cycling Team                                  132.26.26
2 Phonak Hearing Systems                                                   7.19
3 Liquigas                                                                 7.28
4 Saunier Duval-Prodir                                                    10.06
5 Ceramica Panaria-Navigare                                               11.04
6 Team CSC                                                                13.34
7 Lampre-Fondital                                                         14.32
8 Caisse d'Epargne-Illes Balears                                          18.53
9 T-Mobile Team                                                           22.40
10 Credit Agricole                                                        24.34
11 Liberty Seguros-Würth Team                                             27.42
12 Selle Italia-Serramenti Diquigiovanni                                  33.12
13 Ag2R Prevoyance                                                        41.27
14 Quickstep-Innergetic                                                   46.55
15 Euskaltel-Euskadi                                                      47.10
16 Cofidis                                                                49.45
17 Team Milram                                                          1.05.40
18 Francaise Des Jeux                                                   1.08.01
19 Gerolsteiner                                                         1.11.42
20 Rabobank                                                             1.11.51
21 Davitamon-Lotto                                                      1.22.11
22 Bouygues Telecom                                                     1.44.46
 
Trofeo Super Team classification
 
1 T-Mobile Team                                                             174 pts
2 Discovery Channel Pro Cycling Team                                        161
3 Gerolsteiner                                                              159
4 Caisse d'Epargne-Illes Balears                                            149
5 Ceramica Panaria-Navigare                                                 139
6 Phonak Hearing Systems                                                    133
7 Quickstep-Innergetic                                                      128
8 Saunier Duval-Prodir                                                      126
9 Liquigas                                                                  125
10 Francaise Des Jeux                                                       114
11 Team CSC                                                                 106
12 Davitamon-Lotto                                                          103
13 Lampre-Fondital                                                          101
14 Ag2R Prevoyance                                                           92
15 Team Milram                                                               79
16 Cofidis                                                                   78
17 Selle Italia-Serramenti Diquigiovanni                                     70
18 Rabobank                                                                  68
19 Liberty Seguros-Würth Team                                                62
20 Credit Agricole                                                           57
21 Euskaltel-Euskadi                                                         53
22 Bouygues Telecom                                                          33

Fair Play classification
 
1 Team CSC                                                                    0 pts
2 Ceramica Panaria-Navigare                                                   0
3 Selle Italia-Serramenti Diquigiovanni                                       0
4 Liquigas                                                                    0
5 Bouygues Telecom                                                            0
6 Lampre-Fondital                                                             5
7 Credit Agricole                                                             5
8 Liberty Seguros-Würth Team                                                  5
9 Ag2R Prevoyance                                                             5
10 Caisse d'Epargne-Illes Balears                                            15
11 Quickstep-Innergetic                                                      20
12 Rabobank                                                                  20
13 Phonak Hearing Systems                                                    25
14 Team Milram                                                               25
15 Euskaltel-Euskadi                                                         40
16 Gerolsteiner                                                              40
17 Francaise Des Jeux                                                        45
18 Davitamon-Lotto                                                           50
19 Cofidis                                                                   55
20 Saunier Duval-Prodir                                                      60
21 Discovery Channel Pro Cycling Team                                        75
22 T-Mobile Team                                                             75