Driver's seat: Scott Sunderland's Giro diary 2006
Chaudfontaine, Belgium, May 5, 2006
Excitement building
Hi all,
Scott Sunderland
Photo ©: Sabine Sunderland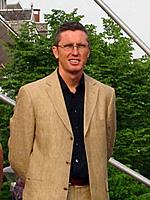 With less than 24 hours to go till the start of the 89th Giro d'Italia, I feel the excitement building up. Even after 16 years in the pro peloton I still get a bit jittery, like any true adrenaline junkie. I'm really interested in how the race will unfold as it is considered to be one of the hardest Giri ever.
We'll have a strong and experienced team starting; a bloody strong team to be precise. And even if publicity-wise, the Giro isn't the Tour, it's going to be a great battle nonetheless as there is more than one candidate for the overall win. Anything is possible, and although we left nothing to chance, it's no guarantee for success.
One thing is certain, our boys are ready for the challenge; they're hungry, but relaxed. The team gathered here in the hotel in Chaudfontaine last Wednesday. It's an excellent spot for the riders to mentally prepare during these last few days and they all seem to be enjoying the peacefulness of the hotel. Things will get hectic soon enough so we are trying to keep things low-key as long as possible. All the hard physical preparation has been done and now the mind game is on. The morale is good.
Ivan Basso
Photo ©: Sabine Sunderland

We had the medical checks and the team presentation to attend to yesterday. It was a bit awkward to have the latter two days before the actual start of the Giro, but on the other hand that's over and done with now and today the riders had more time to train and rest before the prologue tomorrow. Ivan had a few press obligations to attend to but it hasn't been too bad. Press officer Brian Nygaard is doing a fine job in keeping Ivan's extra curricular activities in check.
Bjarne arrived yesterday afternoon, BS Christiansen later in the evening. There are critics (as good things always have) who think it's all a bit much to have a mental coach travelling along with the riders, but I can assure you he's a great pillar of support at crucial points. BS calms nerves, helps the riders focus, lends a listening ear. He's not with us the whole race through, but drops by now and again and is of assistance when needed.
After all, racing bikes is so much more than just riding your bicycle as fast as you can. There's a lot more to it than meets the eye.
A Lao-tsê poem describes how everything you don't see can be as important as the things which are observed easily: "We put thirty spokes together and call it a wheel. But it is on the space where there is nothing that the usefulness of the wheel depends (...)"
Bobby Julich
Photo ©: Sabine Sunderland

I can't describe what happens within a cycling team any better. For the team to perform, to run smoothly there's more needed than just talented riders and first class material.
Let me explain. For starters, in a three week tour like this Giro the logistics are pretty impressive. Cycling teams are more and more starting to look like formula 1 racing teams. Two trucks, a huge bus, two race cars, three soigneurs cars and a mini-van. Inside the truck you have two P3 carbon time-trial bikes and three carbon soloist road bikes per rider. We have every wheel you can think of, Zipp wheels, 202, 303, 404, 808, then the disc wheels and all but last the Z-Zipp wheels (Ceramic bearings, lesser spokes, lighter weight).
Besides the nine riders, there are no fewer than 17 members of personnel at work with this Giro team. Of course, there are the mechanics. There are four of them on this tour. It's hard to give you an idea of the size of their workload. One of the guys has been gluing tires on wheels for ten hours straight yesterday. He 'enjoyed' the tedious job in open air; sniffing glue is not exactly one of the healthiest things. The four soigneurs here aren't just good masseurs. They provide the riders and the other members of the personnel with the daily feed bags, almost daily they need to go shopping for extras like fruit and healthy snacks. They also take care of the riders' laundry, toil and moil with suitcases, massage tables, etc.
Kalle Flebbe, the Body SDS Therapist, is as important to the riders as the mechanics are to the bikes. He is especially needed when things get thrown out of whack because of a crash. Because of the strict medical regulations, the UCI demands all Pro Tour teams to also have a sports doctor at hand at all times during races.
Bjarne Riis
Photo ©: Sabine Sunderland

At a big tour like this one there's always three team directors. Bjarne will be accompanying Allain in the first team car. As a seasoned director, Allain is in his element in this race, he absolutely loves it. Allain joined Team CSC in 2004, but started his career in cycling a long time ago, as a soigneur with Cyrille Guimard and Laurent Fignon . He also worked with Catavana, Française des Jeux, Mercury, Team Coast and Bianchi. He's a great colleague, a pleasant and knowledgeable man. During the coming weeks, I'll be driving second car and will have lots of different tasks to fulfil, e.g. engineering daily schedules, organising personnel, etc.
Another member of our team is cook Soren Kristiansen. Soren sees to it that the food which is served to the riders is of good nutritional value and has all necessary ingredients to make a complete athlete's meal.
As I mentioned before, there's also Brian Nygaard, our press officer and public relations manager. And last but not least, there's Lolo, he drives the team bus and is a real joker; he always has a funny story to share.
Well, that's about it. Hope you enjoyed this quick peek behind the scenes.
Stay tuned for the prologue!
Ciao,
Scott
Photography
For a thumbnail gallery of these images, click here
Images by Sabine Sunderland