Giro TT tech: Discovery's new TT bikes, May 18, 2006
Trek's New Time Machine
At last week's team time trial and today's 50km test against the clock in Pontedera, the Discovery Channel team is using the latest time trial bike from bike sponsor Trek, the TTX Equinox. Cyclingnews European editor Tim Maloney gets the low-down on the development of Disco's new fast bike.
A deep seat tube

The Equinox's new seat post

The head tube and fork

In the driver's seat

Bag o'Trek

Discovery Channel wrench Alan Butler

Discovery Channel's new Trek TTX Equinox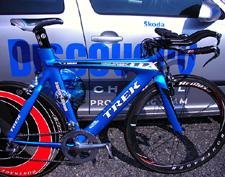 At last year's Tour de France Stage 20 time trial in St. Etienne, Lance Armstrong won his final career Tour stage on a prototype version of Trek's new TTX Equinox time trial bike. This is the latest step in a development process that started in 1999 after Armstrong won his first Tour, taking both time trials riding a Lightspeed Blade with Trek decals.
When the identity of that bike became clear, besides being a minor embarrassment to Trek, it was a major call to action. The story goes that Trek President John Burke called his engineering team together and charged them with creating a state of the art carbon fibre TT bike totally made by Trek. This bike first debuted at the 2000 Tour, where Armstrong rode it to a stage speed record of 53.98 km/hr on Stage 19 from Fribourg-En-Brisgau, Germany to Mulhouse, France. Later that year Armstrong rode it to a bronze medal at the 2000 Olympic TT in Sydney.
Several iterations later, with thousands of hours of finite element analysis and wind tunnel testing and millions of development dollars spent, one might wonder why Trek goes to all the trouble for a bicycle that sees annual sales of not very many. But Ferrari doesn't sell any F-1 cars either, and there's always at least a one-year waiting list for its top models. This new TT bike from Trek will be part of the company's product line for 2007.
Lighter & faster
Trek says that the new time machine is lighter and has better aerodynamics than the previous TTX model. The shaped top tube and head tube come from the Madone with a longer top tube that moves the front wheel forward for more stability in the aero position.
Scott Daubert, Trek's team liaison told Cyclingnews about the genesis of the TTX Equinox. "Johan Bruyneel and the Discovery Channel team put a lot of thinking into how a TT bike needs to perform," he said. "Certainly, aerodynamics are important but so is comfort and ease of operation. The longer front-center dimension makes the bike more stable than the team's current TT bike. This added stability helps the riders relax a little when they are on the rivet in a TTT or intense timed effort."
Daubert delved into more of the new features on the Trek TTX Equinox. "The headset has been changed to a 1 1/8in from 1in," he said. This larger diameter saves weight and increases the front end stiffness of the bike. "Lance always said 'light and stiff' is what Trek should focus on," said Daubert, "and that is what this change achieves.
"The Discovery Channel team mechanics like simplicity. They appreciate the ease of adjustability and access to the new aero shaped and reversible Equinox seat post. We've adopted the seat attachment from the Bontrager range and this helps the riders find the most comfortable and powerful position for them."
Versatile & stiffer
"This new TTX Equinox frame shape is much stiffer and lighter, too,"said Daubert, "because OCLV Honeycomb Carbon is no longer used. Plus the reversible aero seat mast, which offers infinite adjustability for saddle tilt, allows a virtual seat tube angle of 73 to 79 degrees."
Trek claims that the TTX Equinox frame has a 50 percent increase in lateral stiffness at the headtube for improved handling, a 52 percent increase in lateral bottom bracket stiffness and 29 percent increase in lateral stiffness at rear wheel for better power transfer.
Tom Danielson heads out
Daubert also pointed out that there is an all-new Bontrager fork design, "where the trailing edge of the fork crown and the frame down tube are now integrated. This presents a virtual 'continuous surface' to the wind and reduces aerodynamic drag at zero yaw and improves the sail effect in crosswinds. We realized as we were evaluating the wind tunnel testing at the end of 2004 for Lance's TTX prototype, but we didn't have time to implement it for his 2005 bike. Now it's a key element of this new bike."
Discovery Channel head mechanic Geoff Brown was positive about the new Equinox TTX. He told Cyclingnews at the Giro d'Italia, "the riders are just starting to use this bike, but it has all the new features and improvements we were looking for."