An interview with Jose Rujano, May 4, 2006
The Rujano show
Hailing from Venezuela, Jose Rujano was the greatest revelation of last year's Giro d'Italia. Selle Italia's diminuitive climbing sensation was third overall in the 2005 Giro, securing both the mountain and most aggressive rider jerseys by the time the race finished in Milan. Declared the greatest South American rider in the Giro's history, he speaks to Cyclingnews' Hernan Alvarez about that Giro and how it has influenced his future.
Saluting on the podium
Photo ©: Sirotti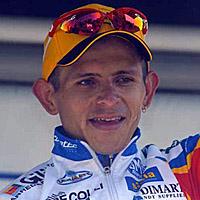 That huge performance in last year's loop of Italy meant that when Rujano returned to his country, he was welcomed as a hero, received numerous accolades and was considered a role model for his compatriots. Even the Venezuelan national parliament gave him recognition for his unforgettable ride in the Italian mountains.
Rujano is a remarkable climber; at 1.68m tall and weighing less than 60kg during a race, his size and subsequent power-to-weight ratio means he's a man of the mountains, a real 'mountain goat'. He's also used to big altitudes - he was raised in a particularly mountainous region of Venezuela that boasts 3,000-4,000 metre-high mountains.
He set out on his sporting career with two goals: to win Venezuela's Vuelta a Tachira, which he did both in 2004 and 2005, and to triumph in Europe, which he is also achieving, considering his recent achievements. His Selle Italia team director Gianni Savio discovered him while looking to recruit new talent in Colombia and Venezuela. Together with his Colombian teammate Ivan Parra, both became protagonists during last year's Giro.
Riding the epic stage 19
Photo ©: Sirotti

Rujano's contract with Selle Italia will end on May 31 this year. Therefore, his successful sporting relationship with Savio will reach a crossroads, and only time will tell whether the two will work together again; Rujano's plans also include riding the Tour de France this summer, and as he's signed to ride for Quick.Step after June 1 this year, he may achieve his next goal as part of the Belgian squad.
But first there is a struggle for the maglia rosa that beckons. Rujano will be wearing the number 181, as team leader of Selle Italia. The Venezuelan will be amongst riders such as Paolo Savoldelli (Discovery Channel), Gilberto Simoni (Saunier Duval), Damiano Cunego (Lampre), Alessandro Petacchi (Milram) and Ivan Basso (CSC) - all riders who are leading their teams throughout Italy in May.
Hanging on the podium
Photo ©: Christine Grein

With his departure to Europe imminent, Rujano spoke about to Cyclingnews about is early years in the sport, saying, "my beginnings in cycling are a very long story. At the age of nine, I began competing because I was a Marco Pantani fan." He added that, "I've spent 17 years in cycling, counting this year."
Rujano sees Pantani as a hero, but he's also got a home-grown role model. "I had many goals, as Marco Pantani had and also as Leonardo Sierra, who was a great Venezuelan rider," he says. "And here are the results...I always think bigger every day and that's the more important thing," he explains. Sierra was another Venezuelan climber who performed very well in the Italian mountains during the 90's; both riders are from the town of Santa Cruz de Mora and it was Sierra who recommended Rujano to Savio years ago.
Rujano wins
Photo ©: Roberto Bettini

When asked about his preparation for the Giro, Rujano is upbeat and looking forward to the challenge of both the Giro and the Tour de France. "I'm in pretty good shape and I hope to ride a good Giro as I also have commitments like the Tour de France - that is the most important race in the world," he says. "The whole preparation that I did before the Giro and the one I will be doing during the Giro will be focused on the Tour de France."
Last year he was third overall on the Giro general clasification; maybe, this year expectations are higher. "Expectations are very high," says the Venezuelan, "as I was very close to winning the Giro last year. But as I said to you, I have big commitments like the Tour de France and now I am gaining experience," he adds.
Rujano works hard
Photo ©: Sirotti

Rujano is clearing setting his sights high, the highest of which is the Tour in July. "I hope to reach the start of the Tour in good condition and be fighting for the top 10 positions, and even look for a stage win," he explains. "in terms of the Giro, what we are currently preparing for, I feel very good. I am improving day by day. I don't have the same condition as last year because I actually started the season a little bit later this year, but I think that I will become in better condition as the Giro's days go by," he says.
Rujano will certainly be marked in this year's edition after his surprising climbing performances in Italy last season, and he admits there are more riders watching him. "They will be watching me in the Giro as I also demonstrated I can perform well in the early races [of his season]. And that worries my rivals like Cunego, Simoni, Ivan Basso - other riders whose qualities are in the mountains," he explains. "But, like I say, I'm heading in the right direction. This year I started the season in a more relaxed way, and I'm going to the Giro without any pressure and we will see what happens as the race unfolds."